Whole30 Garlic Cream Sauce Sweet Potato Noodles for an easy plant-based meal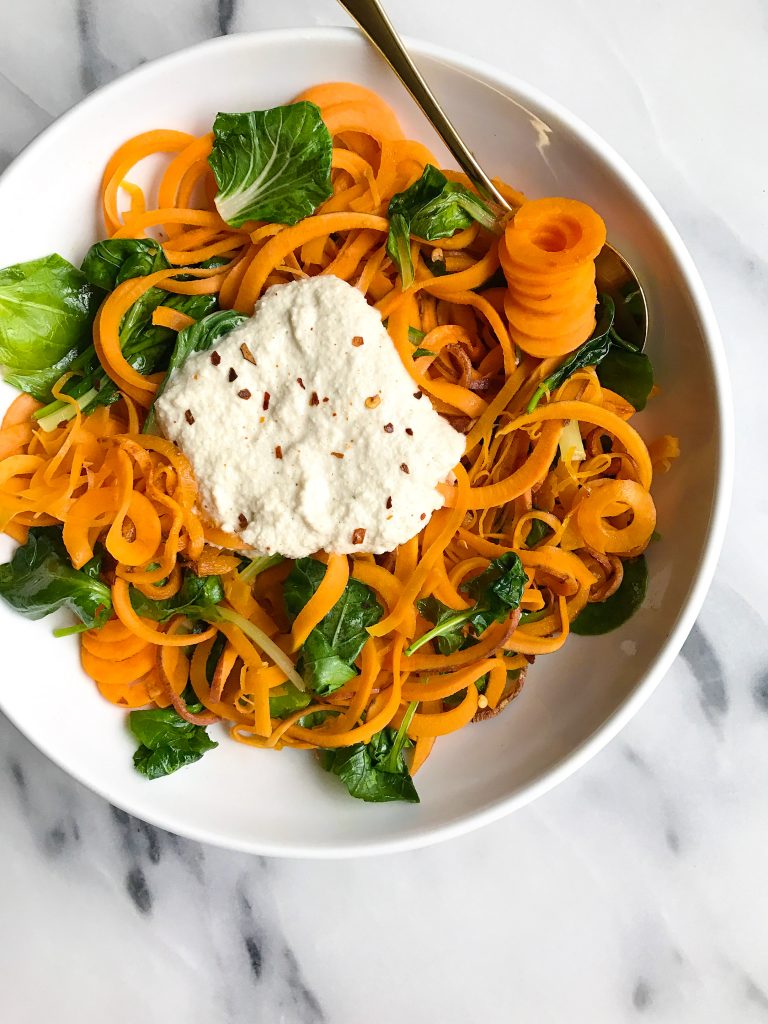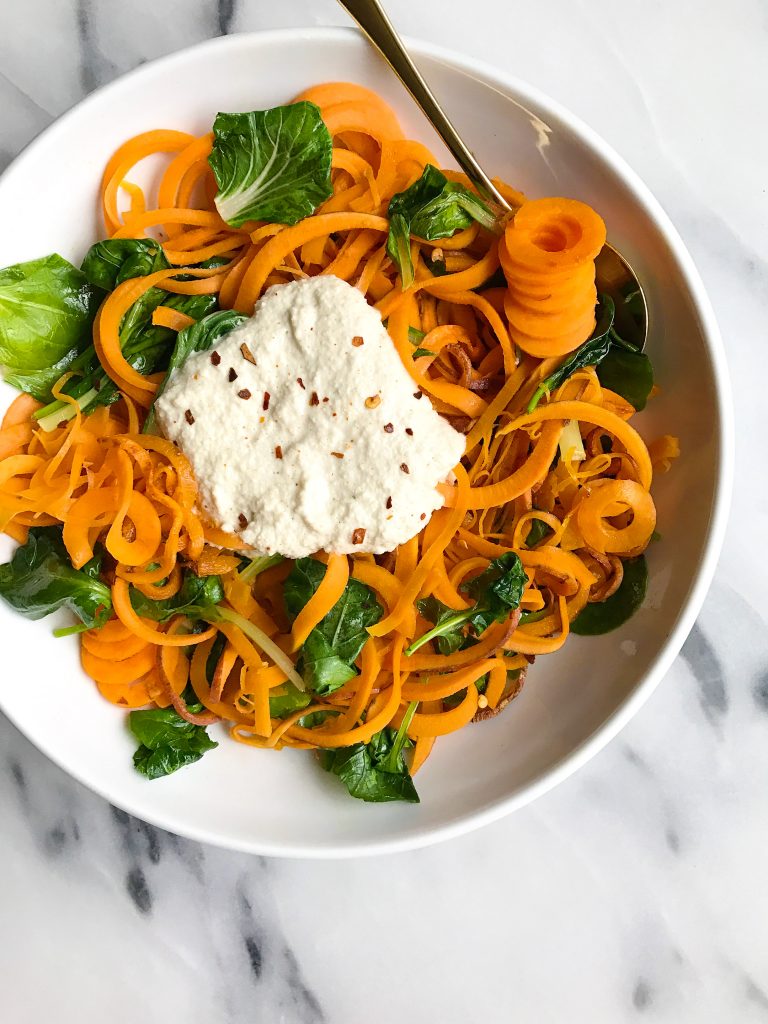 When Jord was doing Whole30 last month, things in the kitchen most definitely got a bit challenging. We had to meal prep a TON and also make a lot of new recipes we haven't tried before (more on that here).
Veggie noodles were the saving grace of Whole30 for him. He loves loves loves his pasta and we made a lot of different spiralized ones from zucchini, turnips and sweet potatoes. Swoodles maybe? Is that a thing? Sweet potato noodles, duh.
You also typically eat a ton of meat on Whole30 but that adds up real quickly at the grocery store, and not to mention J was a little over meat every single day. But without adding beans or legumes, it is pretty tough trying to get a hardy enough dish without the meat or even eggs.
These Garlic Cream Sauce Sweet Potato Noodles though.. they are Whole30 and even vegan. That's a pretty rare combo if you ask me. The garlic cream sauces pairs so amazing with these sweet potato noodles and we added Organic Girl Super Spinach for extra greens. It almost reminded me of a creamy garlic alfredo type sauce but 100x times cleaner and more nutritious.
The super spinach from Organic Girl has baby spinach, bok chop, and baby kale. This combo is an amazing source of vitamin C and B9 and spices things up a bit from just your ordinary greens. I also just love that Organic Girl triple washes all of their greens so it saves me time when cooking with them. Not to mention washing your lettuce is a pain in the tush! It gets so much soggier and then adds too much liquid to your food.
When you at this garlic cream sauce to the cooked sweet potato noodles and greens, it melts so deliciously and you have yourself a creamy pasta that is Whole30 compliant and plant-based. Now that is a way to please all the dinner guests at your house 😉
WHAT YOU NEED
Cashews
Water
Almond milk (or your preferred milk)
Garlic
Nutritional yeast
Sweet potatoes
QUICK NOTES
Cashews work best for the base of this sauce. You have an allergy to cashews, next best sub would be walnuts.
Feel free to use an veggie noodle you prefer but the sweet potatoes add a bit more substance to make this a heartier dish
If you don't have a spiralizer, this is the one I use: link here
If nutritional yeast isn't your thing, you can absolutely omit!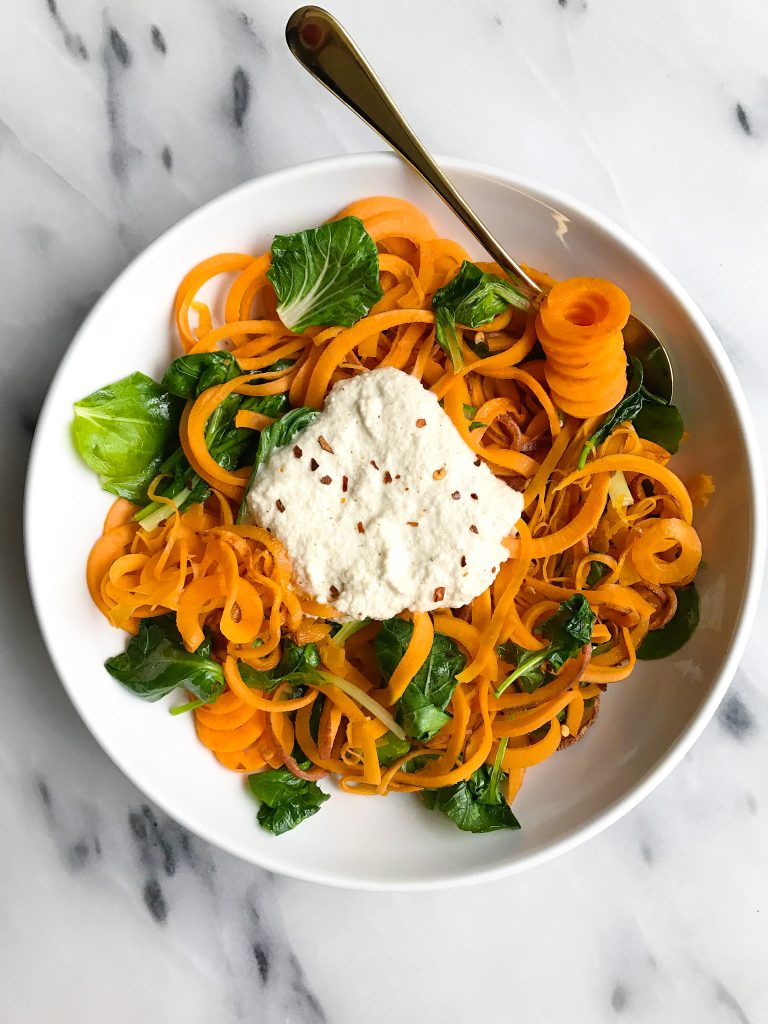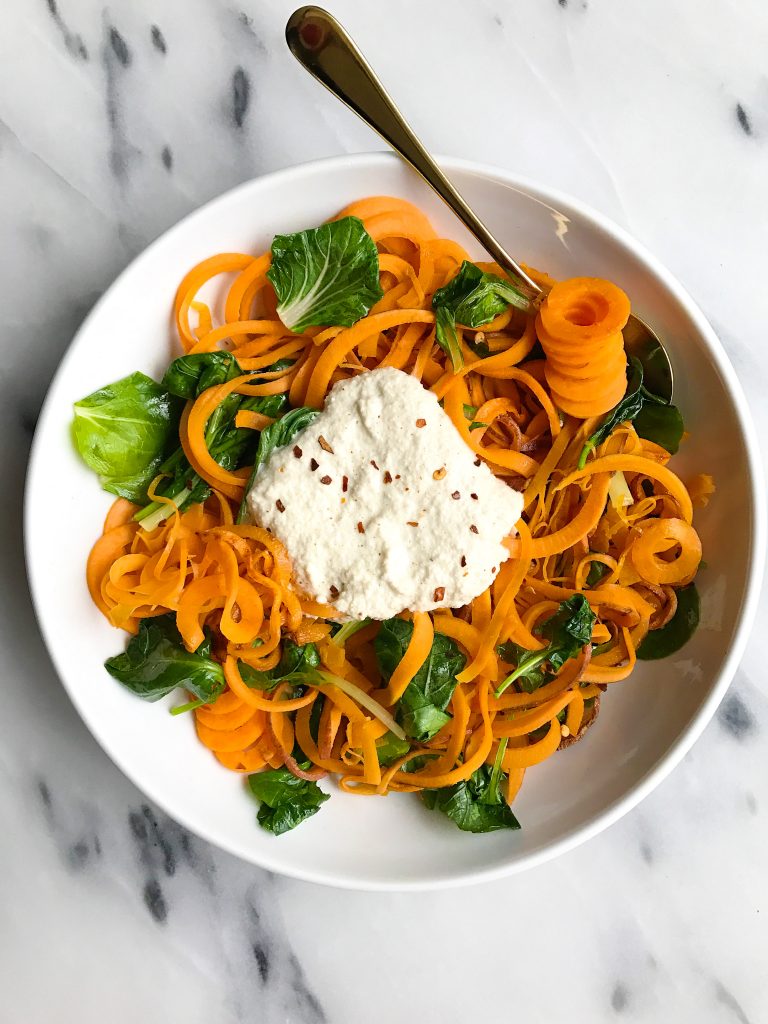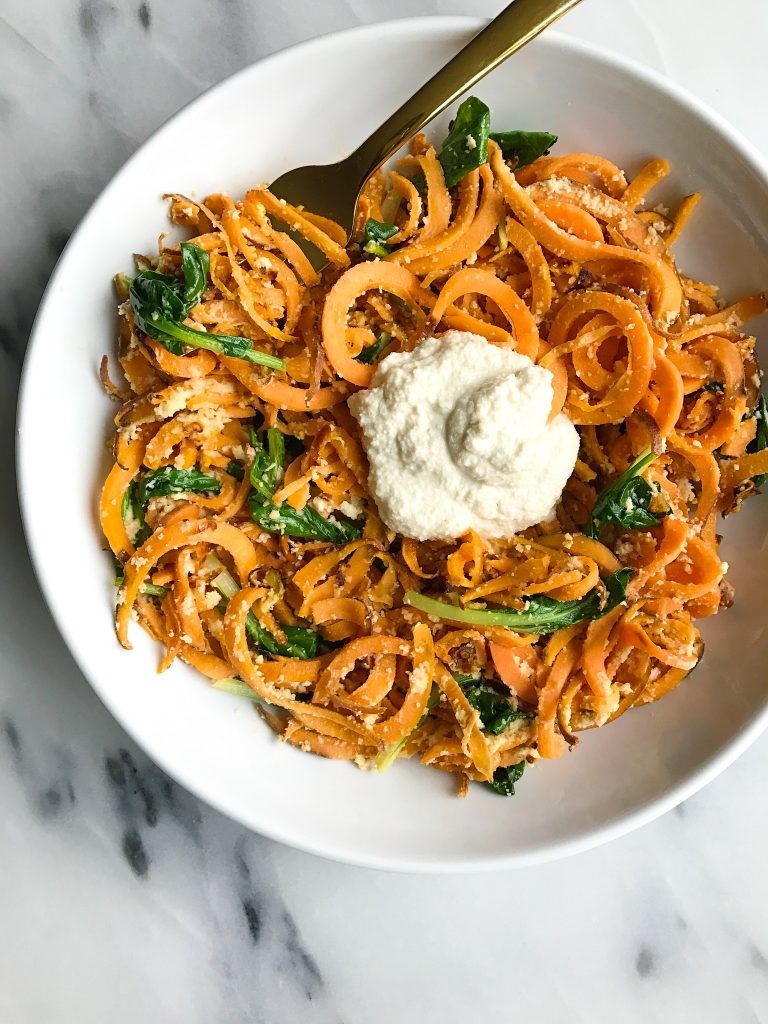 Print
Garlic Cream Sauce Sweet Potato Noodles (whole30)
Prep Time:

15 mins

Cook Time:

15 mins

Total Time:

30 mins
Garlic Cream Sauce:

1 cup

raw cashews

1/2 cup

room temp (or cool) water

1/4 cup

unsweetened almond milk (or your preferred milk)

1

garlic clove

1 tablespoon

nutritional yeast

Noodles:

3

sweet potatoes

1

package of Organic Girl Super Spinach
Instructions
Place the cashews in a medium sized bowl and fill with boiling hot water to cover completely
Let the cashews soak for 10 minutes to soften
In a food processor, add the soaked cashews (strained), room temperature water, almond milk, garlic and nutritional yeast and pulse until creamy and well combined
Begin spiralizing sweet potatoes by cutting off the ends, peeling the potato then use your spiralizer (or your preferred kitchen tool) to spiralize into noodles
In a large pan add 1 tablespoon of avocado oil and turn on medium-high heat
Add the sweet potatoes and begin cooking
We like them soft so I let them cook for about 7 minutes then added the spinach mixture
Once spinach and sweet potato noodles are cooked fully, remove from heat and mix in desired amount of creamy garlic sauce
Enjoy immediately
*This space will stay good for 5-7 days in fridge or you can freeze for longer. Noodles also will stay good in fridge for 5-7 days!
Author:
Category:

vegan, grain-free, gluten-free, whole30

Cuisine:

dinner, lunch
xx, Rach

Thank you Organic Girl for sponsoring this post. It means so much to me to work with brands that I love and who support rachLmansfield!