Buffalo Chicken Stuffed Sweet Potatoes for an easy paleo dish, using chicken from my favorite grass-fed and grass-finished meat company!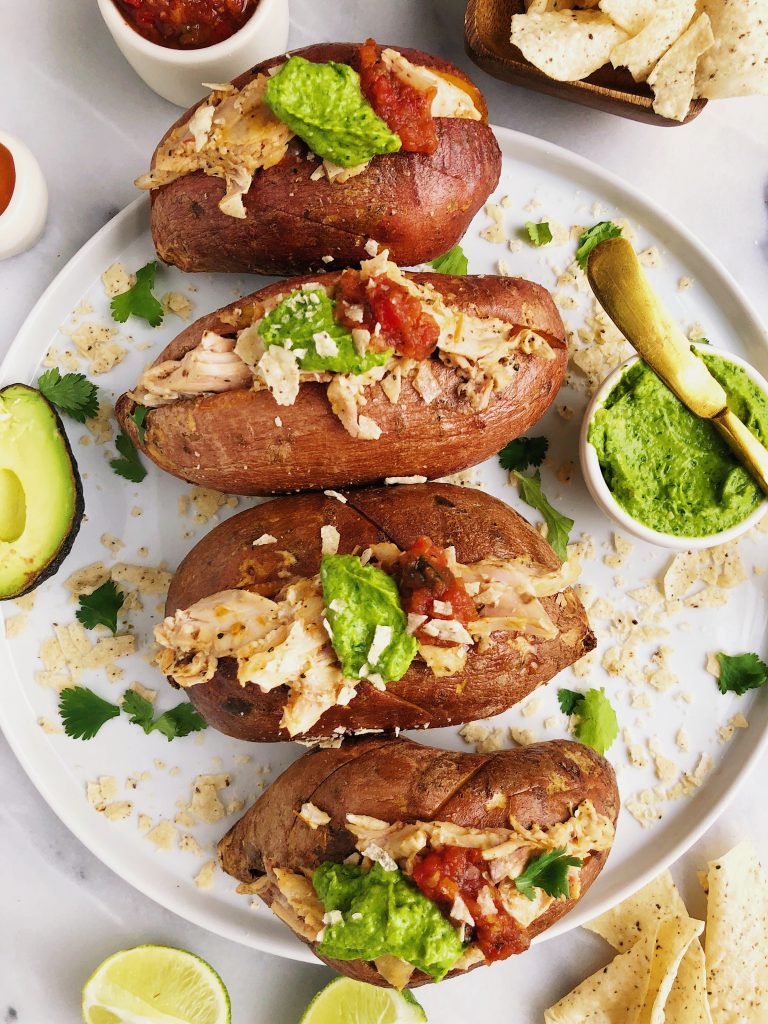 It is crazy to think that just a year ago, I was just introducing meat into my diet again.
Those 5 years when I only ate fish and eggs as my source of animal protein are long gone. I am fully supportive of anyone who chooses whatever diet/lifestyle they choose, but it is safe to say I don't see me omitting meat from my life again.
Since eating paleo chicken tenders a year ago to reintroduce meat, I have successfully eaten every kind of meat out there. Bison, turkey, lamb, bacon, chicken, duck, anything!
But I have to say, I am quite particular about the quality of the meat that I eat. I don't eat it unless I know where it is sourced from and the way the animals were raised. This makes ordering meat out at most restaurants a bit challenging, but luckily living in the NYC area, there are a ton of delicious options.
I do prefer to make my own meat at home and have spent so much time finding a brand who provides quality meat to its consumers.
That is when I came across Butcher Box (keep reading for an EPIC deal!!)
I first heard about Butcher Box on a podcast I was listening to and was so intrigued. Grass-fed and grass-finished meat delivered straight to your door? Plus they offer affordable prices and we both know that eating good quality meat is not cheap! Butcher Box has high standards for its meats. They offer beef, chicken and pork (the bacon is unreal). They taste test ever single cut before sending it out to customers, and their produces include family run farms who hold quality and animal welfare as a core value.
A brand we can actually trust and the best part is you don't even need to leave your home. You can customize your own meat box or order one of their curated ones varying in sizes so don't worry if you have a small family or or living on your own! It can work for you. Plus it is a subscription, which you can cancel at anytime. But as soon as you try Butcher Box meat, you will be hooked. I am not just saying this either friends. I cannot even explain how obsessed I am with this brand!
A few of my favorites from Butcher Box :
whole chickens (my absolute FAVORITE!)
uncured bacon
ground beef
breakfast sausage
burgers
NY strip steaks
But you really cannot go wrong with anything. The party wings, ribs, everything! Jord loves using the ground pork too for meatballs. Plus you can get free shipping and FREE BACON with my link (hi, amazing!).
Today I am sharing my recent favorite recipe featuring Butcher Box's chicken. I love these Buffalo Chicken Stuffed Sweet Potatoes because you can really use chicken breasts or thighs in it. It is such an easy and delicious meal that is paleo and whole30. Plus we poach the chicken, coat it in a dreamy buffalo sauce and enjoy it with an avocado green sauce.
If chicken isn't your thing, you can absolutely sub your preferred meat in this recipe. It is super versatile.
I cannot wait to hear what you think of these stuffed taters and Butcher Box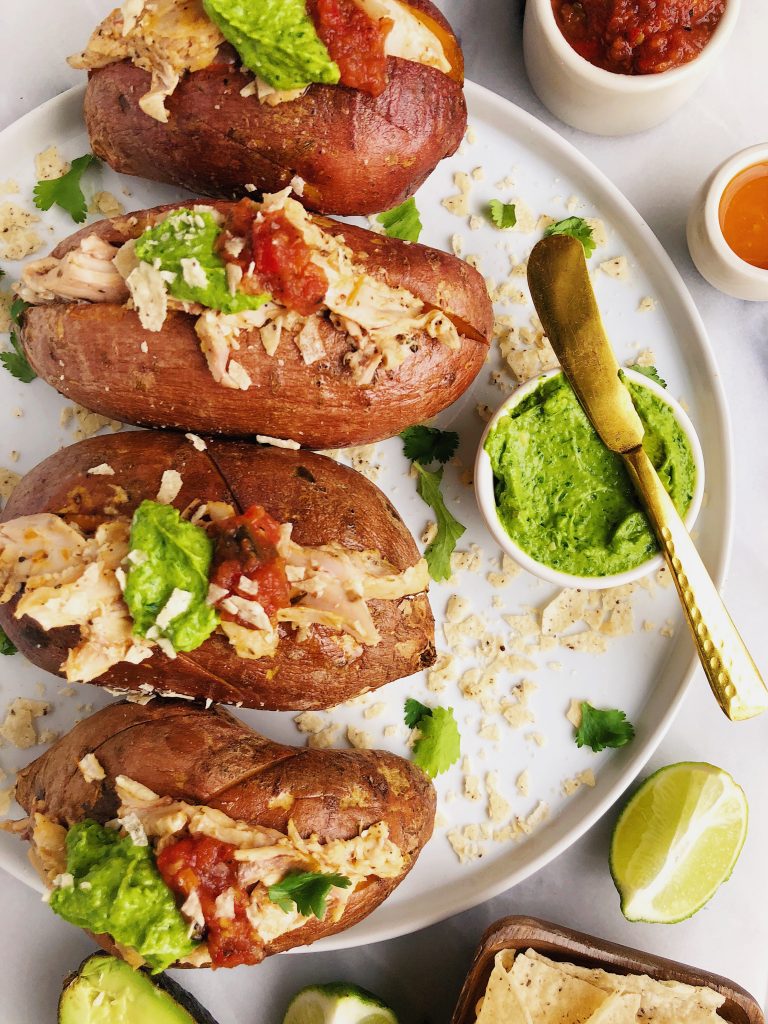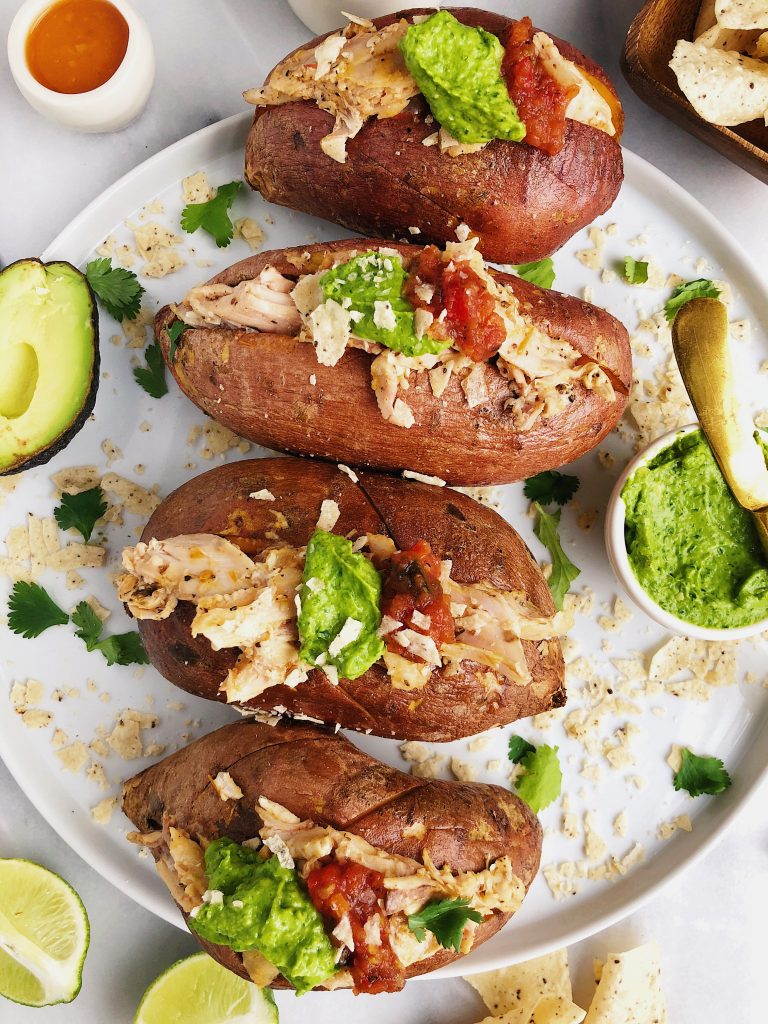 Print
Buffalo Chicken Stuffed Sweet Potatoes (paleo + whole30)
4

medium sweet potatoes, organic and washed well

1

pound of chicken breast or chicken thighs, uncooked (I used Butcher Box)

1/3 cup

buffalo sauce

1/4 teaspoon

garlic powder

1/2

lime, juiced

1/4 cup

onion, chopped

1/4 cup

salsa of choice

AVOCADO-GREEN SAUCE

1

small ripe avocado

1/2 cup

cilantro, chopped

1 cup

spinach

2

small limes, juiced

2 tablespoons

avocado or olive oil
Instructions
Preheat oven to 400 degrees and line a baking tray with parchment paper OR wrap each sweet potato in tin foil or parchment paper
Poke a few holes in the sweet potatoes with a sharp knife and add to oven to bake for 1 hour
While the potatoes cook, begin making the chicken
Fill a medium sauce pan with water and bring to a boil, add in the chicken breasts while boiling and let it cook for about 10 minutes
Remove chicken from heat and pull apart using a fork
Toss chicken in buffalo sauce in a large bowl, making sure the chicken is fully coated
To prepare sauce, add all ingredients to food processor and blend
Prepare any remaining toppings, such as chopped onion, cilantro or crushed tortilla chips if you'd like
Enjoy while warm and store leftovers in fridge for up to 5 days
xx, Rach
Thank you Butcher Box for sponsoring this post. It means so much to me to work with brands I love and believe in!
SaveSave
SaveSave
SaveSave