20-minute Homemade Paleo Burrito Bowls for an easy and delicious Chipotle-like burrito bowl made in your on kitchen!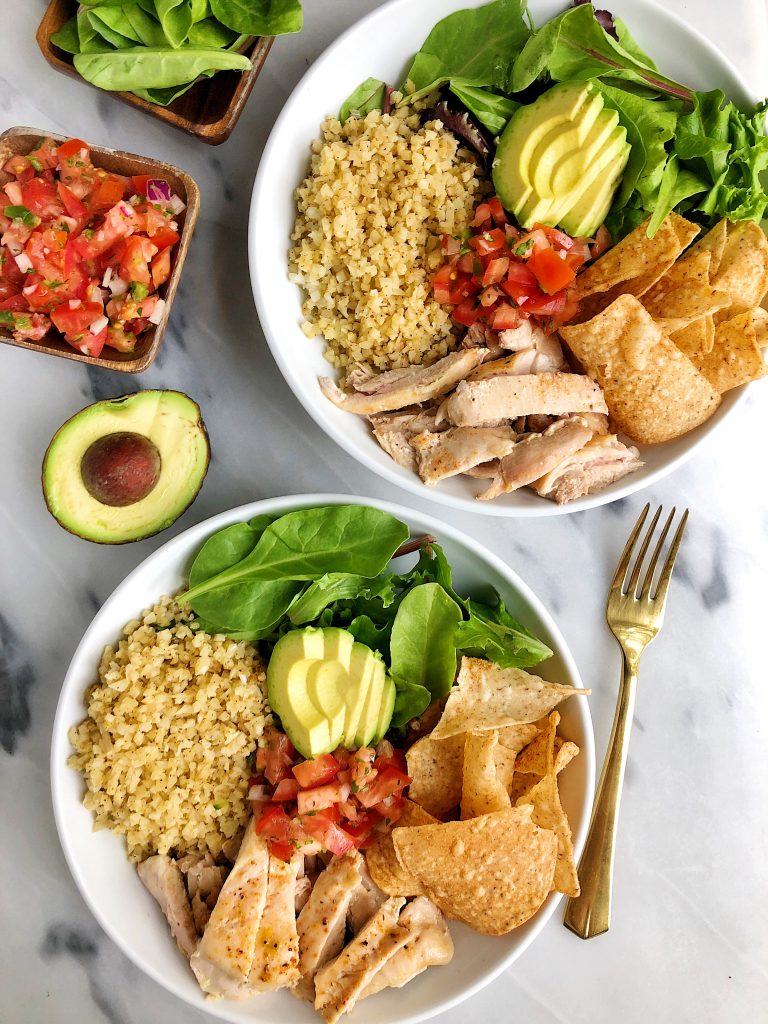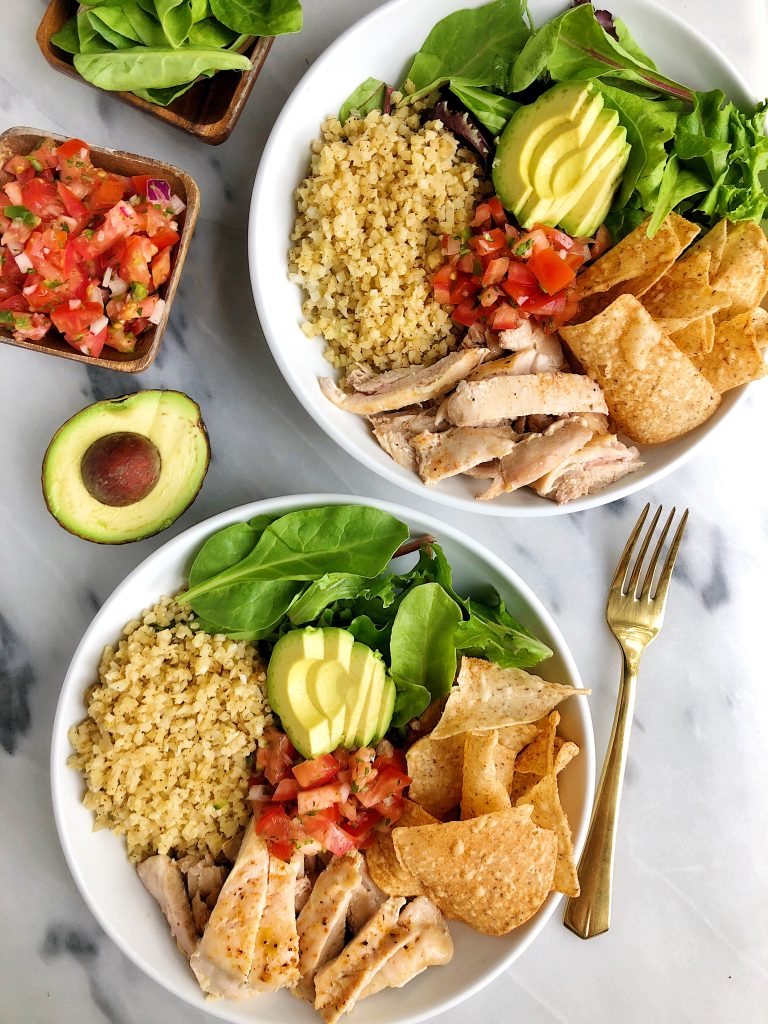 There are very few meals that I don't eat from a bowl these days. Even when I eat dinner at my parent's house, my mom knows to give me a shallow bowl to make my food in. I love that you can pack them with anything you want and it makes eating less messy since the food does fall off like it does on a plate, ya know?
These Paleo Burrito Bowls though are my recent go-to for an easy homemade Chipotle-like meal. I crave Mexican food a few times a month and this bowl comes together in just 20 minutes and it hits the spot every single time.
It is filled with organic leafy greens, cauliflower rice spiced with just the right amount of seasonings, pico de gallo, avocado and the most important part – the CHICKEN!
You guys know I am all about Butcher Box and I use their meat all the time. We stock up on their organic free-range chicken, grass-fed beef and heritage pork each month. The whole chickens are by far mine and Jord's favorite but when we want to make chicken a bit quicker, we turn to the chicken thighs or tenders like in this recipe.
I personally like to bake them in the oven and not over the stove. Sometimes cooking chicken on the stove dries it out quickly, but by baking it, the chicken is able to marinate a bit in the avocado oil and spices and it comes out so juicy and flavorful.
Using meats from a brand like Butcher Box, is what made me comfortable with eating meat again in the first place. They source all of their meats straight from the farms (no middle man!). And I have never had a bad piece of meat from them. Whether it's the pork breakfast sausages, nitrate-free bacon or the grass-fed steaks, the have all be absolutely delicious.
It can seem like a lot to have a meat subscription service, but to be honest if you eat meat a few days a week and buy quality meat, the price you pay for Butcher Box is the same if not cheaper then buying meat at the local store. I have a designated freezer spot for all of our meats and simply defrost them in the fridge the day before cooking.
Here are also a few of my other favorite recipes using what I order from Butcher Box: Oven-Broiled Wild Salmon Tacos and Buffalo Chicken Stuffed Sweet Potatoes. I cannot wait to hear what you guys think of these 20-minute Homemade Paleo Burrito Bowls and if you order Butcher Box. Let me know what you think!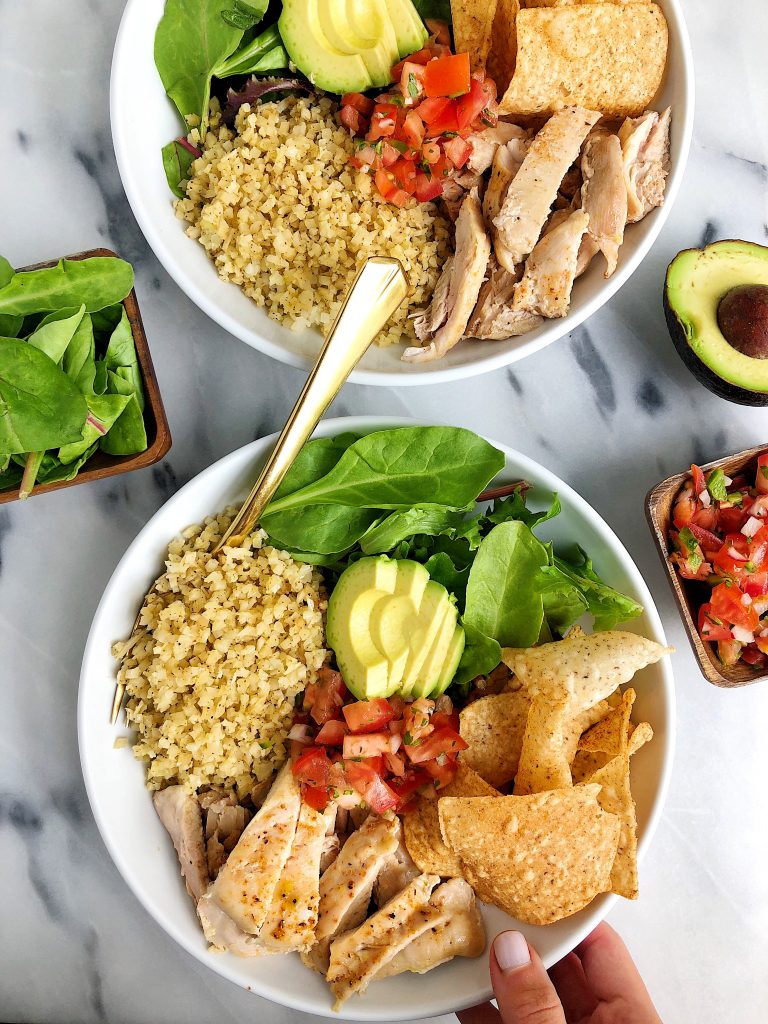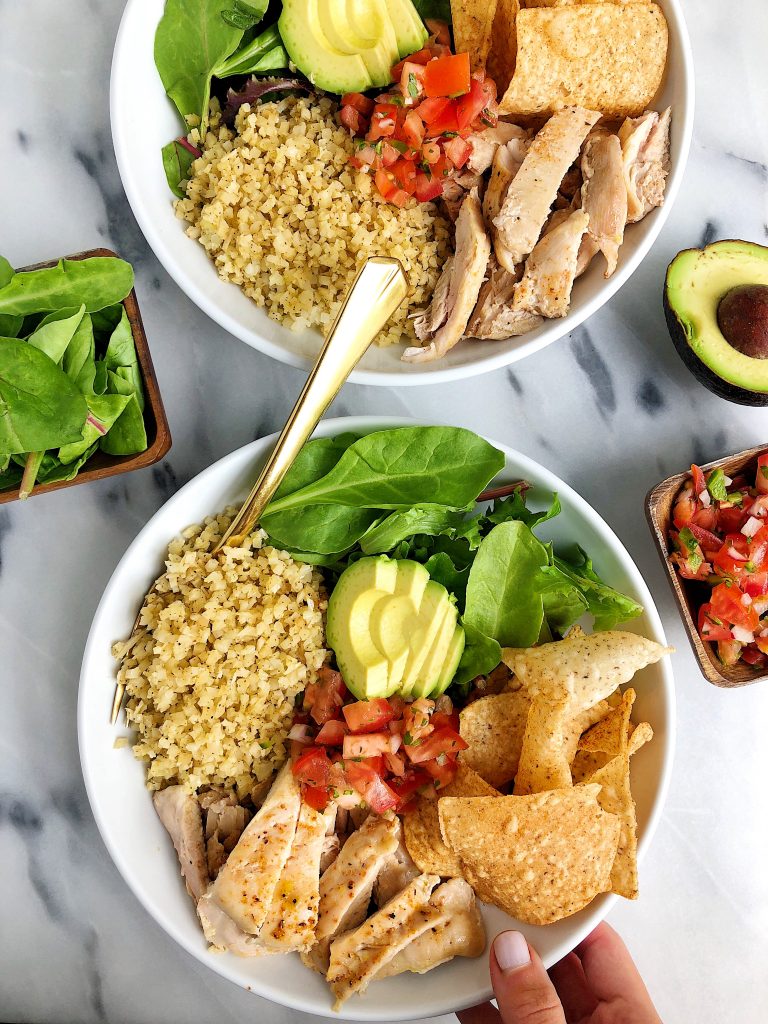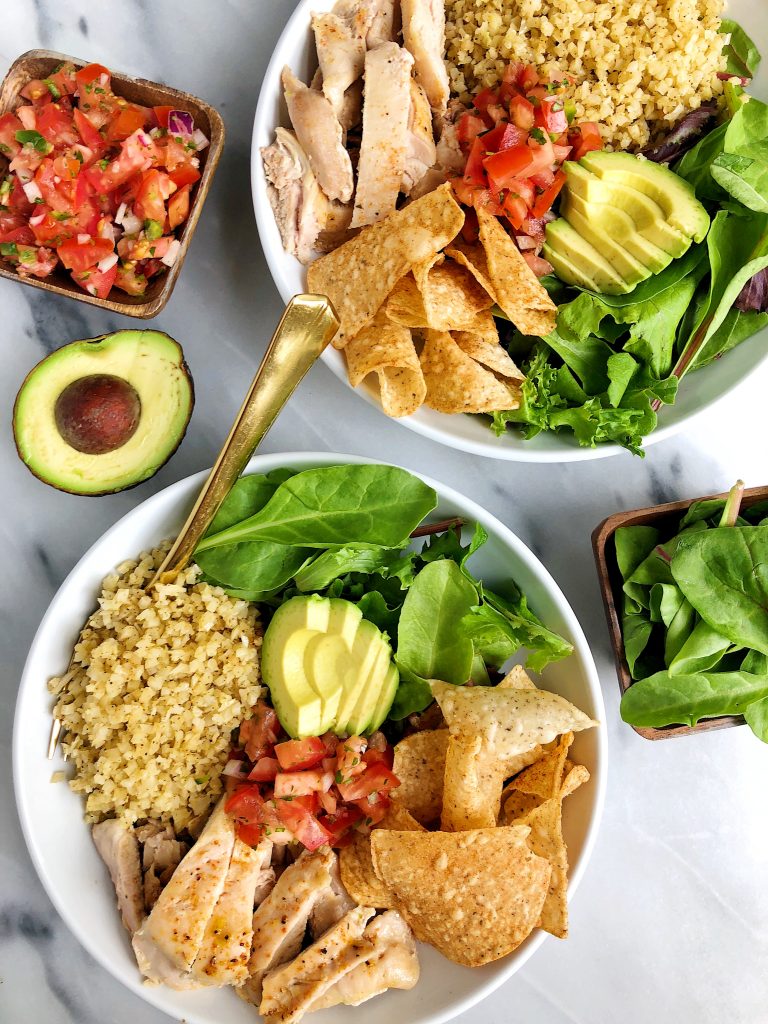 Print
20-minute Homemade Paleo Burrito Bowls
20-minute Homemade Paleo Burrito Bowls made with all gluten-free, dairy-free and organic ingredients for a healthier Chipotle-like burrito bowl!
6

–

7

ounces free range organic chicken (I used Butcher Box chicken thighs and breasts!)

1/2 teaspoon

chipotle powder

1/2 teaspoon

garlic powder

1 tablespoon

avocado oil

1 cup

organic cauliflower rice (I bought frozen and already in rice form)

1 tablespoon

avocado oil

1/2 teaspoon

chipotle powder

1/2 teaspoon

black pepper

1/2 teaspoon

garlic powder

1

avocado, sliced

1/3 cup

chunky salsa or pico de gallo

2 cups

organic leafy greens

Tortillas or tortilla chips of choice
Instructions
Preheat oven to 350 degrees and line a large baking dish with parchment paper (mine was 12×5)
Add the chicken to the baking dish and coat in spices and oil (wash hands well after handling chicken)
Bake chicken for 20-25 minutes or until fully cooked (no pink should be showing!)
While the chicken bakes, make the cauliflower rice by adding it to a skillet with the seasonings and cook for about 5-10 minutes
Once chicken is done, add a bowl with leafy greens, avocado, salsa, cauliflower rice and tortillas
Enjoy while warm
Notes
These bowls are a great meal prep option! Add avocado and salsa when you're about to it.
Use this link for $15 off, free shipping + free bacon with Butcher Box orders!
xx, Rach
Thank you Butcher Box for sponsoring this post! It means so much to me to work with brands I love and believe in on the blog!
SaveSave