Oven-Broiled Wild Salmon Tacos for an easy and mess free way to make salmon in your oven!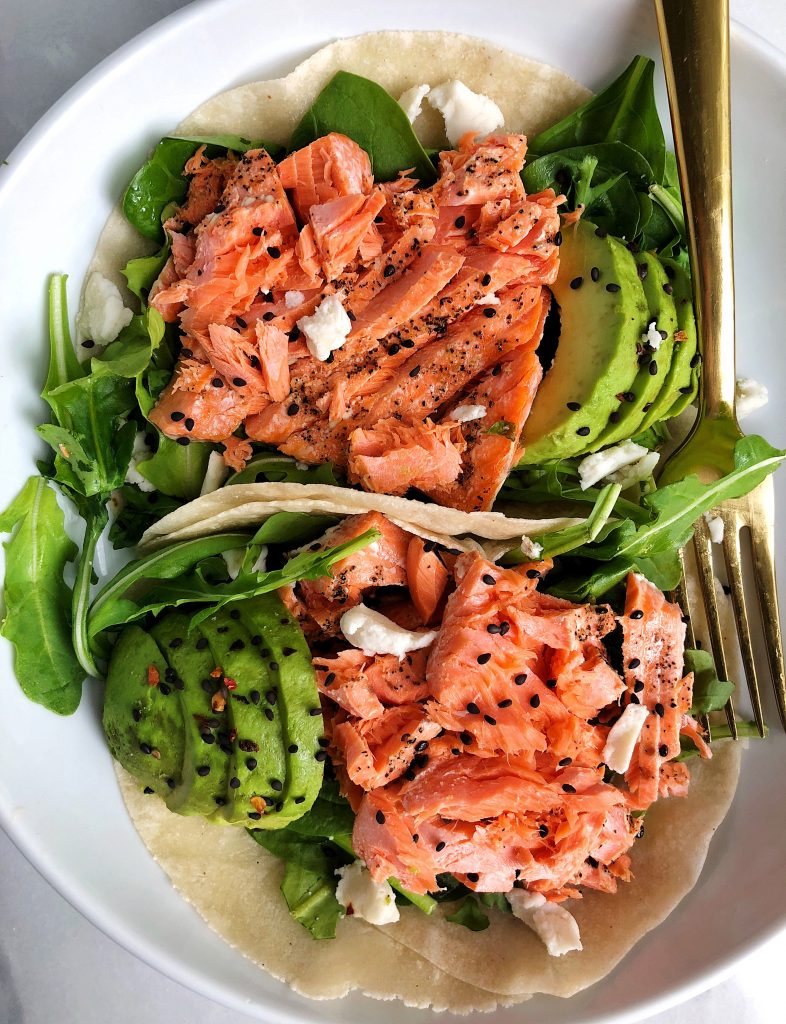 When I didn't eat meat for 5 years, I surprisingly did not eat much fish either. I am very particular about the type of fish, the quality of it, the texture, everything. I found many fishes to be too "fishy" or "chewy" and just didn't enjoy any.
Except for one fish that I still to this day crave daily – wild salmon.
Now I am also very picky about the salmon I eat. I will only eat wild-caught salmon (no farm raised around here), so it is a bit hard to find quality wild salmon to feed my cravings. Then I found out that Butcher Box is having wild salmon in their offerings for a limited time. I pretty much shrieked when I heard the news. This offer is very limited and is only here until 5/28! It has been selling out so fast.
With my link, you can get 2lbs of Wild Alaskan Sockeye Salmon for FREE with your order (new customers only!). Butcher Box sells grass-fed and grass-fished beefs, free range organic chicken, heritage breed pork, and now for a limited time they are selling Wild Alaskan Sockeye Salmon.
I made the salmon for dinner the second it arrived. Butcher Box sources their salmon from the pristine waters of Bristol Bay, Alaska and they have partnered with fisherman who uphold strict fishing and handling practices to guarantee the highest level of quality. Aka we are getting unblemished, rich-tasting, firm flesh – WILD SALMON!
Now for any of my friends who live in an apartment and don't have access to a girl, cooking salmon can be quite annoying. It can easily stink up your kitchen from pan-searing it and doesn't get that perfect texture when it is baked. That is why we are broiling it in the oven. I use my cast-iron skillet, some avocado oil and spices and the salmon turns out absolutely perfect.
I hope you guys love this easy, mess-free and not-so-stinky way to cook salmon indoors. Don't forget to share your salmon meals with me on Instagram. Especially these Oven-Broiled Wild Salmon Tacos when your Butcher Box arrives!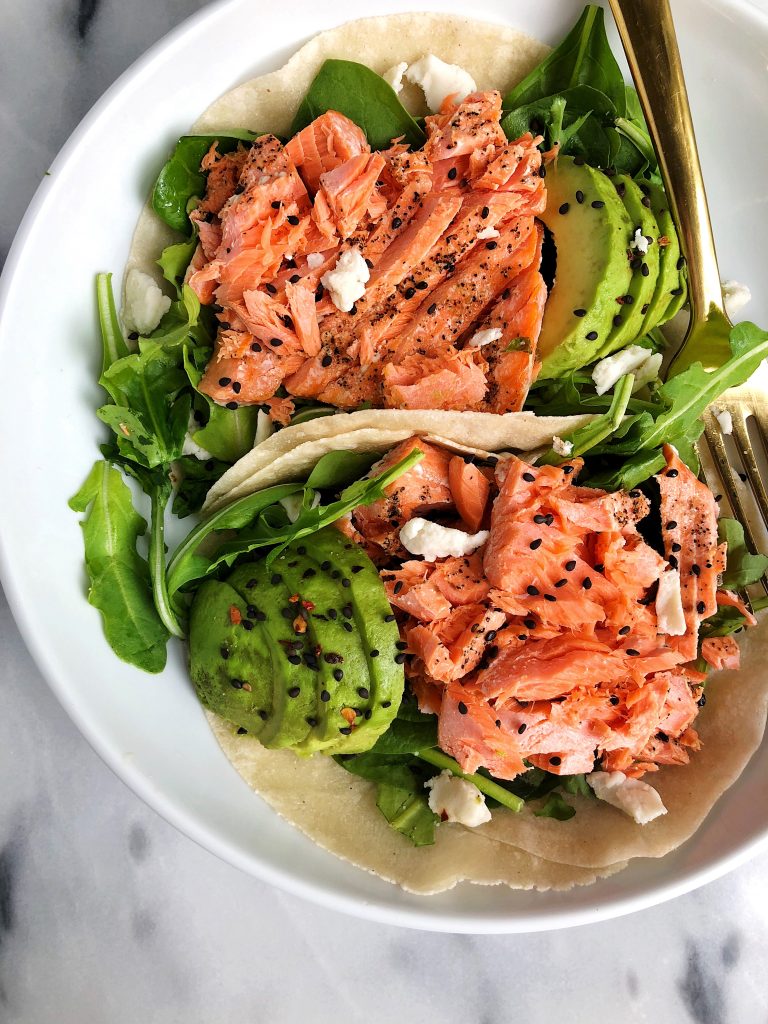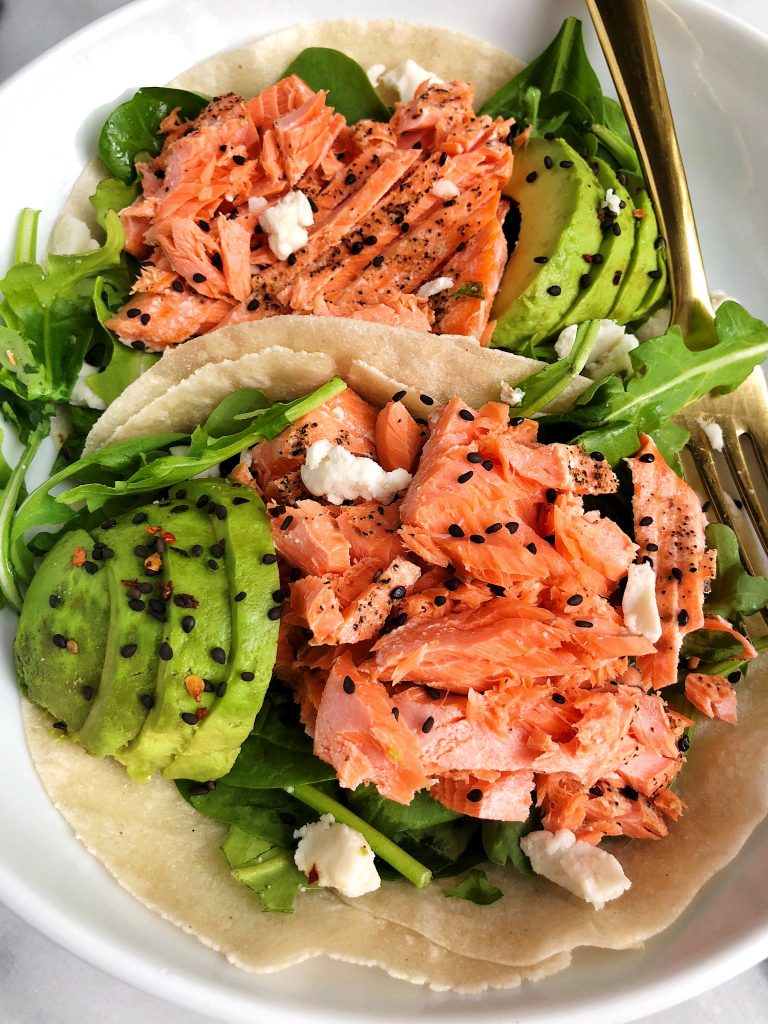 Print
Oven-Broiled Wild Salmon Tacos
Oven-Broiled Wild Salmon Tacos made with gluten-free ingredients for an easy way to make salmon in your oven!
5

–

6

ounces of Wild Salmon (I got mine from Butcher Box)

1 tablespoon

avocado oil

1/2 teaspoon

black pepper

2

tortillas of choice

1/2

avocado

2 tablespoons

feta cheese

Any other taco toppings you are craving!
Instructions
Preheat oven to 350 degrees and grease a cast iron skillet with avocado oil
Strain the wild salmon from the packaging (if needed) getting rid of any excess liquid
Add to the cast iron skillet and grease with avocado oil and sprinkle pepper on top
Turn oven onto high broil then add to oven and broil for about 5-7 minutes or until crispy and done to your liking (please note that the cook time varies based off the thickness of the salmon – the thicker the longer it will cook)
Prepare tortillas as you wish (I love crisping them over the stove with the flame)then add salmon to tortillas with avocado, greens, feta and any other toppings!
xx, Rach
Thank you Butcher Box for sponsoring this post. It means so much to me to work with brands I love and believe in!