Buffalo Chicken Cauliflower Fried Rice made with simple ingredients for an easy Whole30 recipe!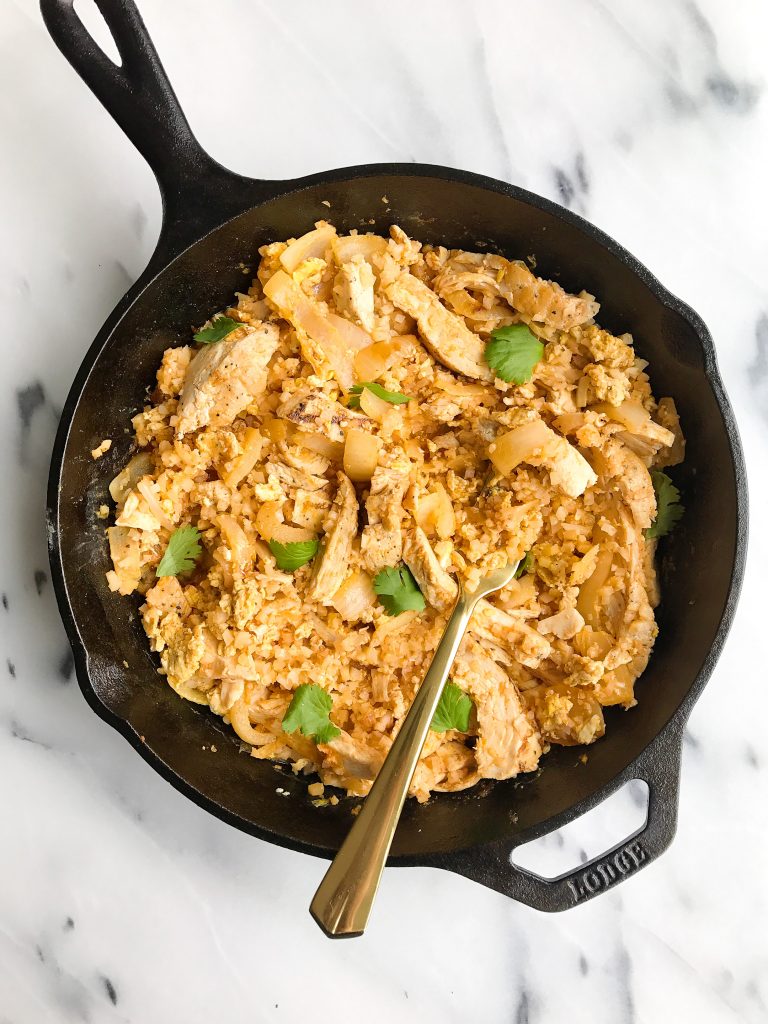 Pretty sure if Jord was stranded on an island and could only bring one thing for the rest of his life, it would be buffalo sauce. The kid loves buffalo sauce with pretty much anything. We easily go through a bottle of it a week, if not more.
Since it has been a few months since J completed Whole30, for the most part he went back to his "normal" eating habits. He has always had a balanced perspective on food and diet so it's not like he went back to chicken fingers and mozzarella sticks daily. But he did start having bread, oats and rice more. AKA more grains. I am likely the culprit of this since sometimes it is just easier to make a tuna sandwich for him for lunch and overnight oats for breakfast.
Recently he has been asking for some more Whole30-ish meals so we are back on the chia pudding, smoothie and cauliflower rice game. I know smoothies aren't Whole30 but we use all approved foods. Basically Jord prefers a very paleo-ish diet without the title but pizza and beer on weeks.
This Buffalo Chicken Cauliflower Fried Rice was such a hit for dinner. And the best part? It takes less than 10 minutes to make it since I cheated and bought already cooked chicken from Whole Foods (no shame).
Jord is a devoted Tessemae's Buffalo Sauce guy too. We use mild or hot and honestly I fully support him drowning everything in buffalo sauce since theirs made with the best ingredients. As you can see a ton of my Tessemae's recipes are buffalo themed. We should probably branch out a bit soon 😉 But you cannot go wrong with any Tessemae's dressing. I have a new recipe coming in June with a new dressing they just launched and it is GOOD!
WHAT YOU NEED
Grass-fed butter or avocado oil
Buffalo sauce (this is a whole30 one)
Onion
Cauliflower
Chicken (breast or thighs will work)
Cilantro
Eggs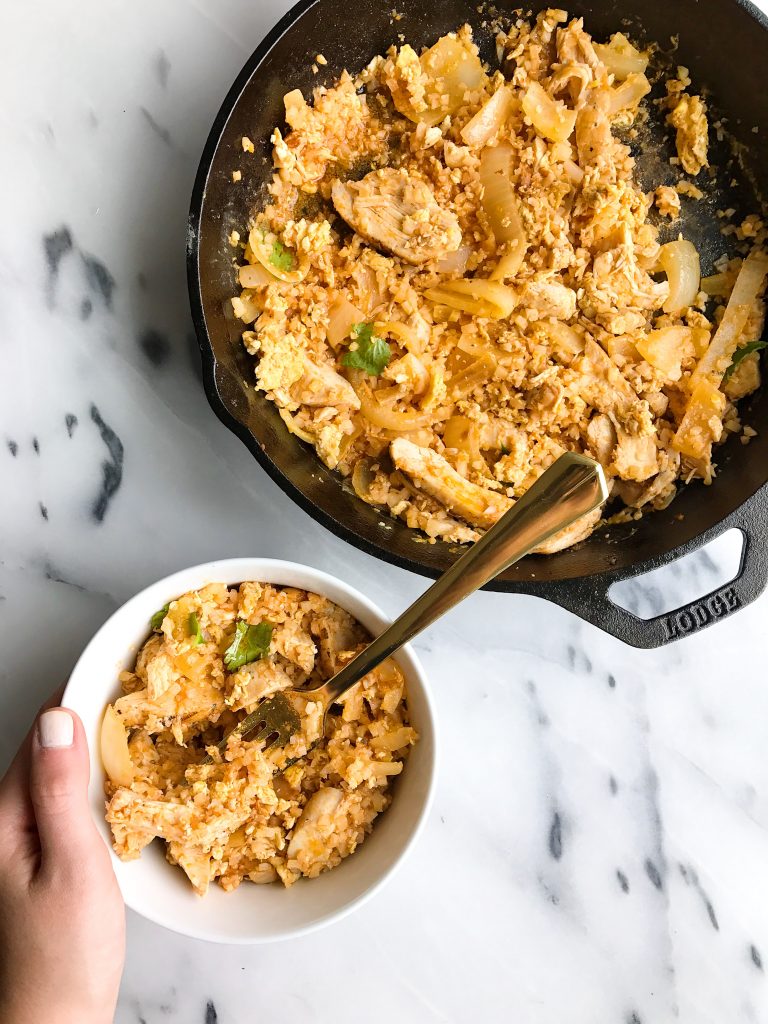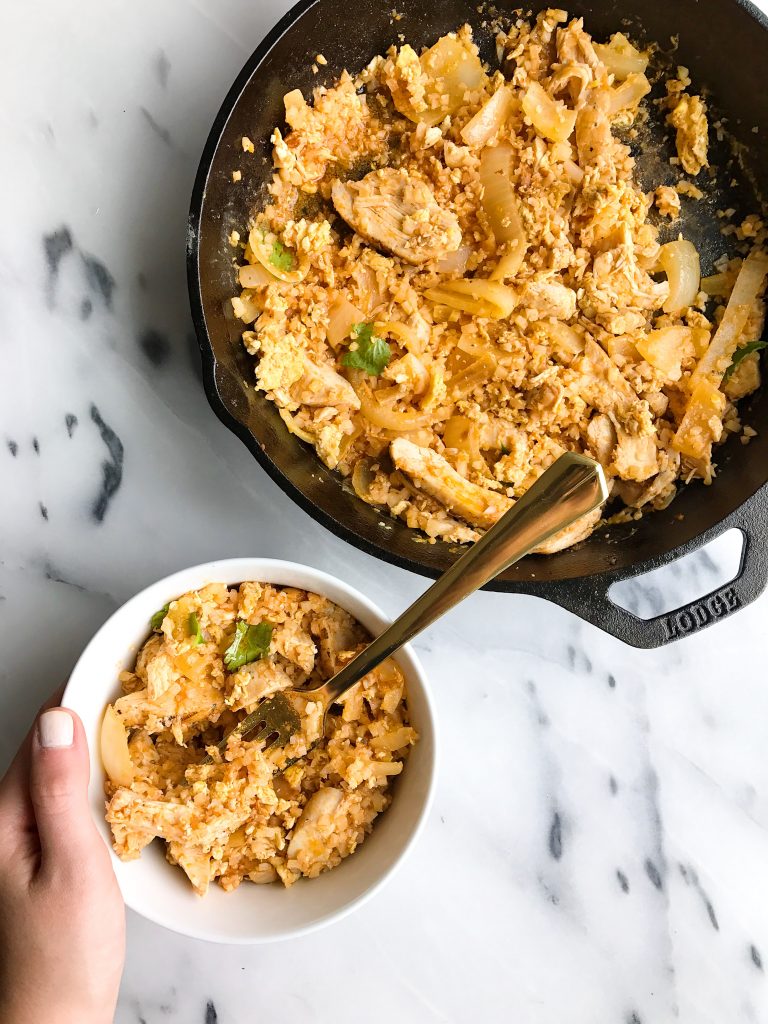 Print
Buffalo Chicken Cauliflower Fried Rice (Whole30)
1 tablespoon

grass-fed butter or oil

1/2

onion chopped

1

head of cauliflower, made into "rice" in food processor (you can also buy this in freezer section)

8

–

10

ounces of chicken (I used precooked strips from Whole Foods)

2

eggs

1/2 cup

Tesserae's buffalo sauce

Handful of chopped cilantro
Instructions
Preheat a skillet or sauce pan on medium-high heat and add the butter or oil
Add onion and cook until fragrant (about 5-7 minutes)
While onions cook, mix together buffalo sauce and chicken in a medium bowl and let it marinate for a bit
Crack the two eggs in the skillet and scramble around to cook for a few minutes
Add chicken and cauliflower to the skillet and mix the fried rice around (you may want to add some more buffalo sauce if needed)
Cook for a few minutes or until rice is to your liking (don't overcook or will be soggy)
Remove from heat and add cilantro on top
Enjoy within 5 days!
Author:
Category:

whole30, grain-free, gluten-free

Cuisine:

dinner, lunch
xx, Rach

Thank you Tessemae's for sponsoring this post. It means so much to me to work with brands that I love and who support rachLmansfield!