Crispy Baked Buffalo Cauliflower Wings for a deliciously healthy vegan buffalo dish!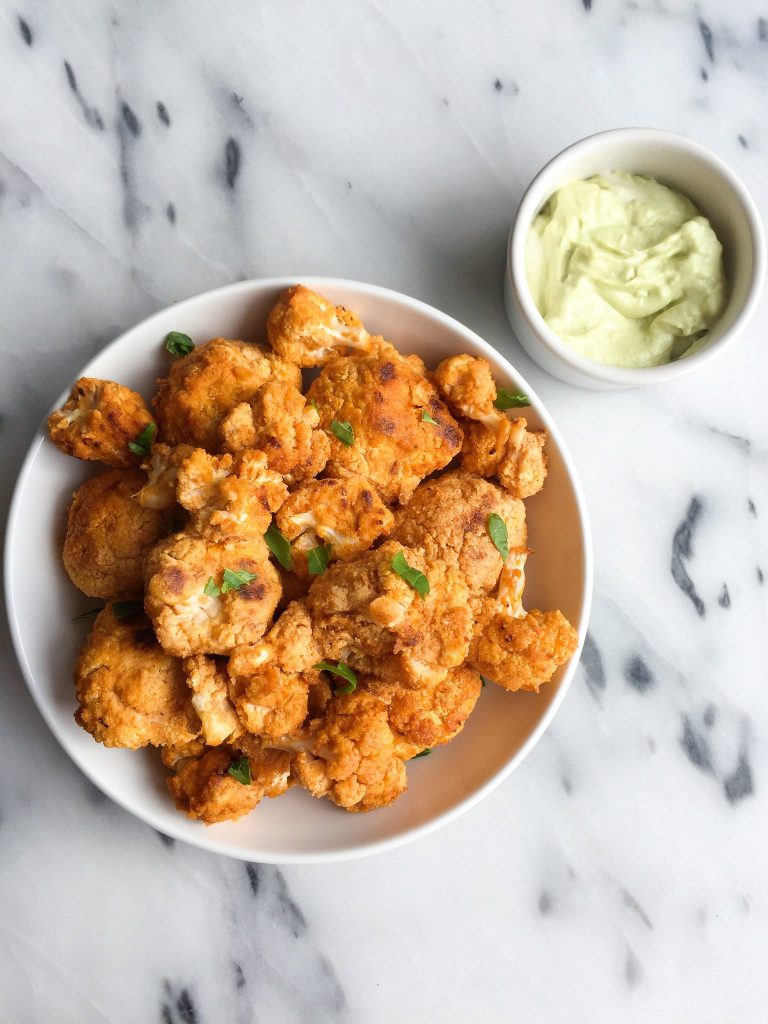 These Crispy Baked Buffalo Cauliflower Wings are dedicated to all the babes who just want to fit in during football season when everyone is eating mini hot dogs and wings. Meanwhile I am in the corner eating a sweet green salad and Justin's peanut butter cups. But that isn't happening anymore my friends because we have these buffalo cauli WINGS!
Now I know what you are thinking, no cauliflower doesn't have wings. But just go with it. When I first told Jord I was making Crispy Baked Buffalo Cauliflower Wings he looked at me like I was an alien.
30 minutes later he is devouring these on the couch watching TV. Okay? So thank you very much everyone!
These buffalo cauliflower wings are made with all the GOODS. I used Tessemae's Mild Buffalo Sauce (again) because that ISH is seriously insane. I made those Buffalo Cauliflower Burgers and that Buffalo Chickpea Salad with it already, and I cannot get enough. Their buffalo sauce is too amazing not to make new recipes with.
It is made from all clean ingredients like sunflower seed oil, olive oil, red peppers, lemon juice, mustard, etc. It is vegan, gluten-free, whole 30-approved and completely AMAZING. All of Tessemae's products are amazing to cook with. You may recognize them from these recipes here.
Before coating the cauliflower florets in it, I also "breaded" them with almond milk, almond flour and some yummy spices. They have a layering on top of the florets to give them that real buffalo wing texture.
These Crispy Baked Buffalo Cauliflower Wings are the perfect Sunday afternoon recipe to make when you are inside watching football or if you are like me, Gilmore Girls on Netflix.
I also paired these with my avocado crema and it was BOMB. The recipe is over on those Veggie Huevos Rancheros Skillet Bake from last week. If you are feeling real crazy, you can make that for breakfast and make extra avocado crema then make these for later. Then call me so I can come over.
Okay thanks byeeeee.
Print
Crispy Baked Buffalo Cauliflower Wings with Avocado Cilantro Dip
Author:
Category:

grain-free, gluten-free, dairy-free

Cuisine:

dinner, appetizer
Scale
Ingredients
1/2 cup

unsweetened almond milk

1/2 cup

water

1/2 cup

almond flour

1/2 teaspoon

garlic powder

1/2 teaspoon

cumin

1/2 teaspoon

paprika

3/4 cup

Tessemae's Mild Buffalo Sauce (or hot if you prefer)

1 tablespoon

butter (vegan butter if needed)

2

small heads of cauliflower cut into florets (or

1

large)
Instructions
Preheat oven to 425 degrees
Line a baking tray with parchment paper and grease well
Mix together milk, water, almond flour and spices in a large bowl
Toss in cauliflower to evenly coat, alternatively you can dip each floret by hand
Add to tray then bake in oven for 30-40 minutes
While cauliflower is baking, whisk together buffalo sauce and butter in small sauce pan, bring to a low boil then set aside
Remove cauliflower from oven once golden brown (about 30-40 minutes)
Now you can either let the cauliflower cool then toss in buffalo sauce in a bowl OR you can pour the buffalo sauce on top of the cauliflower on tray
Bake for additional 30 minutes on 425 then enjoy!
I paired mine with an avocado cream sauce (see Huevos Rancheros Recipe) but also use ranch or blue cheese!
xx, Rach

Thank you Tessemae's for sponsoring this post. It means so much to me to work with brands that I love and who support rachLmansfield!