This Spring Pasta Salad is the ultimate seasonal pasta salad to make. Tossed in a delicious lemon dijon dressing and ready in under 20 minutes!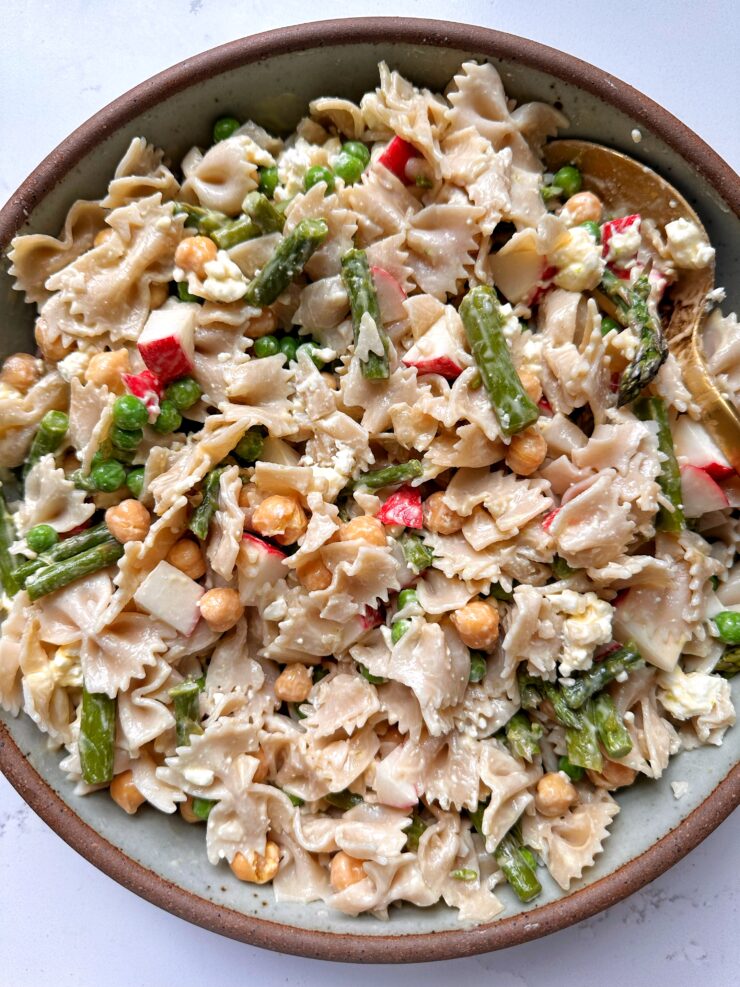 Are you looking for the ultimate pasta salad to make? Look no further than this spring pasta dish! It is loaded with seasonal veggies and tossed in the most delicious lemon dijon dressing that I am obsessed with right now.
I am obsessed with pasta salads so much and this one is a must try. I love that you can serve these warm, cool or room temperature. And you can double the recipe if you are making food for a larger group of people.
If you wanted to serve this pasta salad as a main, add in some cooked protein and it is a delicious meal. Like grilled chicken, salmon, shrimp, anything you are craving.
I do prefer to dress this as close to eating as possible. An hour is best so the pasta salad marinates a bit with flavor but isn't too soggy. Since we are using gluten-free noodles, they definitely absorb liquid more than regular pasta. So if you are having leftovers, save some dressing to add on top before eating for best flavor and texture.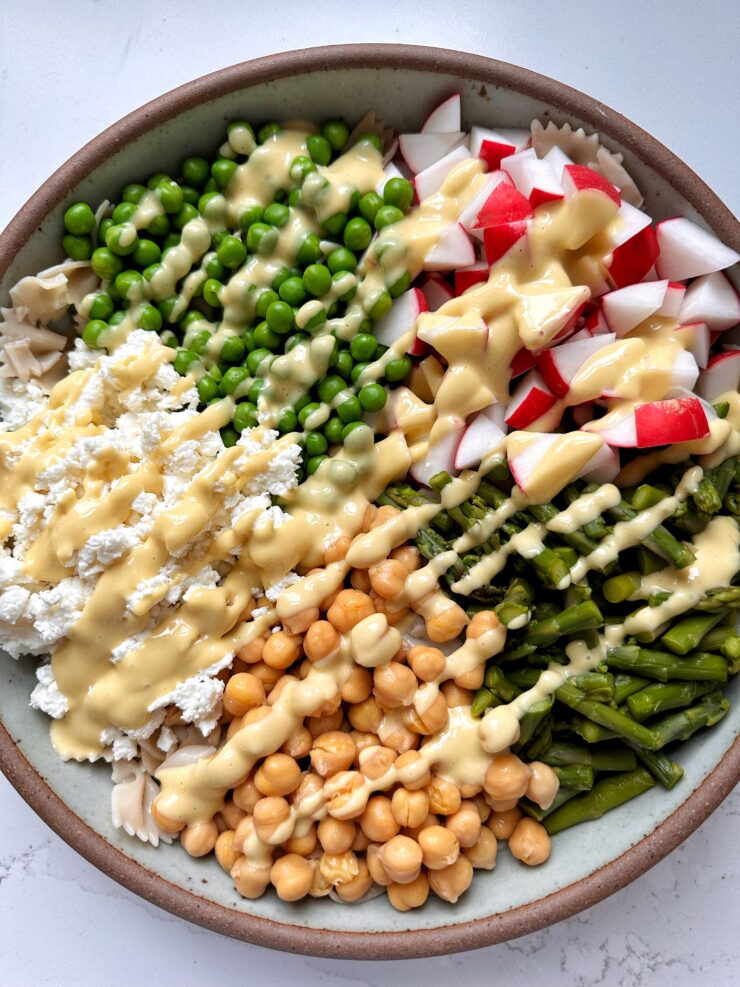 What ingredients are in this spring pasta salad with lemon dijon dressing:
Asparagus, cooked – I steamed mine! But also grilled asparagus would be great

Cooked peas – I typically keep a bag of frozen peas in the freezer for quick recipes like this

Gluten-free pasta – any noodle shape can work! You can also not use a gluten-free pasta if you prefer, totally up to you!

Chickpeas -cooked and rinsed. I use from a can to make it easier

Radishes – finely sliced into half moons. If you're not a fan of radishes, feel free to omit and add cucumbers or something else crunchy

Feta cheese crumbles – goat cheese would also work really well here
Extra virgin olive oil – this type of oil is best for dressings in my opinion!
Dijon mustard – I am obsessed with this mustard!! I use it for everything and it adds the best flavor to this
Maple syrup – just a touch for sweetness but you can also use honey if you prefer the flavor of that or omit in general
Garlic clove – shallot would also be great too but sub 1/2 a shallot if so
Lemon – you will need both lemon zest and juice for the dressing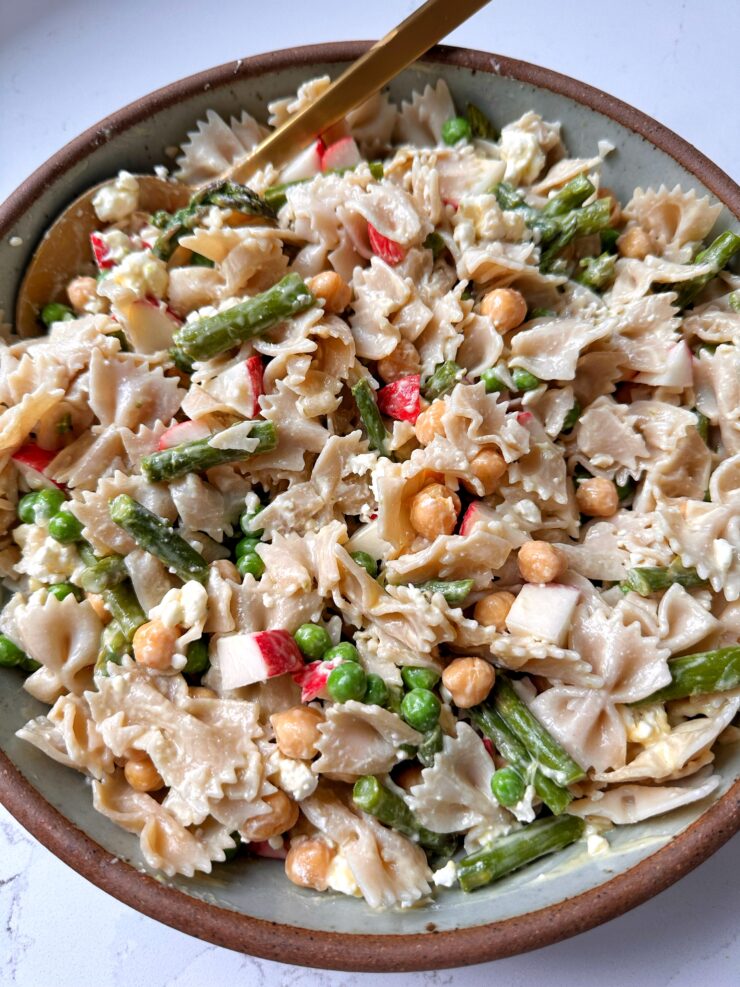 How to make spring pasta salad with lemon dijon dressing:
First cook the pasta per instructions then set aside (I always rinse gluten-free pasta in cold water once it's cooked to prevent sticking)
Next make the lemon dijon dressing by adding ingredients to a blender and blend until mixture is creamy and combined (if not blending well, add more water or oil)
Assemble the salad by adding ingredients to a large bowl then coat with desired amount of dressing and enjoy room temperature or cool
FAQs on making this spring pasta salad:
How long does this pasta salad stay good for? 5 days in the fridge! I do recommend adding the dressing within an hour or so of eating for optimal texture and flavor. The gluten-free pastas can dry out easily so the dressing flavor and consistency won't be as good the next day. I usually add more dressing before eating leftover.
Do you serve this recipe cold? You can really serve this pasta salad cool, room temperature or even warm if you prefer. That is one of the best parts of it!
What dishes does this salad go with? I love making it for BBQs and also with my Grilled Yogurt Marinated Chicken, Juicy Grilled Chicken Recipe or Grilled Salmon Kebabs!
Can I use any pasta? Yes! I use gluten-free noodles but you can really use any pasta you have on hand or prefer. I don't recommend a spaghetti shape though as it wouldn't go as well with the toppings.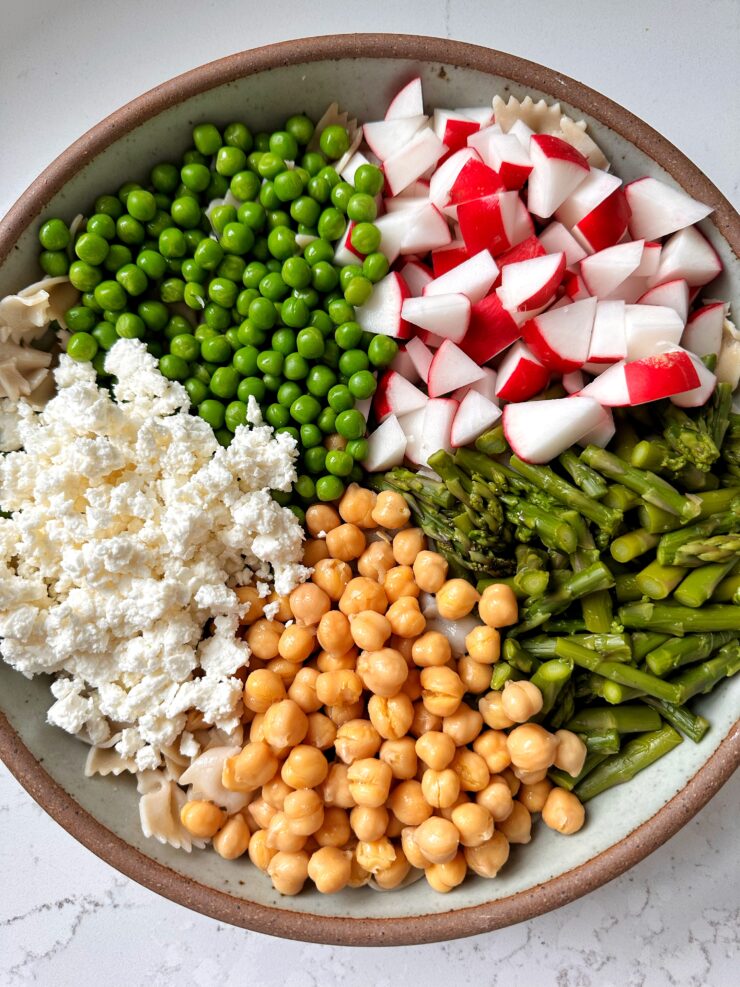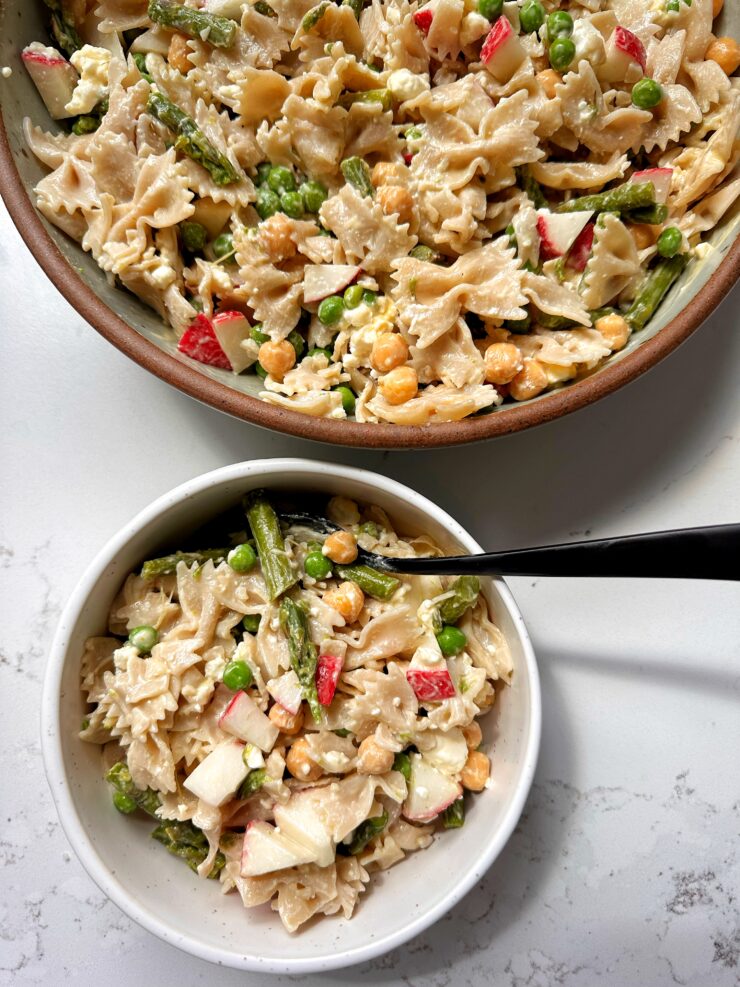 A few other delicious spring recipes to try:
The BEST Gluten-free Lemon Loaf
Strawberry Feta Cucumber Salad
Healthy Thai Pineapple Rice Salad
Easy Gluten-free Pasta Primavera Recipe
Print
Lemony Spring Pasta Salad
This Spring Pasta Salad is the ultimate seasonal pasta salad to make. Tossed in a delicious lemon dijon dressing and ready in under 20 minutes!
Prep Time:

5 mins

Cook Time:

10 mins

Total Time:

20 mins
Pasta salad:
¾

lb

asparagus, cooked (I steamed mine!)

1

cup

cooked peas

12 ounces

of choice gluten-free pasta

1 cup

chickpeas, cooked and rinsed

6

–

7

radishes, finely sliced into half moons

2/3 cup

feta cheese crumbles
Lemon dijon dressing:
1/2 cup

extra virgin olive oil

2 tablespoons

Dijon mustard

2 teaspoons

maple syrup

1

garlic clove

Sea salt and black pepper to taste

1/4 cup

fresh lemon juice

1/2 teaspoon

finely grated lemon zest

1

–

2

tablespoons filtered water (more if needed)
Instructions
First cook the pasta per instructions then set aside (I always rinse gluten-free pasta in cold water once it's cooked to prevent sticking)
Next make the lemon dijon dressing by adding ingredients to a blender and blend until mixture is creamy and combined (if not blending well, add more water or oil)
Assemble the salad by adding ingredients to a large bowl then coat with desired amount of dressing and enjoy room temperature or cool