Creamy Thai Kabocha Squash Soup for an easy Vegan and Whole30-friendly recipe!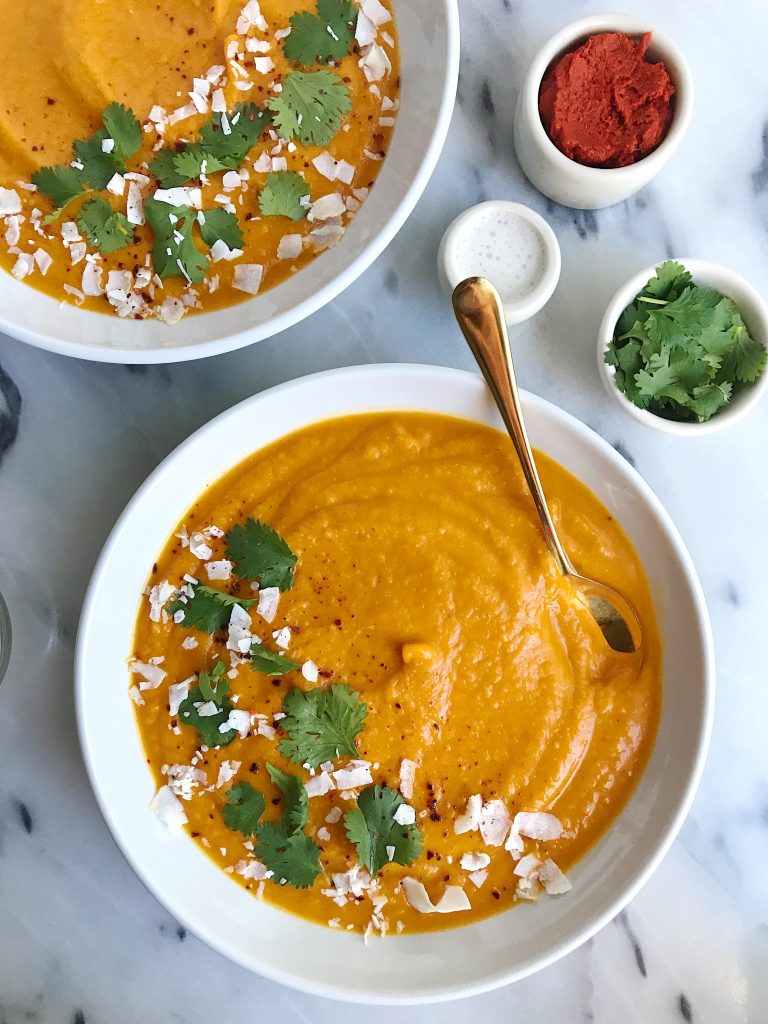 Can you believe this is the very first soup recipe on the blog?! I am not a soup person whatsoever, but the seasons changing always has everyone craving a comforting bowl of soup. Especially Jord who flipping loves a bowl of soup.
If I eat soup, it needs to be creamy-ish with a hearty base for me to stay full and satisfied. This Creamy Thai Kabocha Squash Soup does just that. It is also full of flavor and has such a unique and delicious taste, you guys are going to love!
I first had Kabocha squash soup when I was in La Jolla a few months ago and could not get over how delicious it was. So creamy and satisfying. It was the perfect appetizer or light bowl to pair with our meal.
This Creamy Thai Kabocha Squash Soup is made with New Barn's Organic Almondmilk. It adds that creamy texture to the soup and a touch of sweetness despite there being no added sugar! The soup is also Whole30-approved since New Barn Unsweetened Organic is the Whole30-approved nut milk and basically saved me when Jord did Whole30 earlier this year. We also made those breakfast salads using NewBarn in the dressing too.. definitely check them out!
New Barn as you know is my go-to nut milk around here (the recipe collection looks tasty BTW). I love the ingredients and that they use 3x the amount of almonds compared to other milks on the market. It is non-GMO, kosher and free of gluten, carrageenan and soy! Their unsweetened varieties are my favorite since they don't have any added sugar and they are so versatile! Bake, cook or drink it!
This soup is made with a just a few key ingredients and is easy enough to include in any food prep for the week. You can add some chicken or meat as well or enjoy this as a side dish to your food. I personally need a little something extra with it to fill up. Think of it like a veggie side 😉
WHAT YOU NEED
Kabocha squash
Water
New Barn Almondmilk (any variety works!)
Ginger
Cilantro
Coconut flakes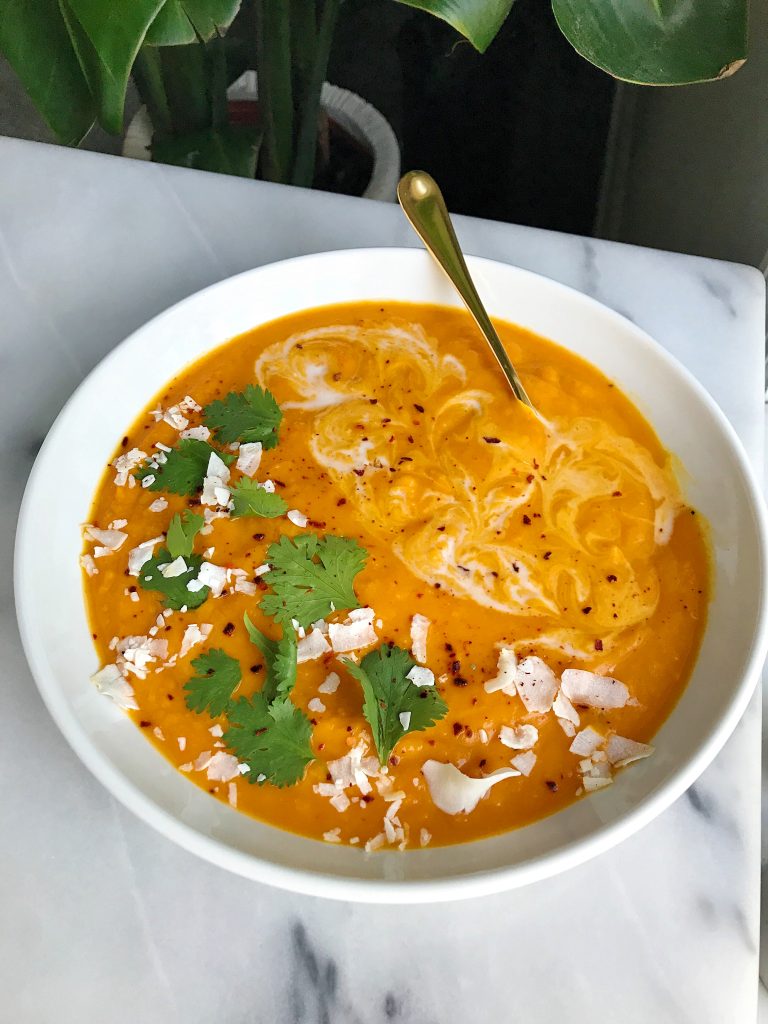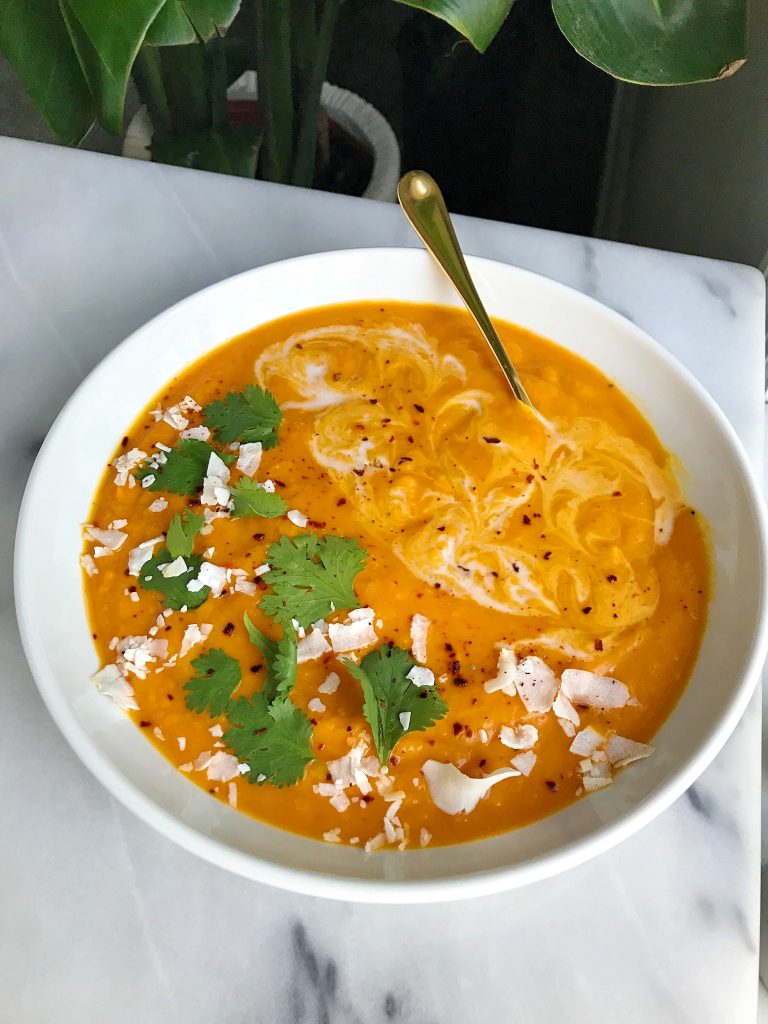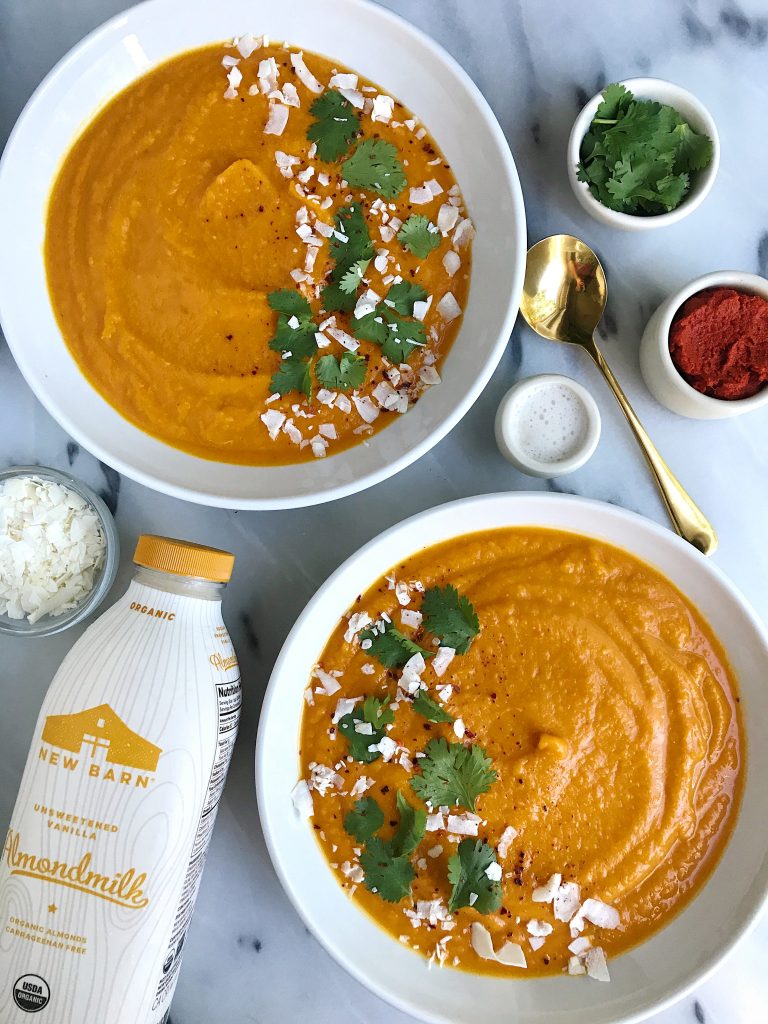 Print
Creamy Thai Kabocha Squash Soup (whole30 + vegan)
Prep Time:

5 mins

Cook Time:

60 mins

Total Time:

1 hour 5 mins
1

large kabocha squash

2 cups

water

2 cups

New Barn Organic Almondmilk

1/2 teaspoon

ginger

Salt + pepper to taste

4 teaspoon

red curry paste

Garnish: cilantro and coconut flakes
Instructions
Preheat oven to 400 degrees and line a baking tray with parchment paper
Slice the kabocha squash in small slices (I had to soften it in oven first before cutting! and remove the flesh/seeds in the middle)
Coat with a little coconut oil and then bake in oven for about 45 minutes or until the squash is softened
Let the squash cool a bit then scoop out the squash and leave the skin
Add squash to blender with water and blend until creamy
Add to large pot with New Barn, red curry paste, ginger, salt and pepper and mix well
Cook over stove for about 10 minutes on medium heat then enjoy!
Garnish with cilantro and coconut flakes
*Will stay good for about 5 days in fridge. Note you can also add more liquid if you don't want the soup as creamy
Author:
Category:

whole30, vegan, gluten-free

Cuisine:

soup, dinner, lunch

Keywords: Soup, Kabocha squash, vegan, gluten-free, Whole30
xx, Rach
Thank you New Barn for sponsoring this post. It means so much to me to work with brands that I love and who support rachLmansfield!