Avocado Greens Caesar Salad with Sweet Potato Croutons made with vegan and gluten-free ingredients!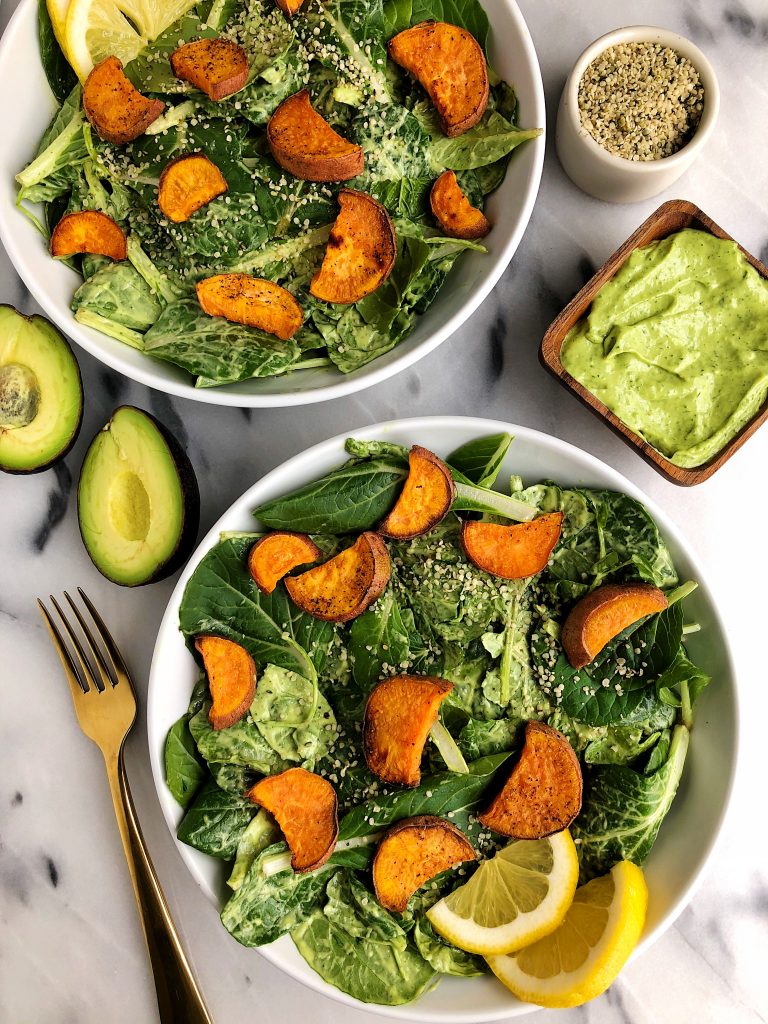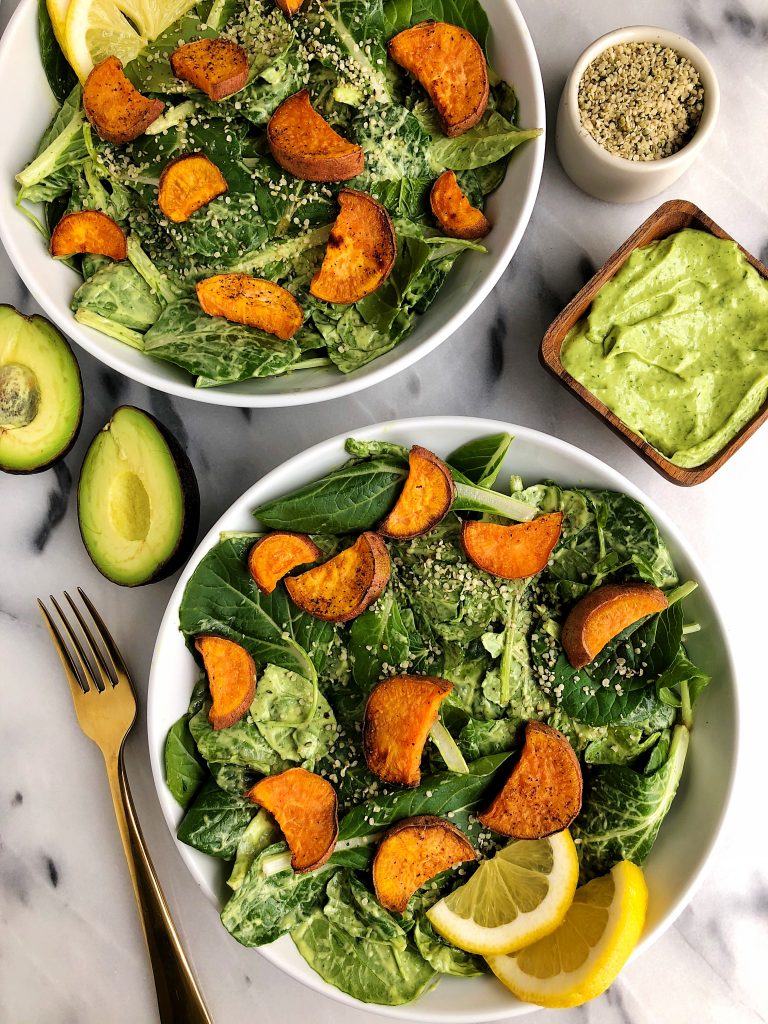 True life, I never make salad at home. Like ever.
I always love getting fresh salads when we are out for dinner or when I am craving one for lunch but I think I just hate mixing and tossing the salad at home. I make a mess in the kitchen, the toppings and dressing it everywhere. Then Jord yells, HA!
I had the biggest craving for a caesar salad last week and conveniently had a few of Organic Girl's new greens in the fridge ready to go. I used their REBEL Greens and Protein Greens, which are just launching, in this recipe! Mixed with a homemade vegan avocado caesar dressing and topped with homemade crunchy sweet potato croutons.
The dressing is made from ripped avocados, water, dijon mustard, vegan mayo and garlic. It is so flavorful and delicious over a fresh bed of greens.
Now let's talk about Organic Girl's new greens. REBEL Greens are baby bok choy leaves, which are even more nutritious than kale! Except they have a much milder taste and tender texture compared to kale. It is so easy to use in the kitchen. You can cook it like you would swiss chard or spinach or blend it in your smoothie. Or you can use it as a salad base like I did with Organic Girl's new Protein Greens. Their Protein Greens have 5 grams of plant protein. Made from sweet pea leaves, baby spinach, baby tatsoi, baby kale and mizuna! The sweet pea leaves help make this the highest protein based green ever!
As you guys know, I always use Organic Girl as my greens for my recipes. We have made so many different recipes with their products like: Savory Paleo Breakfast Waffles, Whole30 Loaded Veggie Burgers, 5-ingredient Creamy Squash Pasta and Avocado Arugula Pesto Pasta. SO MANY GREENS!
Don't forget to make these crunchy sweet potato croutons to go with the salad too. They add a delicious and hearty crunchy to the bowl and are super simple to make!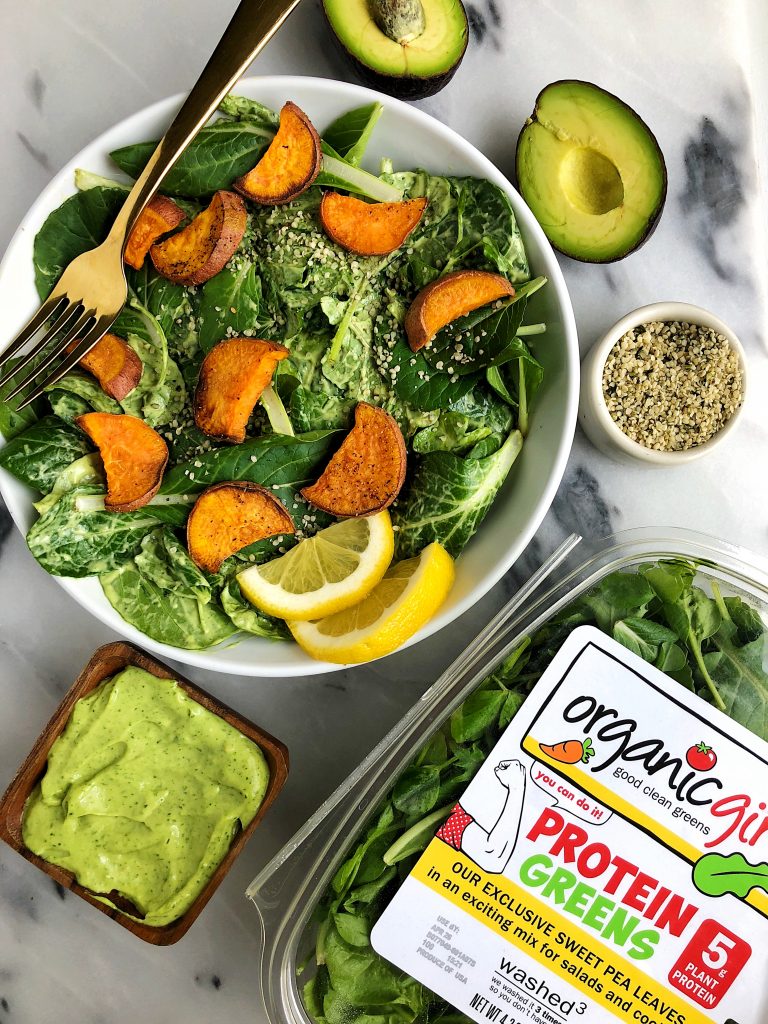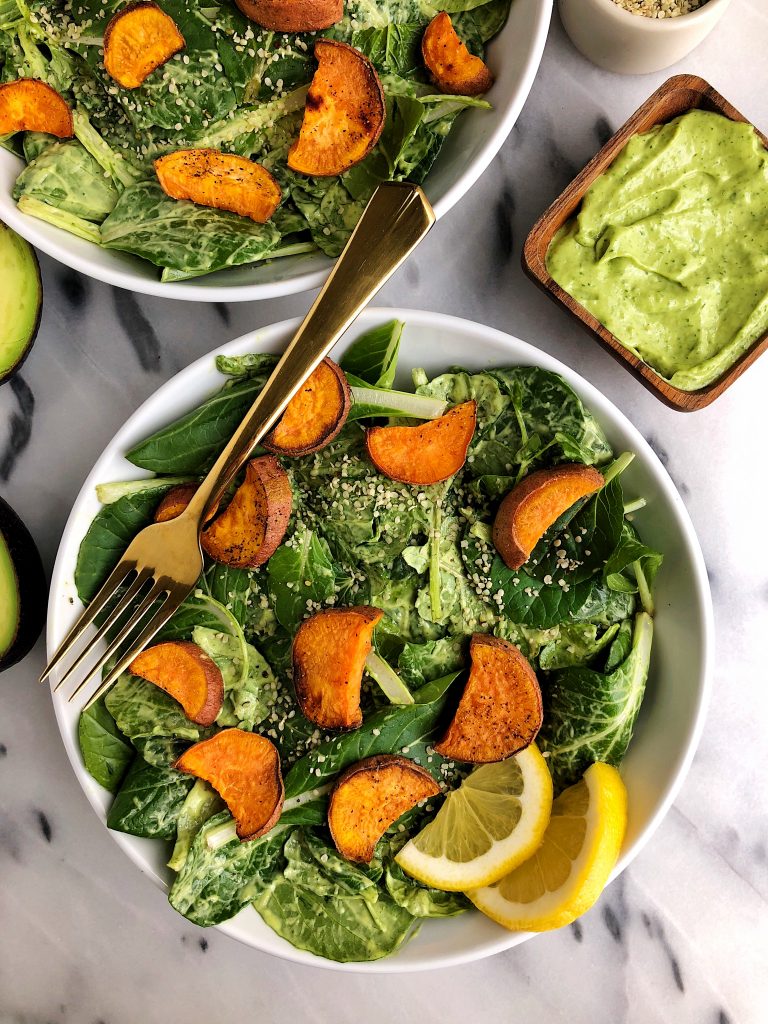 Print
Avocado Greens Caesar Salad with Sweet Potato Croutons
vegan, gluten-free and nut-free
1

avocado

1/4 cup

filtered water

2/3 cup

vegan mayo

2 tablespoons

dijon mustard

2

packages of Organic Girl Protein Greens (or greens of choice)

1

medium sweet potato (organic if possible and wash well!)

1 tablespoon

avocado oil

1/2 teaspoon

black pepper
Instructions
Preheat oven to 425 degrees and line a baking dish with parchment paper
Slice the ends off the sweet potato and slice into small rounds then slice in half
Coat the sweet potatoes with avocado oil and black pepper then add to oven for 30 minutes (flipping half way)
Scoop out the avocado from the skin and pit then add to food processor
Add in water, mayo and dijon (you can also add in any other spices!) then blend until creamy and well combined. If you want a thicker dressing, add more mayo or avocado and if you want a thinner dressing, add more water!)
Remove dressing from food processor and toss together with greens, top with sweet potato croutons and enjoy!
*Dressing will stay good for about 3-5 days but wait to mix dressing and greens together so salad is soggy
xx, Rach
Thank you Organic Girl for sponsoring this post! It means so much to me to work with brands I love and believe in!