Paleo Loaded Crispy Potato Skins with Mushroom Bacon made with gluten-free, dairy-free ingredients and cooked with organic bone broth!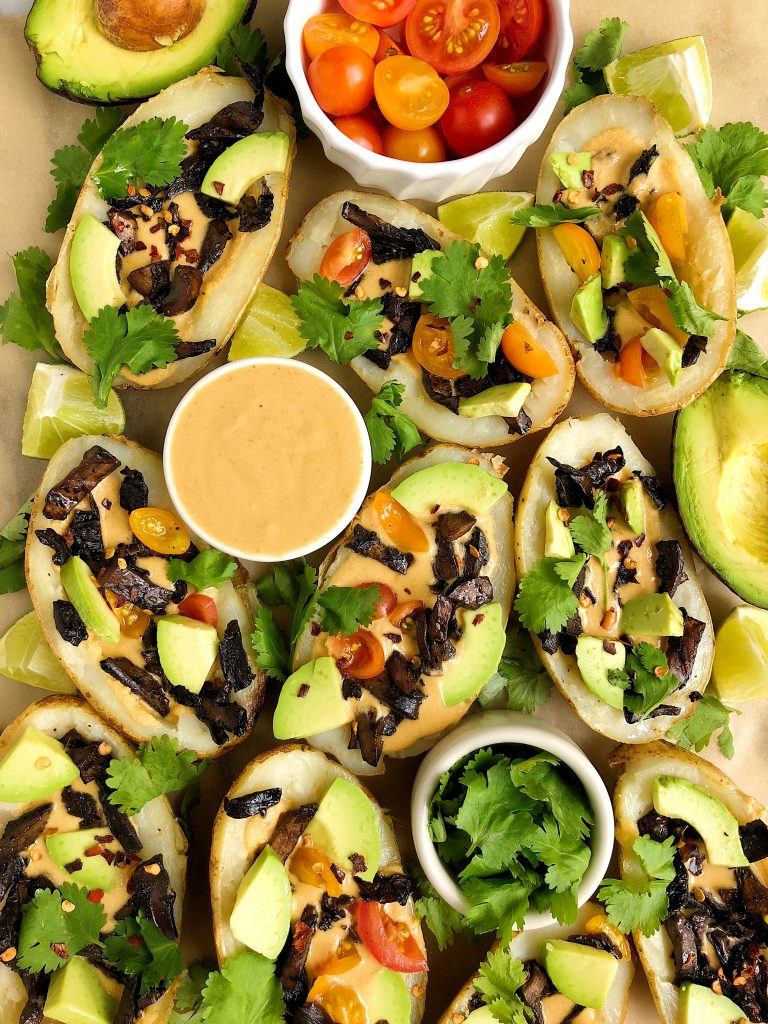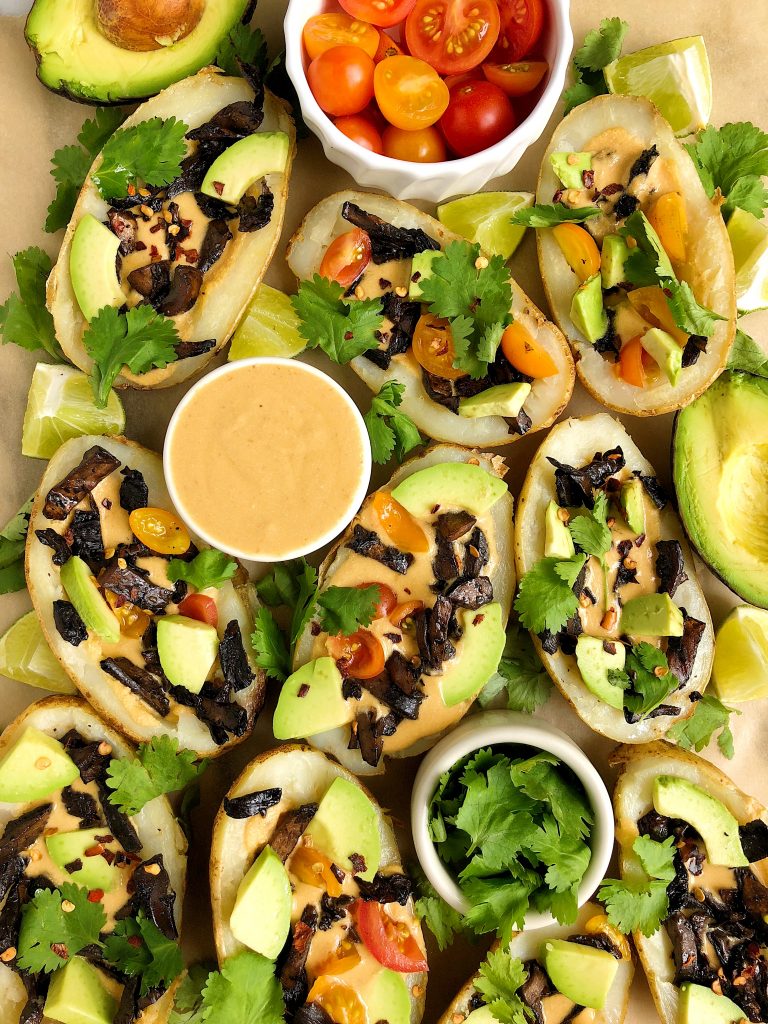 Crispy potato skins were my jam growing up.
I was the person who begged their mom to buy the TGIFriday's brand in the freezer and make them at home. Crispy potato skin topped with cheddar cheese and BACON. There was nothing better. It was one of the only ways to get me to even touch potatoes besides when they are in french fry form.
I truly cannot remember the last time I had a traditional potato skin, but I have been craving them over the past few weeks so I knew it was time to make some magic happen in the kitchen. And that is how these Paleo Loaded Crispy Potato Skins were born friends.
Did I mention there is mushroom bacon involved too? Because there is!
I'm not one to to mock meats or replace bacon ever but I recently had mushroom bacon at a restaurant and was so impressed with how delicious it was. It is such a great option for any of my veggie friends or if you don't have any quality bacon on hands. It has a great consistency and the flavor was pretty impressive. I used portobello mushrooms and mixed them with some coconut aminos, Bonafide Provisions Organic Bone Broth (code RACHL for 20% off orders) and some spices. If you have liquid smoke on hands, definitely add a little bit of that too. I personally don't like buying ingredients that I will use 1x so I cut that ingredient from the mandatories. Plus my good friend said she makes mushroom bacon at home a lot and never uses it either!
The bone broth addition to the mix is for some added flavor and nutrients to the mushroom bacon. You don't want to add too much since mushrooms are watery as is so too much and you won't get a crispy bacon-like texture. If you find that while you're cooking this it's not crisping, I recommend broiling the mushroom bacon for a couple of minutes too.
I love sneaking Bonafide's bone broth into so many recipes in the kitchen like those Whole30 Almond Butter Thai Noodles, Sweet Potato Bun Lamb Burgers and Homemade Bone Broth Ramen Bowls. It is such an essential in our home for both cooking and sipping. I have a cup every single day (but really) and it is the most nourishing and satisfying beverage. It is not a meal replacement whatsoever unless you load it up with a bunch of goods like you would soup. I like to think of it like drinking a cup of tea or something!
Once you make the mushroom bacon, we add it to the roasted potatoes with some cashew queso (I cheated and bought this one) and some tomatoes, avocado and anything else you're craving.
I cannot wait to hear what you think of these Paleo Loaded Crispy Potato Skins and the mushroom bacon. Enjoy friends!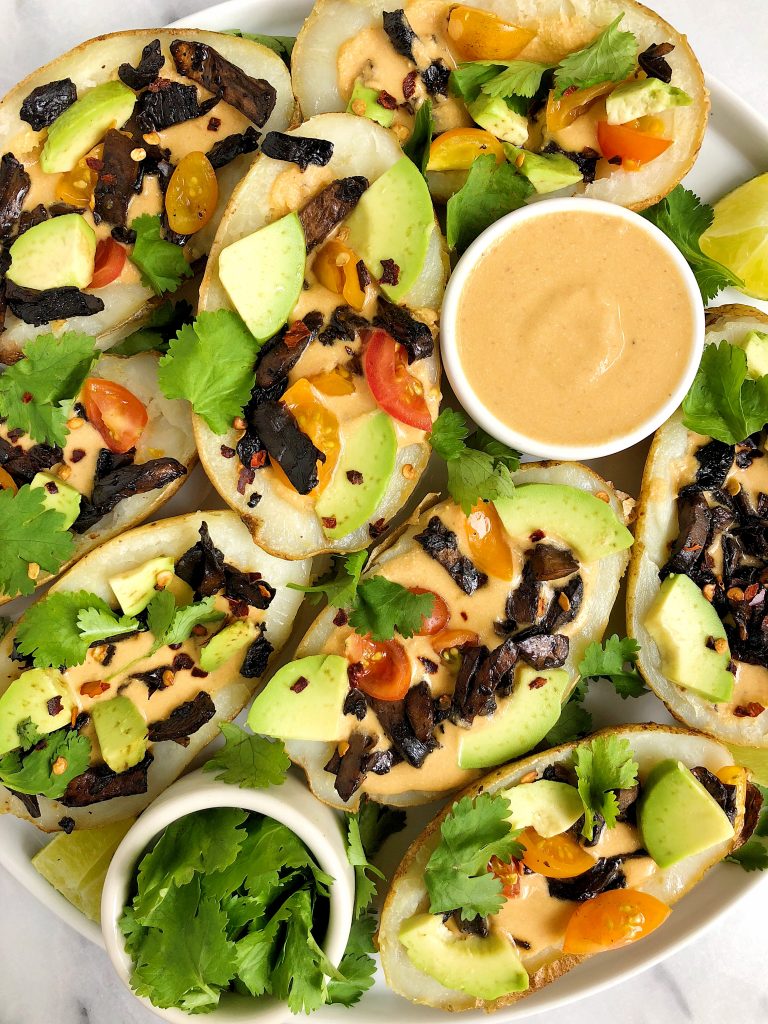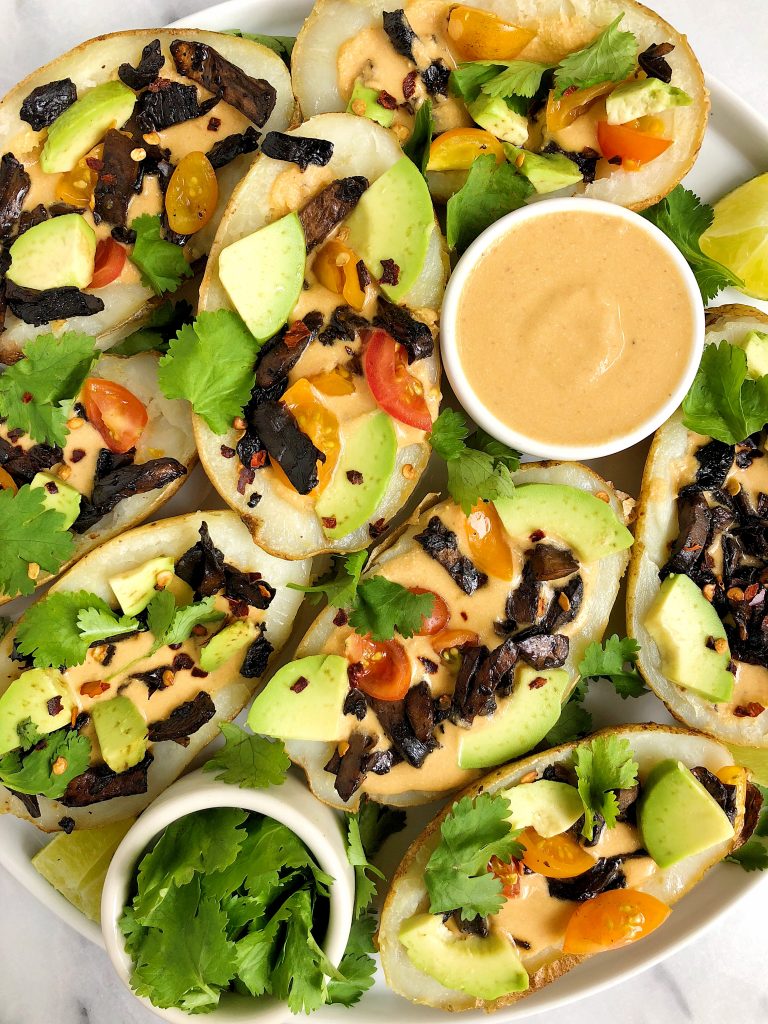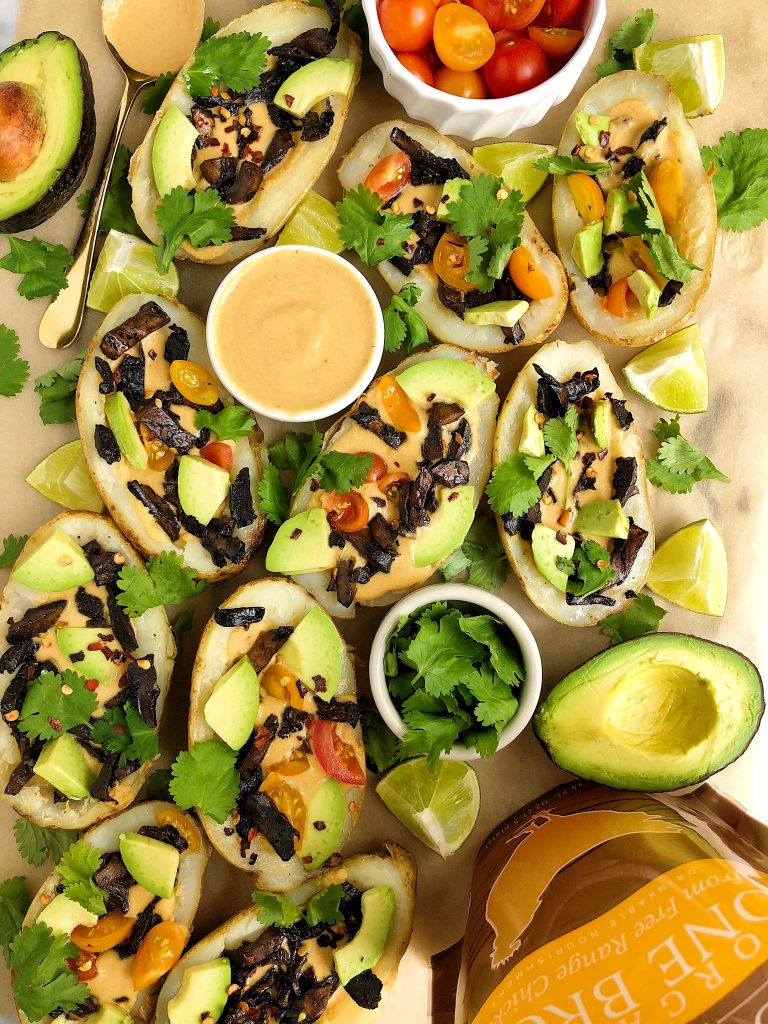 Print
Loaded Crispy Potato Skins with Mushroom Bacon
Loaded Crispy Potato Skins with Mushroom Bacon made with gluten-free, dairy-free ingredients and cooked with organic bone broth!
Prep Time:

5 mins

Cook Time:

50 mins

Total Time:

55 mins
Yield: 10 potato skins 1x
Potato skins:
5

organic russet potatoes

3 tablespoons

avocado oil

Queso cheese or cheese of choice

3 tablespoons

organic cilantro, chopped

1

avocado, chopped

1/4 cup

organic tomatoes, chopped
Mushroom bacon:
2

large organic portobello mushrooms

2 tablespoons

coconut aminos

3 tablespoons

Bonafide Provisions Bone Broth (code RACHL for 20% off!)

1/2 teaspoon

black pepper

1/2 teaspoon

garlic powder
Instructions
Preheat the oven to 400 degrees and line a large baking sheet with parchment paper
Coat the potatoes with 1 tablespoon of avocado oil on the outside
Add the potatoes to the baking sheet and add to oven for 40 minutes
While the potatoes are baking, wash the mushrooms and slice into thin pieces
Add to a large bowl and toss with coconut aminos, bone broth, pepper and garlic powder and mix well
Add to a small baking sheet lined with parchment paper and bake for 40-60 minutes (each time it has varied for me and you can also broil them for a couple minutes to crisp)
Once the potatoes are done, allow them to cool and slice in half
Scoop out the flesh but leave some of it if desired (I like mine with some potato with the skin) and use the potato flesh for another recipe like mashed potatoes
Brush more avocado oil on the inside and outside of the potatoes then place them skin side up on on the baking tray
Bake again in oven for 10-15 minutes to crisp a bit
Once potatoes are done, add the queso or cheese of choice to each skin and evenly sprinkle the mushroom bacon, avocado and tomatoes to each
Broil in oven for a couple minutes or bake for 10 minutes
Top with cilantro and enjoy!
Notes
If you have liquid smoke, feel free to add that to the mushroom bacon as well! I personally didn't use it but it would add great bacon flavor
These taste best day of but you can store in the fridge for up to 5 days and reheat in oven to crisp!
xx, Rach
Thank you Bonafide Provisions for sponsoring this post! It means so much to me to partner with brands I love and believe in here on the blog!