4-ingredient Tuna Avocado Cakes for an easy and delicious Whole30 recipe!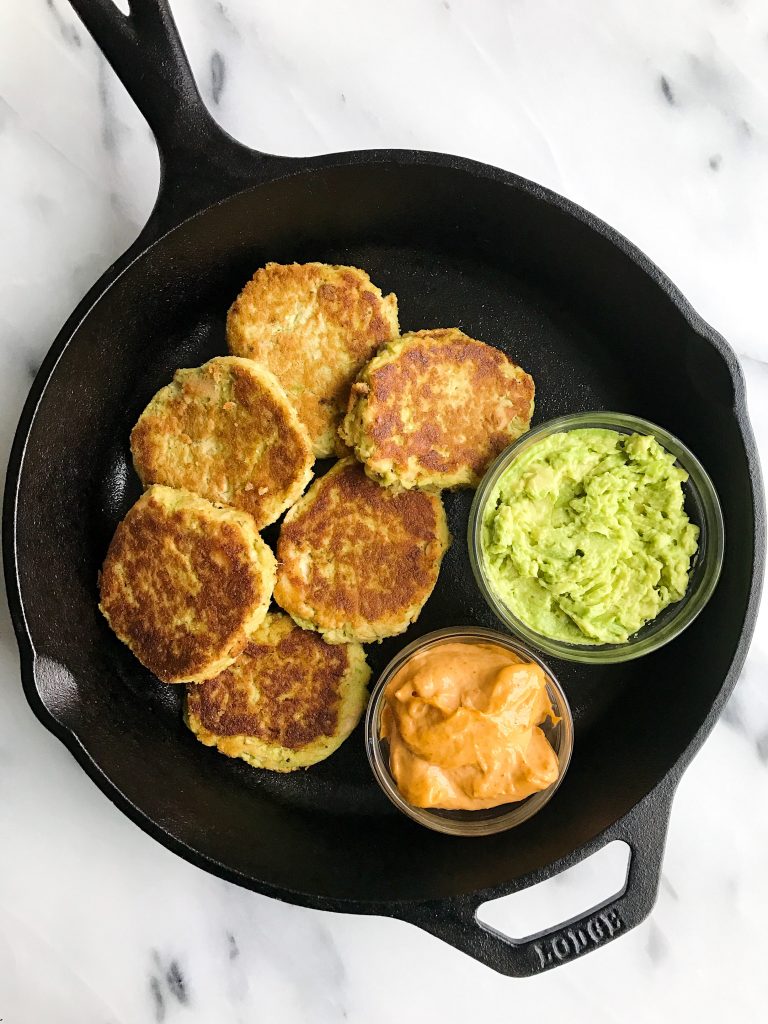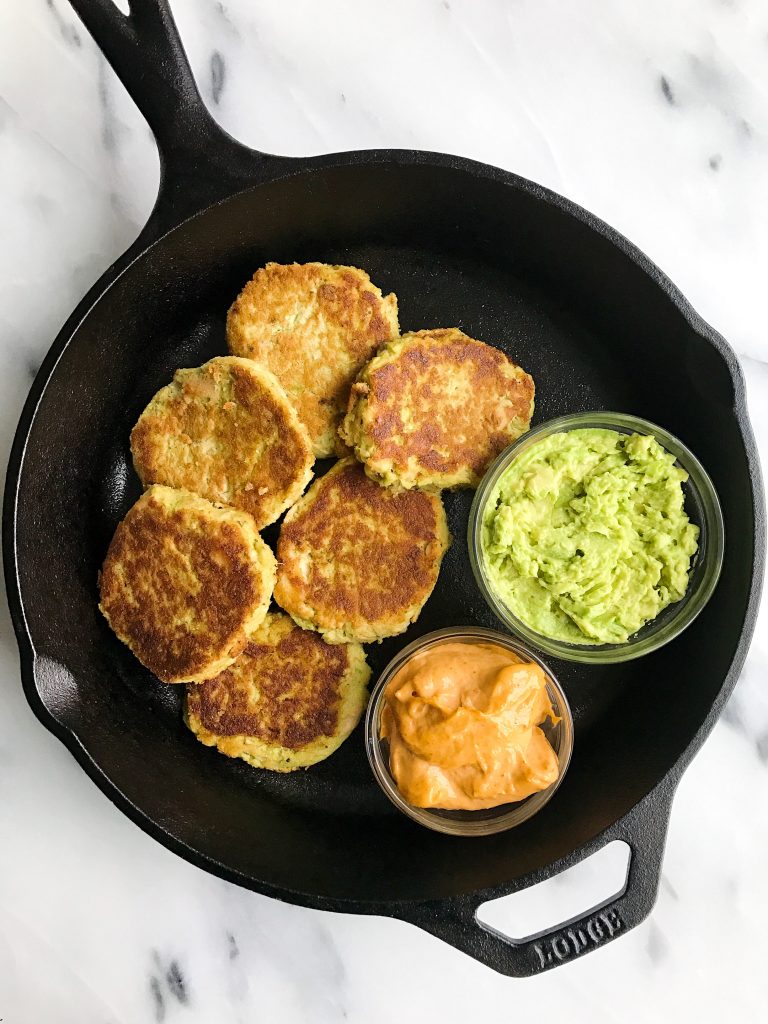 Lunch. Oh lunch. I personally can eat the same thing every single day and be happy. Jord on the other hand gets quite bored, quite easily and cannot. To be honest I am pretty envious of that because eating the same thing everyday isn't exactly good for us (well at least females). I have been reading a ton about female hormones thanks to Alisa Vitti's book Woman Code, and my life has officially change.
More to come there, but she has taught me the importance of switching up your foods a bit each week.
Jord absolutely loves taking tuna salad though a couple days a week. At first I was so against canned tuna because the mercury levels but when I learned that Safe Catch is super low in mercury (lowest out of any brand), we started to stock up. Then I told my mom and brother who love tuna and now they can't stop eating Safe Catch.
Safe Catch also saved my sanity during J's Whole30 because their tuna is Whole30-approved. Tuna is so underrated though if you ask me. There is so much you can do with a can of tuna. These 4-ingredient Avocado Tuna Cakes are our latest fav.
Now I only will eat or buy Safe Catch tuna. The do tuna differently. It is all hand cut and packed premium tuna steaks, slow cooked to perfection and all the omega3 oils and nutrients are still there unlike most cans of tuna. It is also certified paleo and non-GMO.
These Avocado Tuna Cakes are amazing on top of a salad, your favorite grain, anything. They are so easy to make and so so flavorful. When you are done eating them, try those Sushi Tuna Stacks and Spicy Thai Tuna Burgers too.
WHAT YOU NEED
Safe Catch Tuna (any variety)
Avocado
Almond flour (I haven't tested another flour)
Avocado mayo (or your preferred mayo)
QUICK NOTES
After making the patties, do not skip the step of refrigerating the cakes before cooking, it is key!
You can sub any mayo you prefer here, I love using avocado mayo
This test best when you enjoy right after cooking (or same day)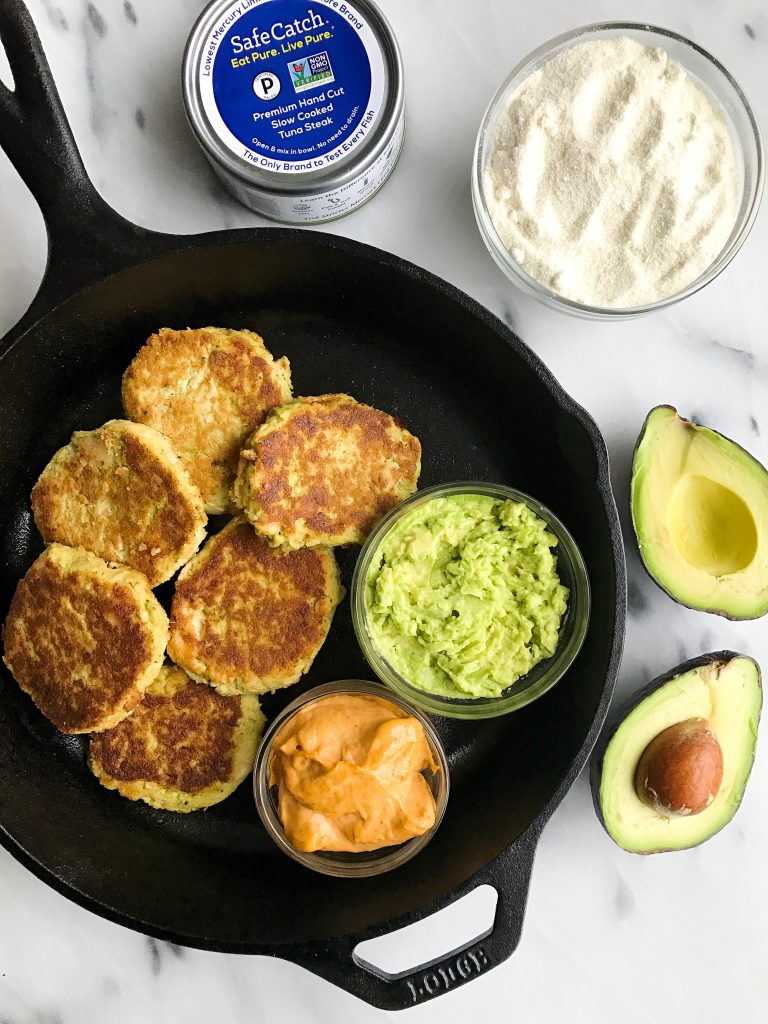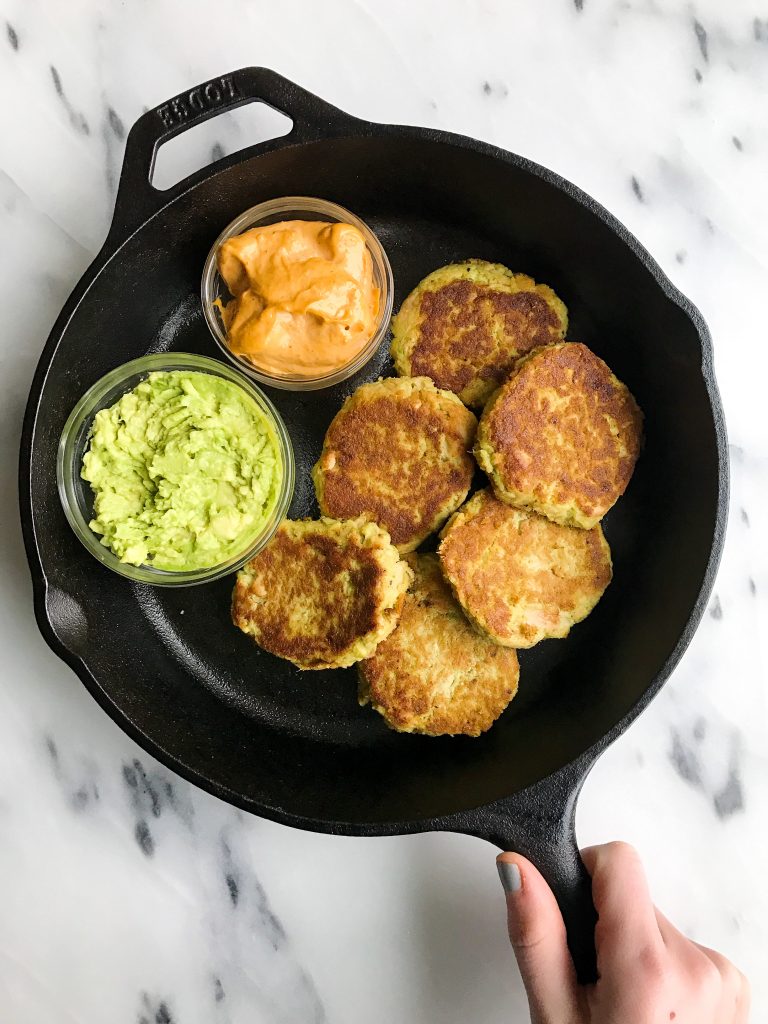 Print
4-ingredient Tuna Avocado Cakes
2

10 ounce cans of Safe Catch Wild Albacore Tuna

1

ripe avocado mashed

1/3 cup

almond flour

1/4 cup

mayo

1 teaspoon

pepper flakes
Instructions
In a medium bowl, add the tuna, mashed avocado, almond flour, mayo and pepper
Mix well with a spoon or fork, combing all ingredients together
Place the bowl in the fridge for about 30 minutes
Heat a pan or skillet and grease well
Using 1/3 cup scoop some of the tuna mixture and form into patties and begin cooking them for about 5 minutes on each side
Enjoy! I loved these on top of a grain bowl or salad with some veggies and a light dressing!
*Will stay good in fridge for 1-2 days but taste best day of
Author:
Category:

grain-free, gluten-free, whole30

Cuisine:

dinner, lunch
xx, Rach


Thank you Safe Catch Foods for sponsoring this post. It means so much to me to work with brands that I love and who support rachLmansfield!