Spicy Thai Tuna Burgers with Crunchy Peanut Slaw for a quick and easy tuna burger!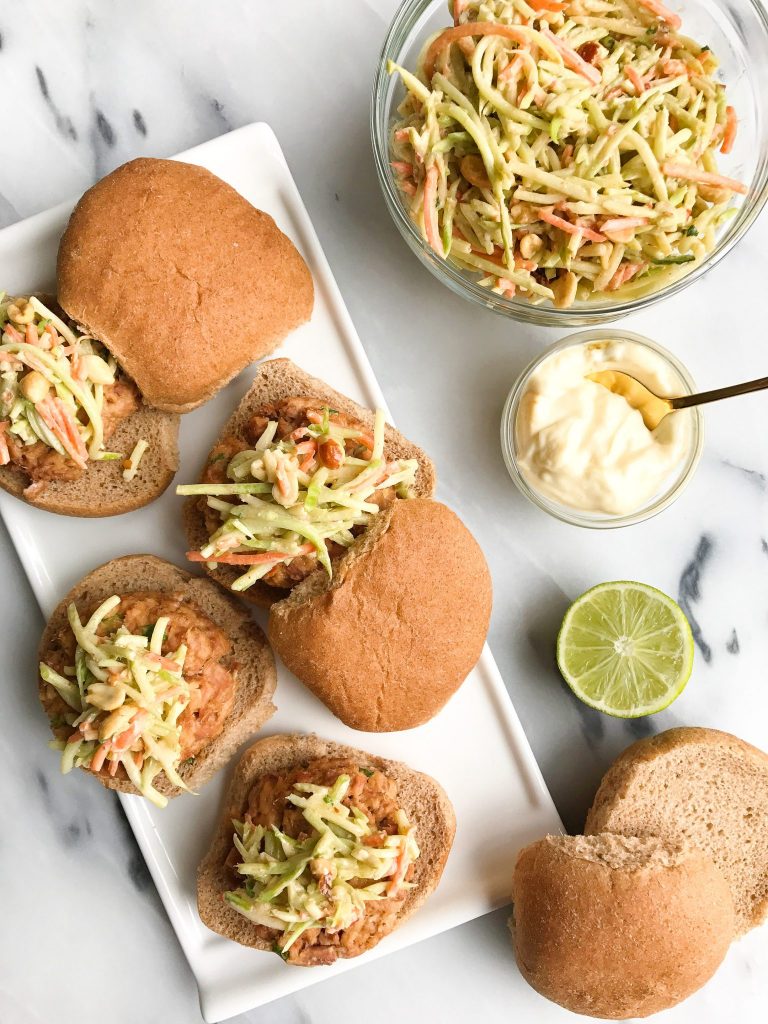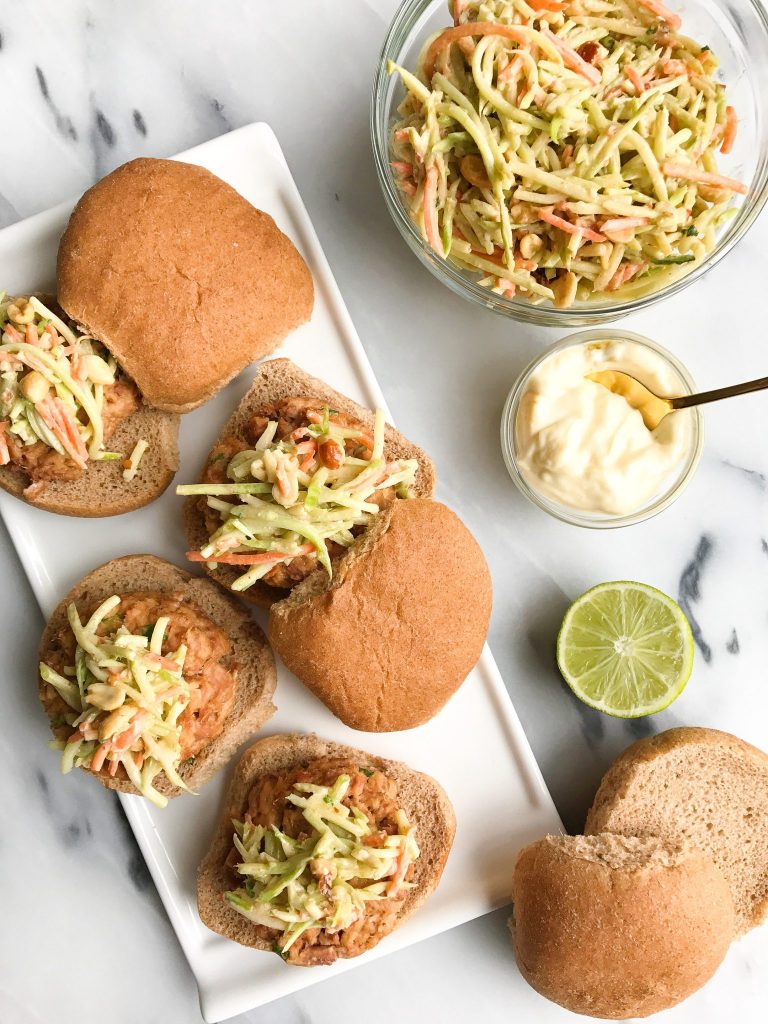 I think this is one of my most favorite recipes ever. As I was eating this burger for lunch the other day, I literally couldn't stop talking about it. I was one of those annoying people who eat something and kept going on and on about it for hours. Luckily I work alone, in my apartment so no one had to listen to me 🙂
I gave the left overs to Jord for dinner that night and he was obsessed too. He could eat tuna everyday if he could (tuna on an everything bagel is his fav!), but I love finding new tuna recipes for us to enjoy. There is so much you can do with a can of tuna so why stop at a sandwich?
These Spicy Thai Tuna Burgers with Crunchy Peanut Slaw are packed with flavor and they are such a unique burger recipe. Since I don't eat meat, I love having fish burgers when I want something hearty, juicy and flavorful. I make salmon burgers a lot too but these tuna ones may be my new favorite.
They are paired with a crunchy peanut slaw that is made with minimal ingredients like avocado mayo, peanut butter and already shredded broccoli. You could really use any slaw mix you prefer but I love the broccoli one from Trader Joe's.
The tuna brand here though isn't negotiable. Safe Catch tuna is the best ever. And no, I am not just saying that because I partner with them. I 100% mean it when I say their tuna is the sh*t.
Why do I love Safe Catch? Well it is super low in mercury and they know exactly where it comes from. Most canned tuna companies precook their tuna and use additives and fillers in it (GROSS). Not Safe Catch though. They don't use any fillers or additives. Only salt when noted. It is pure tuna babes. It is Non-GMO verified and BPA free too and safe to eat when pregnant. Kay bye, could that be any better?
I hope you guys love these tuna burgers as much as we did. They are grain-free, gluten-free and dairy-free! Plus they are a deliciously easy way to spice up your everyday eats 🙂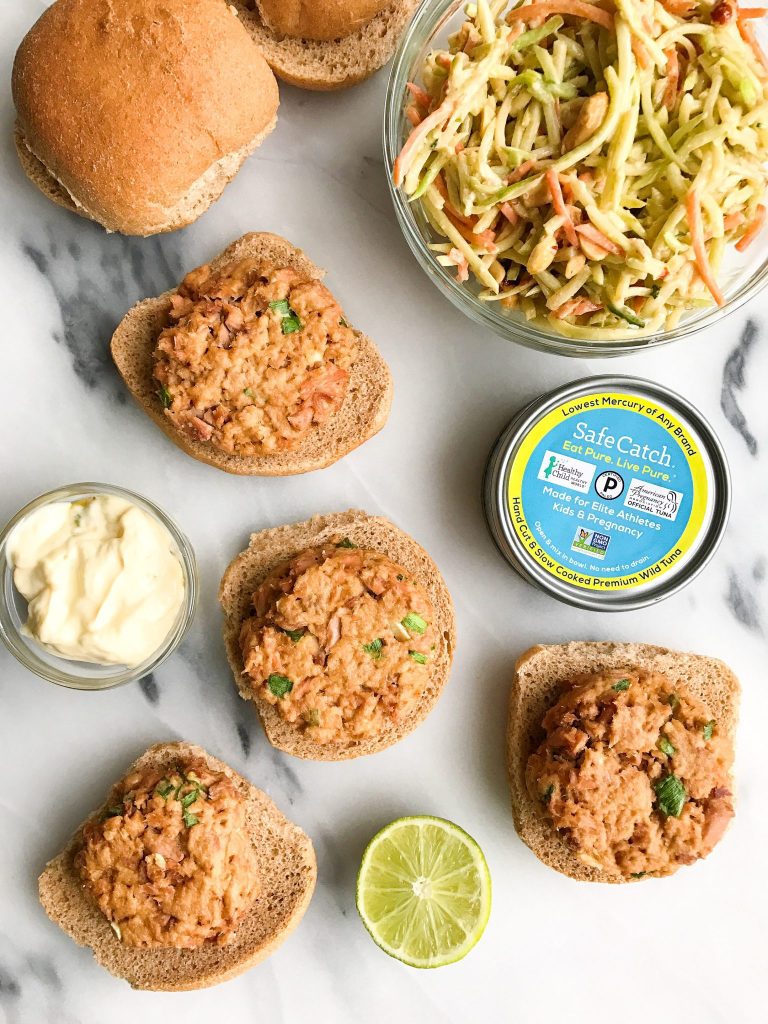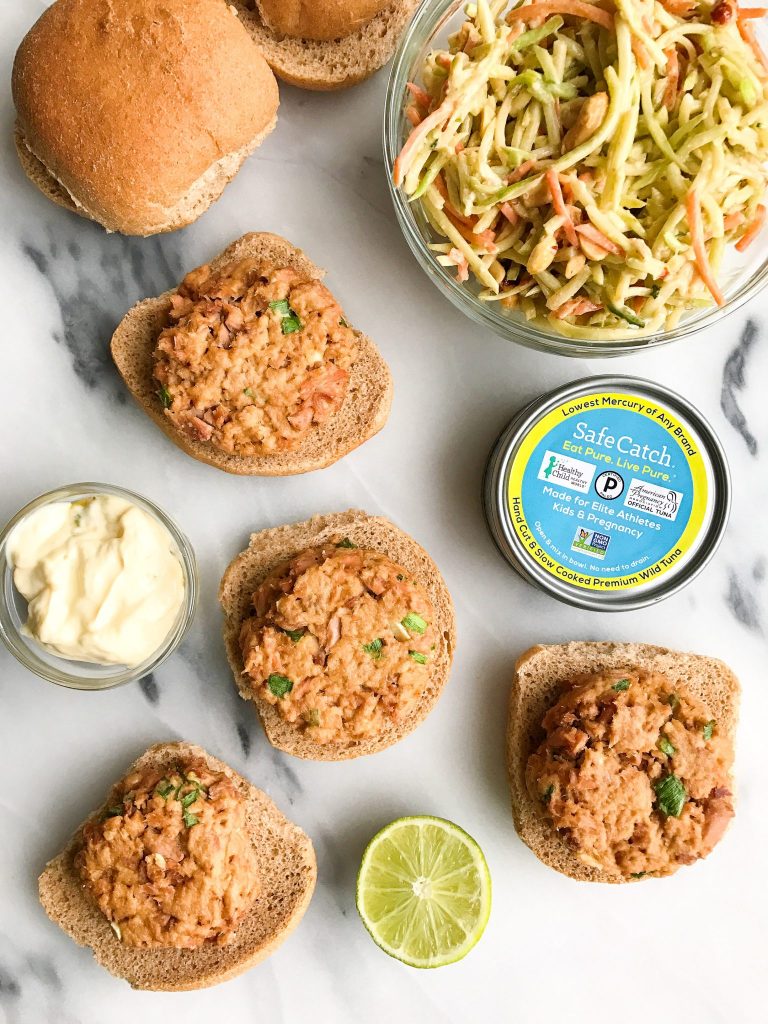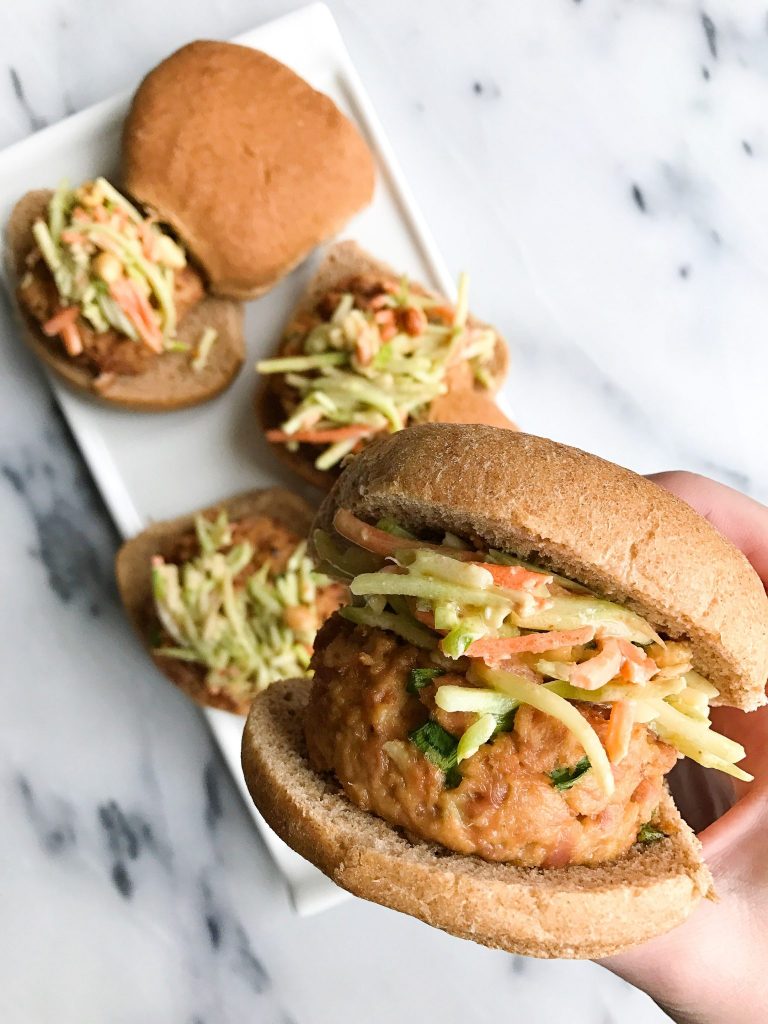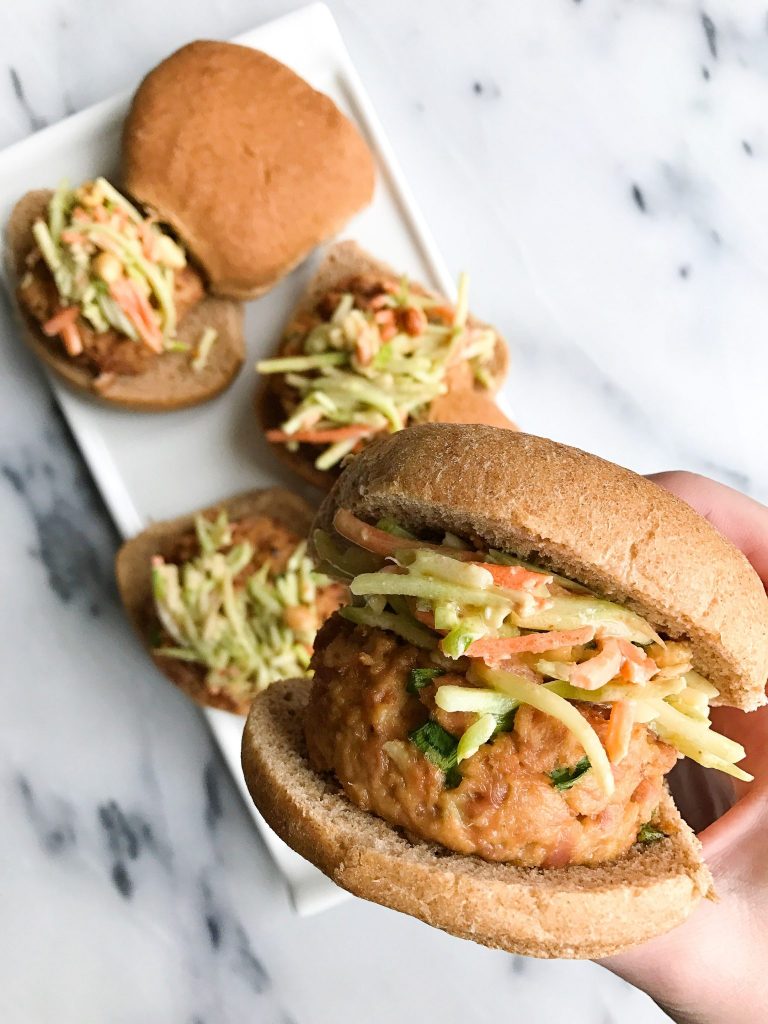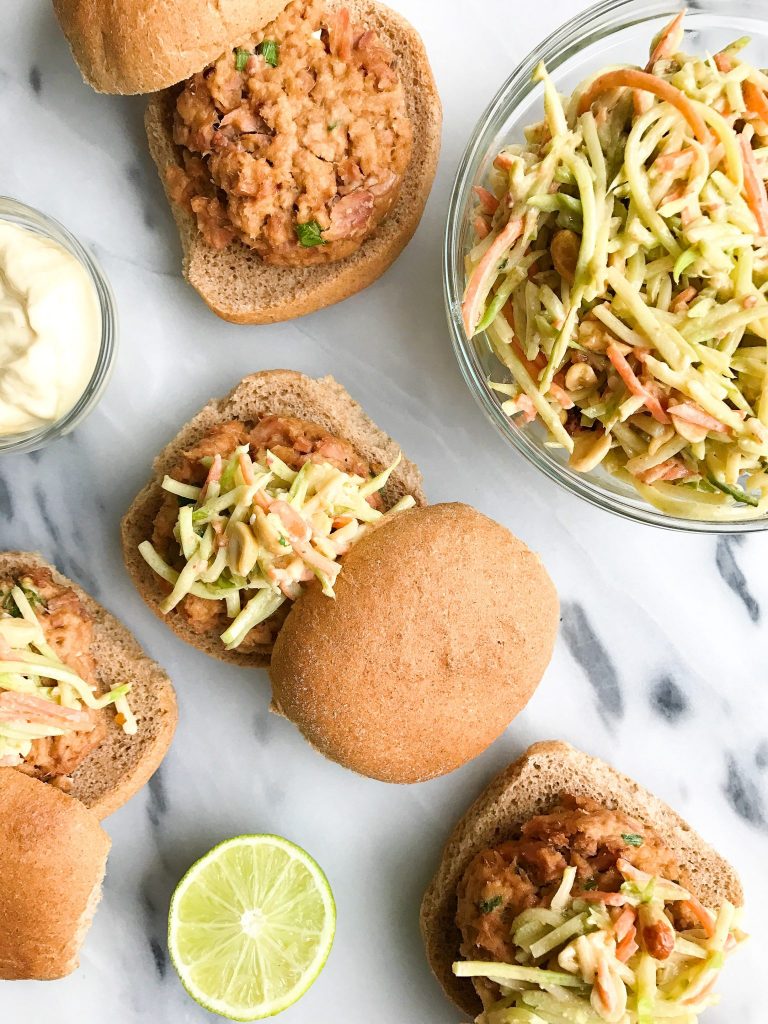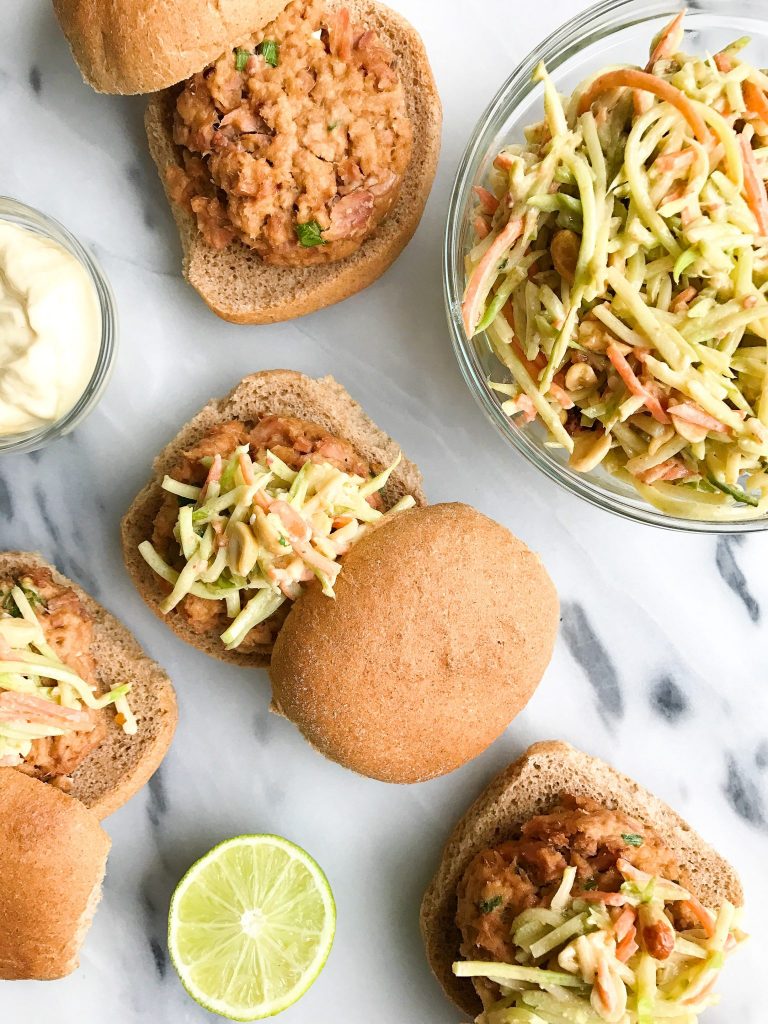 Print
Spicy Thai Tuna Burgers with Crunchy Peanut Slaw
Prep Time:

30 mins

Cook Time:

20 mins

Total Time:

50 mins
Tuna burgers:

2

five ounce cans of Safe Catch Elite Tuna, drained

1

egg lightly beaten

1/4 cup

almond flour

2

cloves garlic, minced

1/2 teaspoon

ginger

2 tablespoons

chopped scallion

1/2

lime, juiced

1 tablespoon

avocado mayo

1 tablespoon

soy sauce (optional)

2 tablespoons

chopped cilantro

1 tablespoon

chopped jalapeno (more or less depending on your spice tolerance)

Crunchy Peanut Slaw:

1

nine ounce bag of broccoli slaw (I found mine at Whole Foods and Trader Joe's and any slaw mix will work)

2

tabelspoons avocado mayo

1 teaspoon

chili oil

1 tablespoon

peanut butter

1 tablespoon

sesame seeds

2 tablespoons

peanuts

leave in fridge for 30-60 minutes then cook on stove 3 mins each side
Instructions
First begin preparing the slaw (you want to do this first so it marinates)
In a small food processor or blender, combine mayo, chili oil and peanut butter and blend well
In a medium bowl, combine the broccoli slaw and peanut butter mixture to evenly coat the slaw
Mix in the peanuts and sesame seeds and set the slaw aside
In a large bowl combine tuna burger ingredients and mix well
Line a baking tray with parchment paper and spray well
Using a 1/3 measuring cup to form the burgers, pack the tuna mixture into the cup then gently turn upside down and tap the bottom to remove the burger out (pro tip to make the burger shape!) Alternatively you can form it with your hands
Place in fridge for 30 minutes to eat the burgers form so they stay together
While burgers are in the fridge, preheat the oven to 350 degrees
Bake burgers for 18 minutes total, flipping over halfway through
Author:
Category:

grain-free, gluten-free, dairy-free

Cuisine:

dinner, lunch, burgers
xx, Rach


Thank you Safe Catch for sponsoring this post. It means so much to me to work with brands that I love and who support rachLmansfield!