Savory Breakfast Salad with Creamy Cilantro Jalapeño Dressing for a delicious Whole30 meal!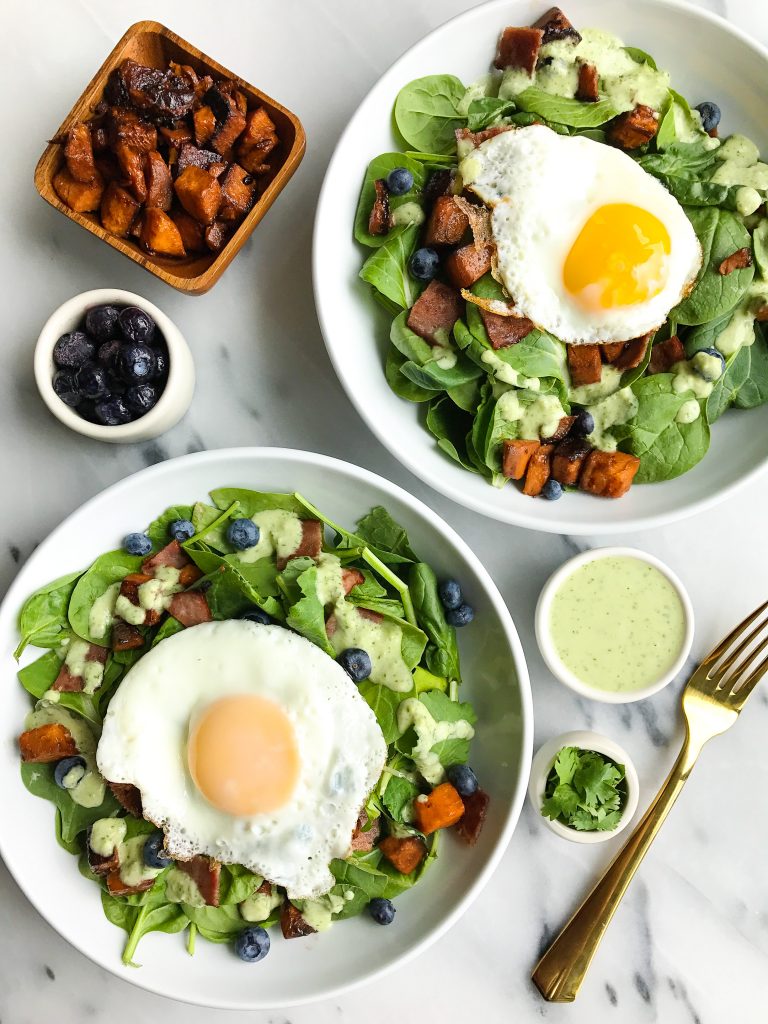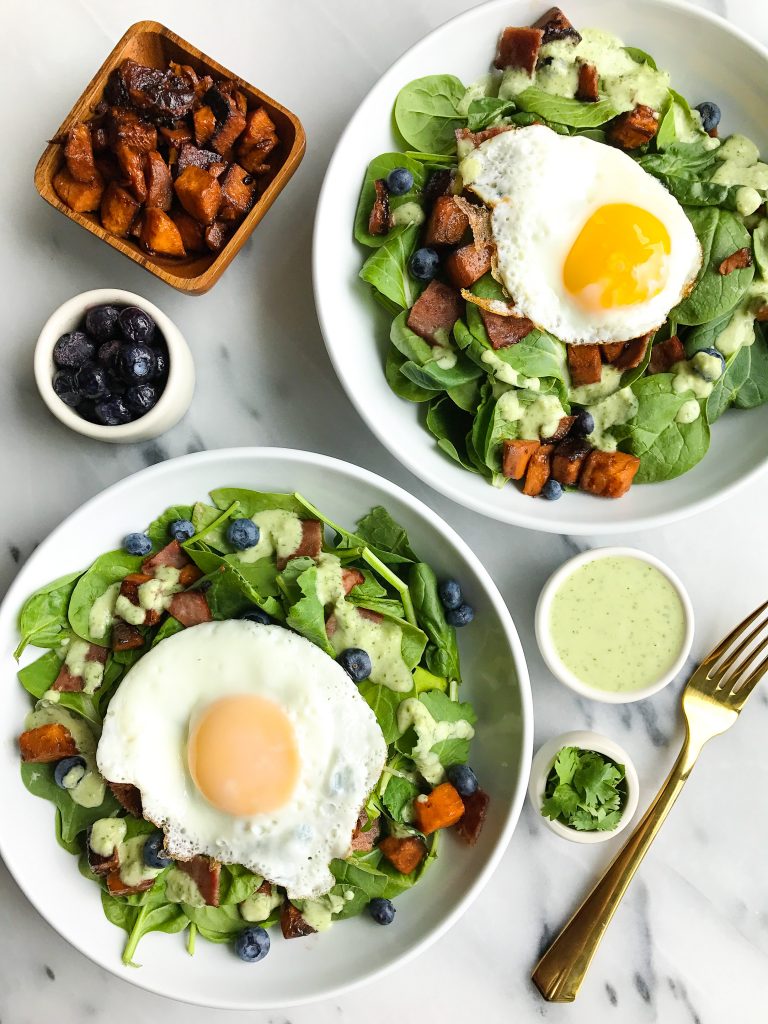 Salads can be a breakfast thing too, ya know?
I'm the first to admit that I crave sweet things more than savory most of the time. Especially when it comes to breakfast items. I'm more likely to be eating a smoothie bowl, pancakes or banana bread for breakfast than anything else. But I am a huge savory breakfast for lunch or dinner person. I eat eggs with my lunch or dinner on the reg.
Back in the winter when Jord did Whole30, we pretty much went through two dozen eggs a week. It was absolutely insane but it is the easiest way to add extra protein + fat to a meal. I make bowls of pasta and add an egg. I make breakfast tacos with eggs. I make a burger and put an egg on it. Pretty much anything in our house has an egg on top.
But when J was on Whole30, it was really challenging trying to find something to make when he needed a quick and easy meal. Whole30 requires a ton of prep work and planning. We used to spend hours on the week prepping all of his meals for the week (more on that here).
I am so grateful for brands who make Whole30 compliant products like New Barn Organic Unsweetened Almondmilk. Organic almondmilk that is Whole30 approved and so versatile when cooking and using it. New Barn makes the quintessential real, clean almondmilk that we can actually rely on. I don't have time to soak nuts and blend and strain often. Especially with the amount of nut milk we consume! New Barn doesn't have any phony flavors or loads of weird gums, which is much appreciated.
It also has 3x the almonds and protein than other brands and it is certified organic, non-GMO, kosher and free of gluten, carrageenan and soy! As you guys know, I use New Barn daily (remember these and these?), and I am so excited to bring you a savory dish using their organic unsweetened almondmilk. It is so versatile in the kitchen.
This Creamy Cilantro Jalapeño Dressing is so easy to make and pairs with the Savory Breakfast Salad deliciously. Seriously it takes less than a minute and you will love! New Barn Organic Unsweetened Almondmilk adds the perfect creamy touch.
WHAT YOU NEED
Sweet Potato
Avocado
Bacon (make sure sugar/nitrate-free for Whole30)
Blueberries
Spinach
Eggs
Cilantro
Jalapeño
Avocado oil
New Barn Organic Unsweetened Almondmilk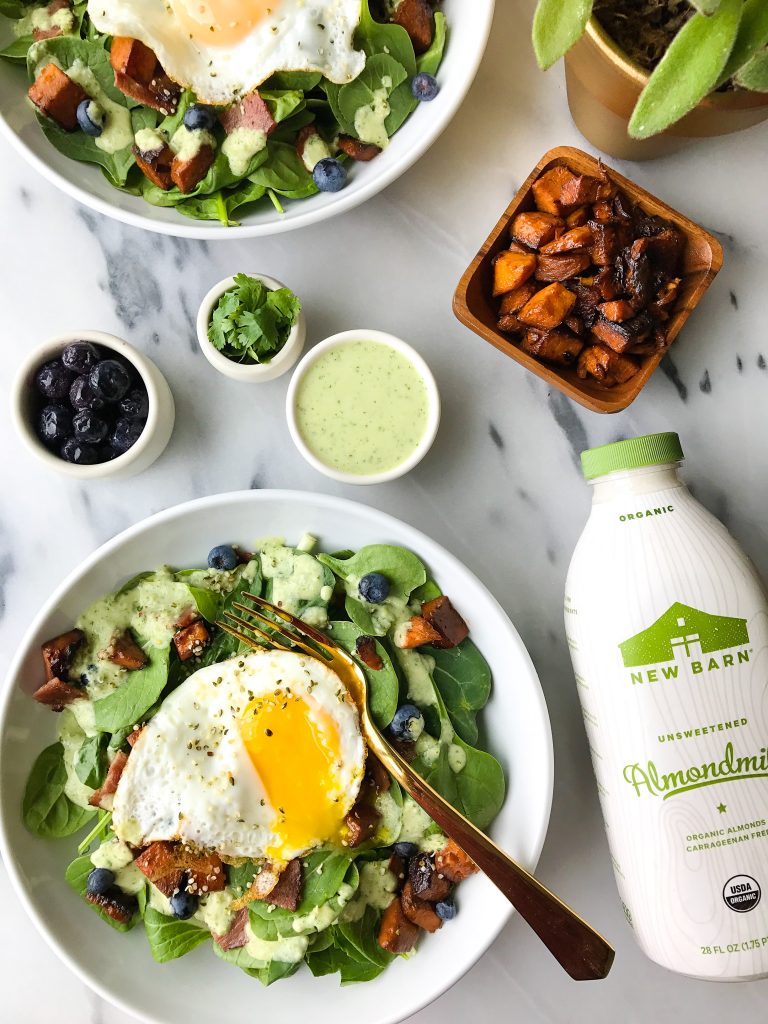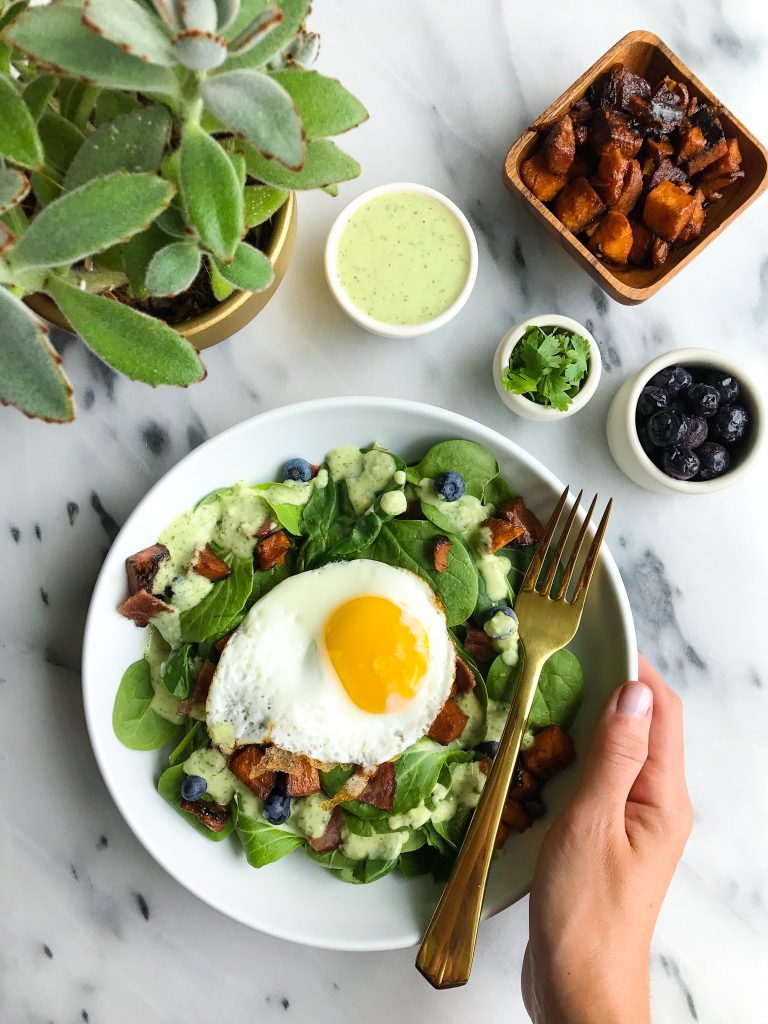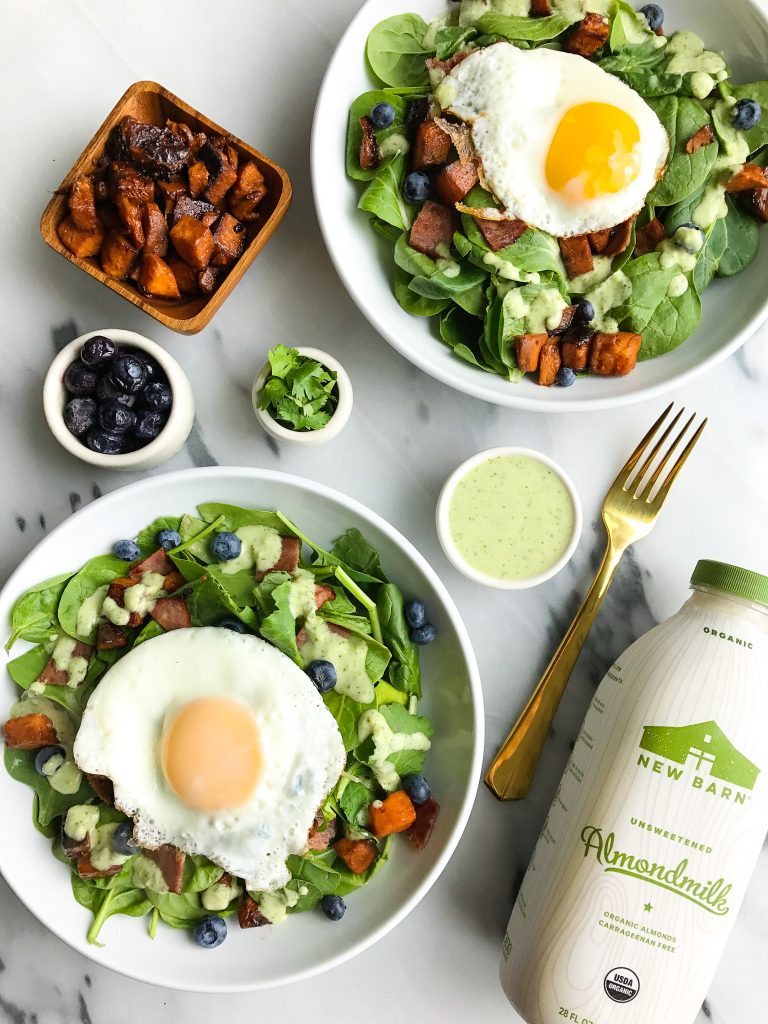 Print
Savory Breakfast Salad + Creamy Cilantro Jalapeño Dressing
Prep Time:

5 mins

Cook Time:

20 mins

Total Time:

25 mins
1

sweet potato, diced

1

avocado, sliced

4

slices of bacon (make sure it is nitrate + sugar-free for whole30)

1/3 cup

blueberries

3 cups

spinach

2

eggs

Cilantro Jalapeño Dressing:

1/4 cup

cilantro

1/4 cup

jalapeños

2 teaspoon

avocado oil

1/3 cup

New Barn Organic Unsweetened Almond milk

1/3

avocado
Instructions
In a blender or food processor, add the dressing ingredients and blend well for about 1-2 minutes (should be creamy!)
Pour into a mason jar or tupperware and set aside
Heat a medium skillet over medium/high heat
Grease well with spray of choice or oil of choice
Once warm, add sweet potato and cover with a lid
Cook for about 10-15 minutes or until soft, mixing oven to make sure each side of the potato cooks!
Remove from heat and set aside
In the same pan add the slices of bacon and cook for about 3-4 minutes on each side
Remove from heat and place on a paper towel-lined plate (to absorb grease)
In two bowls, evenly distribute the spinach, sweet potato, blueberries avocado slices + bacon
Begin cooking each egg (I used the bacon grease in the skillet) to your liking them top off each salad, add dressing and enjoy!
*Dressing will stay good for about 3-5 days in fridge
Author:
Category:

whole30, paleo, vegetarian

Cuisine:

breakfast
xx, Rach


Thank you New Barn for sponsoring this post. It means so much to me to work with brands that I love and who support rachLmansfield!