Vegetarian Taco Breakfast Bowls with Coconut Quinoa for a delicious savory breakfast recipe!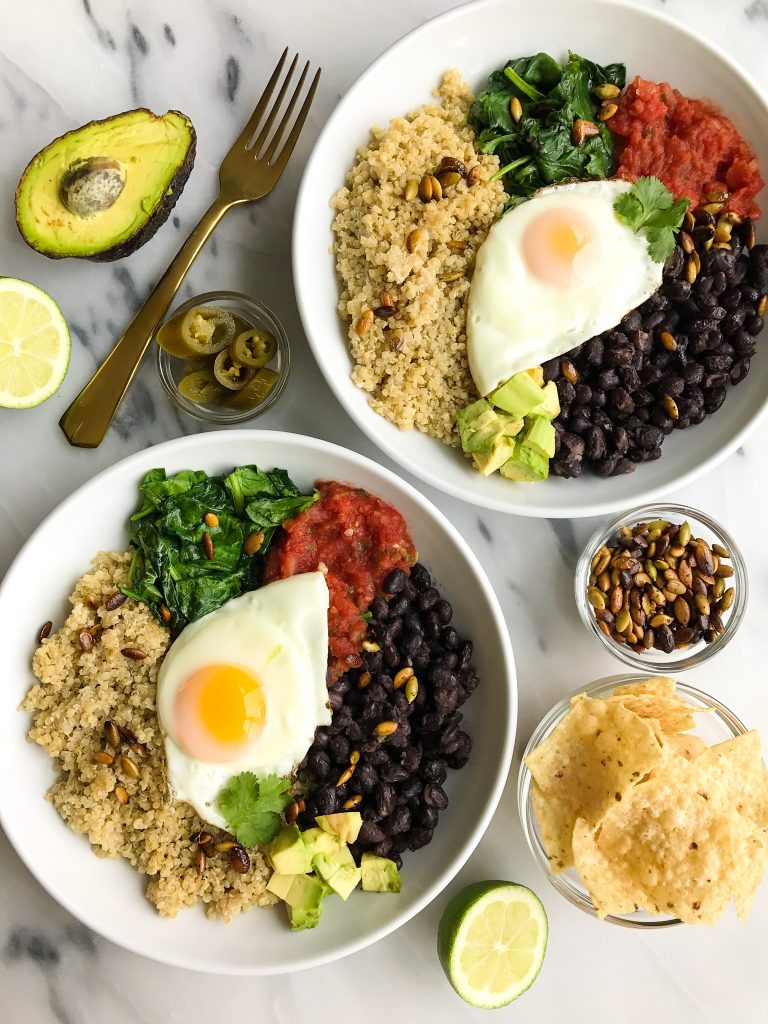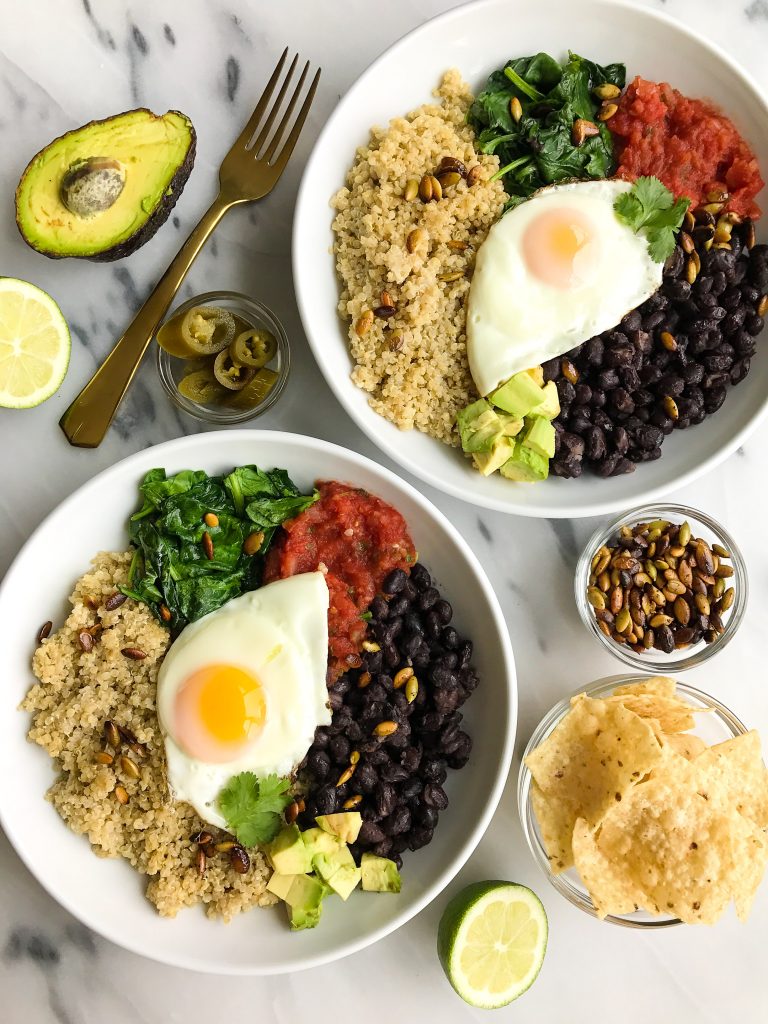 I am all about the breakfast bowls right now friends.
Well actually, I think we all know I am all about any meal that is in a bowl. Throw in a bunch of your favorite ingredients from your fridge, mix it up and you have yourself a solid meal.
These Vegetarian Taco Breakfast Bowls with Coconut Quinoa are my new absolute favorite bowl meal that I cannot get enough of. I have had it the last 3 days because it is that good.
Up until about a year ago, I was so not into eating fried eggs or anything that would allow the yolk to pour onto our food. Now, I can't even tell you the last time I ate scrambled eggs or an omelette. Literally every time I eat eggs, I fry them up like this.
Let's go through this entire bowl though because it is made up of the dreamiest ingredients that are oh so perfect for your next family breakfast and especially for Cinco de Mayo!
The based off this bowl is coconut quinoa, which may or may not be the only way I am eating quinoa from now on. I cooked it in coconut milk instead of water to get that creamy consistency and add more flavor. It is sooooo good like good enough to eat the quinoa by itself with no toppings good.
Then we add some black beans, sautéed greens and avocado to the bowl. Obviously every mexican-inspired dish needs SALSA! I used Garden Fresh Gourmet's Organic Restaurant Style Salsa (medium), which J and I are now obsessed with. They make a variety of delicious salsas, dips, chips and soups. Their salsas are the #1 refrigerated salsa in America by the way. How amazing is that? You may remember their salsa from the Healthy Seven Layer Taco Dip a couple months ago. And yes, we are still obsessing! And you can make the dip with any leftover salsa from this.. if you even have any leftover 😉
This breakfast taco bowl is SO easy to whip up for a family breakfast on weekends or if you are like me, anytime of the day. Breakfast food is my absolute favorite so I will gladly eat eggs all day everyday.
Save this recipe for Cinco de Mayo, you are going to love.
WHAT YOU NEED
Quinoa
Coconut milk
Black beans
Avocado oil
Pumpkin seeds
Cayenne
Eggs
Garden Fresh Gourmet Restaurant Style Organic Medium Salsa
Avocado
Spinach
Cilantro
QUICK NOTES
If you prefer to use another grain for the base of this bowl, rice or farro will also work really well instead of quinoa
Feel free to add any other protein like chicken or breakfast sausage on top of the bowl as well
The coconut quinoa will stay well in the fridge for 5 days or so if you have any leftover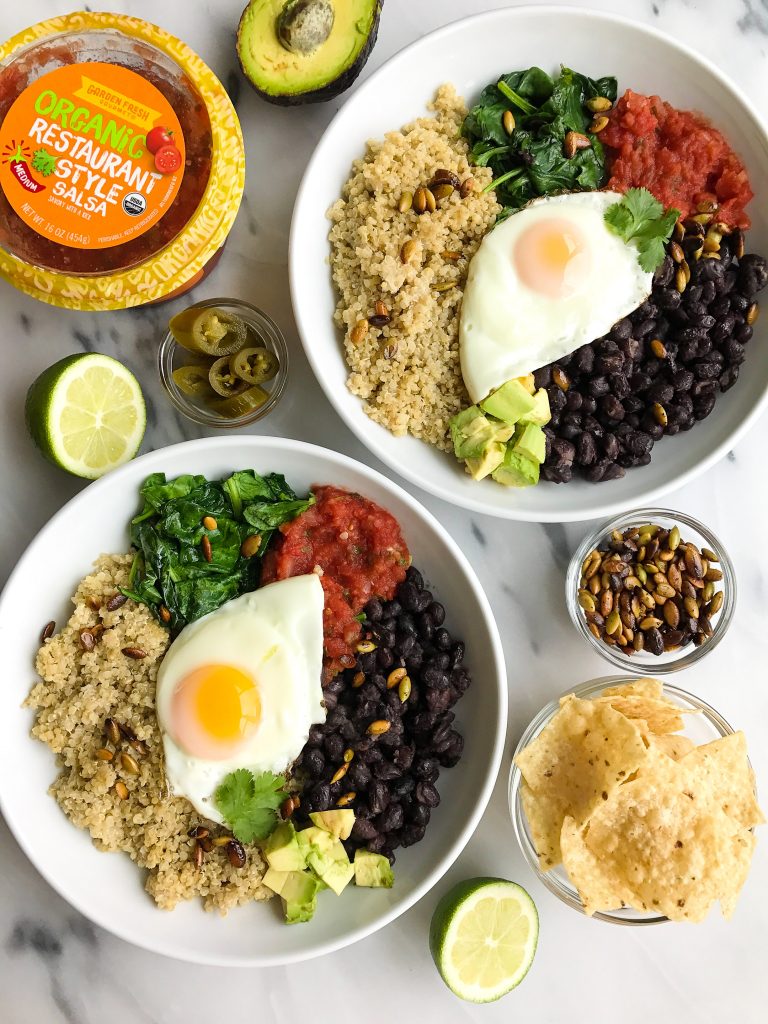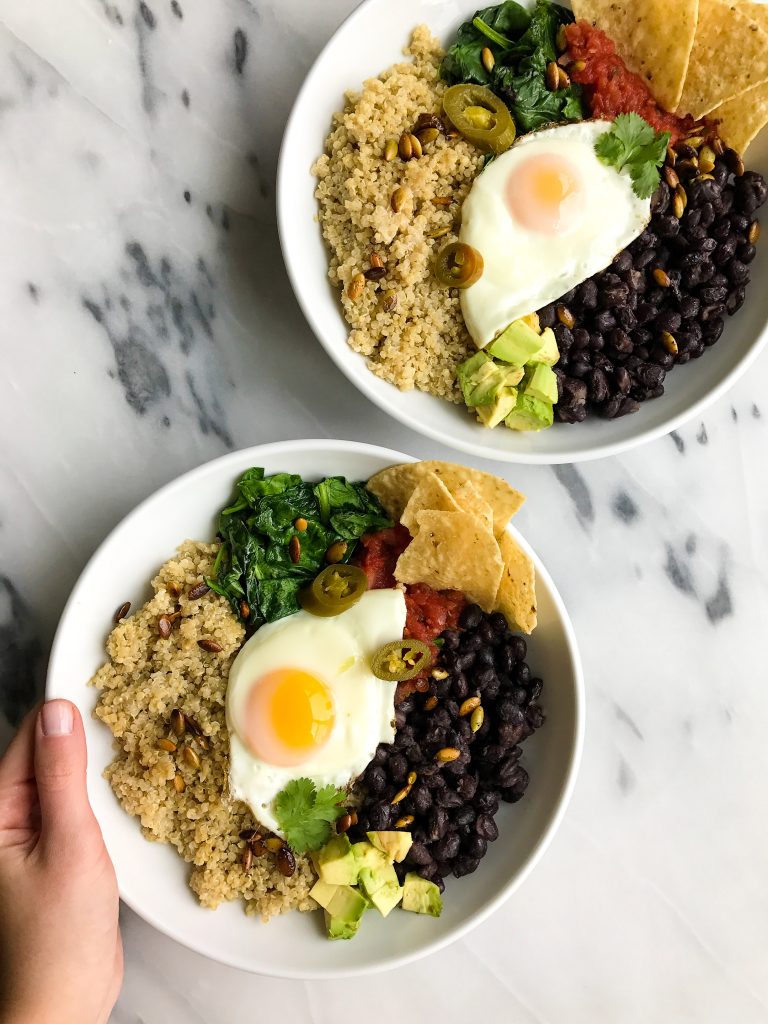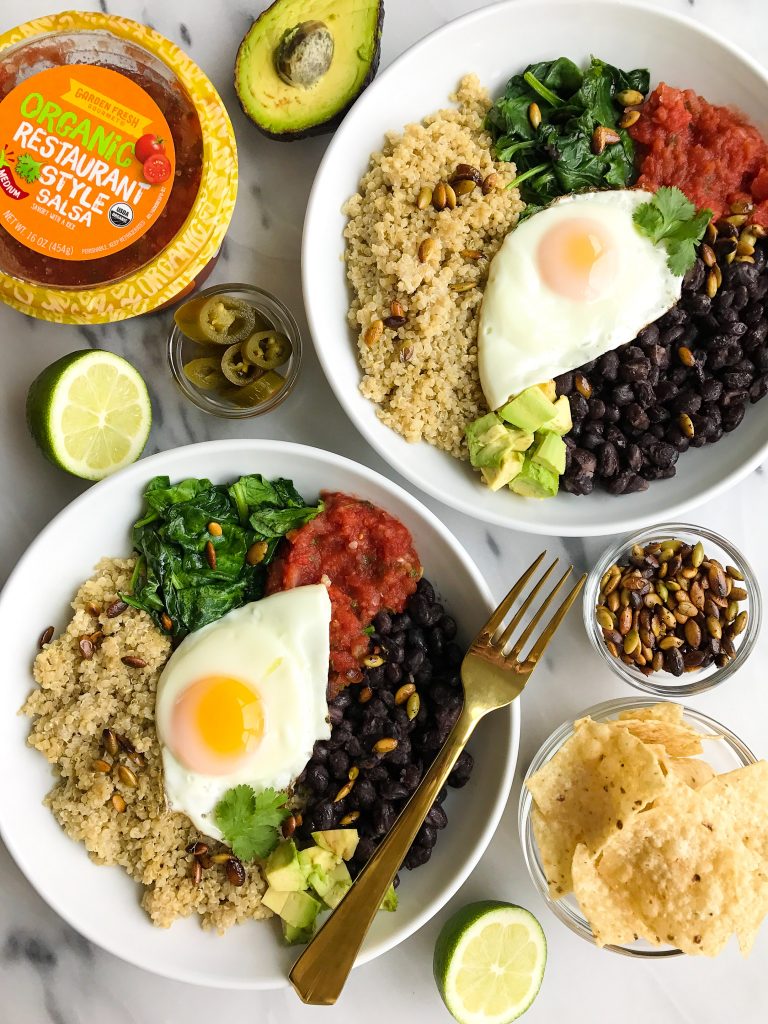 Print
Vegetarian Taco Breakfast Bowls with Coconut Quinoa
Prep Time:

5 mins

Cook Time:

30 mins

Total Time:

35 mins
Coconut quinoa:

1 cup

quinoa

1 cup

coconut milk

1/2 cup

water

Black beans:

1

can of black beans

1 teaspoon

garlic powder

1 tablespoon

avocado oil

Spicy pumpkin seeds:

1/4 cup

raw pumpkin seeds

1/4 teaspoon

cayenne

1/2 tablespoon

avocado oil

Other bowl ingredients:

3

–

4

eggs (depending on number of people serving)

Garden Fresh Gourmet Restaurant Style Salsa

1

avocado, sliced

Jalapeños

Spinach

Tortilla chips

Cilantro
Instructions
In a medium sauce pan, add quinoa, coconut milk and water and bring to a simmer, reduce heat to maintain gentle simmer and cover to cook for about 15-20 minutes (or until liquid is absorbed)
Fluff the quinoa after it is cooked
In a medium pan, add the oil, black beans and garlic and cook for 5 minutes
Remove from pan and begin making the pumpkin seeds
Combine pumpkin seeds, cayenne and oil and toast on the pan for 5 minutes
Begin assembling the bowls with quinoa, black beans, spinach, salsa, jalapeños, avocado in a bowl
Cook the eggs to your liking and top off each bowl, sprinkle the cilantro and pumpkin seeds on top and enjoy!
Author:
Category:

vegetarian, gluten-free, dairy-free

Cuisine:

lunch, breakfast, brunch
xx, Rach


Thank you Garden Fresh Gourmet for sponsoring this post. It means so much to me to work with brands that I love and who support rachLmansfield!