Healthy Homemade Salmon Burgers made with paleo ingredients and they are egg-free!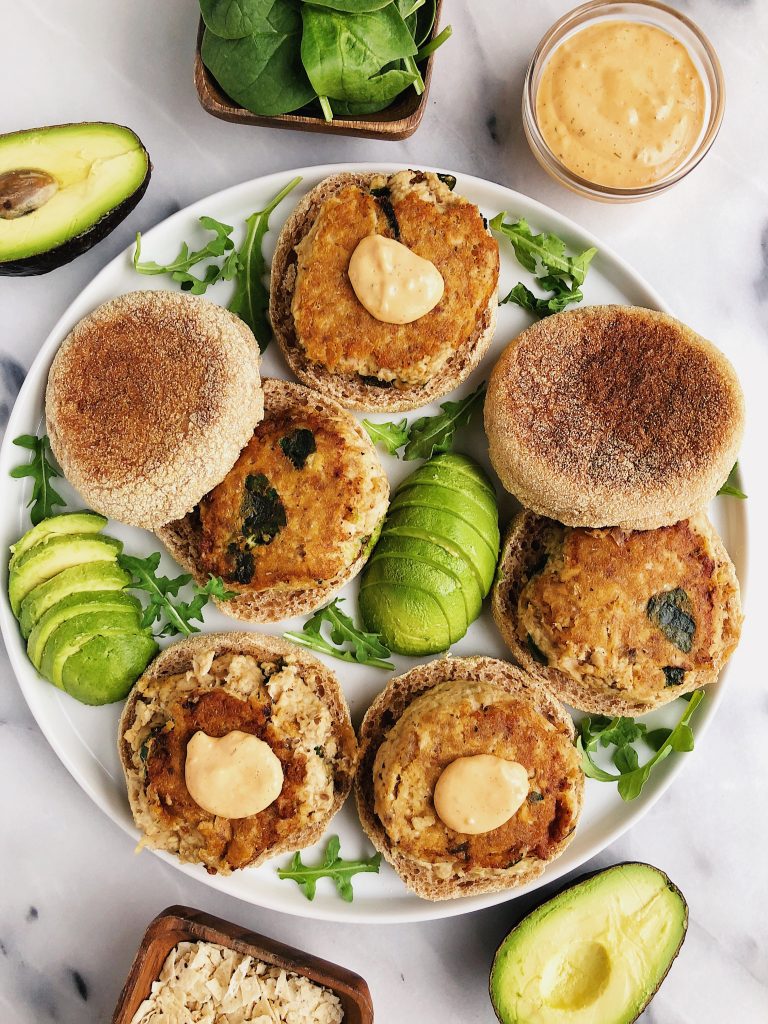 Remember when I wasn't eating meat? The only animal protein I was eating was from fish and eggs.
Needless to say I was eating a lot of salmon. Salmon is hands down one of my favorite foods (I am weird, I know). But I still crave a piece of buttery fatty salmon. I am quite particular about the kind of salmon I eat. It can't be too thin or it gets dry and the bones in it? Ugh can't handle. I love those thick pieces you put under the broiler or on the grill with a little avocado oil, sea salt and pepper and gets crispy AF.
Finding good quality, wild salmon is not always easy so I don't get to eat it much. I also hadn't found a canned wild salmon I liked until Safe Catch came out with theirs! Wild salmon ready to eat just like you would with their tuna. Safe Catch now has sustainability caught Wild Alaskan Pink Salmon that is mercury tested and high in omega-3's with no additives. Just salmon here!
I used to grill salmon burgers all the time that I would buy at the store. I noticed most of them are filled with icky ingredients like canola oil and random gums we don't really need in a salmon burger. Plus it is too easy to make your own at home!
Today we are whipping up these Healthy Homemade Salmon burgers. They are gluten-free, egg-free, thick and get so crispy on the cast iron skillet. You can easily spice up this recipe by adding in different seasonings, changing the breadcrumbs up, etc.
I made these for Jord and I and we ate all of them in a couple days. My brother (a fellow Safe Catch obsessed customer), wanted to drive up to Hoboken just to get some of these burgers, they are that good.
Thank you Safe Catch for another amazing and delicious product. And for satisfying my salmon cravings with this new wild salmon! After you enjoy these, check out the other tuna recipes on here using Safe Catch's tuna.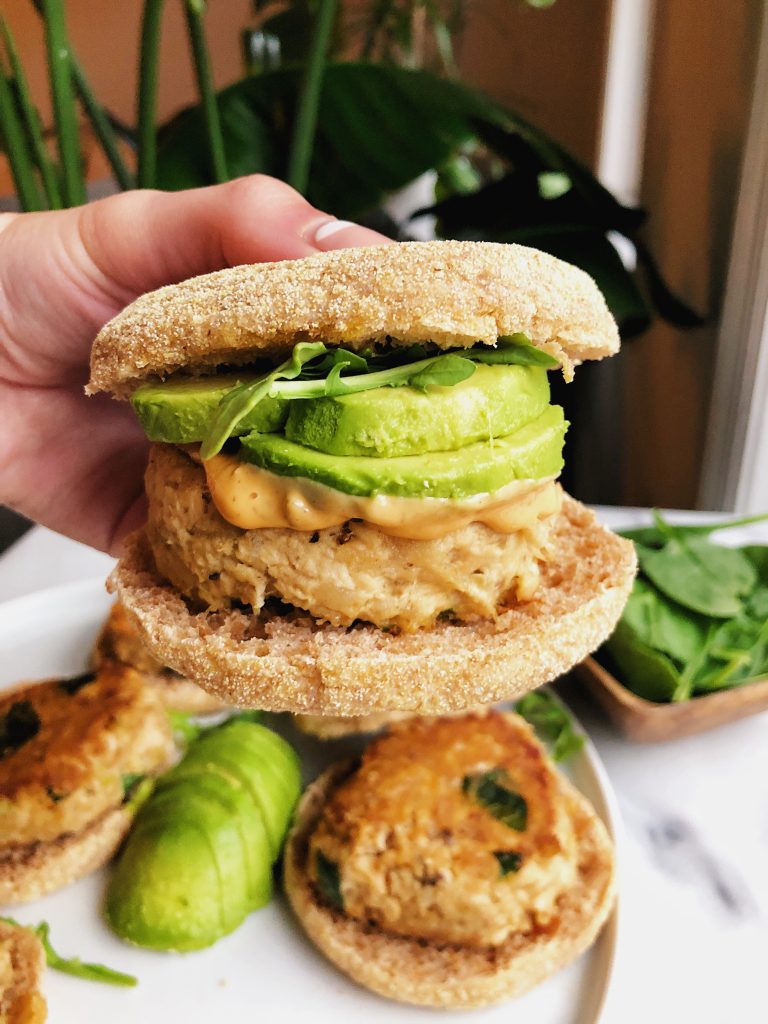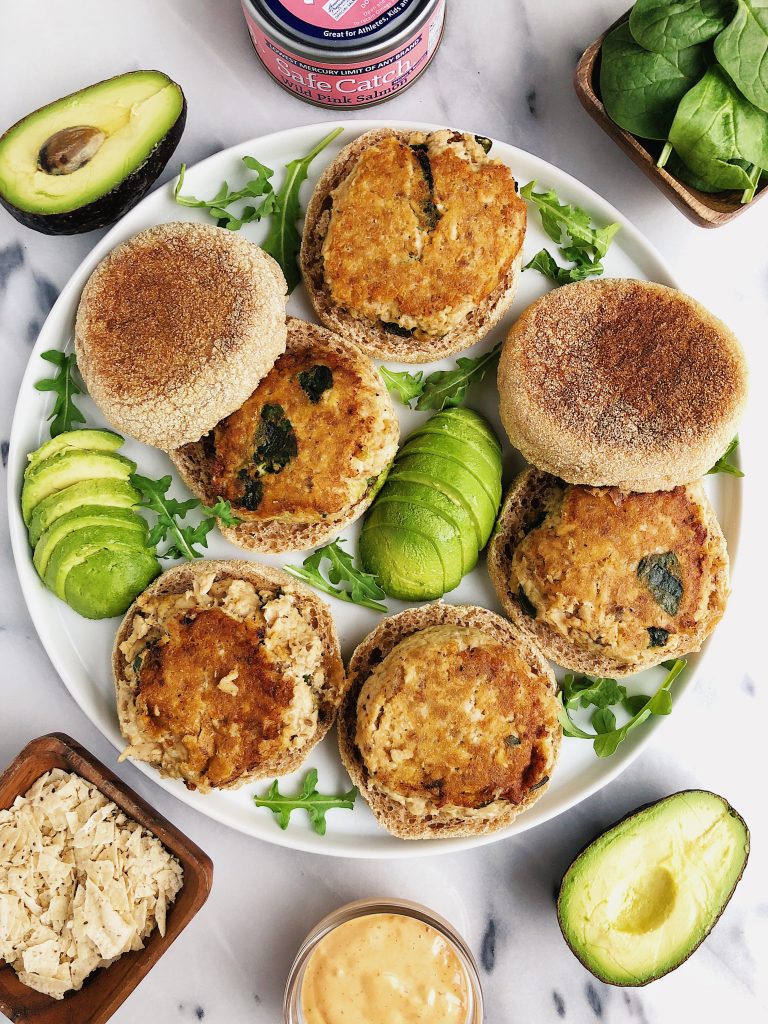 Print
Healthy Homemade Salmon Burgers (paleo + egg-free)
Instructions
In a large bowl, mix together the wild salmon, breadcrumbs, chopped greens and mayo together
Mash the salmon done and really make sure that the ingredients are mixed together well
Using a 1/2 cup measuring cup, scoop 1/2 cup of the salmon mixture then gently turn the measuring cup upside down over a large plate and tap the bottom of the measuring cup to get the salmon burger out
Repeat until 5 burgers are formed
Add plate to chill in fridge for 10 minutes
In a large skillet, add a generous amount of avocado oil or grass-fed butter or ghee and melt over medium heat, greasing the skillet well
Gently add each salmon burger onto the skillet and cook for 3 minutes on each side
Serve on bun of choice and with desired toppings
xx, Rach
Thank you Safe Catch for sponsoring this post! It means so much to me to work to work with brands I love and believe in!
SaveSave
SaveSave