6-ingredient Paleo Peppermint Patties are the easiest homemade peppermint candy. Made with no gluten, no dairy and no refined sugars.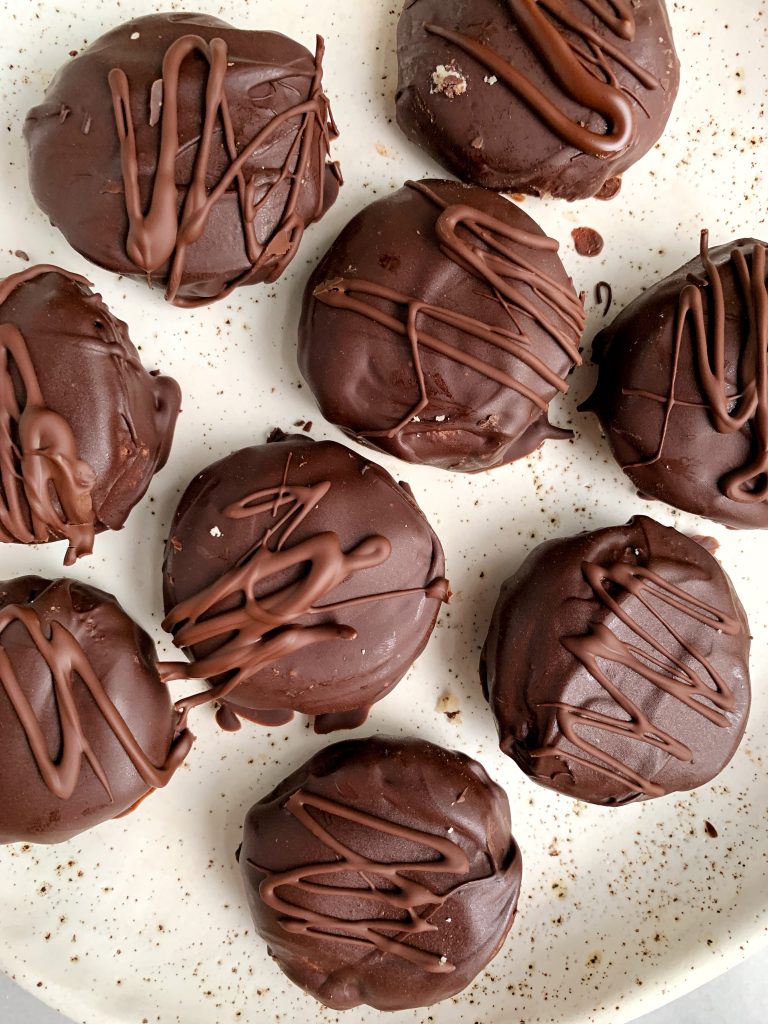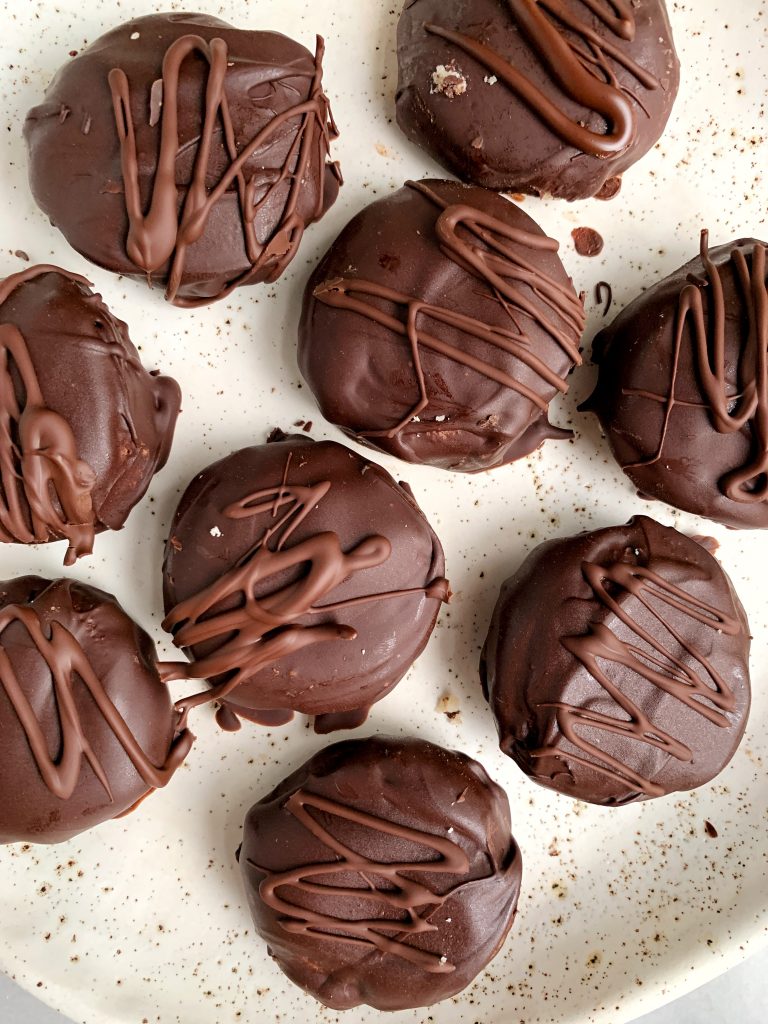 A few weeks ago, I polled my Instagram community to see what kind of holiday recipes everyone was craving.
I was completely surprised when I saw how many people requested "anything dark chocolate and peppermint". And of course, I thought of making some peppermint bark of sorts to share with you guys. But then I remembered good old fashioned peppermint patties and immediately new this was the answer.
These peppermint patties are too easy to make. Plus they are paleo, gluten-free, dairy-free and have zero refined sugar in them!
I am obsessed with how they turned out. And I love how they don't melt easily when they aren't in the fridge. Usually when I am photographing no-bake recipes it is like the amazing race trying not to let everything melt.
You can store these in the fridge for a week or so. Or you can pop them in the freezer and keep them there for a couple of months! Part of me wishes I had these around Halloween too, but it is never out of season for homemade candy in my opinion.
So what ingredients do you need to make peppermint patties?
Only 6 key ingredients – that is it!
Unsweetened coconut chips. At first I was going to use coconut shreds, but I had so many chips on hand that I couldn't not use them. You can definitely use shreds as well, you just may need a bit less as they are already smaller and more fine than chips (see below for portions)
Liquid coconut oil. If you have solidified coconut oil, just melt it then measure before adding to the processor!
Manuka honey or maple syrup. My sweetener of choice. Coconut sugar isn't going to work in this recipe as it is grainier and we need something more liquid
Non-dairy milk. Anything unsweetened is my preference as it would be a waste of sugar otherwise.
Dark chocolate chips. Or really gems in this case. I use these coconut sugar sweetened baking gems in this recipe. I love that they have no refined sugar and they melt so easily in the microwave. They are also paleo, which is rare in chocolate world.
Vital Proteins Hot Cocoa Collagen Latte Mix. This is the best collagen flavor to use in recipes!! It also is amazing to whip up homemade lattes with or make a hot chocolate. Plus it adds a bit more nutrients and a boost to the recipe. I swear by collagen for my hair, skin and nails. Especially postpartum and Vital Proteins is a personal fave! (more info on collagen here!)
For all of my favorite healthy candy recipes head on over to this blog post!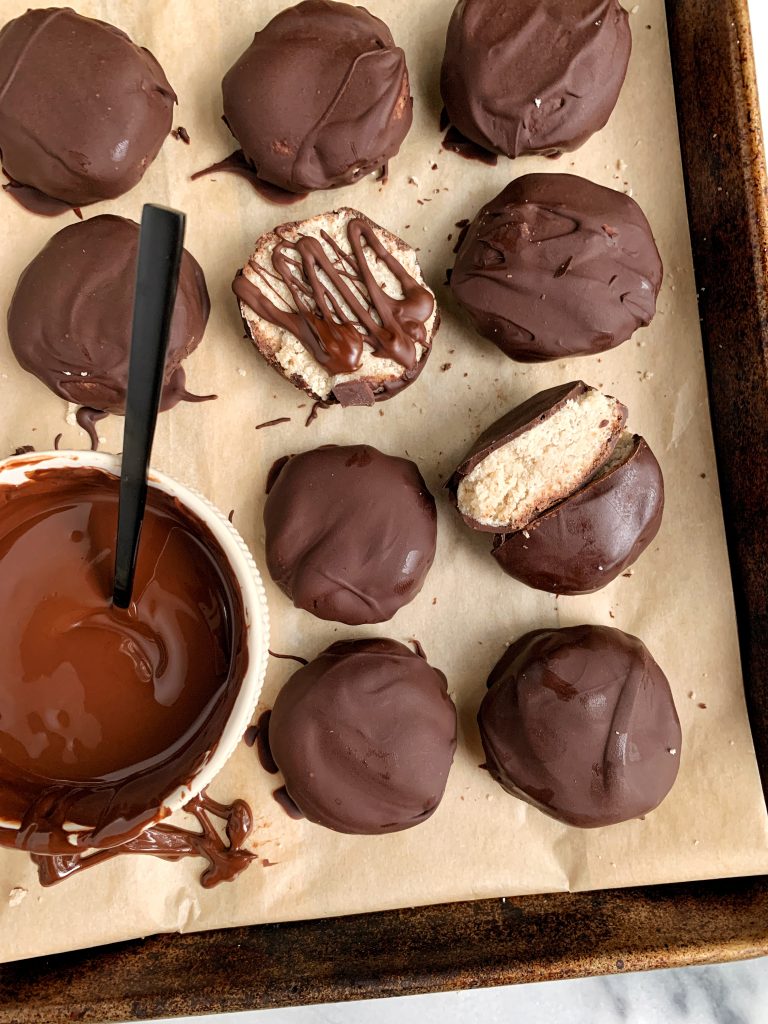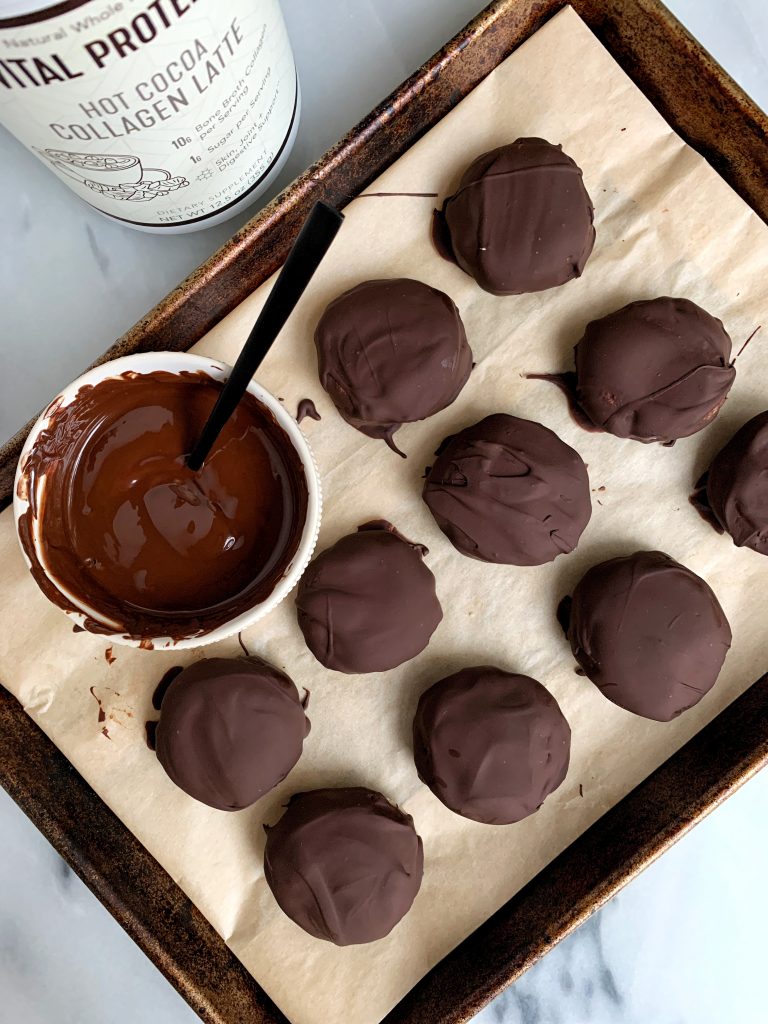 Print
6-ingredient Paleo Peppermint Patties
6-ingredient Paleo Peppermint Patties are the easiest homemade peppermint candy. Made with no gluten, no dairy and no refined sugars.
Prep Time:

10 mins

Cook Time:

10 mins

Total Time:

20 mins
Instructions
Line a small baking tray with parchment paper
Add the coconut chips, milk, oil, syrup and peppermint to a food processor and blend until ingredients are fully combined (took me about 2 minutes and I stopped every 30 seconds or so to scrape the sides!)
Form patties by scooping about 2 tablespoons of batter into your hand and form into a cookie shape and repeat
Add to baking sheet then place them in the fridge for about 10 minutes
Melt the chocolate chips in microwave or double boiler then mix in the collagen well
Dip each peppermint patty in chocolate then place back onto baking tray and allow them to set in fridge for about 10 minutes!
Notes
*Or sub about 1 1/2 cups unsweetened coconut shreds
*Optional but it is great way to add your collagen in!
xx, Rach
Thank you Vital Proteins for partnering with me for this post. It means so much to me to spread the word about your amazing products!