Sharing this delicious and simple Baked PB&J Oatmeal made with vegan, gluten-free and healthy ingredients like sprouted rolled oats, almonds and creamy peanut butter!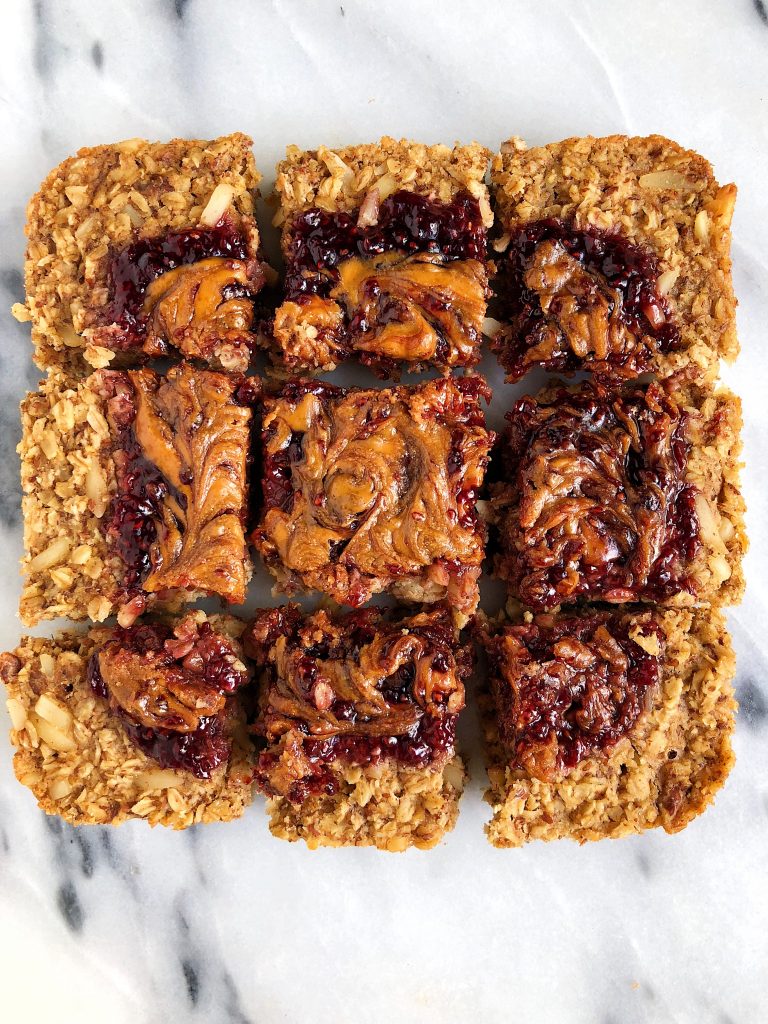 What is it about peanut butter and jelly anything that I love? This combo speaks to my soul and I truly believe that I will always and forever crave a comforting peanut butter and jelly sandwich.
I used to pack PB&J every single day for lunch even when I worked in an office. The endless nut butter and jam possibilities and it always satisfied my sweet tooth craving in the afternoon.
Today we are putting a spin on your usual PB&J sandwich and instead making this epic Baked PB&J Oatmeal recipe from my dear friend Ali's NEW book, Inspiralized & Beyond. You likely have heard of Ali, the spiralizing QUEEN, who has her own kick ass spiralizer called "The Inspiralizer" and she just launched her third cookbook this week. This is the first book that mixes some spiralized and non-spiralized recipes together!
Ali and I became friends a couple years ago but honestly, I have been a huge fan of her work for quite some time. She is such a wonderful human, amazing new mom and she makes me actually excited to eat my veggies for once. I have so much respect for the brand she has built and could not be more grateful to have her as a friend. Not to mention her and her husband Lu were in Maui the same week Jord and I were there last year. We stayed at the same hotel and ran into each other numerous times a day. It was hysterical!
Now Lu and Ali live close to Jordan and I here on the other side of the river from NYC and I was lucky enough to have her make us dinner a few weeks ago.
I sat here scrolling through Ali's book for hours trying to find a recipe to make and share with you guys. I saw about 50 savory ones like Zucchini Dumplings, Brussels Sprout Mini Sliders and Sicilian Bianca Pizza that have me drooling all over. She also has these Cinnamon Raisin Sweet Potato Bagels in the book that look insane. I need to make those as soon as I eat all the sweet potato fries from my fridge!
Ali's book is available on AMAZON and in many retailers. She also is published by Clarkson Potter, who I am working with for my book. I am so excited for her and for YOU to try these recipes!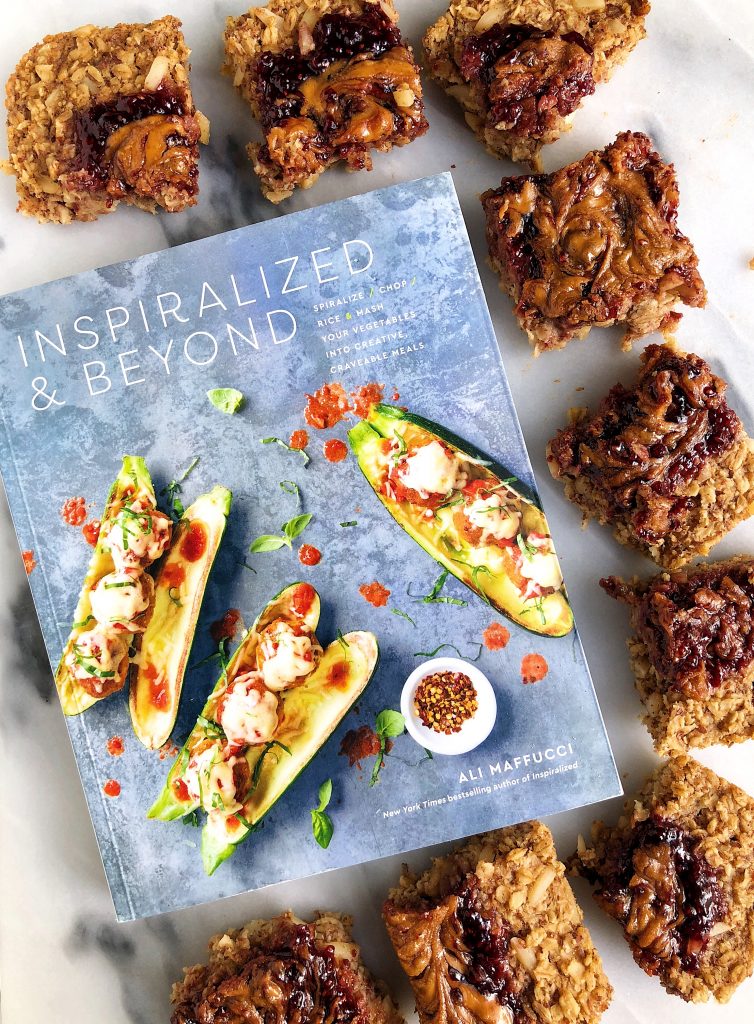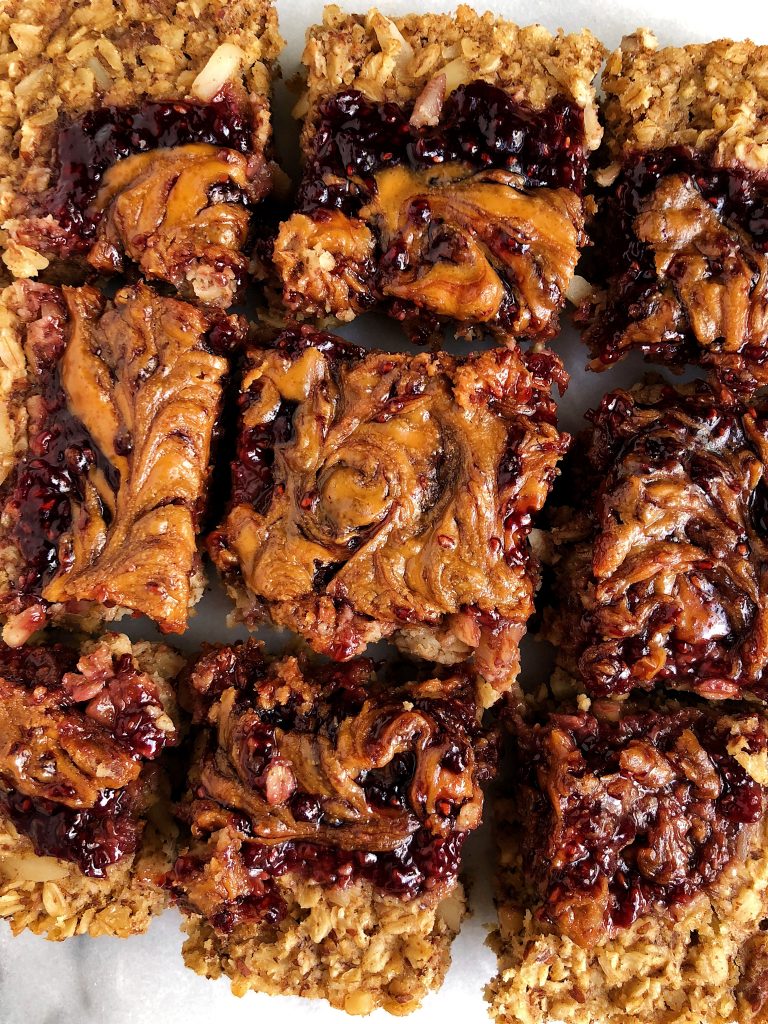 Print
Baked PB&J Oatmeal
Sharing this delicious and simple Baked PB&J Oatmeal made with vegan, gluten-free and healthy ingredients like sprouted rolled oats, almonds and creamy peanut butter!
1 tablespoon

liquid coconut oil

2 cups

sprouted rolled oats

2/3 cup

coarsely chopped nuts (I used almonds – Ali recommends walnuts)

2 teaspoon

cinnamon

1 teaspoon

baking powder

3/4 teaspoon

sea salt

1/4 teaspoon

nutmeg

1

and 3/4 cups unsweetened almond milk

1/3 cup

maple syrup

2

flax eggs (

2 tablespoons

ground flax +

5 tablespoons

water OR 2 pasture-raised eggs will work)

1/4 cup

creamy peanut butter (plus more for topping)

2 teaspoons

vanilla extract

1/4 cup

jam of choice
Instructions
Preheat oven to 375 degrees and grease a baking skillet with coconut oil (I use 8×8 and Ali used 10-inch – I am sure baking times will vary but either works)
In a medium bowl, toss the oats, nuts, cinnamon, baking powder, salt and nutmeg together to combine
In a small bowl, whisk together the almond milk, egg, maple syrup and coconut oil, peanut butter and vanilla
Spread the dry mixture onto the skillet or baking dish then pour wet ingredients on top and tip the dish back and forth so it evenly distributes
Bake in oven for 15 minutes then remove and add the jam on stop, 4 spoonfuls of peanut butter then swirl with a toothpick or sharp knife
Bake in oven for about 25-30 minutes or until ready!
xx, Rach