Dreamy & Messy Dark Chocolate Cinnamon Buns that are gluten & yeast-free, so easy to make!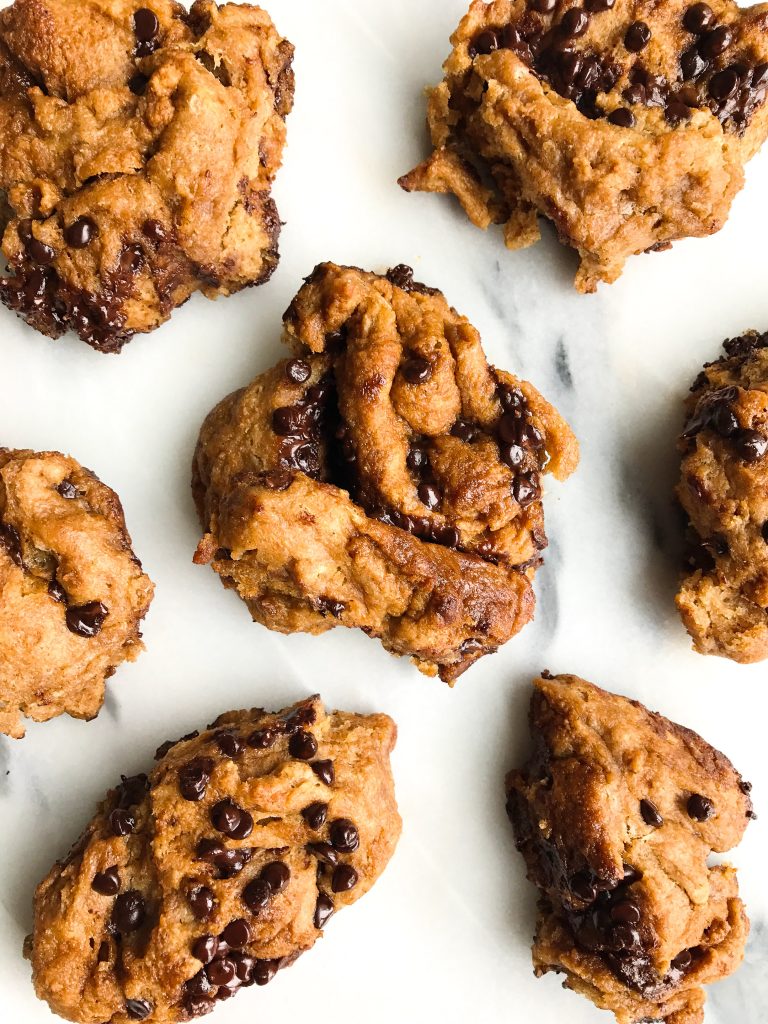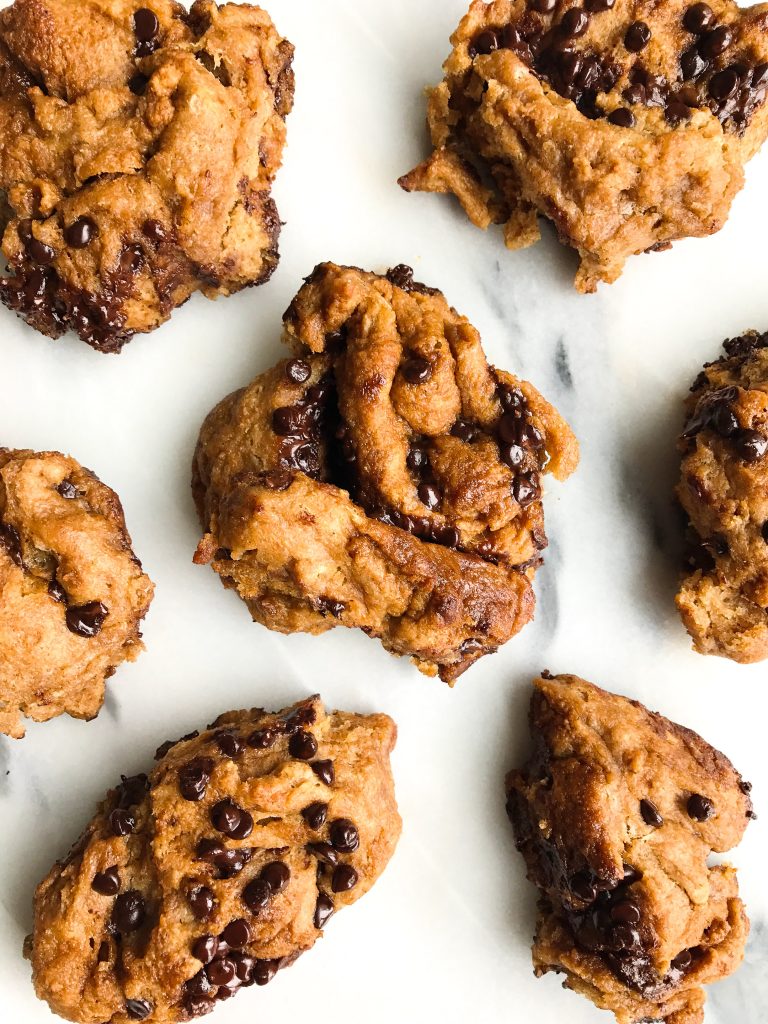 The first cinnamon bun recipe on the blog is HERE. And they are a-m-a-z-i-n-g.
I am dreaming of making these messy yet absolutely delicious dark chocolate cinnamon buns again already. They are so simple and easy to make but they are 100% messy af and you will be getting your hands dirty when you make them.
..You have been warned.
But the good thing about this recipe is that it is made with minimal ingredients compared to most and you don't even need yeast. For some reason baking with yeast kind of grosses me out. It is just the name of it that really turns me off (kind of like "moist" for some people). So I wanted to make yeast-free rolls for us to nosh on.
These aren't as fluffy as your traditional cinnamon buns but I promise you they are SO flavorful and just the right amount of sweetness.
Plus there is an extra ingredient that likely has never been used in cinnamon buns ever.. collagen peptides. Vital Proteins Marine Collagen Peptides made its way right into these Dark Chocolate Cinnamon Buns and you'd never know it. So when you are eating your cinnamon bun and loving all the chocolate-y flavor, you can remember that you are also providing an extra boost to your hair, skin and nails, helping your digestive system and supporting joint health. All from Vital Proteins. More of my recipes using collagen peptides are here for you too. Some of my most favorite recipes on the long like Chocolate Chunk Tahini Cookies, PB Chocolate Oatmeal Bars and Chocolate Flaxseed Waffles, all of collagen peptides in them too.
If your budget is tight and buying all the products you see on blogs is a bit too expensive, I would invest in Vital Proteins. It is truly one of my favorites! It has helped my hair grow SO much!
WHAT YOU NEED
Spelt flour (you can also use oat flour or gluten-free flour)
Vital Proteins Collagen Peptides (I used marine)
Grass-fed buter (or vegan butter)
Nut milk
Apple cider vinegar
Coconut sugar
Chocolate chips
Cinnamon
QUICK NOTES
This recipe is very messy and the dough can get a bit sticky, please leave the spelt flour out so you can add more as your are forming the buns and rolling the dough, etc.
I recommend using Vital Proteins in this recipe to extra goods for you while eating these, but it is optional it the recipe will work with or without the peptides.
Don't skip chilling the dough in the fridge, it is key!
These surprisingly freeze very well so feel free to put any leftovers in the freezer for another time
If you use any other substitutions, please tell me so I can add to the list for everyone 🙂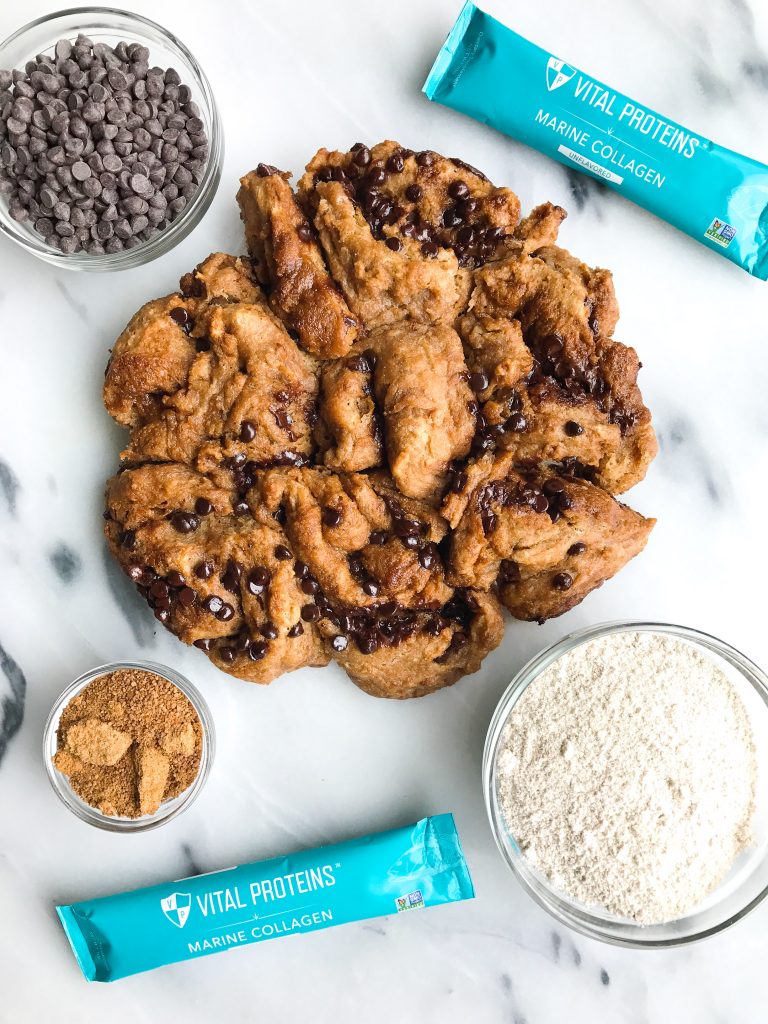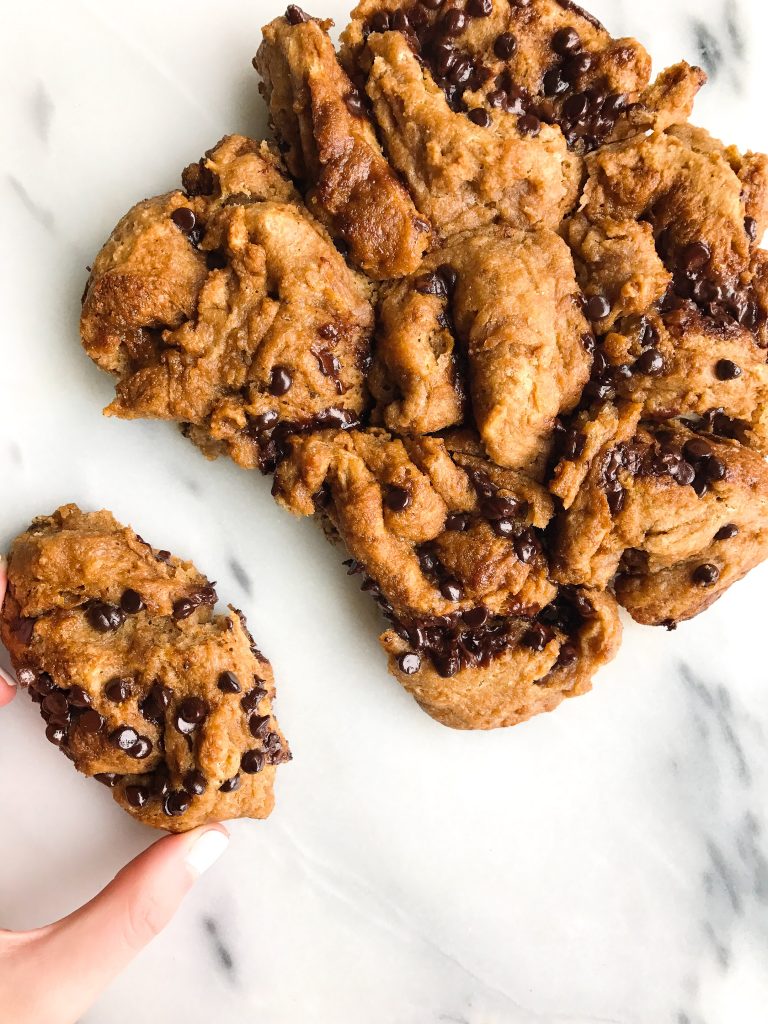 Print
Dreamy & Messy Dark Chocolate Cinnamon Buns (yeast-free)
Prep Time:

15 mins

Cook Time:

15 mins

Total Time:

30 mins
Rolls:

2 cups

spelt flour (can sub oat flour or gluten-free flour)

2 1/2 teaspoons

baking powder

1 tablespoon

of Vital Proteins Collagen Peptides*

5 tablespoons

grass-fed butter (vegan butter if needed)

3/4 cup

unsweetened almond milk

1 teaspoon

apple cider vinegar

3 tablespoons

coconut sugar

Filling:

2 tablespoons

coconut sugar

1/4 cup

dark chocolate chips

1.5 teaspoons

cinnamon
Instructions
Preheat oven to 400 degrees
Grease 8-9″ pie dish and set aside
In a large mixing bowl, combine the flour, collagen peptides and baking powder
Using a knife or pastry blender, cut the butter into the flour mixture until it it has a coarse meal consistency (I used a whisk to press it down!)
Chill in fridge in the bowl for about 15 minutes
In a medium bowl, combine almond milk, apple cider vinegar and coconut sugar
In a small bowl, combine filling ingredients and set aside
Take the dough bowl from the fridge and add in the almond milk mixture, making sure not to overwork the dough (if too dry just add a bit more milk)
Place the dough onto a floured surface and knead 4 times
Using a rolling pin (I used my hands), roll out the dough to a large rectangle of 1/4 inch thickness
Brush the dough with 1/2 tablespoon melted coconut oil
Evenly sprinkle the filling mixture over the dough
Starting with the long side, gently roll the dough up into a log
Using a sharp knife, cut the log into 8-10 equal rolls
Place the rolls into the prepared pie pan and bake for 12-15 minutes
Let cool for a few minutes then enjoy!
*Can omit Vital Proteins if preferred but I recommend it!
Author:
Category:

vegan and gluten free-friendly

Cuisine:

dessert, snack
xx, Rach


Thank you Vital Proteins for sponsoring this post. It means so much to me to work with brands that I love and who support rachLmansfield!
SaveSave