Chocolate Chunk Tahini Cookies made grain & gluten-free, plus they have collagen peptides!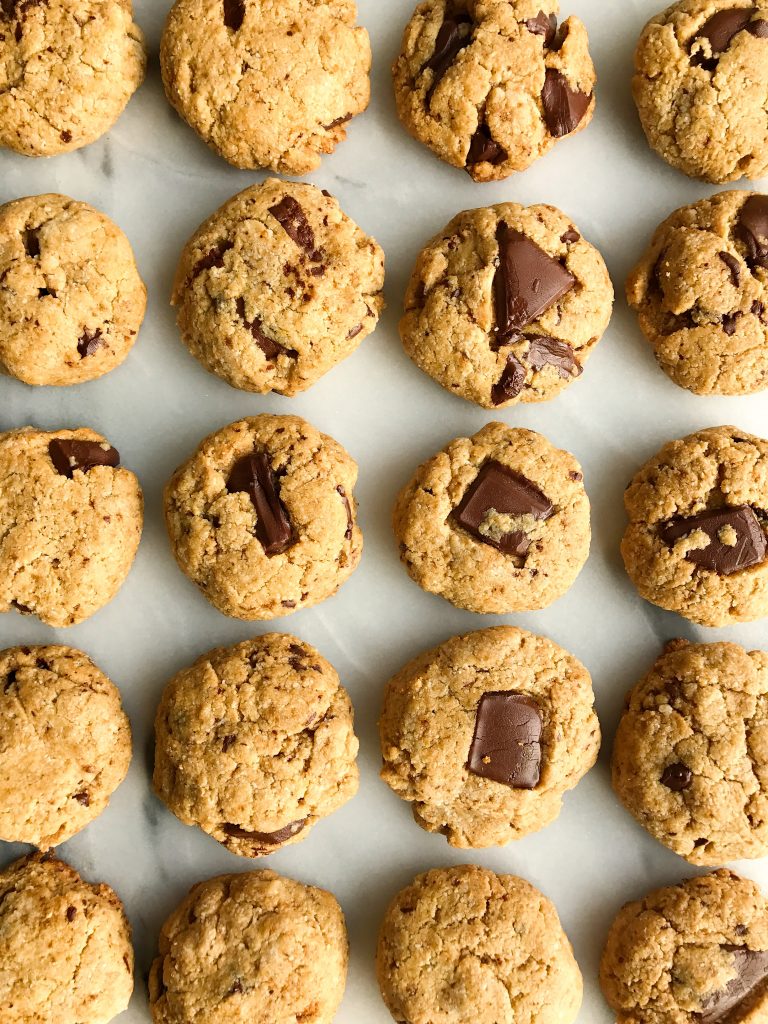 These cookies are da BOMB you guys. I was pretty hesitant on making a cookie using tahini but these Chocolate Chunk Tahini Cookies may just be my most favorite cookie recipe as of yet.
They are soft and kind of doughy. They are just lightly sweetened and hit the spot every single time.
At first I thought I was going crazy putting tahini in a dessert but the mild flavor and creamy consistency it adds to the dough is on point. My Mom could not get enough of these cookies either. I froze half of them to stop myself from eating them all, but ended up microwaving a couple every night until they were finished (try harder next time Rach).
You'd also never guess that there are collagen peptides in these gems. Yes, you read that right, COLLAGEN! Baking with Vital Proteins is seriously one of my favorite past times. You add an extra boost of protein right into the recipe and you are gaining all the benefits of collagen peptides. You also do not taste it whatsoever. I put collagen peptides right into my tea or hot water daily, and it is a game changer. It helps your hair, skin and nails. It is also amazing for your digestive system, joint health and so much more.
I use the marine or beef collagen (both are great and get the packets too for travel) and Vital Proteins even just launched some new flavors that I was lucky enough to try at Expo West! Cannot recommend this product enough. I am OBSESSED you guys.
WHAT YOU NEED
Almond flour (have not subbed anything else)
Arrowroot flour/starch (have not subbed anything else)
Vital Proteins Collagen Peptides
Baking powder
Liquid Coconut oil
Coconut Sugar
Vanilla Extract
Dark Chocolate Bar (this is so good in it!)
QUICK NOTES
I have not tested other flours here, the almond and arrowroot balance each other out and I personally think it adds the doughy/chewy cookie consistency we love
These cookies do freeze very well but good luck not eating them all first 😉
If you do not have liquid coconut oil, simply melt solid coconut oil to a liquid and wait for it to cool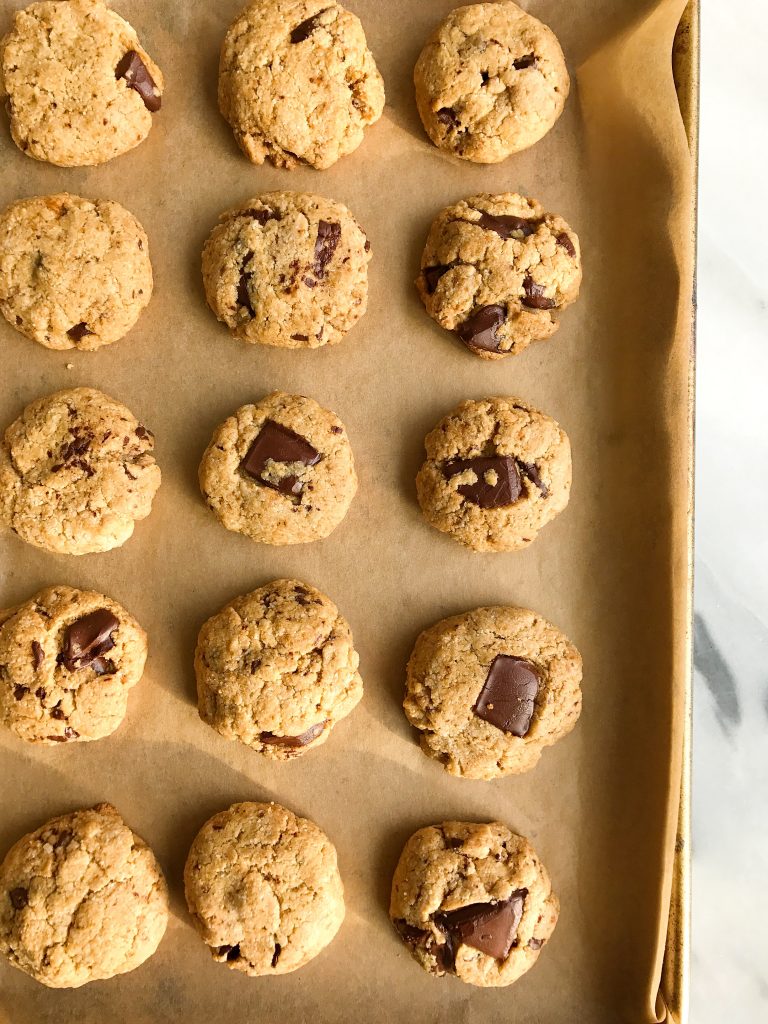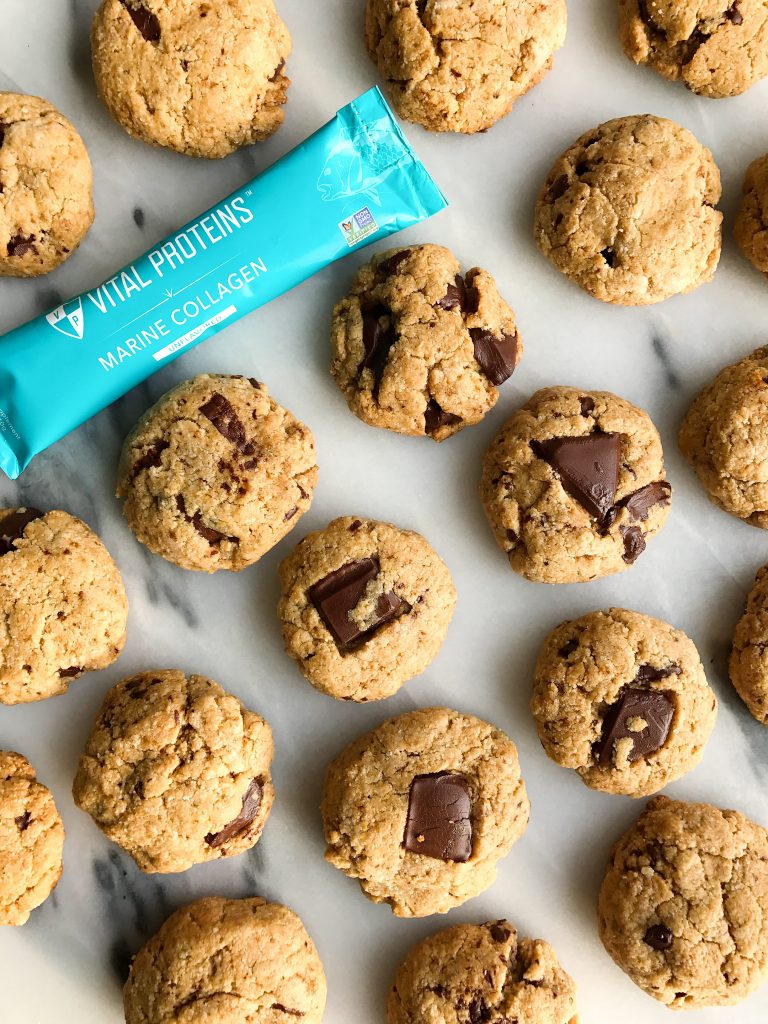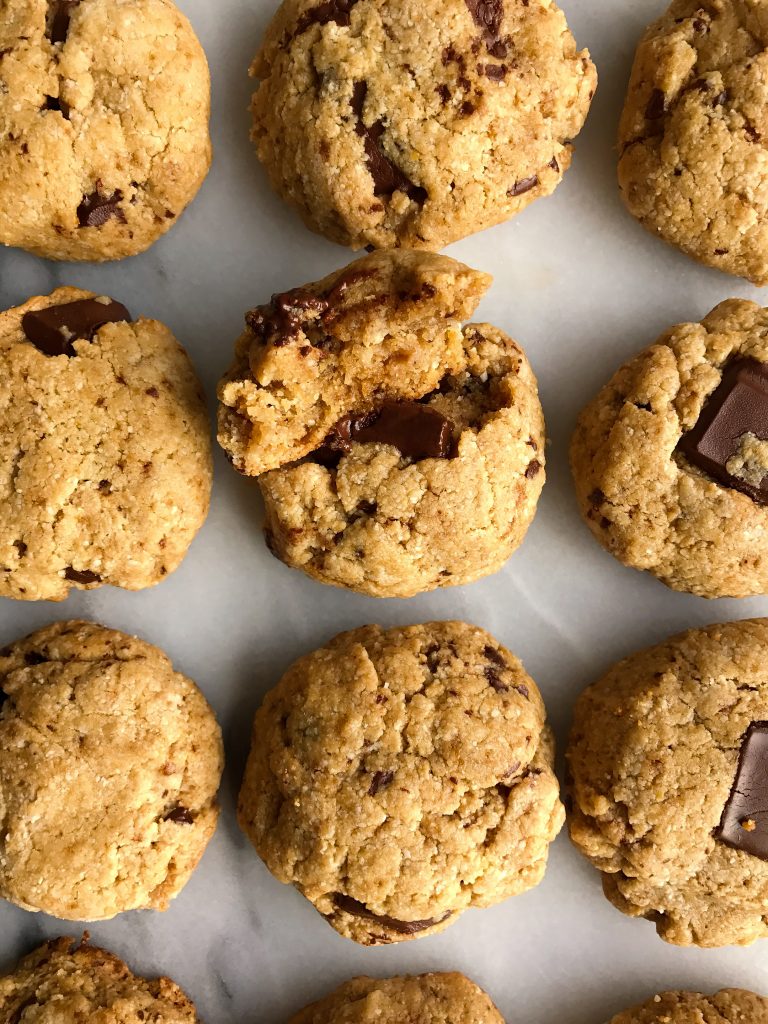 Print
Chocolate Chunk Tahini Cookies
Prep Time:

10 mins

Cook Time:

12 mins

Total Time:

22 mins
Dry ingredients:

2 cups

almond flour

1/2 cup

arrowroot flour/starch

1/2 cup

coconut sugar

1

–

2

scoop Vital Proteins Collagen Peptides

1 teaspoon

baking powder

Wet ingredients:

2

flax eggs (or chia or regular egg)

1/2 cup

tahini

1/2 cup

liquid coconut oil

1 teaspoon

vanilla extract

Mix-in's:

2 ounces

dark chocolate bar, chopped
Instructions
Make a flax egg by combining 2 tablespoons of ground flax + 6 tablespoons water and mix well then set in fridge for 10 minutes to set
Preheat oven to 350 degrees and line a baking tray with parchment paper and grease well
In a medium bowl, combine the dry ingredients
In another medium bowl mix together all wet ingredients with a mixer
Add wet ingredients to dry and mix again
Fold in dark chocolate pieces then begin scooping each cookie (I used a small cookie scooper) and add onto the baking tray (about 12 will fit)
Press down on each cookie so that they aren't ball shaped and make sure there is space between each as they will expand as they bake
Bake for 12 minutes and enjoy!
*Will stay fresh for 5-7 days in airtight container for freezer for longer
Author:
Category:

vegan-friendly, grain free, gluten free, dairy free

Cuisine:

cookies, dessert
xx, Rach

Thank you Vital Proteins for sponsoring this post. It means so much to me to work with brands that I love and who support rachLmansfield!