How to Make Epic Whipped Ricotta Toast topped with jam, candied walnuts and a little za'atar seasoning.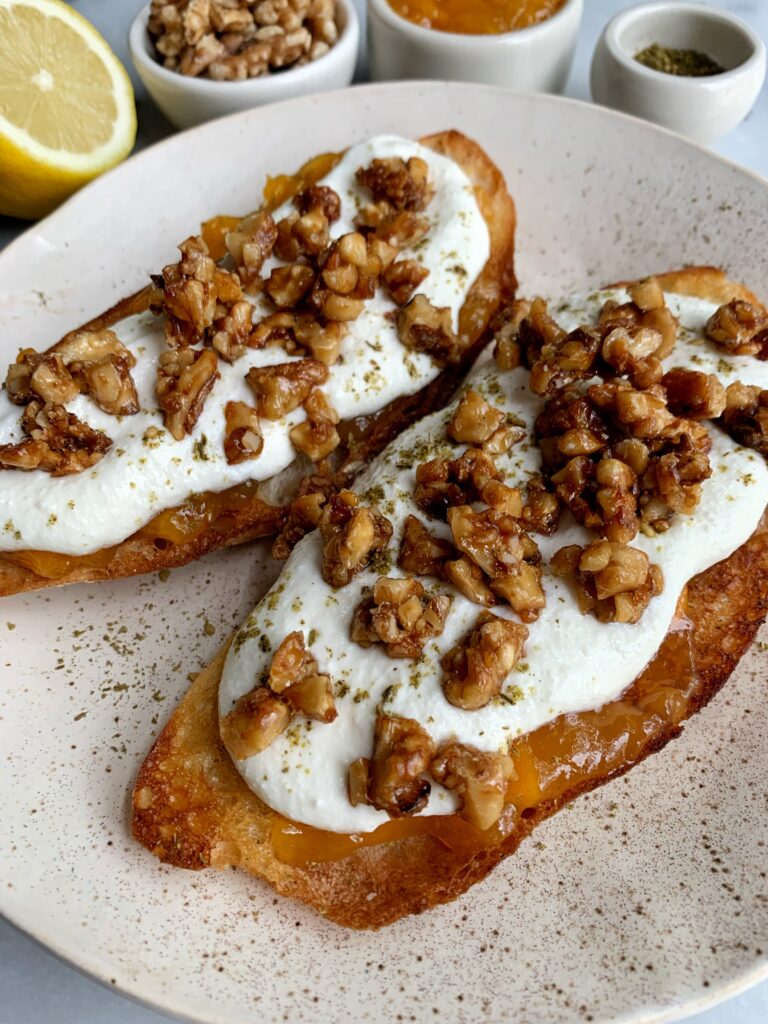 The ricotta toast trend is taking over. And you 100000% need to hop on board if you are a fan of all things ricotta cheese and TOAST! Which I am assuming you are if you are reading this blog post.
We recently came back from the Hamptons and we ate at one of our favorite spots, Crow's Nest, for dinner. It is a staple when we are out there and one of those IYKYK when it comes to eating out east. They are known for their lobster pasta. But also for this insane whipped ricotta appetizer that Jord dreams of.
We were inspired to make our own and put a little Rachel + Jordan twist on it. Theirs uses pistachios on top and apricot jam and we instead made some candied walnuts (my favorite) and have actually eaten this with peach and apricot jam. You can't go wrong with any jam though in my opinion. And we even toasted the bread almost as good as they do.
You guys are going to LOVE this recipe. I cannot wait to hear what you think!!
What ingredients you need to make whipped ricotta toast:
Whole milk ricotta cheese
Lemon
Raw walnuts, broken into pieces
Maple syrup
Bread of choice (we used sliced up ciabatta but anything works)
Butter, ghee or oil (for greasing)
Jam of choice (we love apricot or peach for this)
Za'atar seasoning to taste
How to make the dreamiest ricotta toast:
Add the ricotta to a medium bowl and squeeze the juice from 1/2 a lemon
Whisk the ricotta by hand (or use a mixer) for a minute or so or until the ricotta is smooth and spreadable (it is really to your liking)
In a small skillet, pour maple syrup and add walnuts and cook over medium heat for a few minutes, stirring occasionally (make sure walnuts are coated in the syrup) then remove from pan and set aside once done
Grease a pan with a little butter or oil and add slices of bread to crisp for a few minutes on each side
Once bread is ready, smear some jam on top followed by the ricotta, candied walnuts and za'atar seasoning
A few other delicious recipes to make:
Peach and Burrata Pizza with Balsamic Glaze
20-minute Healthy Teriyaki Meatballs
Creamy Vegan Tomato Soup with Grilled Cheese Croutons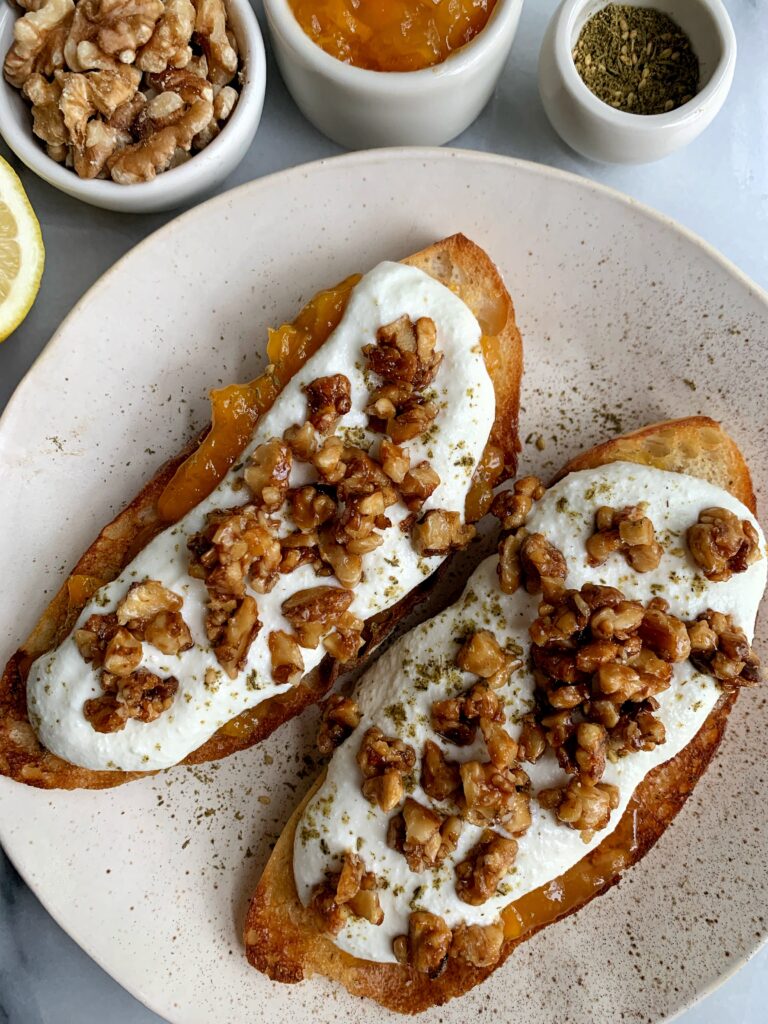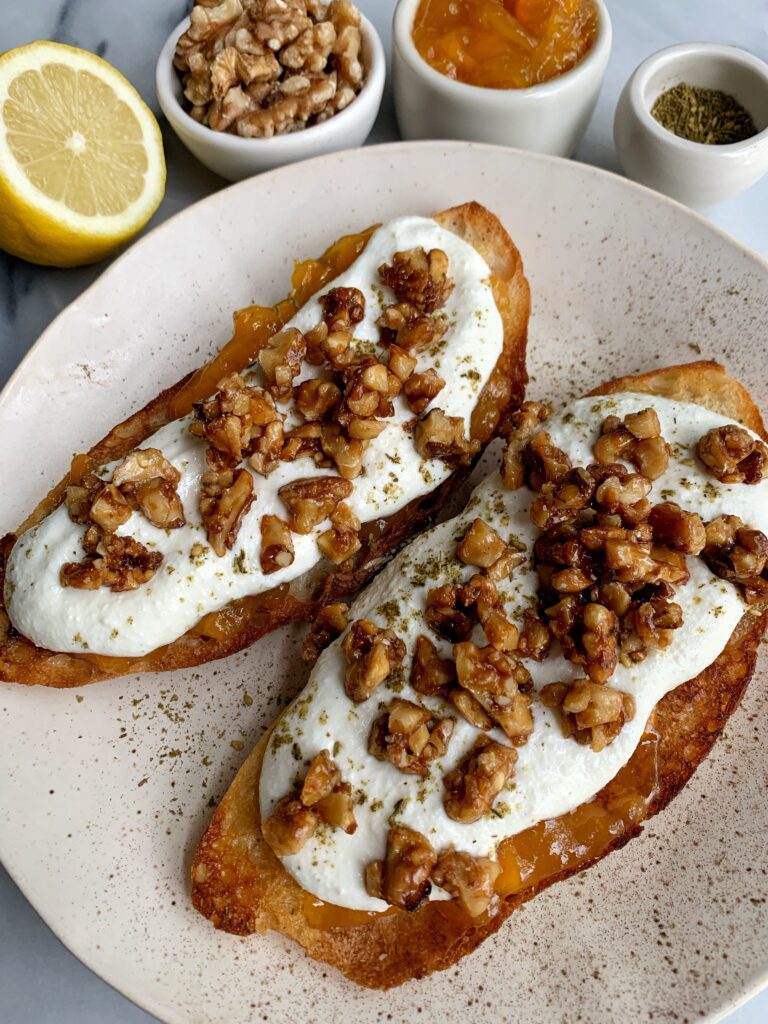 Print
How to Make Epic Whipped Ricotta Toast
How to make the most epic Whipped Ricotta Toast topped with jam, candied walnuts and a little za'atar seasoning.
Prep Time:

5 mins

Cook Time:

5 mins

Total Time:

10 mins
2 cups

whole milk ricotta cheese

1/2

lemon

2/3 cup

raw walnuts, broken into pieces

2 tablespoons

maple syrup

Bread of choice (we used sliced up ciabatta but anything works)

Butter, ghee or oil (for greasing)

Jam of choice (we love apricot or peach for this)

Za'atar seasoning to taste
Instructions
Add the ricotta to a medium bowl and squeeze the juice from 1/2 a lemon
Whisk the ricotta by hand (or use a mixer) for a minute or so or until the ricotta is smooth and spreadable (it is really to your liking)
In a small skillet, pour maple syrup and add walnuts and cook over medium heat for a few minutes, stirring occasionally (make sure walnuts are coated in the syrup) then remove from pan and set aside once done
Grease a pan with a little butter or oil and add slices of bread to crisp for a few minutes on each side
Once bread is ready, smear some jam on top followed by the ricotta, candied walnuts and za'atar seasoning
Notes
*Ricotta will stay in fridge for about 2-3 days