Super Easy & Healthy Vegan Turmeric "Golden Milk" Oatmeal Bake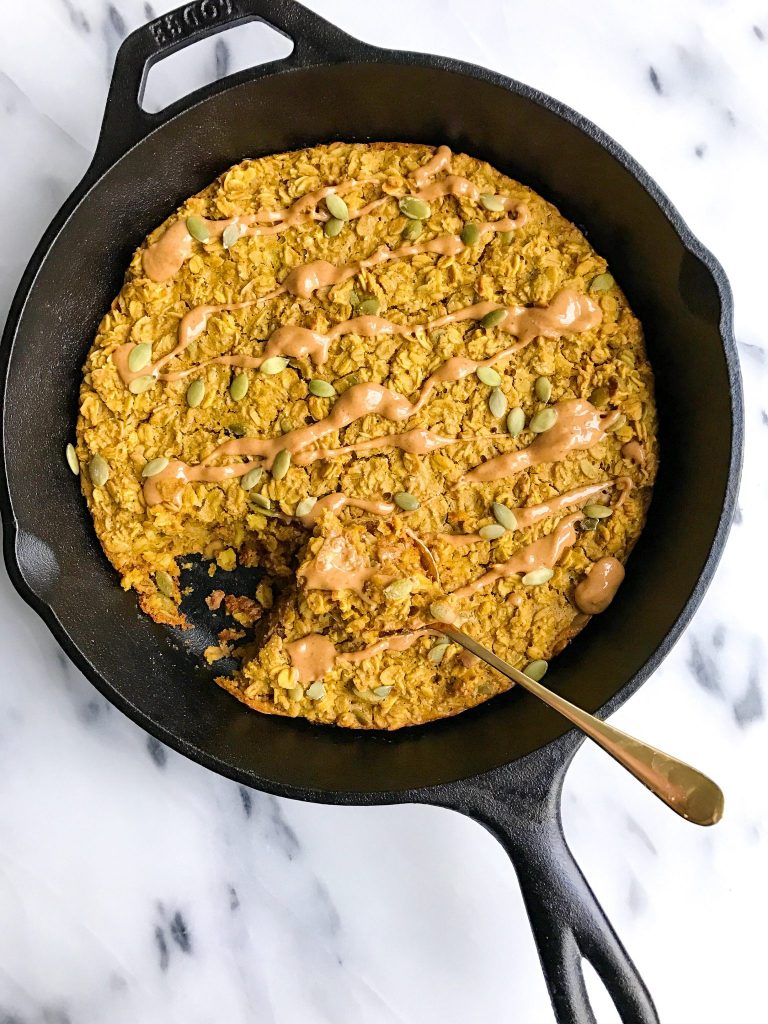 It is safe to say that the turmeric trend is here to stay another here my friends.
Why is everyone crazy about turmeric you may ask? Not going to lie, I questioned it when I started hearing more and more about this superfood trend last year. Then after doing some research, asking a few of my RD friends and testing it for myself, I started to believe the hype.
It is a natural anti-inflammatory spice. In fact it is so anti-inflammatory, it matches the effectiveness of some anti-inflammatory drugs. So crazy, right? Turmeric is also a great source of antioxidants, lowers risk of heart disease, help prevent cancer and so on. You can definitely do a ton more research on why turmeric is good for you, but those are a few of my personal reasons of why I use it.
I have made Golden Milk a handful of times (nut milk mixed with turmeric, honey, etc.) as well as Golden Milk Pancakes. When I'm not looking for something on the sweeter side, I also roast veggies with garlic, turmeric and avocado oil. Such a deliciously easy way to sneak more of the spice in. Just be careful as it stains EVERYTHING. My hands, tupperware, etc all have had turmeric stains (oops).
This Turmeric "Golden Milk" Oatmeal Bake is my latest favorite turmeric recipe. It is such a wholesome and delicious breakfast and it is made with minimal ingredients. Doesn't hurt that it is also plant-based and gluten free-friendly too.
Did I mention how easy it is? Just throw all the ingredients into a bowl, mix it up then bake it in the oven. It is another perfect dish to prep on Sunday's to have for the breakfast for the week. If you prefer it warm, it is easy to heat up in the morning or just eat it cold.
I also pair mine with yogurt, some nut butter and seeds. You babes are going to love it! This is my first oatmeal bake in quite some time. If you want to have a good laugh, check out the photos of these two oatmeal bakes from way back when. The recipes are delicious but I should update those photos soon 🙂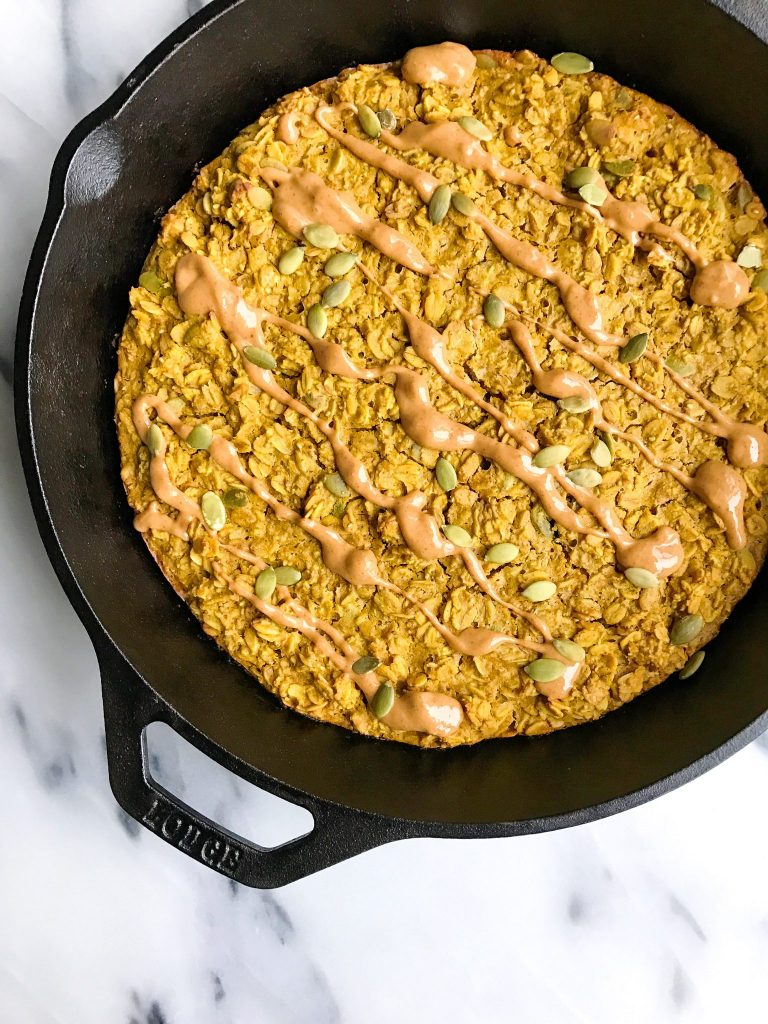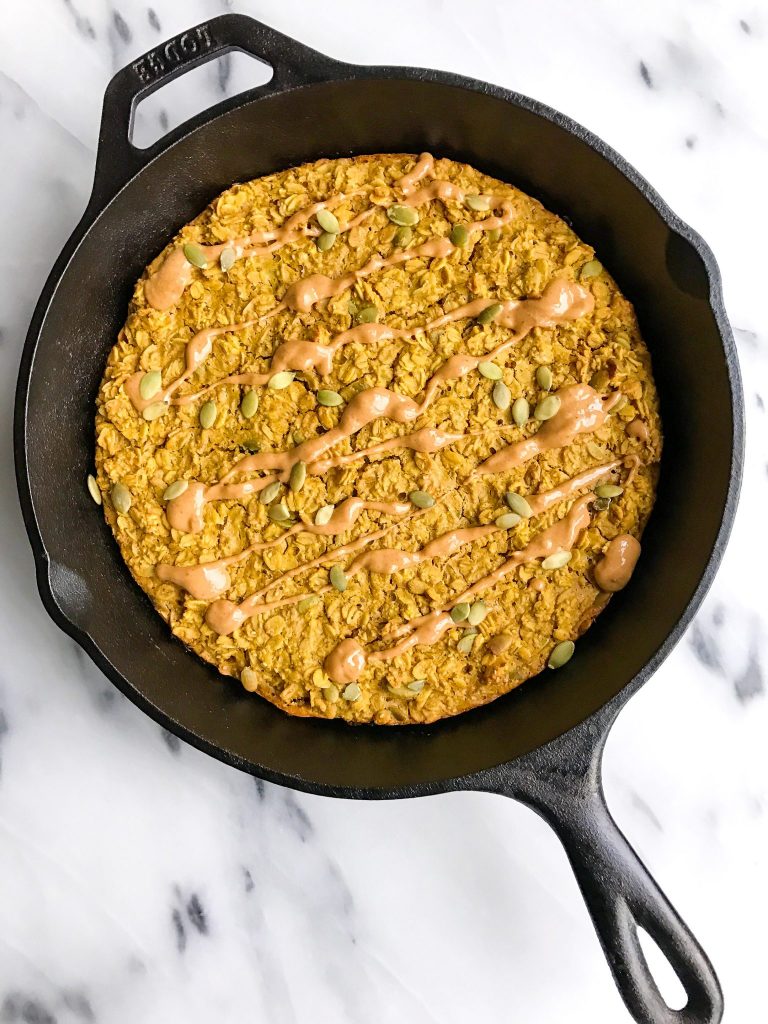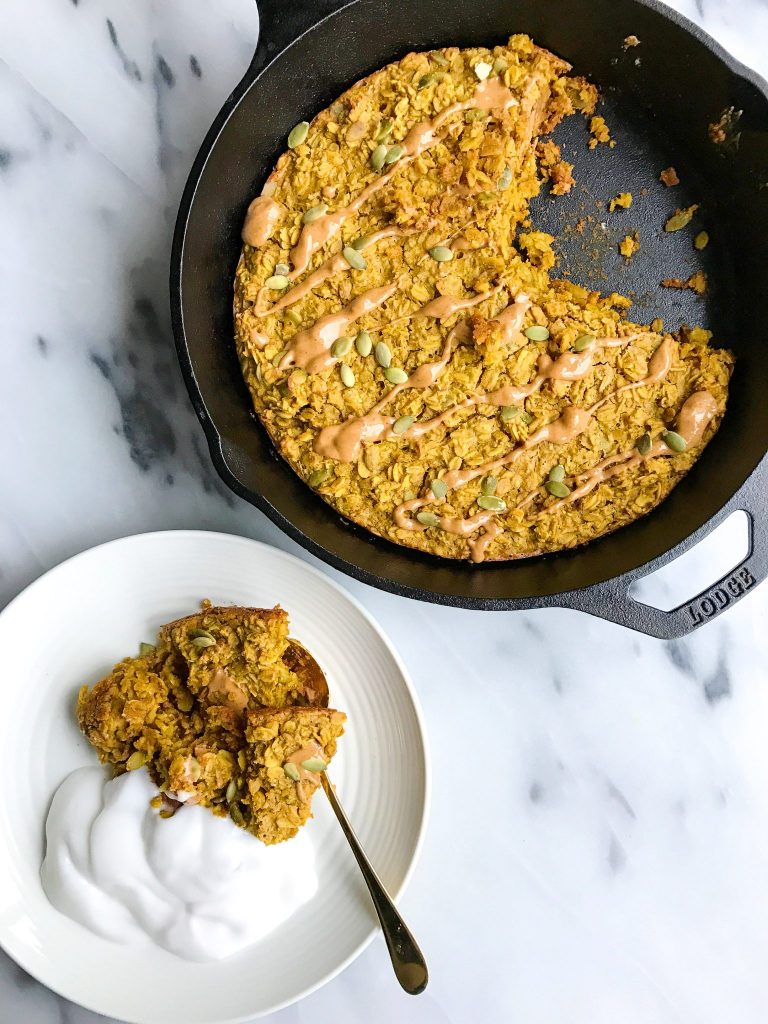 Print
Turmeric "Golden Milk" Oatmeal Bake
Prep Time:

5 mins

Cook Time:

40 mins

Total Time:

45 mins
2 cups

of rolled oats

⅓ cup

maple syrup (or honey)

1¼ cup

of almond milk (you can use any milk you wish)

1 tablespoon

coconut oil, melted and cooled

1 tsp

baking powder

½ cup

nut butter (I used creamy almond)

1 tablespoon

chia seeds

1 teaspoon

vanilla extract

1 teaspoon

turmeric

1 teaspoon

cinnamon

1/2 teaspoon

nutmeg

1/2 teaspoon

ginger

Mix-in's: 1/3 cup pumpkin seeds
Instructions
Preheat your oven to 350 degrees
Spray your pie dish with cooking spray
Combine all ingredients, except the pumpkin seeds in a mixing bowl
Pour oat mixture onto greased pie dish and top with pumpkin seeds
Bake in the oven for about 40 minutes or until the top of the oatmeal looks golden and crispy
Let it cool for a few moments and serve while still warm
Feel free to add some greek yogurt or toppings of choice!
*Feel free to make ahead of time and reheat or eat cold! Will stay good for 5-7 days in fridge
Author:
Category:

vegan, gluten-free

Cuisine:

breakfast
xx, Rach