Making smoothie cubes as ice cubes is a game changer for making smoothies quickly and saving time in the morning! This is my go-to immunity smoothie recipe.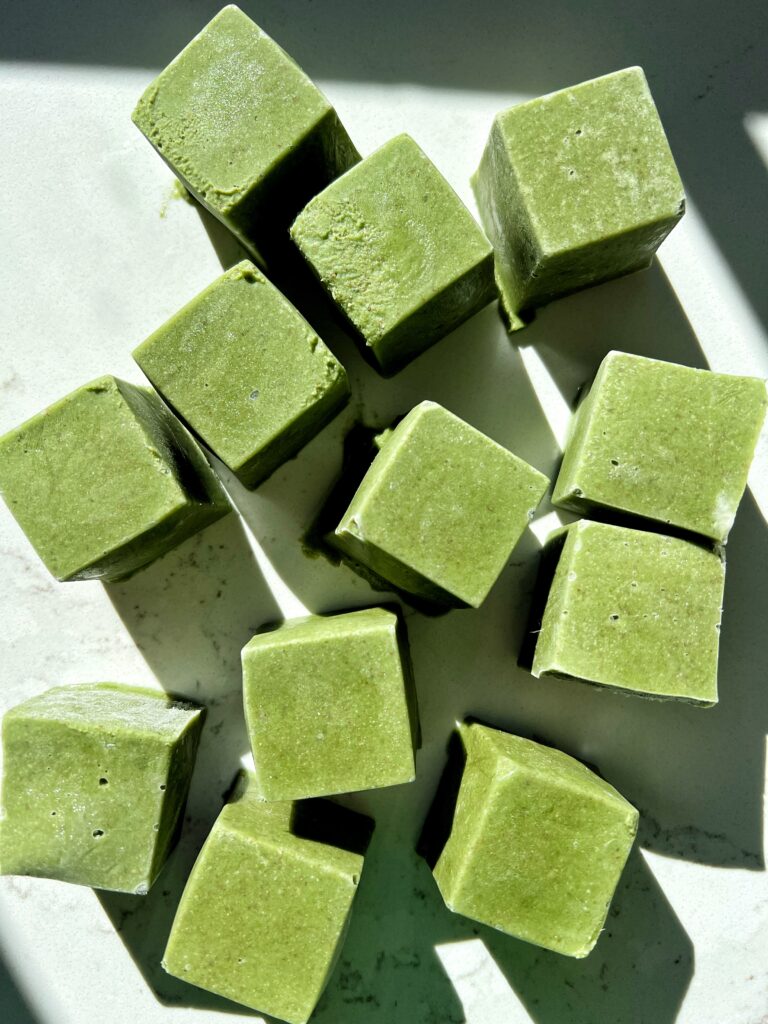 This is one of the easiest ways to make your mornings simpler and keep your freezer stocked and ready at all times for quick smoothies.
Making smoothie cubes is key to making smoothies at home conveniently and it also makes it easier to get extra nutrients in your daily eats. These are ready whenever you want to blend up a smoothie. And it saves so much time in the morning by having them prepped ahead of time.
You can really use any combination you love for these smoothie cubes. I like to do immunity ones using some greens, green powder, chia seeds and fruit. The pineapple adds so much flavor and is such an underrated fruit to use in smoothies. These are also my go-to for when I feel a cold coming on and I want to boost my nutrients a bit and get my greens in (which we know isn't the easiest for my cookie-loving self).
Making smoothies with smoothie cubes can be done 1x month. Double/triple the batch and keep them on hand for up to 2 months in freezer too. It takes 5 minutes to prep these and you'll be set for 2 months.
Tip: toss in any greens or fruits and powders you love or have on hand! Smoothie cubes are meant to be convenient so do what works best for you.
What ingredients are in these immunity smoothie cubes:
Fresh or frozen pineapple – LOVE adding this to my smoothie cubes
Large banana – you can also use frozen banana too
Chia seeds – flaxseeds can also work well too
Frozen spinach – or use fresh spinach if that's all you have
AG1 – I use this for extra nutrients and greens! code RACHL
Full-fat coconut milk – or use your go-to milk
How to make smoothie cubes:
To make cubes:
Blend up ingredients, adding milk in last
Pour into ice cube trays then freeze them overnight and for up to 3 months
To make into smoothie:
The night before, put 4 cubes in a glass and refrigerate overnight
In the morning, add a liquid and shake/stir and drink! I usually use whatever non-dairy milk we have or a coconut water
Alternatively you can add the immunity smoothie cubes to liquid in a blender instead and blend whenever you want a smoothie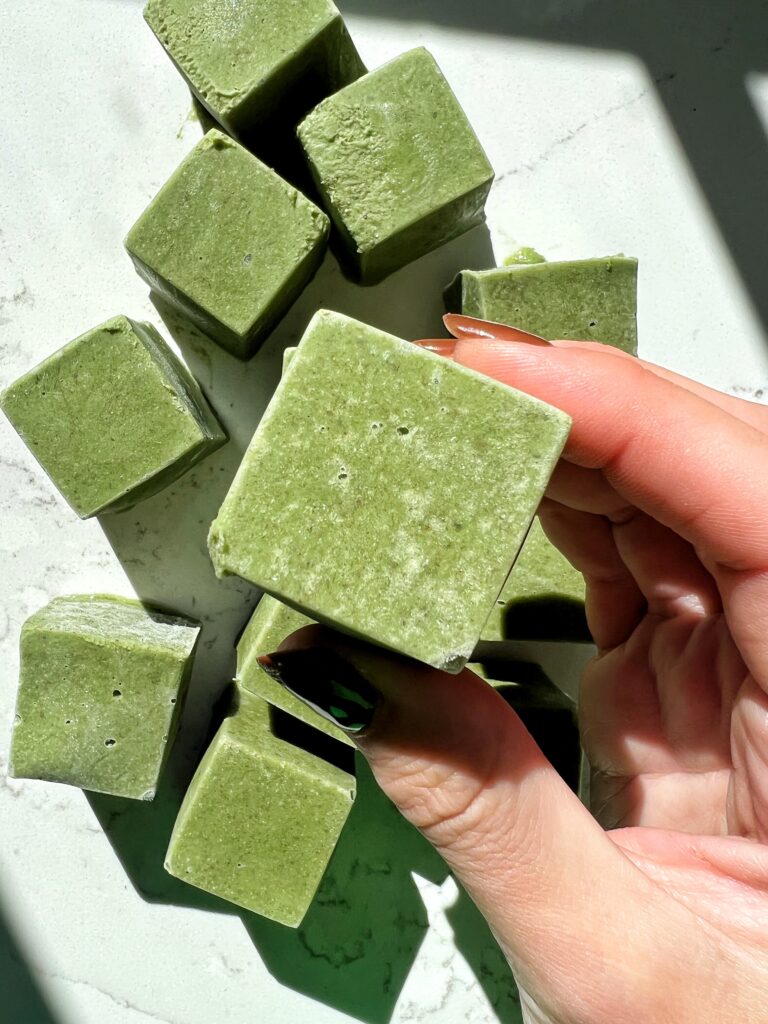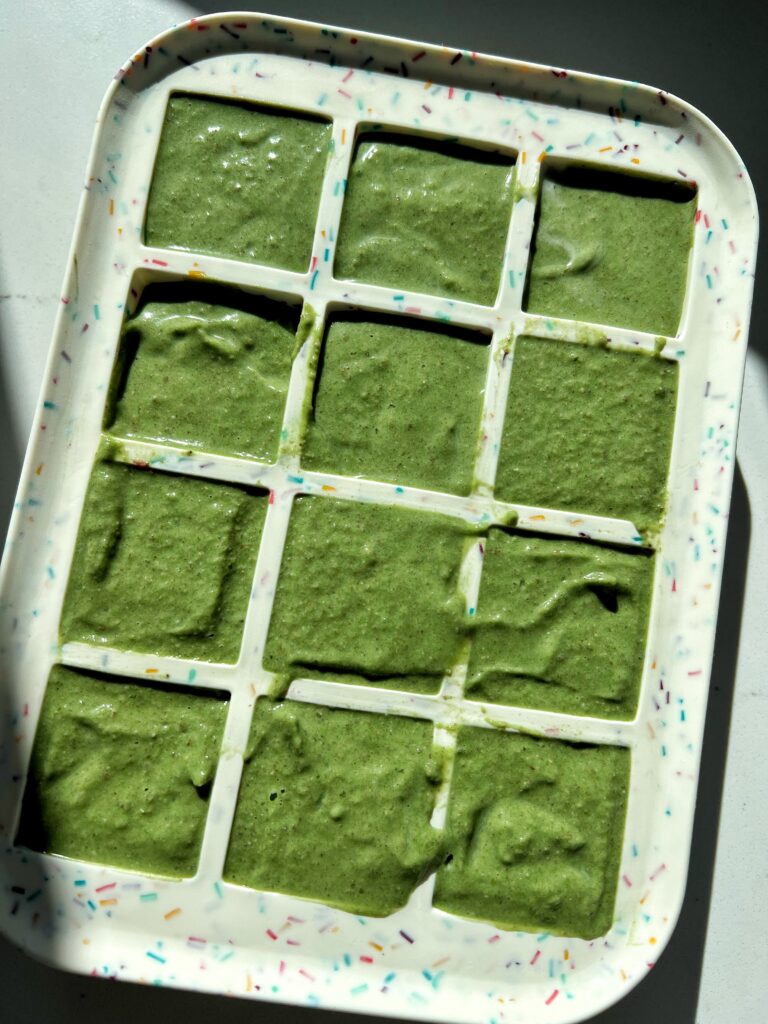 Tips for success:
If you want to boost protein a bit, blend in your favorite protein powder or some creamy nut butter if you want to the smoothie cubes
I like my smoothies thicker so you'll notice these cubes are thicker when you pour the liquid into the ice cube tray. If you prefer your smoothies thinner, just blend more liquid in when you make them
I prefer using frozen fruits and veggies here when I make the smoothie cubes as it's easier to prep for but you can use whatever
You can either thaw out the smoothie cubes the night before in the fridge with your go-to liquid or blend them up that morning with liquid. I usually use milk or coconut water
A few other healthy breakfast recipes to prep:
Gluten-free Cottage Cheese Pancakes
Easy Gluten-free Oatmeal Blender Waffles!
5-minute Creamy Chia Seed Pudding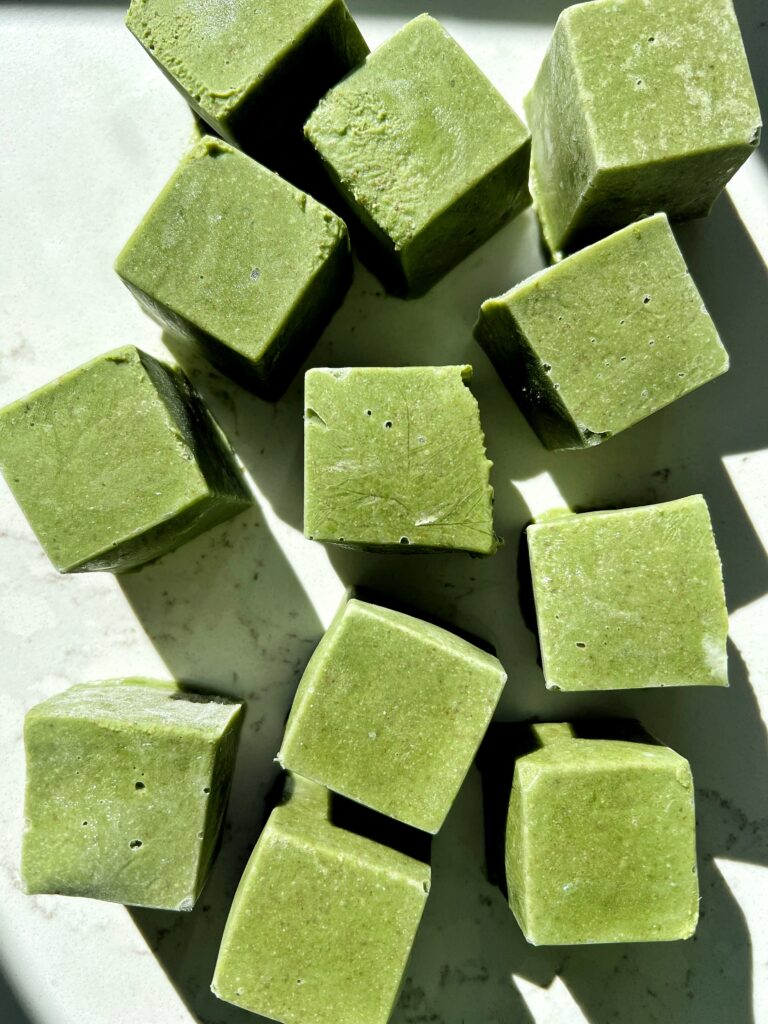 Print
EASY Immunity Smoothie Cubes
Making smoothie cubes as ice cube concentrates is a game changer for making smoothies quickly and saving time in the morning! This is my go-to immunity smoothie recipe.
Prep Time:

5 mins

Total Time:

5 minutes
Yield: Makes about 10-12 cubes 1x
1 cup

fresh or frozen pineapple

1

large banana

2 tablespoons

chia seeds

1 cup

frozen spinach or

2 cups

fresh spinach

2

scoops AG1 (code RACHL)

1 cup

full-fat coconut milk (or use your go-to milk)
Instructions
To make cubes:
Blend up ingredients, adding milk in last
Pour into ice cube trays then freeze them overnight and for up to 3 months
To make into smoothie:
The night before, put 4 cubes in a glass and refrigerate overnight
In the morning, add a liquid and shake/stir and drink! I usually use whatever non-dairy milk we have or a coconut water
Alternatively you can add the immunity smoothie cubes to liquid in a blender instead and blend whenever you want a smoothie
Notes
*Store smoothie cubes in freezer for 2 months