Dairy free & gluten free friendly, Flourless Peanut Butter Chocolate Chip Pancakes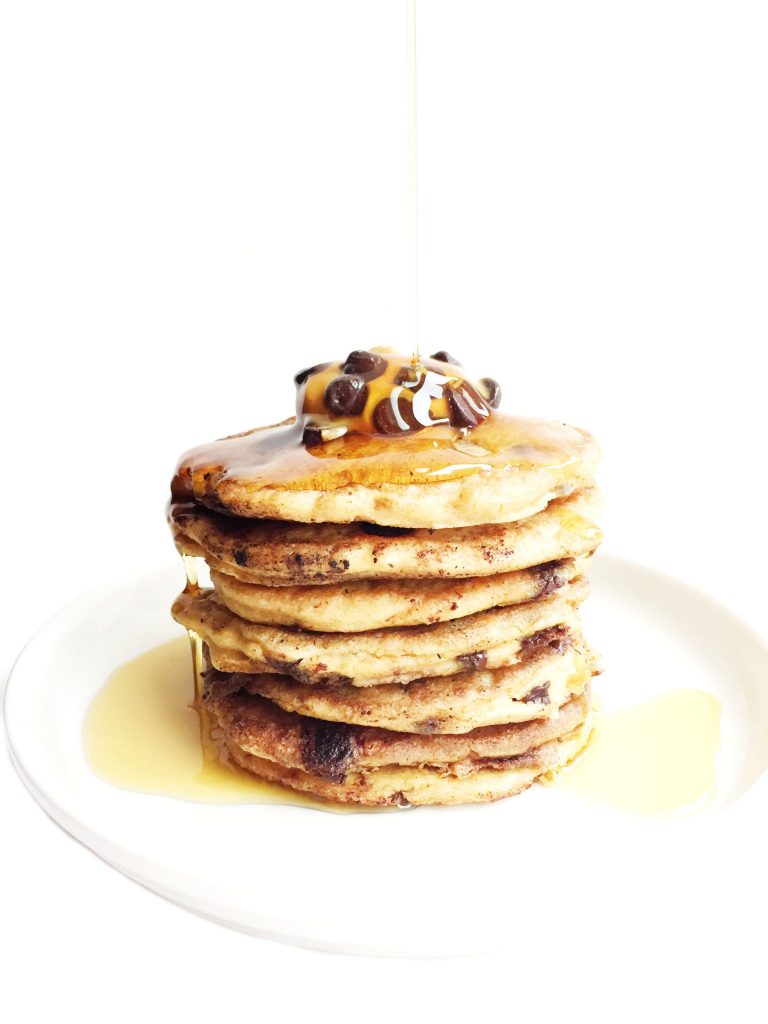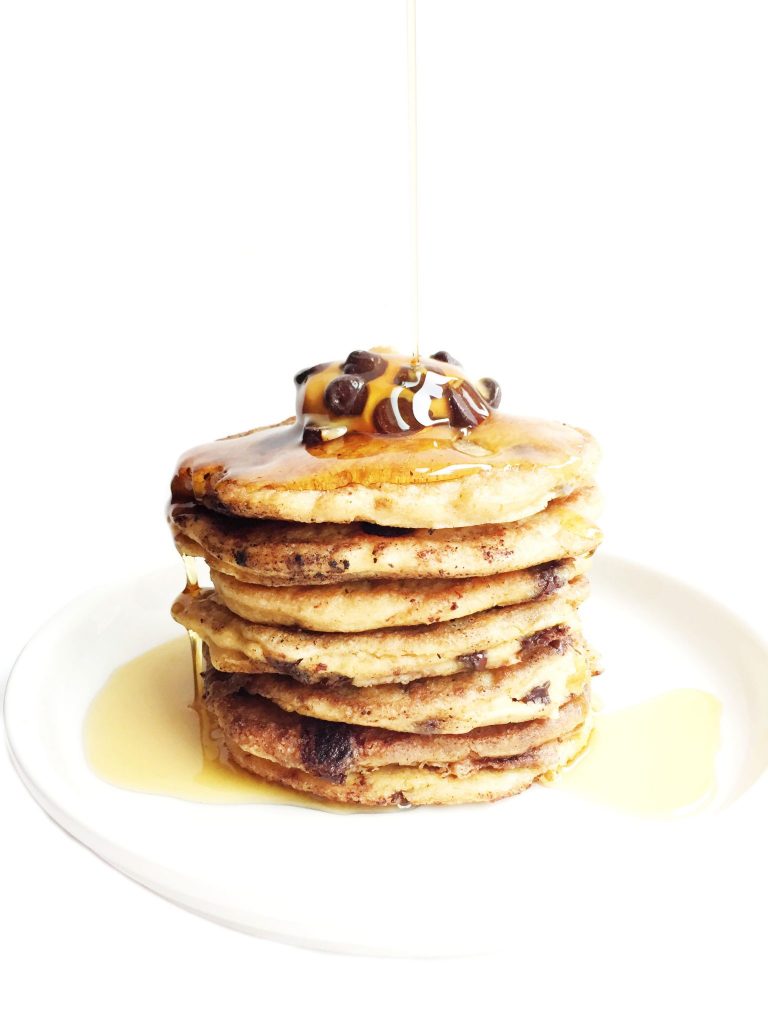 I seriously love pancakes. When I lived at home with my parents, my Mom would make me whole wheat banana pancakes with chocolate chips in them.
Except it wasn't a stack of a few pancakes. It was one huge one that fit just perfectly on my plate. I only used a little bit of maple syrup so the flavor wouldn't overpower the pancake itself. I'm not the biggest fan of drowning my pancakes in syrup, especially when they are so fluffy and taste amazing solo.
Even though I love love those whole wheat banana pancakes from my Mama, they definitely left me in a carb coma after, which is probably the worst feeling in my tummy.
Now I am making a lighter version with these Flourless Peanut Butter Chocolate Chip Pancakes that only require 7 ingredients and are ready in just a few minutes.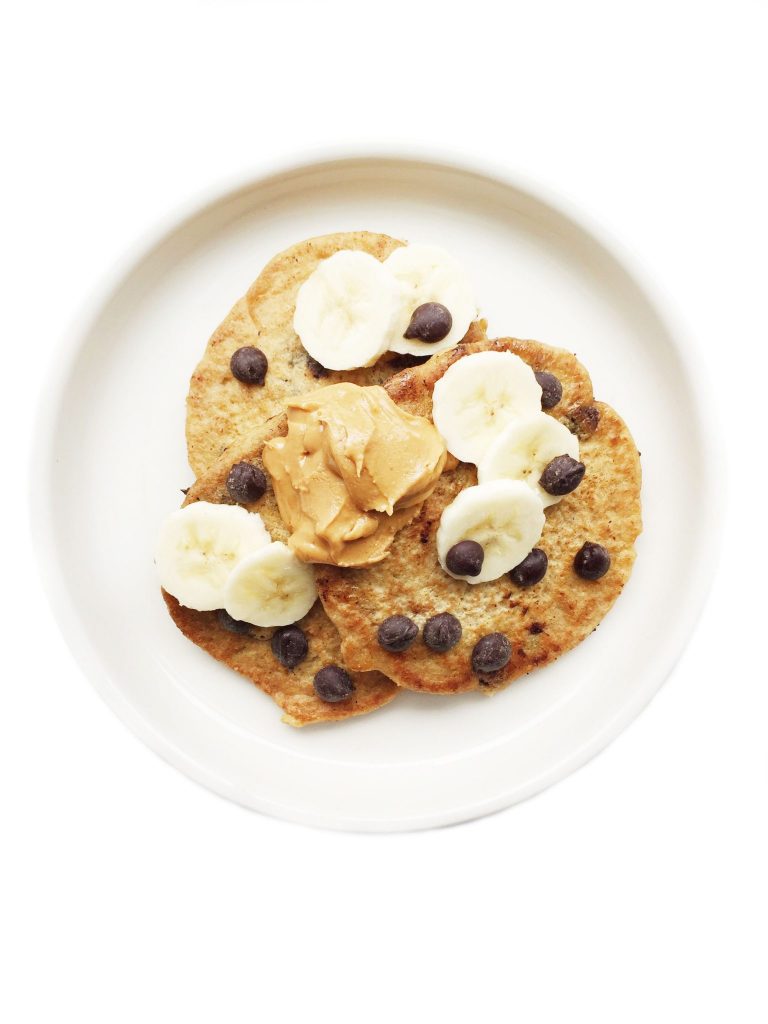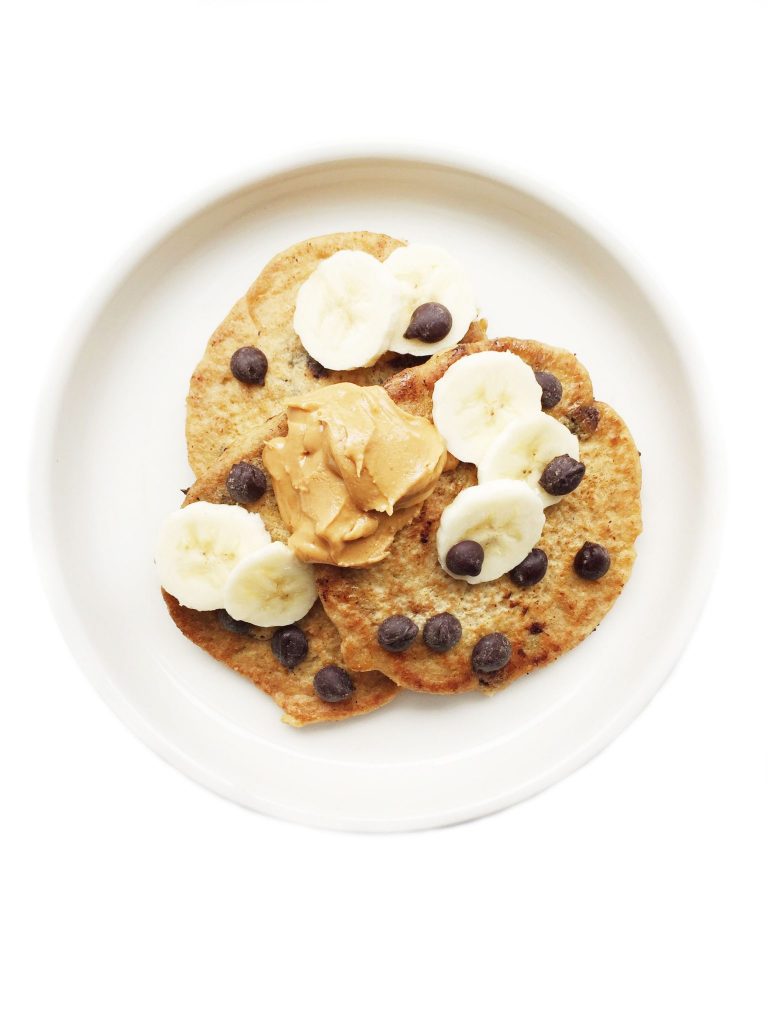 Instead of using mashed banana inside, I wanted to try adding some peanut butter flavor to these. I mixed together Better Body Foods PBFit (which is straight up amazeballs if you haven't tried) and creamy peanut butter (natural) and added it to the batter.
Similar to my Oatmeal Pancakes and Flourless Apple Walnut Pancakes, I used oat flour instead of pancake mix or regular flour and stuck with coconut oil instead of using canola oil. I love being able to make my favorite foods lighter and healthier while making sure they still taste delicious. Hearty and delicious pancakes are hard to come by without using some type of regular flour. I still get so excited when my beloved oatmeal can help 'healthify' our favorite recipes for us.
We shouldn't have to sacrifice the taste of our favorite foods for health, right?
Now for some Flourless Peanut Butter Chocolate Chip Pancakes! You will need these ingredients to make them:
Egg
Baking powder
Vanilla extract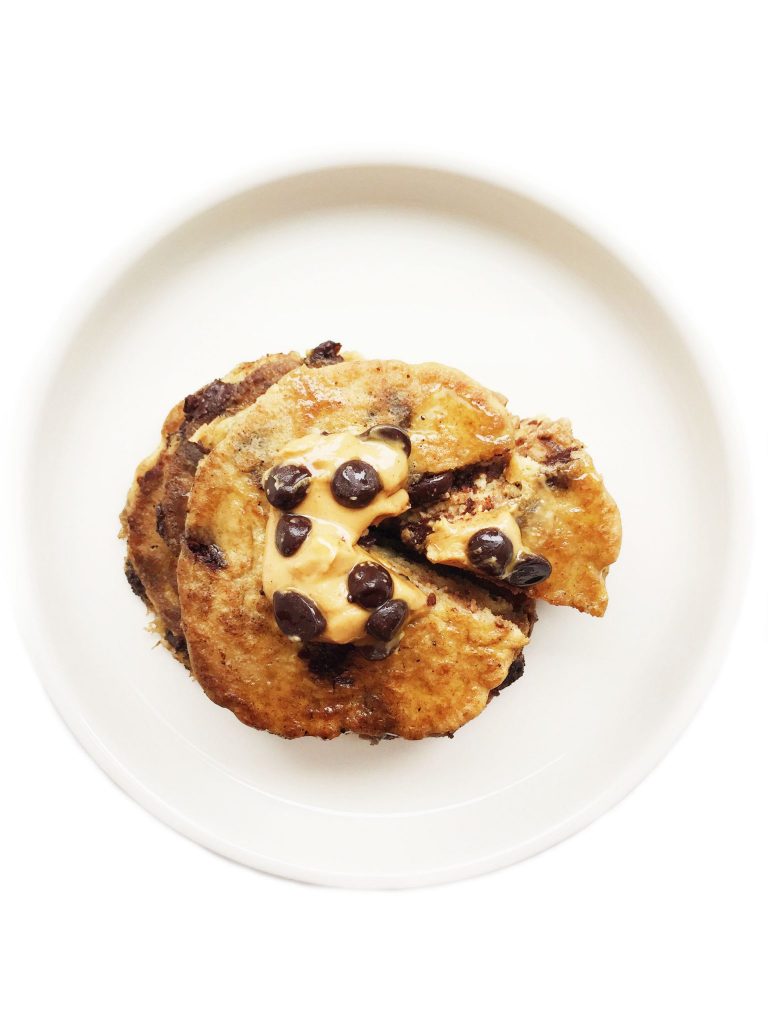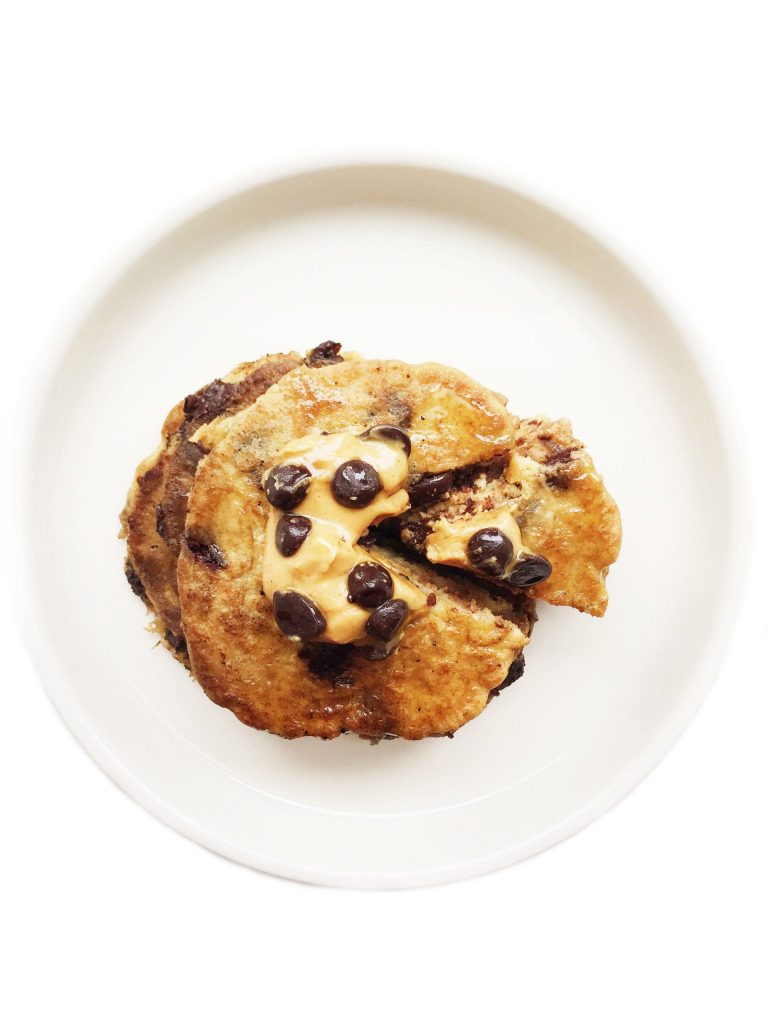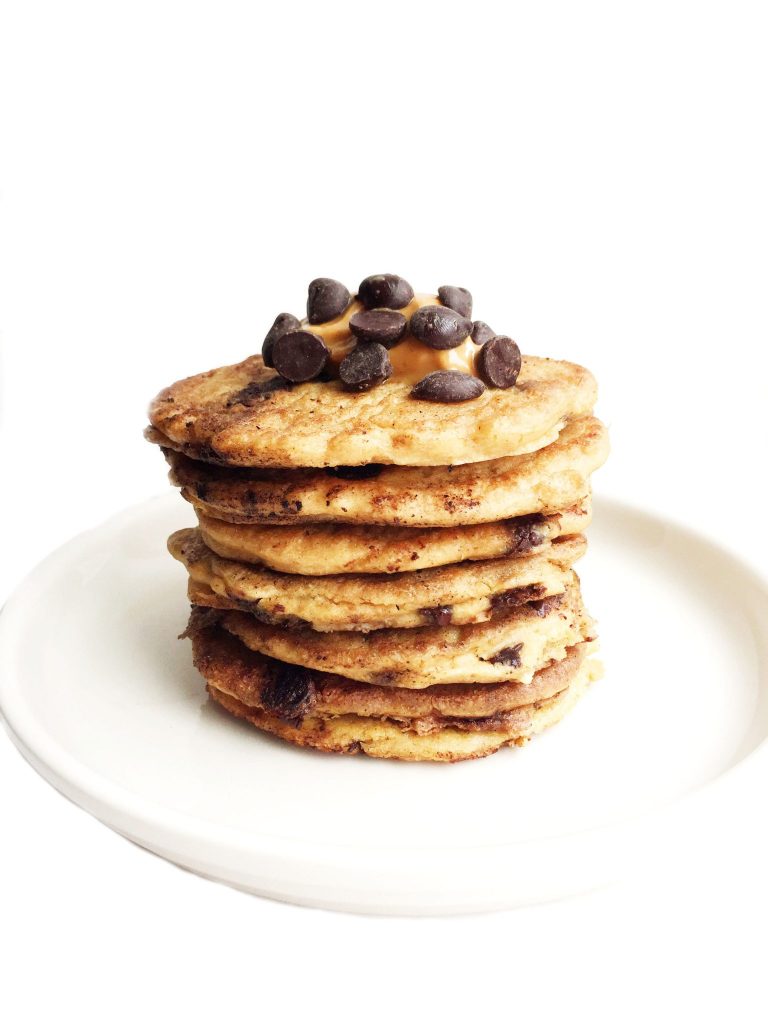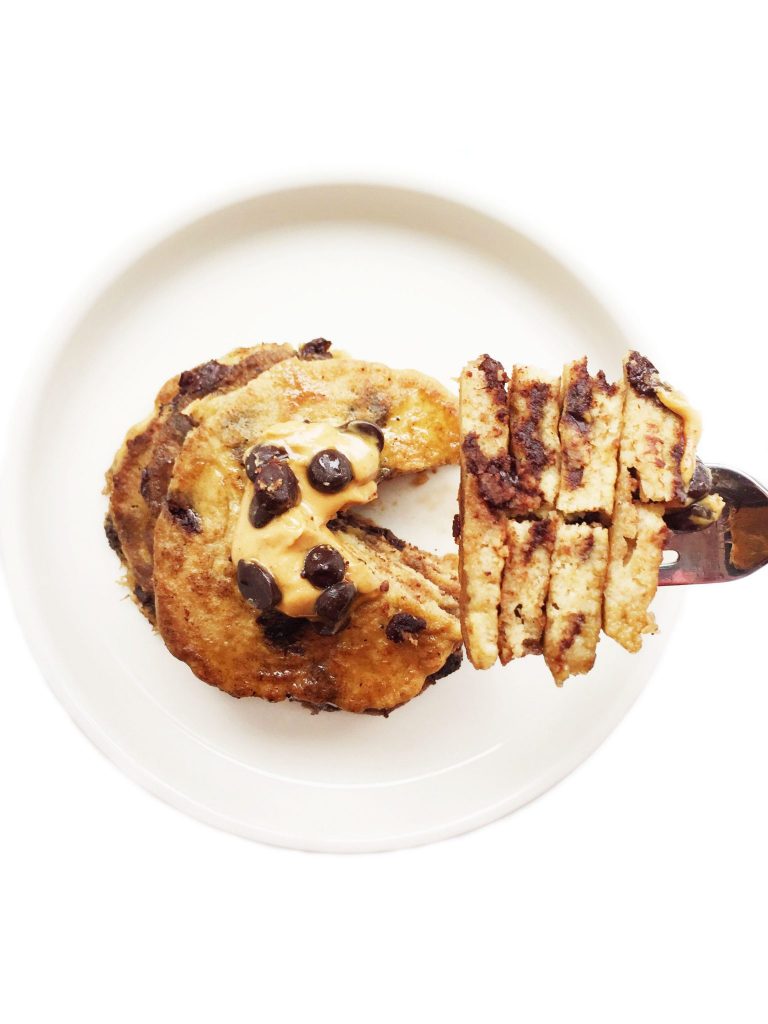 Print
Flourless Peanut Butter Chocolate Chip Pancakes
Prep Time:

5 mins

Cook Time:

7 mins

Total Time:

12 mins
Yield: 8-10 small pancakes 1x
1.5 cups

of oat flour (pour oats into nutribullet and blend)

1 teaspoon

of baking powder

1

egg

1 cup

of unsweetened almond milk

1 tablespoon

of creamy peanut butter

2 tablespoons

of Better Body Foods PBFit

1 tablespoon

of Better Body Foods Coconut Oil (melted and cooled)

1/3 cup

of dark chocolate chips

Splash of vanilla extract
Instructions
Combine oat flour and baking powder
Add milk, egg, coconut oil, peanut butter, pbfit and vanilla to dry mix
Let the batter thicken for about 5 minutes (do not stir)
Add dark chocolate chips and fold in
Heat your pan to medium and grease with coconut oil
Place spoonful (about 2 tablespoons) of batter for each pancake onto your pan
Cook on one side until the top starts to slightly bubble
Flip over and cook for additional 2-3 minutes or until ready
Drizzle with maple syrup and voila!
Author:
Category:

dairy free, gluten free friendly

Cuisine:

breakfast
xx, Rach
This post contains affiliate links, which means that if you purchase a product through a link you clicked on here, I receive a portion of the sale. Thanks for supporting the blog and making rachLmansfield.com possible! xx