These S'mores Chocolate Chip Cookies are the easiest and most delicious cook to make and you only need 3 ingredients to make them.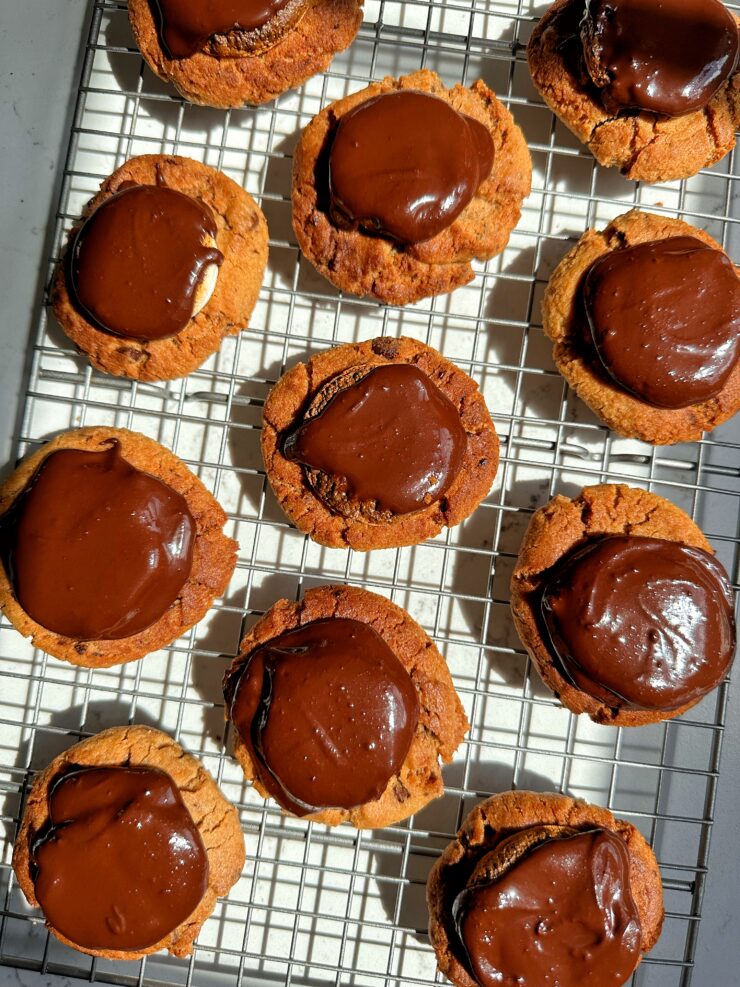 I am a huge fan of s'mores anything. Truly one of my favorite desserts and I have made them more than I can count. It is a popular combo and flavor that continues to be a staple for everyone. It's one of those classic and nostalgic desserts to make (especially in warmer months). And the combo here of cookies, marshmallows AND chocolate is the ultimate move.
These s'mores chocolate chip cookies are a favorite of mine. I love how easy they are to make and you only need 3 ingredients if you use a store bought cookie dough too. Or you can make chocolate chip cookies from scratch if you prefer. But it's a great quick dessert if you use cookie dough.
You can also double this recipe if you want to serve to more people too. And kids *love* these as did my husband. My friend came over and I had a bag of some for her and Jordan was not happy with me for sharing ha!
I cannot wait to hear what you think these. Enjoy the most delicious soft-baked chocolate chip cookie topped with marshmallows and melted chocolate.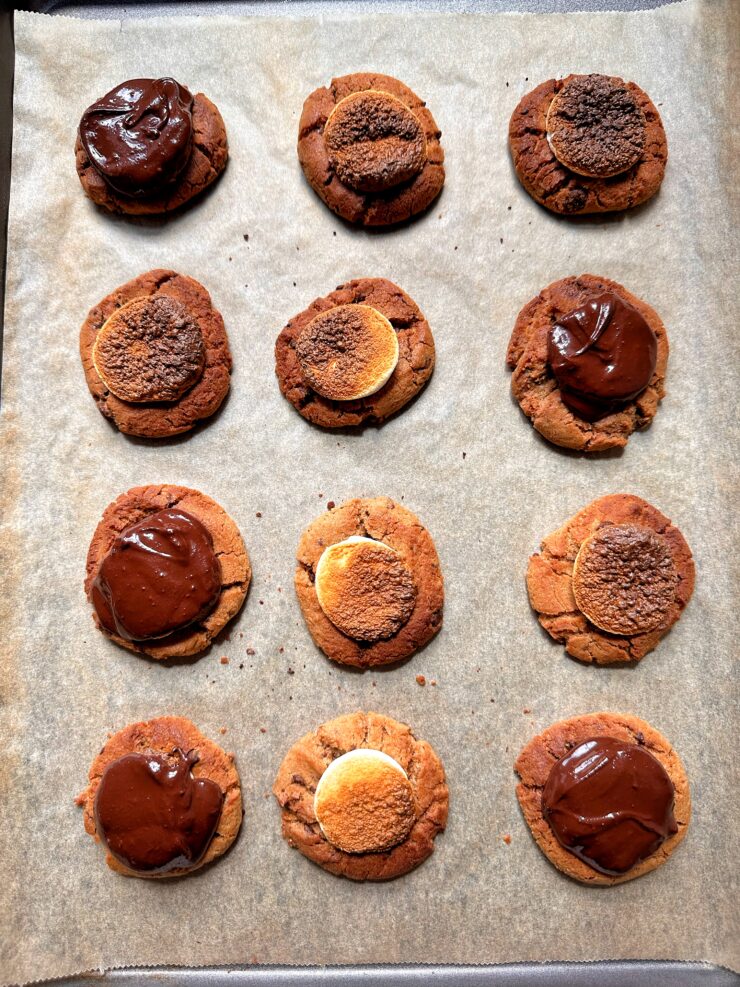 What ingredients are in these S'mores Chocolate Chip Cookies: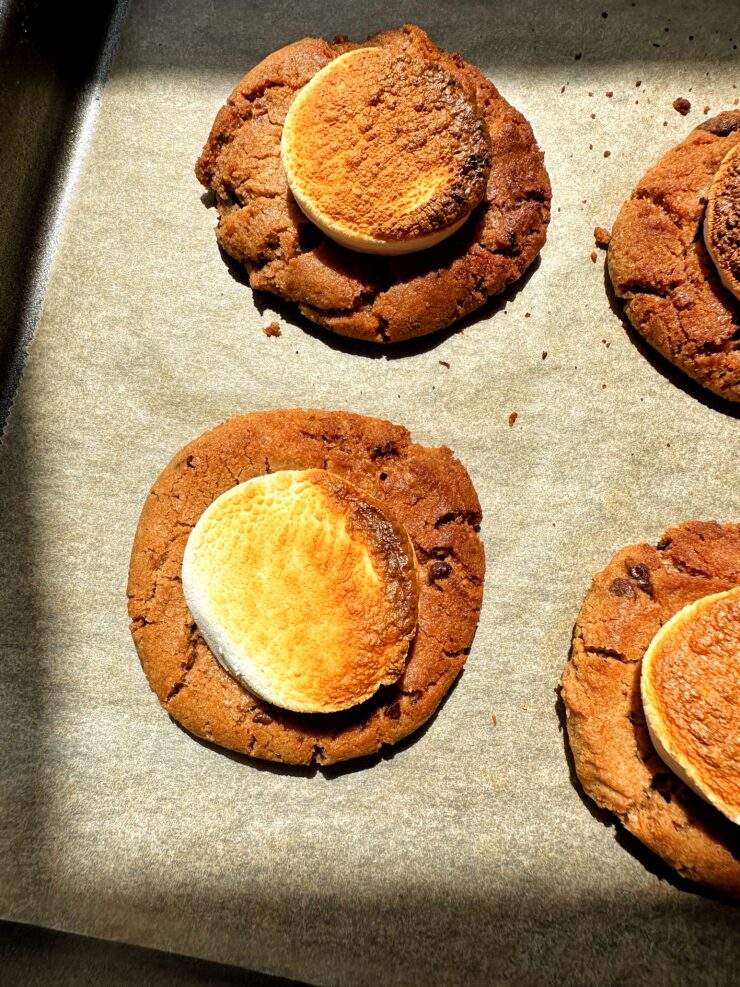 How to make S'mores Cookies:
Preheat oven to 350 degrees F and line a large baking sheet with parchment paper
Add the cookie dough to sheet and cook according to instructions (my package came with 12 cookies)
Once cookies are done, remove from oven
Add the marshmallows to eat cookie but putting sticky side down on cookie
Turn the oven up to high broil or if your broil is very strong/hot, use low broil
Return cookies to the oven for only 1-2 minutes or until the broil setting lightly toasts the marshmallow. Keep a very close eye on it because it toasts FAST!
Remove cookies from the oven and cool on cookie sheet
Melt the chocolate and set aide then using the back of a spoon, press the marshmallow down if it didn't melt down on its own
Spoon chocolate evenly over marshmallow and allow chocolate to completely set at room temperature, about 60 minutes, or in the refrigerator, about 30 minutes
FAQs on making s'mores cookies:
Do I have to use chocolate chip cookies?! Nope! You can use anything like peanut butter cookies, double chocolate cookies or sugar cookies as the base too. Whatever you are craving. And you can use a homemade recipe or store-bought cookie dough.
Are these cookies good the next day? Absolutely! I do think they're best day of because the marshmallows aren't as chewy or hard then but they are 100000% delicious for up to 5 days.
Can I make these cookies ahead of time? Totally! They're great to bring to parties, serve at BBQs or whenever the craving hits.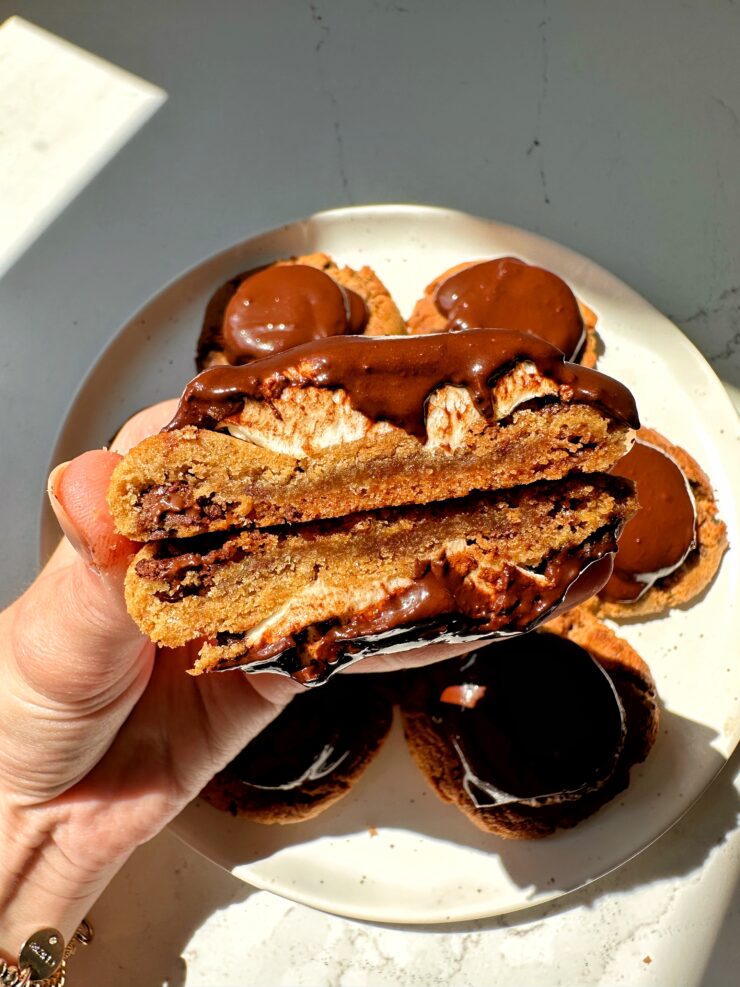 A few other delicious cookie recipes to try:
The BEST Peanut Butter Cookies (gluten-free)
The BEST Chocolate Chip Walnut Cookies (gluten-free)
Almond Flour Mandel Bread (Passover friendly!)
Print
S'mores Chocolate Chip Cookies
These S'mores Chocolate Chip Cookies are the easiest and most delicious cook to make and you only need 3 ingredients to make them.
Prep Time:

5 mins

Cook Time:

12 mins

Total Time:

17 mins
Instructions
Preheat oven to 350 degrees F and line a large baking sheet with parchment paper
Add the cookie dough to sheet and cook according to instructions (my package came with 12 cookies)
Once cookies are done, remove from oven
Add the marshmallows to eat cookie but putting sticky side down on cookie
Turn the oven up to high broil or if your broil is very strong/hot, use low broil
Return cookies to the oven for only 1-2 minutes or until the broil setting lightly toasts the marshmallow. Keep a very close eye on it because it toasts FAST!
Remove cookies from the oven and cool on cookie sheet
Melt the chocolate and set aide then using the back of a spoon, press the marshmallow down if it didn't melt down on its own
Spoon chocolate evenly over marshmallow and allow chocolate to completely set at room temperature, about 60 minutes, or in the refrigerator, about 30 minutes
Notes
*Cookies stay fresh covered at room temperature for up to 3 days or in the refrigerator for up to 1 week but marshmallow will be more firm after a day