The Best Sprinkle Sugar Cookies made with all gluten-free, nut-free and egg-free ingredients! These are my go-to funfetti sprinkle cookie that are soft-baked and absolutely delicious.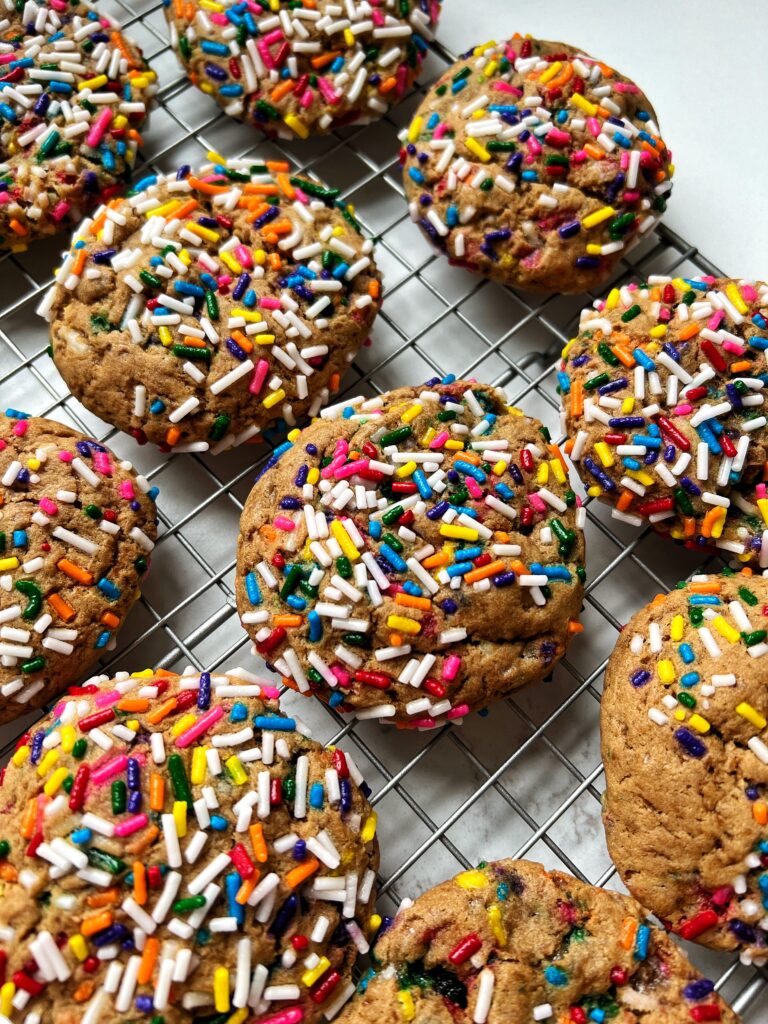 These are the most soft and chewy allergen-friendly sugar cookies ever. They're gluten-free, nut-free and egg-free. Plus you can easily make them vegan too if you want. And they are loaded with SPRINKLES, which call me wild is the most fun addition you can add to any dessert.
The ingredients for these sugar sprinkle cookies are very simple and you only need a few things to make them. You do have to chill the dough a bit before baking so they don't spread when you bake them. I know this can seem annoying, but trust me on this one! For optimal sugar cookie perfection, it is a must!
I also always roll the dough into extra sprinkles before baking. Which I guess is optional, but I love do to this for a little extra something to the cookies. And they give me full on Mrs. Field's sprinkle cookie vibes (who else used to love those cookies at the mall?!).
Tip: these are the ultimate sprinkle sugar cookie to make for ANY occasion that are also gluten-free with no refined sugar too.
What ingredients you need to make sprinkle sugar cookies:
Unsalted butter – you can use salted butter too! Just make sure it is softened a bit and not cold from the fridge
Coconut sugar – I love using this for my cookies. I don't recommend another sugar option here
Vanilla extract – a *must* have in sugar cookies guys!
Tapioca flour -or you can use a cornstarch or arrowroot flour
Milk of choice – you can use cow's milk, almond milk, anything!
Gluten-free all purpose flour – I don't recommend another flour here
Rainbow sprinkles – you can use any brand rainbow sprinkles you want!
How to make gluten-free and egg-free sprinkle cookies:
Mix together tapioca and water and mix until it is combined
In a large bowl, beat together the softened butter and sugar until combined (about 2-3 minutes)
With mixer on low speed, add in the tapioca water mixture, vanilla extract and milk
Add in half the gluten-free flour and baking powder into wet ingredients and mix on low speed then add the rest
Once combined, scrape down the sides of the bowl using a spatula and make sure all is mixed together
Pour 1/2 cup of the sprinkles into the dough and mix
Cover the bowl and add to fridge for at least 2 hours (don't skip this part!!)
Preheat oven to 325 degrees F and line 2 baking sheets with parchment paper
Take the dough out of fridge and using a dough scooper or ice cream scooper, scoop the dough out and add to baking sheet(s). You should have 12-15 cookies total
Add the remaining sprinkles to a small bowl and dip each cookie in them then add back to baking sheet
Bake in oven for about 12-14 minutes
Allow the cookies to cool on baking sheet for 5 minutes then transfer to cooling rack and cool completely before storing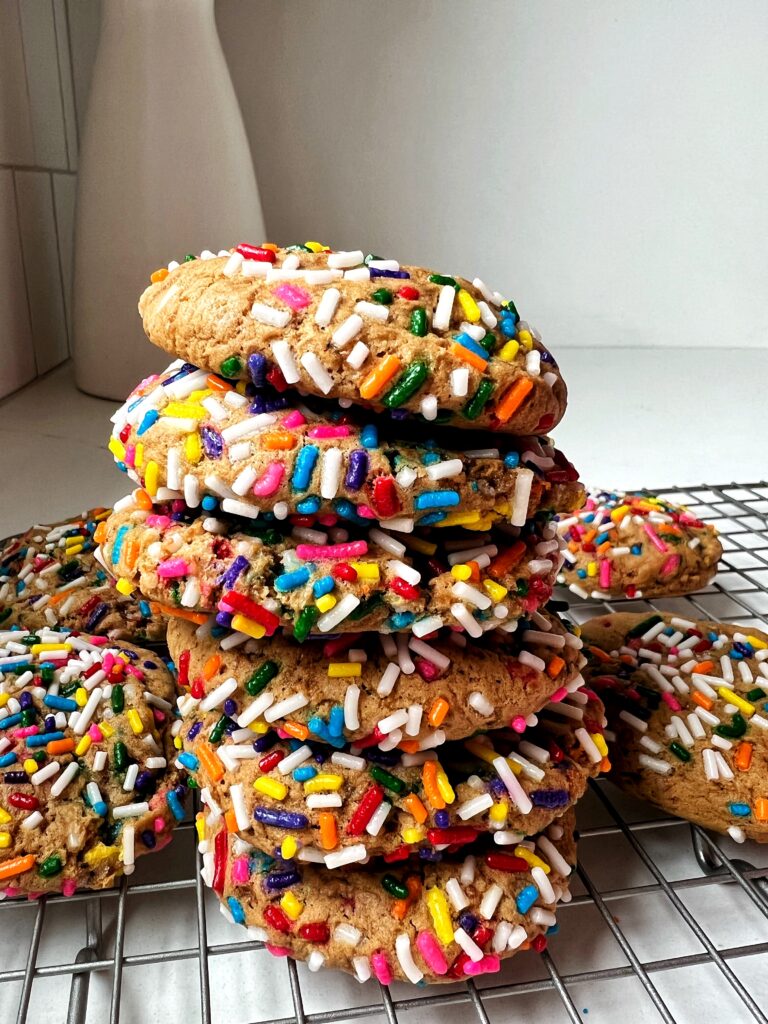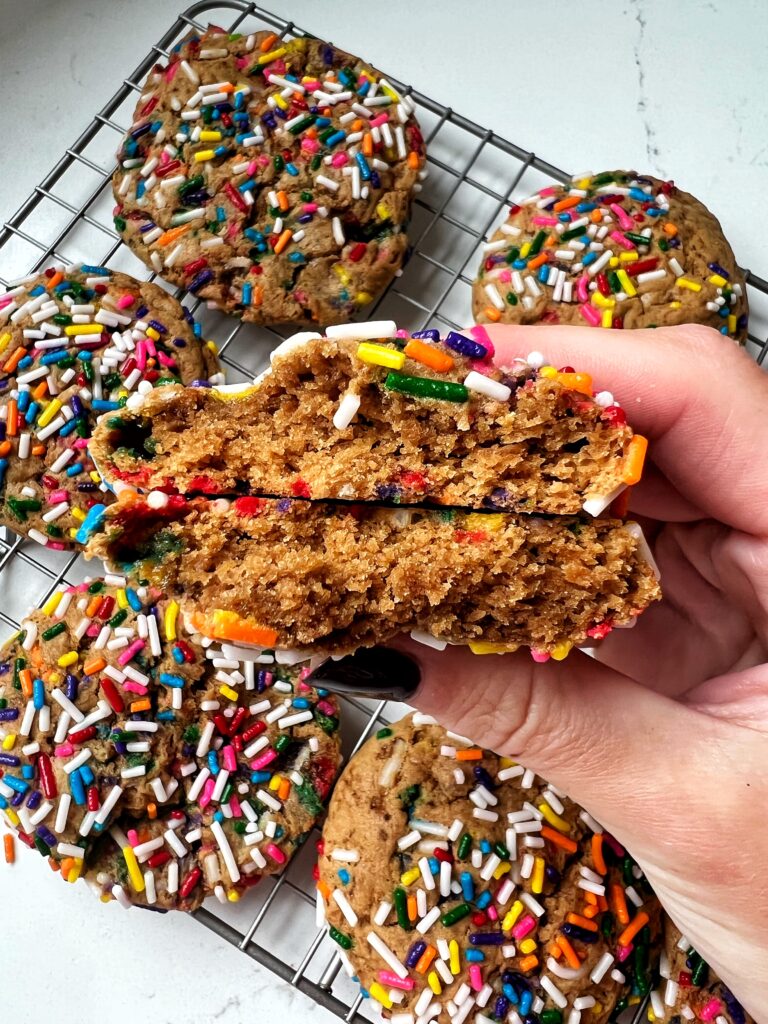 Tips for success:
Chilling the dough is *very* important. Since there are no eggs in this recipe, they will spread more. At least 2 hours is needed for optimal cookie texture when baking
If you want to make these vegan, just vegan baking sticks instead of butter and a non-dairy milk. Also many sprinkles are often not allergen-friendly so definitely check those too!
These cookies are so soft and they stay fresh for 5 days in an airtight container. Or you can freeze them for 2 months (I love eating them frozen too)
If you want your cookies perfectly round, you can reshape them with a cookie cutter when they come out of the oven too. Mine usually stay in good shape but always an option
f you want to make the dough the day before, you can! Leave in the fridge for up to 24 hours then bake. I like to keep it wrapped in plastic and in a ziplock bag if doing so
A few other delicious gluten-free cookie recipes to make:
Our Favorite Ricotta Cheese Cookies (gluten-free)
Copycat Crumbl Churro Cookies (paleo + vegan)
The BEST Chocolate Chip Walnut Cookies (gluten-free)
The Best Paleo Brownie Crinkle Cookies (nut-free + gluten-free)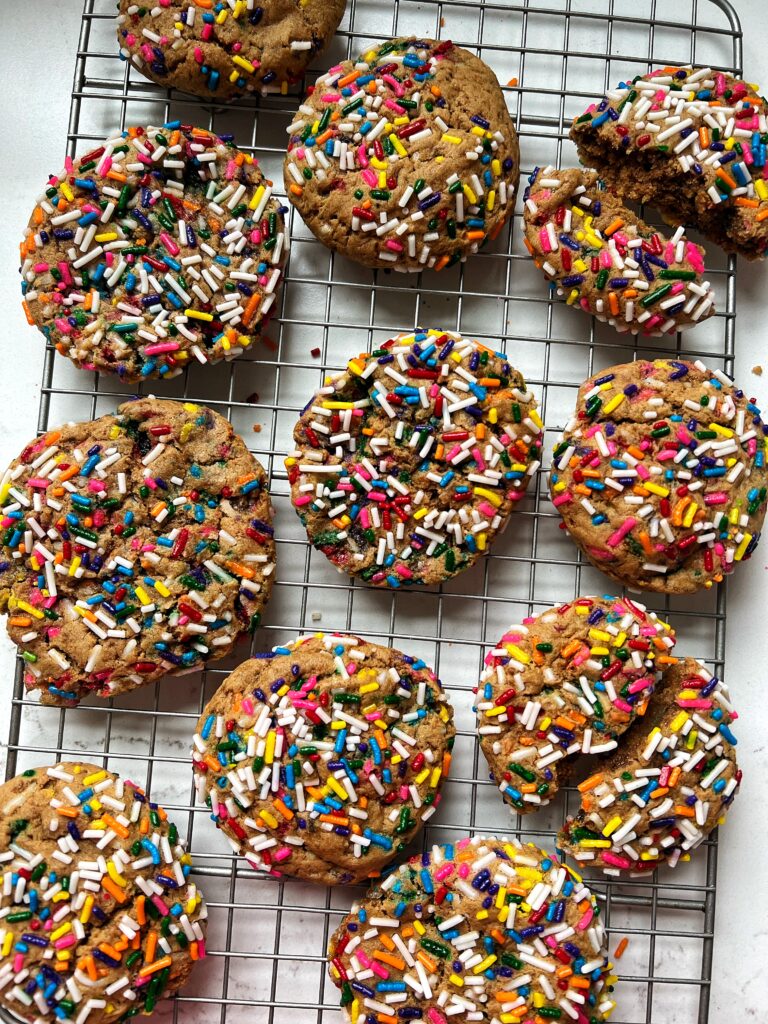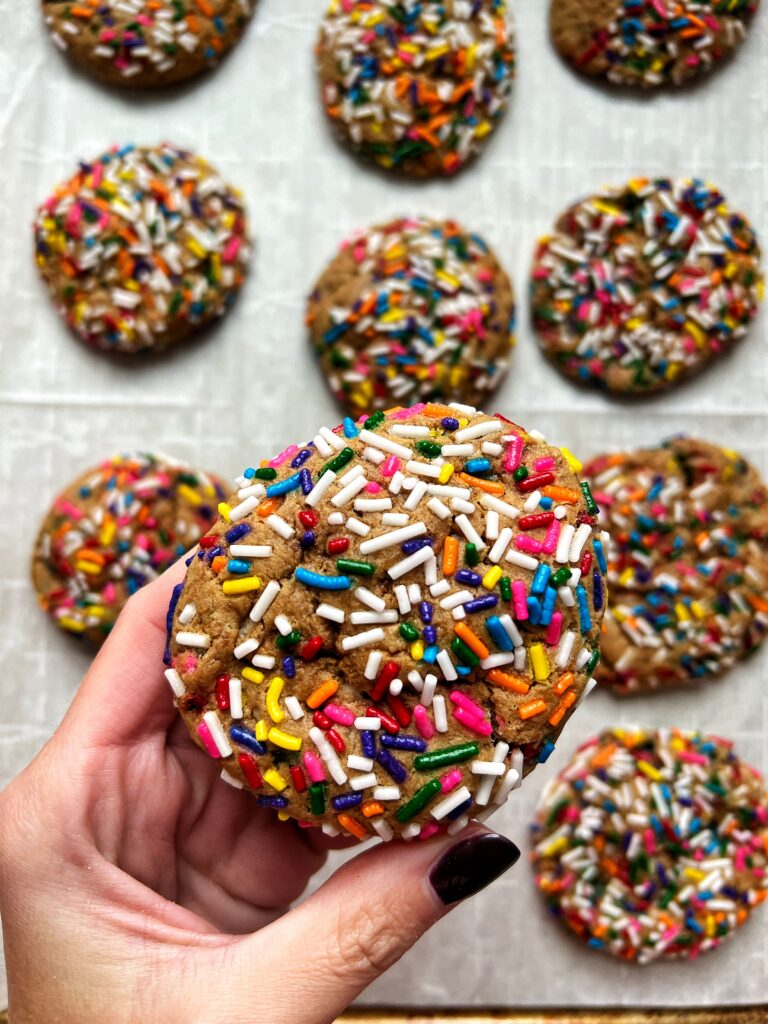 Print
The Best Sprinkle Sugar Cookies (gluten-free)
The Best Sprinkle Sugar Cookies made with all gluten-free, nut-free and egg-free ingredients! These are my go-to funfetti sprinkle cookie that are soft-baked and absolutely delicious.
Prep Time:

2 hours

Cook Time:

12 minutes

Total Time:

2 hours 15 minutes
Yield: Makes 12-15 cookies 1x
Instructions
Mix together tapioca and water and mix until it is combined
In a large bowl, beat together the softened butter and sugar until combined (about 2-3 minutes)
With mixer on low speed, add in the tapioca water mixture, vanilla extract and milk
Add in half the gluten-free flour and baking powder into wet ingredients and mix on low speed then add the rest
Once combined, scrape down the sides of the bowl using a spatula and make sure all is mixed together
Pour 1/2 cup of the sprinkles into the dough and mix
Cover the bowl and add to fridge for at least 2 hours (don't skip this part!!)
Preheat oven to 325 degrees F and line 2 baking sheets with parchment paper
Take the dough out of fridge and using a dough scooper or ice cream scooper, scoop the dough out and add to baking sheet(s). You should have 12-15 cookies total
Add the remaining sprinkles to a small bowl and dip each cookie in them then add back to baking sheet
Bake in oven for about 12-14 minutes
Allow the cookies to cool on baking sheet for 5 minutes then transfer to cooling rack and cool completely before storing
Notes
*Store in airtight container for 5 days or freezer for 2 month