The Best Paleo Brownie Crinkle Cookies made with nut-free and gluten-free ingredients for an easy and healthier crinkle cookie recipe!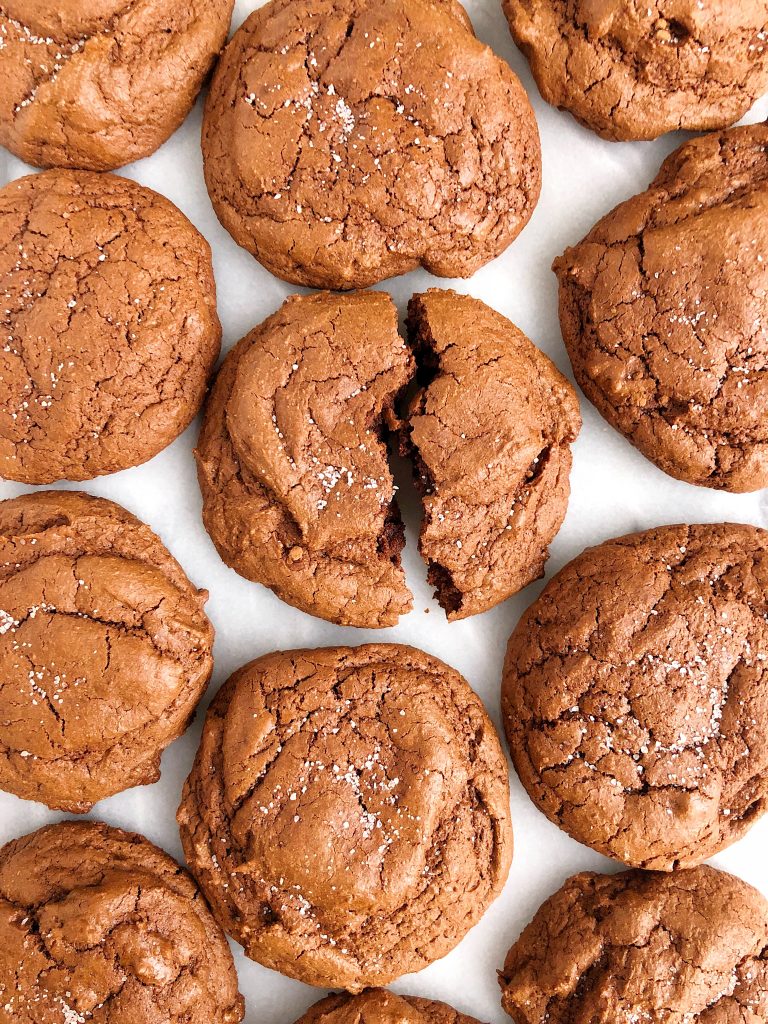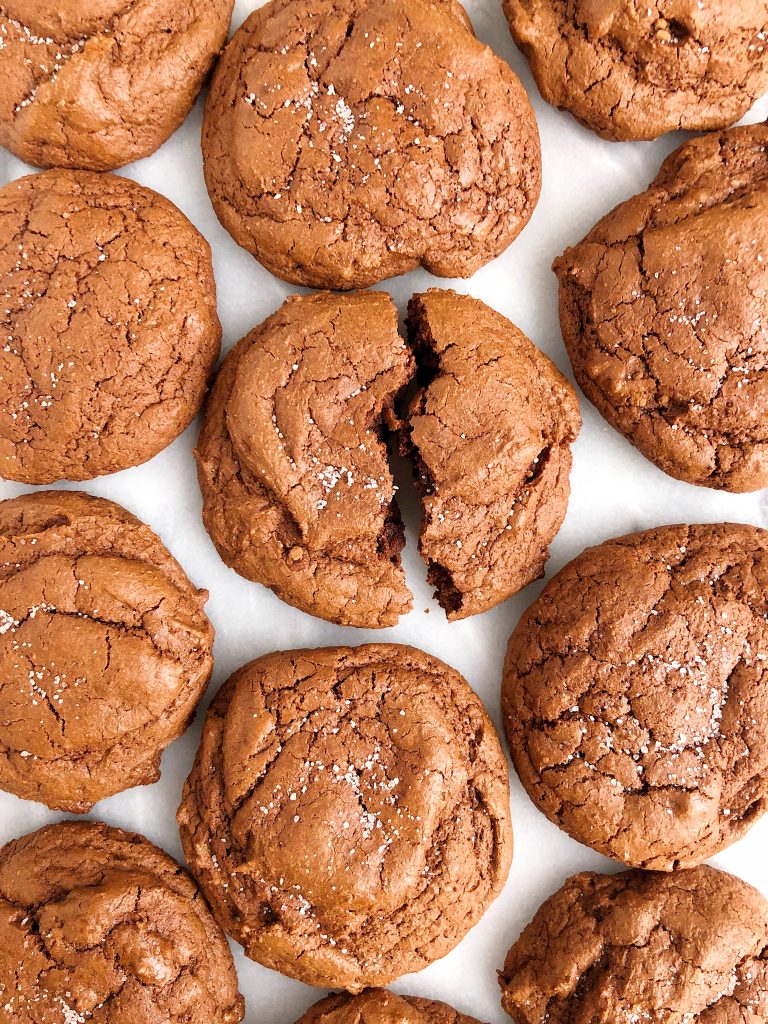 These Paleo Brownie Crinkle Cookies are HERE!
Might I add, they are one of the very few cookies on the blog with a crunch. Yet the inside as a soft chocolate-brownie center. One of the downsides to Jord working late, is he is never home for dessert aka I eat all of the desserts unless I share with a friend.
Except these bad boys were too good, I personally ate the entire batch besides the 2 I froze for my parents to try (so generous.. ha!).
I have a feeling these cookies are going to be a hit with you guys and that is for a few reasons..
These brownie cookies are grain-free, nut-free, gluten-free and dairy-free and SO GOOD.
Super allergy-friendly for most and for a nut-free cookie to also be paleo, isn't the easiest to create. I know many of you have nut-free family members or cannot eat nuts yourselves, so I have been testing more and more recipes that are free of nuts for ya!
I use a mix of pasture-raised eggs (I don't recommend flax eggs here, sorry guys!) and coconut sugar and add in some of my beloved Hu Kitchen Salty Dark Chocolate that is all melted and rich and chocolatey. For the flour we are using coconut flour and it really helps thicken up the cookie batter, so no worries if the batter is looking way to liquidy at first. Once you add the cacao, coconut flour and baking powder, it'll thicken up for sure.
I recommend a sprinkle of sea salt on these cookies too. It adds the perfect little saltiness and pairs so well with the sweetness of the chocolate.
These cookies are also perfect for a little sweet treat for your friends and loved ones for Valentine's Day. In case you are craving some other brownie-like recipes, here are a few of my other faves from the blog: Gluten-free Chocolate Chip Cookie Brownies, Paleo Deep Dish Double Chocolate Chunk Brownies and Paleo Dark Chocolate Brownie Bread (vegan).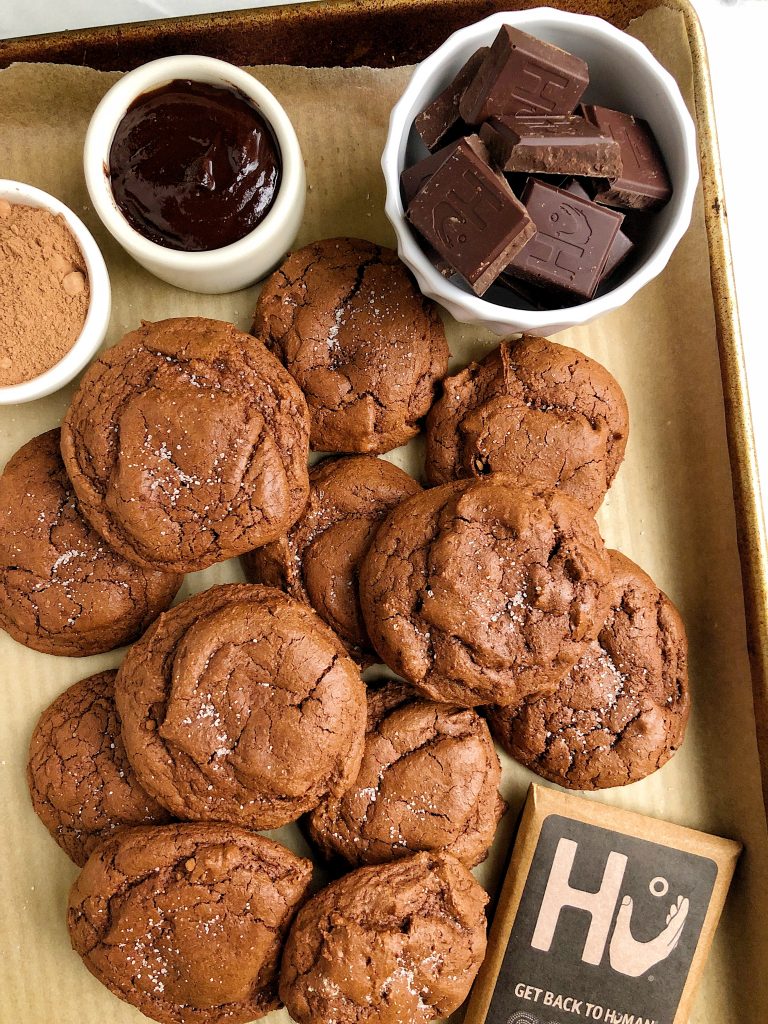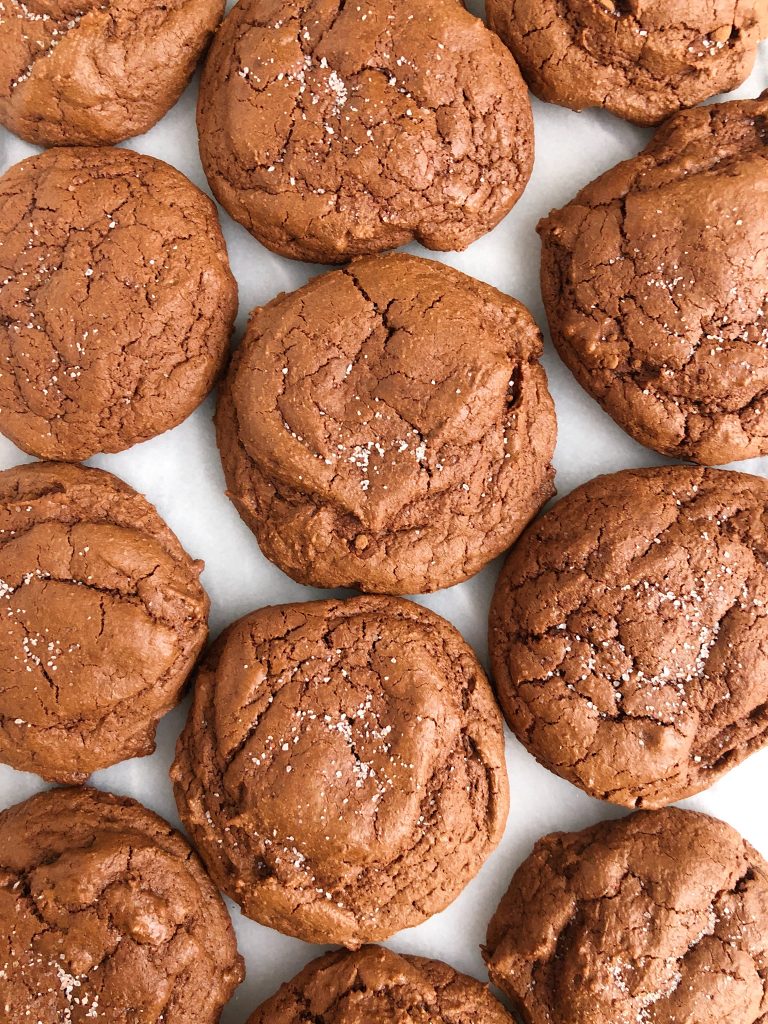 Print
The Best Paleo Brownie Crinkle Cookies
The Best Paleo Brownie Crinkle Cookies made with nut-free and gluten-free ingredients for an easy and healthier crinkle cookie recipe!
Prep Time:

10 mins

Cook Time:

10 mins

Total Time:

20 minutes
2

pasture-raised eggs (haven't tested flax egg)

1 cup

coconut sugar (do not recommend honey or maple syrup – need the grainy texture!)

5 ounces

Hu Kitchen Salty Dark Chocolate (code RACHL for free shipping)

3 tablespoons

liquid coconut oil

1 teaspoon

vanilla extract

1/4 cup

cacao powder

1/2 cup

coconut flour

2 teaspoons

baking powder

1/2 teaspoon

sea salt for sprinkling
Instructions
Preheat oven to 350 degrees and line a large baking sheet with parchment paper
In a large bowl, add the eggs and coconut sugar and mix well with hand mixer (or really well with spatula if you do not have mixer) for about 2-3 minutes. The sugar will dissolve and scrap down the sides of the bowl with any excess mixture
Add the dark chocolate and coconut oil to a microwave-safe bowl and heat on 30 second increments (stirring in between) until melted
Stir in the vanilla extract then add to the large bowl with the egg/sugar mixture and mix again for about 2 minutes
Add the cacao powder, coconut flour and baking powder to the bowl and mix well (it should be really thick like frosting or brownie-like batter!)
Using a spoon or cookie dough scooper, scoop about 2 tablespoons of batter per cookie onto the sheet (leave about 2 inches between each cookie as they spread!)
Sprinkle sea salt on top then bake in oven for 10-12 minutes
Allow the cookies to cool for a minute or two then enjoy!
Notes
*Store leftovers in an airtight container for 5 days or freezer for 2 months
xx, Rach