The Best Paleo Flourless Chocolate Cake made with only 5 ingredients and ready in 30 minutes. A healthy and fudgey chocolatey cake for any occasion!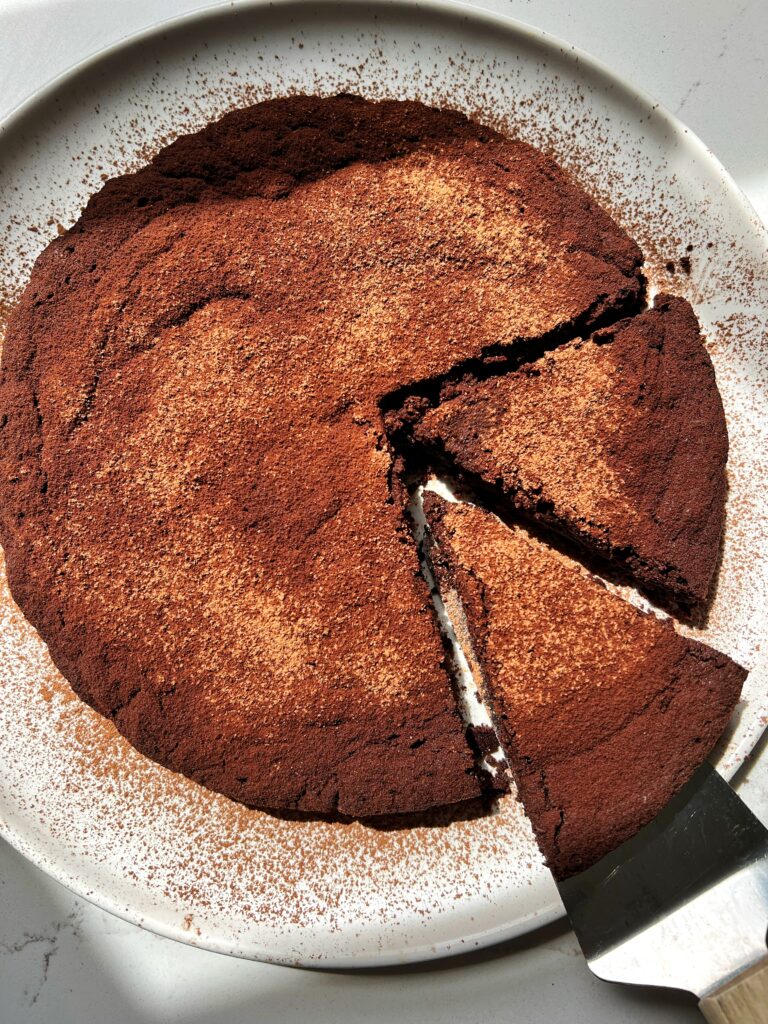 Flourless chocolate cake always reminds me of Passover at Jordan's family's. They always have it on the dessert menu! Jord and I whipping up a Paleo version.
This paleo flourless chocolate cake is almost like a big brownie. It is a healthier version of the flourless cake you may get at the bakery. Plus it is much lower in sugar, made with only 5 ingredients and the best part? It is surprisingly pretty light for a cake.
I love to eat this one both warmed up and from the freezer. I am also a sucker for cold baked goods – anyone else?!
Now let's run through the ingredients needed. This cake is paleo, gluten-free, dairy-free and even nut-free!
Eggs – I don't recommend using flax eggs here!
Solidified coconut oil, grass-fed butter OR vegan butter – anything works. Just make sure you measure in the solid form then melt it per instructions.
Cacao powder – a must have in this recipe to make it chocolatey and I used it to dust the topping
Dark chocolate chips – melted in with the oil or butter! I use these ones.
Coconut sugar – the main form of sweetness here besides the dark chocolate. You need a grainier sugar so maple syrup or honey wouldn't work well
FAQs about making Flourless Chocolate Cake:
What is the point of flourless chocolate cake? It is a more fudgey, dense and not as light or fluffy as your traditional cake. It is meant to be enjoyed over Passover particularly and it is also a very allergen-friendly recipe as it is gluten-free, nut-free and dairy free-friendly.
Does a flourless cake taste different? Flourless chocolate cake tastes like the inside of a chocolate truffle or really fudgey brownie. It isn't moist or bread-like.
So no flour is needed for this recipe? Nope!! You will use egg, oil or butter, cacao powder, coconut sugar and chocolate chips
A few other delicious Passover desserts to make:
15+ Dessert Recipes to Make for Passover!
Copycat Paleo Girl Scout Samoa Cookies
The Best Ever Grain-free Brownie Recipe
Healthy Flourless Brownies (nut-free + gluten-free)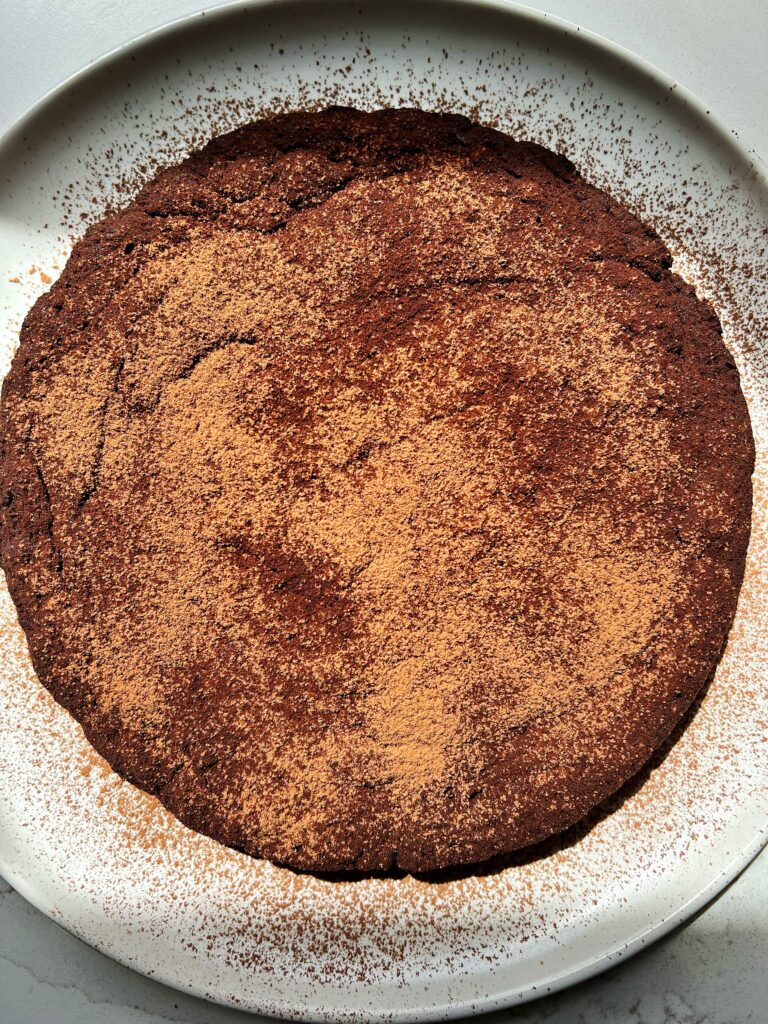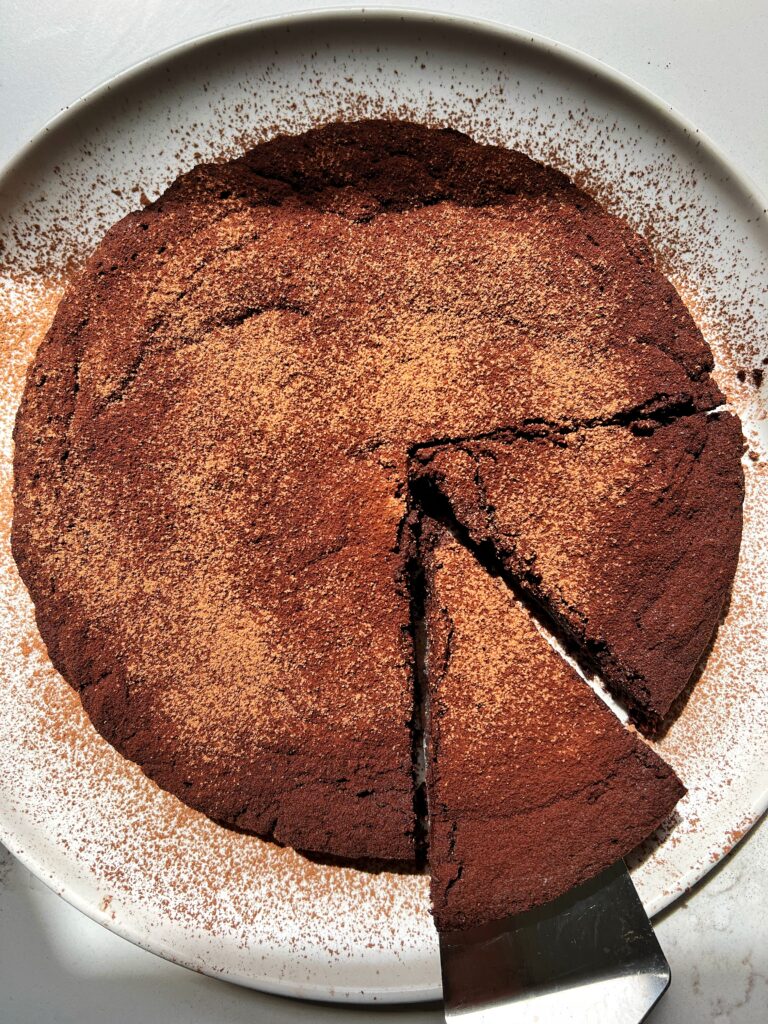 Print
The Best Paleo Flourless Chocolate Cake (gluten-free)
The Best Paleo Flourless Chocolate Cake made with only 5 ingredients and ready in 30 minutes. A healthy and fudgey chocolatey cake for any occasion!
Prep Time:

5 mins

Cook Time:

30 mins

Total Time:

35 mins
1/2 cup

grass-fed butter OR solidified coconut oil

1 cup

dark chocolate chips

3

pasture-raised eggs

1/2 cup

cacao powder

3/4 cup

coconut sugar

1 teaspoon

vanilla extract

Sea salt to taste
Instructions
Preheat oven to 375 degrees and grease an 8 inch round baking dish
In a medium sauce pan, melt the butter or coconut oil over medium heat
Remove pan from stove and stir in the chocolate chips to melt
Once the pan isn't too hot (just a little warm), whisk in the eggs, coconut sugar, cacao powder and vanilla until smooth
Pour into baking dish and bake in oven for 28-30 minutes
Allow the cake to cool (or it will crack/fall a part) and top with extra cacao if desired
Slice and enjoy!
Notes
*Store in airtight container for 5 days. You can also freeze this for 2 months. I love eating it frozen from freezer 🙂
**I haven't tested subs for this recipe.