Almond Coconut Fudge Bars that are so rich and dreamy, you won't even know they are sugar-free!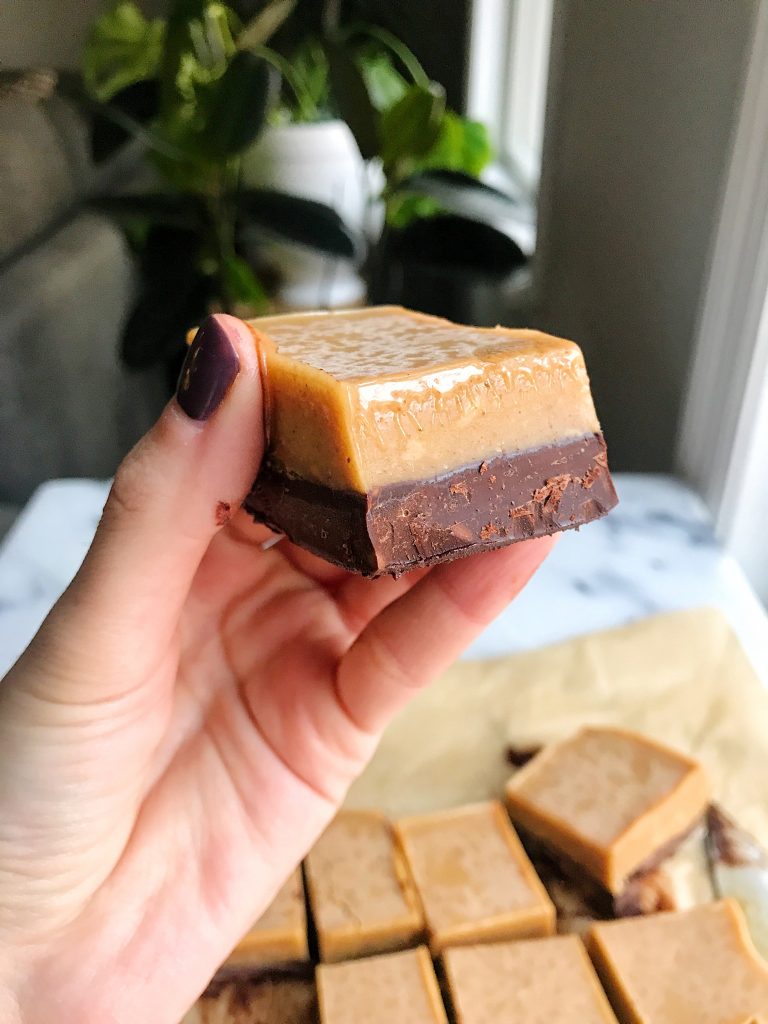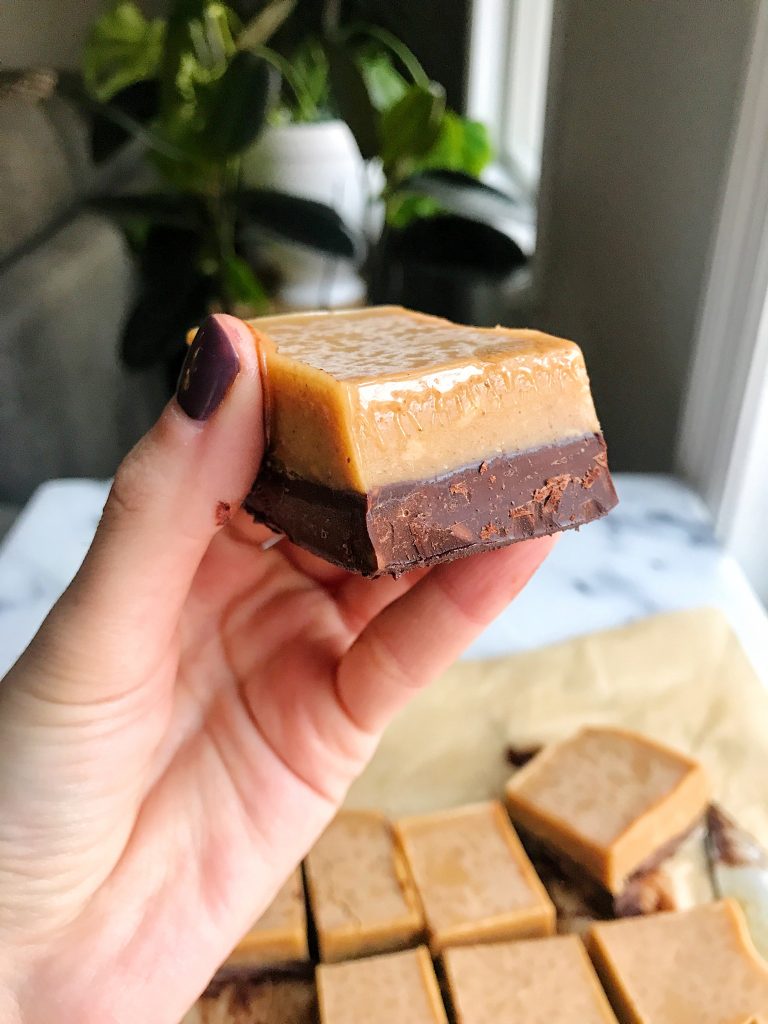 We are getting to the fudge I promise, but first let's chat about something.
Getting my hormones back on track has been my number one objective this year (as you saw here). And while I can't say I have successfully found the answer, I have certainly learned a ton in the process. For one, I recently started seeing a functional medicine doctor and someone I have looked up to for quite some time, Dr. Frank Lipman. After being told from countless doctors so many different things like I am healthy and shouldn't worry about anything. Or that I have candida overgrowth in my gut and that could be why I don't have a period. Went on a crazy protocol for three months and still nothing. Took too many supplements and adaptogens but nothing has been the answer yet (not saying these don't work, they just haven't worked for me yet!).
You know when your gut is telling you something and no one is really believing you? That is how I have felt about my thyroid being "off". I have noticed over the past few months that there is something off with my thyroid. My gynecologist told me I'm in the normal range (whatever that means) but I knew there was something not right. My cold hands and feet, chunks of my hair falling out (despite it growing in so thick), a layer of bloat on my stomach, dry skin, fatigue, puffiness around my eyes and basically just feeling so off in so many ways.
I stepped into Dr. Lipman's office after actively trying to figure out how to solve my hormonal issues holistically for almost a full year and the second I went in there he said "why is no one treating your thyroid". I wanted to do a happy dance. FINALLY someone was understanding what I was saying.
But it wasn't just the thyroid… I did a saliva test, blood test and guess what? My cortisol level is through the roof. So much so that my hormones are basically nonexistent. How insane is this? I'm not surprised to hear this to be honest but it's one step closer to the solution (I hope).
Usually when you have a thyroid issue, it is secondary to another issue in the body (or so I have read, reminder: I am not a doctor). So it turns out my body is in state of chronic stress, which is impacting my thyroid, which we think is impacting my hormones.
Crazy, right? I have never been happier with my life. I am comfortable in my body, have a more balanced approached to food than I have in my whole life and I wake up everyday doing what I love.
While I was seeing Dr. Lipman recently, I was telling him about my bloating, these crazy rashes I was getting and how my face would turn so red and hot you can fry an egg on it! Literally every single day from 6pm-8pm like clockwork. At first we thought it was maybe from stress but it seems like it is something I am eating that is causing this.
I try to stay away from gluten + dairy for the most part since I have heard mixed things about eating them when trying to balance hormones. I don't eat much soy or refined sugar. What gives? Well we aren't sure but I do have a few guesses..
That is what brings me to doing the Be Well Cleanse for two weeks. It is a 14-day elimination diet (more info is on their site) and hopefully we will figure out what is happening and why I am getting rashes and how you can basically fry an egg on my face it gets so hot.
I went to Dr. Lipman for my hormones and stress but as a patient, it is important that we look at all aspect of my health. When he noticed the bloating and rashes, he suggested I try his cleanse.
Now you guys know I am not going to not eat dessert for two weeks so I am over here making these Almond Coconut Fudge Bars to satisfy my sweet cravings. They have no added sugar and are absolutely delicious. SO easy to make and they are vegan, paleo, grain-free and even nut-free friendly if you use sunflower seed butter.
If you are interested in the cleanse as well, you can get 10% off with the code RACHL.
WHAT YOU NEED
Sea salt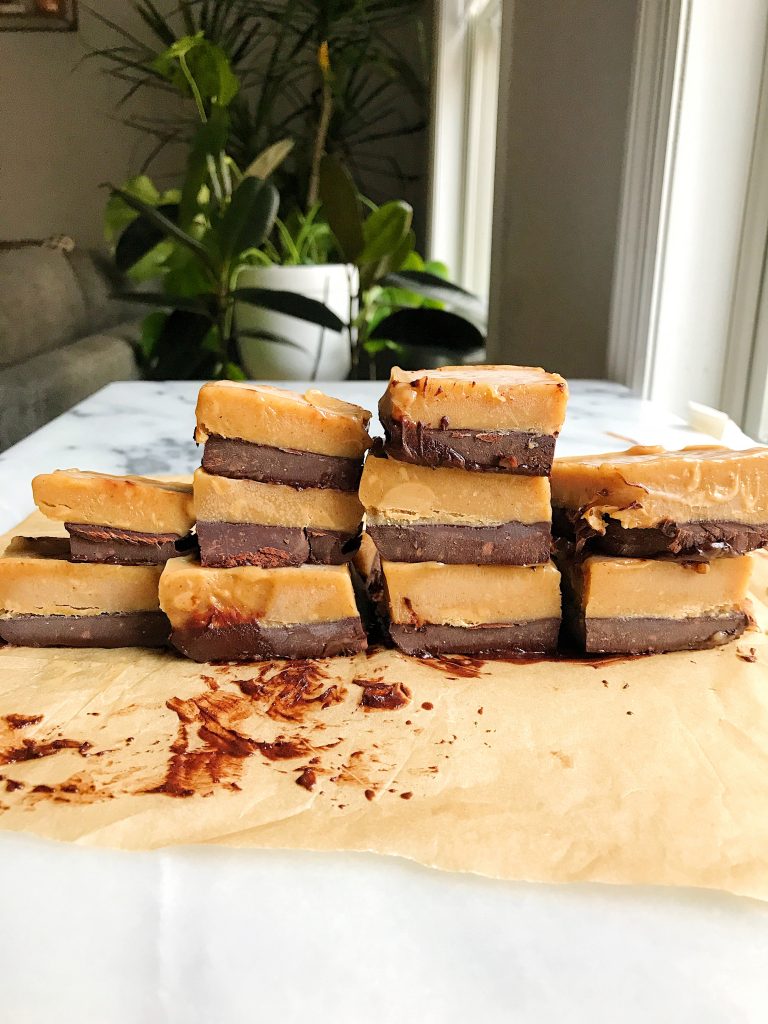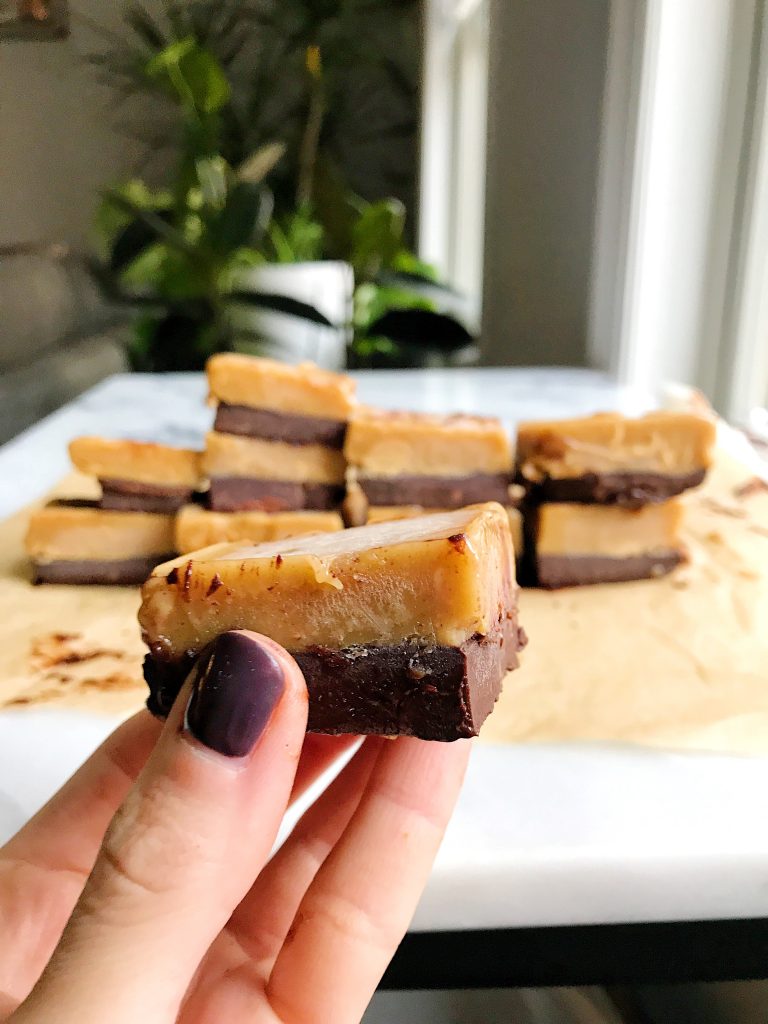 Print
Almond Coconut Fudge Bars (sugar-free + vegan)
Chocolate layer:

3/4 cup

coconut oil

1 cup

raw cacao powder

2 tablespoons

full-fat canned coconut milk

Top layer:

1 cup

creamy almond butter (or any nut butter)

1/3 cup

coconut oil

2 tablespoons

full-fat canned coconut milk

1/2 teaspoon

sea salt
Instructions
Line a bread pan with parchment paper (this will help when removing the bars to eat! you can also use an 8×8 baking dish but they will be thinner bars)
In a small sauce pan, mix together the coconut oil, cacao powder and coconut milk over medium/low heat and stir until melted
Pour into the lined bread pan and shake a little so the chocolate is evenly distributed
Add to freezer and begin making the top layer
In a medium bowl, whisk together nut butter, coconut oil and coconut milk until creamy and well combined
Pour on top of chocolate layer, sprinkle sea salt and add to freezer to set for about an hour
Remove the bars by lifting up parchment paper from bread pan and slice into pieces
Store in freezer for up to a month or so!
Author:
Category:

vegan, sugar-free, grain-free, paleo, gluten-free

Cuisine:

dessert, snack
xx, Rach
SaveSave
SaveSave
SaveSave
SaveSave