Crispy Cauliflower Gnocchi Mac and Cheese using Trader Joe's Cauliflower Gnocchi and a dreamy vegan nut-free cheese sauce!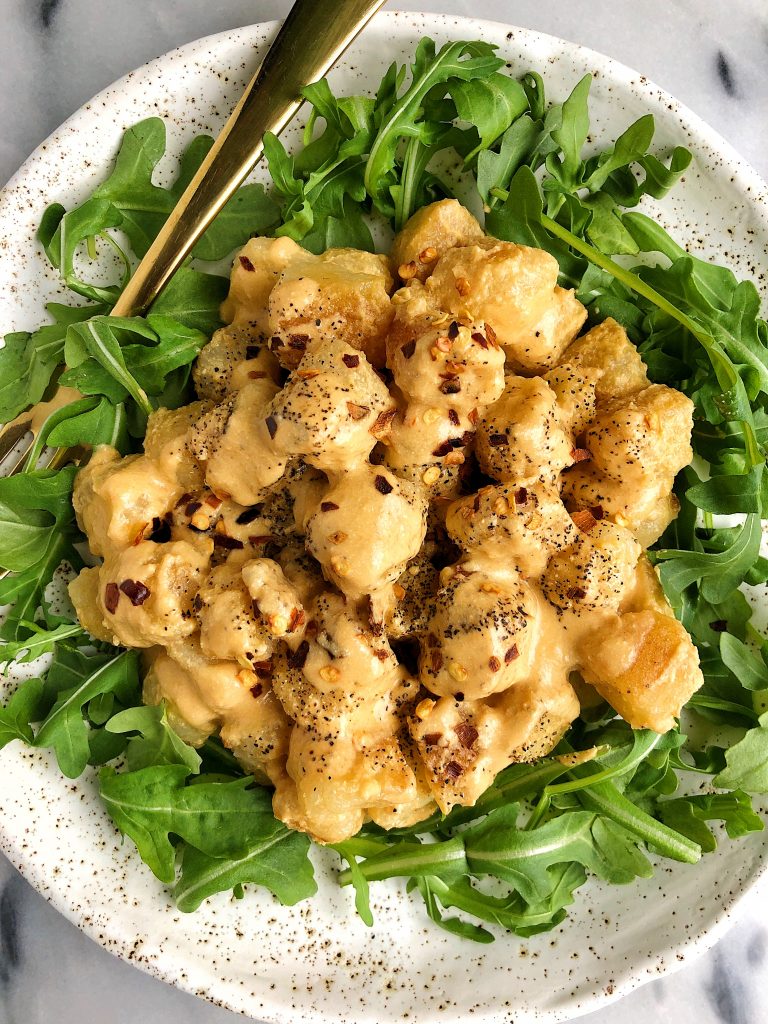 Why has it taken me this long to turn my cauliflower gnocchi obsession into a mac and cheese recipe?!
I have shared oh so many mac and cheese recipes this year on the blog, but I am pretty sure the obsession just keeps on growing. Not sure if it is a pregnancy thing or what. But making a healthier version of a classic that actually tastes good, is one of my favorites.
Especially after finally trying the Trader Joe's Cauliflower Gnocchi back in the fall and using that as a base for a lot of my pasta recipes…
But how does one cook the cauliflower gnocchi? We all know and have heard not to cook it according to the package instructions. And there are about 100 different ways on Instagram people talk about daily.
Personally, I don't do anything too fancy as you'll see and I'm also likely not the first person to make it this way. I love to just crispy the gnocchi in some avocado oil or grass-fed butter for a few minutes and let it get all crispy and cooked. I don't microwave it or add water or anything fancy. Those methods probably taste great as well, but I have found this minimal way to work very well over here.
Time to make the best cauliflower gnocchi mac & cheese…
Let's get to this new dish though. Crispy Cauliflower Gnocchi Mac and Cheese plus all the organic leafy greens. Call me weird but I don't like eating a savory meal like this without some veggies involved. Plus usually some extra protein too. I love adding some grass-fed meatballs or sausage to this dish but the base of it and cheese-less cheese sauce is all vegan.
I always add some Organic Girl greens for the extra crunch and nutrients. I'm not someone who eats salad or smoothies a lot so I try to sneak in my greens as much as I can. Organic Girl's baby arugula is my go-to for the subtle bitterness of the green and it pairs deliciously well with this mac and cheese!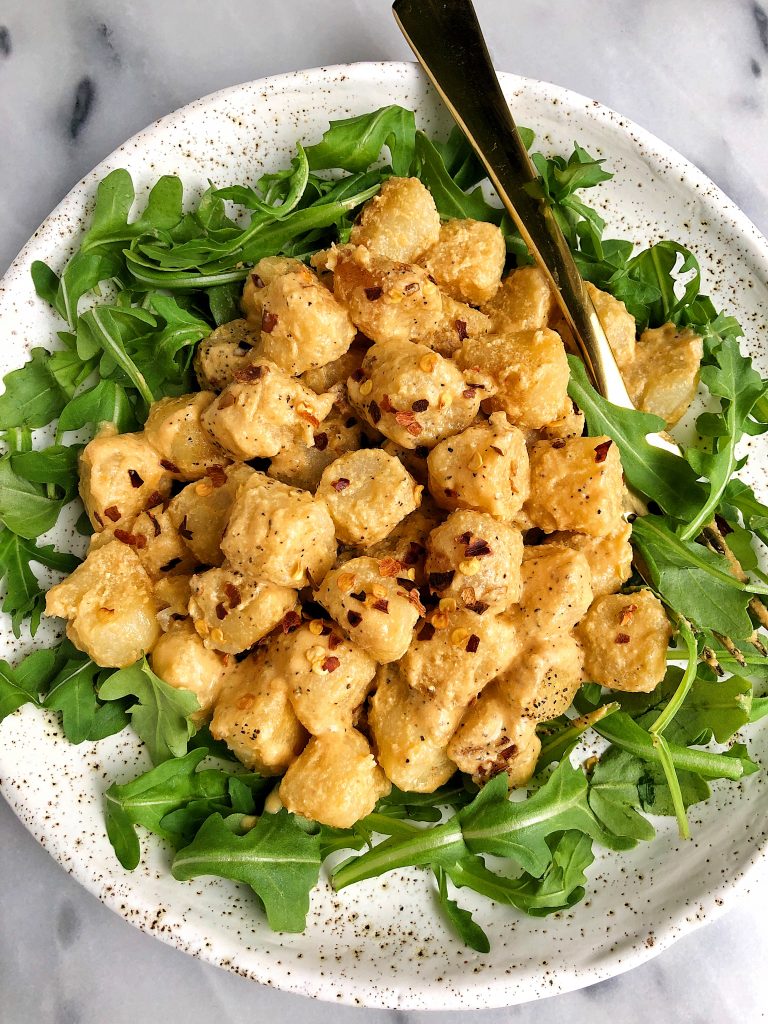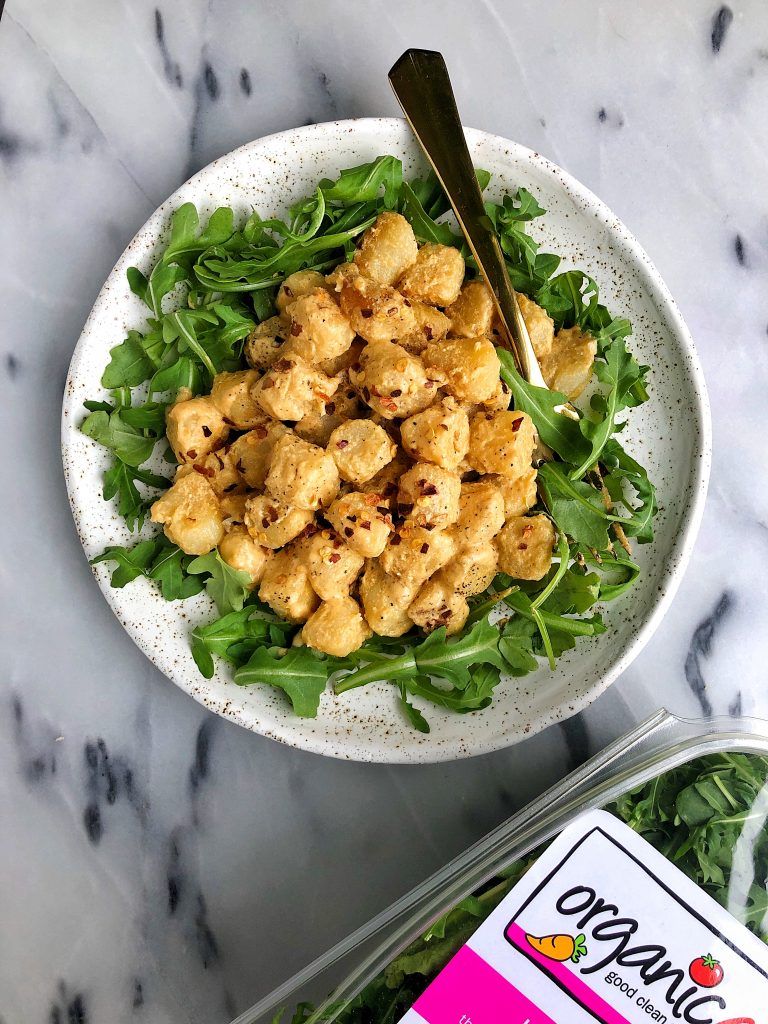 Print
Crispy Cauliflower Gnocchi Mac and Cheese
Crispy Cauliflower Gnocchi Mac and Cheese using Trader Joe's Cauliflower Gnocchi and a dreamy vegan cheese sauce!
Prep Time:

5 mins

Cook Time:

12 mins

Total Time:

17 minutes
1 cup

mashed sweet potato, butternut squash or carrot puree

1 cup

full-fat coconut milk (scoop the top of the creamy from a can!)

2 tablespoons

nutritional yeast

1/2 teaspoon

paprika

1/2 teaspoon

turmeric

1/2 teaspoon

garlic powder

1/2 teaspoon

black pepper

2 tablespoons

avocado oil

1

package of Trader Joe's Cauliflower Gnocchi

2 cups

Organic Girl Baby Arugula
Instructions
In a food processor or blender, blend together the sweet potato, milk, nutritional yeast, paprika, turmeric, garlic powder and black pepper until smooth and creamy
Remove the cauliflower gnocchi from the freezer and allow it to sit on counter for a few minutes
In a large skillet add the avocado oil and warm over medium-high heat
Once the pan heats for a couple minutes add cauliflower gnocchi and cook over medium heat for about 4 minutes (you may want to cover the pan so oil doesn't splatter!)
Gently flip each piece of gnocchi with a fork or tongs and cook for another 4 minutes until the gnocchi gets crispy
Remove from pan and add to bowl with baby arugula, pour desired amount of sauce and enjoy
Notes
*Leftovers will keep in the fridge for about 5 days but this tastes best day of in my opinion!
**If you cannot find the cauliflower gnocchi, sub and prepare any other noodles or gnocchi of choice per the package instructions
***I love adding in grass-fed meatballs or any protein of choice as well to make this a bit more filling!
xx, Rach
Thank you Organic Girl for sponsoring this post!