Easy Almond Flour Pancakes with Banana Whipped Cream for an easy, delicious, collagen-packed breakfast!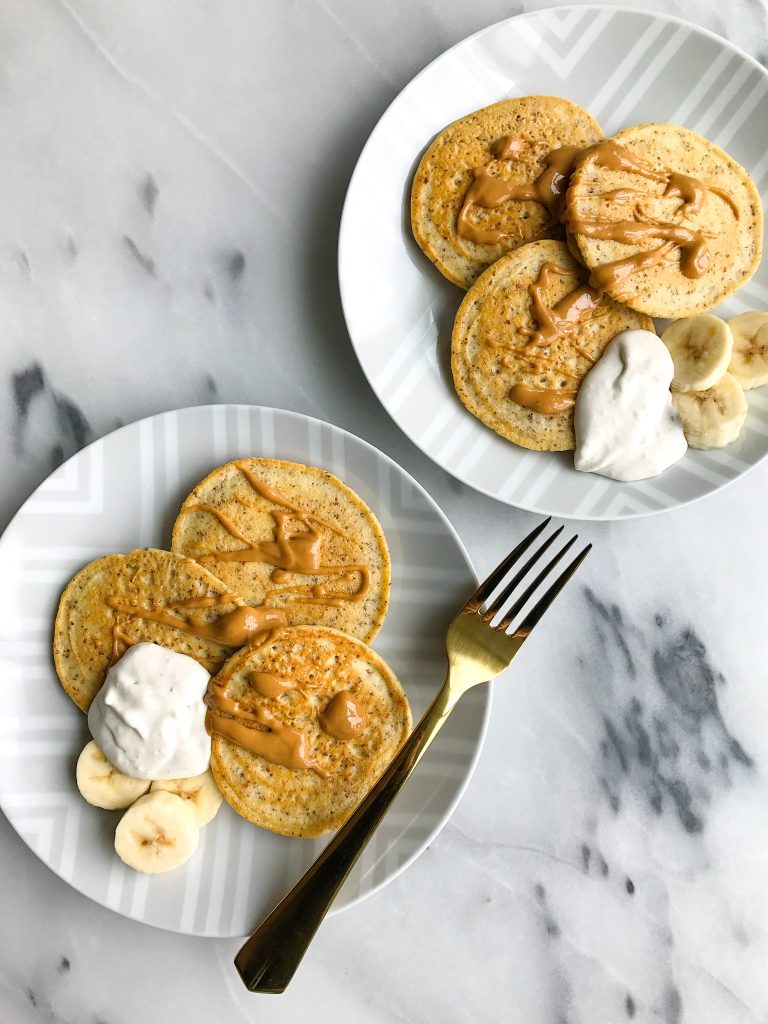 Considering how much I love pancakes and bananas, I am surprised it took me this long to make these easy almond flour pancakes and banana whip.
I think you are going to be pleasantly surprised by how easy this breakfast spread is to throw together. And most importantly, how easy this pancake recipe is because almond flour pancakes are not always the most seamless stack to make.
My favorite part about this recipe (besides the fact that its combining my two favorites: bananas and pancakes) is what is actually IN this recipe.
The pancakes are made with almond flour, eggs, cinnamon and wait for it.. collagen peptides. Collagen peptides pretty much have taken over your newsfeed and it is safe to say thousands and thousands of more people are booming more informed about what they are all the time. They want to hop on the collagen train and once they do, they realize why collagen peptides seriously are the best.
I use Vital Proteins collagen peptides every single day. I personally add to my daily smoothie bowl or hot tea but you can truly add to anything you prefer. Jord adds to his coffee every morning and you can even add it to hot water with lemon.
Since I started using collagen peptides I have noticed a huge difference in my hair, skin and nails. I also use collagen peptides because of the benefits for joint health, digestion and the extra protein it provides. What I love about Vital Proteins though are all the products they offer that have collagen in them. They make collagen from beef, fish, and they even have supplements. They also just launched a bunch of new product lines include BONE BROTH collagen peptides and beauty water collagen peptides. I am so amped to experiment with the new goods.
In the meantime, whip up these pancakes and banana whip and add your favorite collagen peptides from Vital Proteins to the mix, you will love.
WHAT YOU NEED
Banana
Coconut milk
Almond flour
Eggs
Vital Proteins
Cinnamon
Nut milk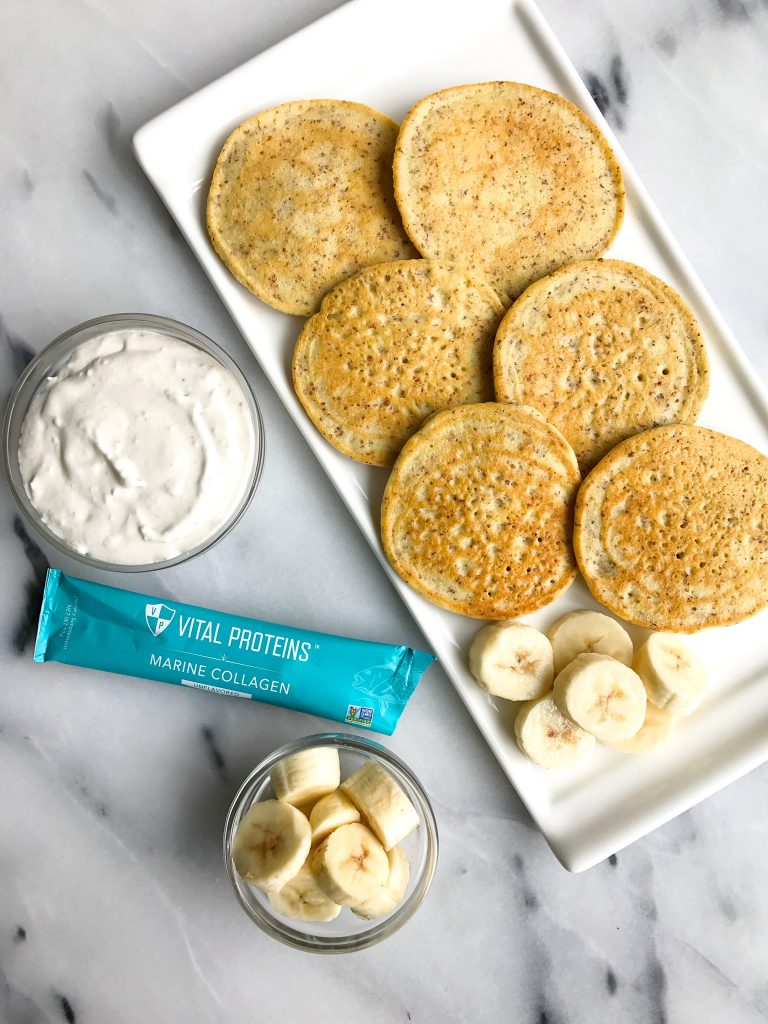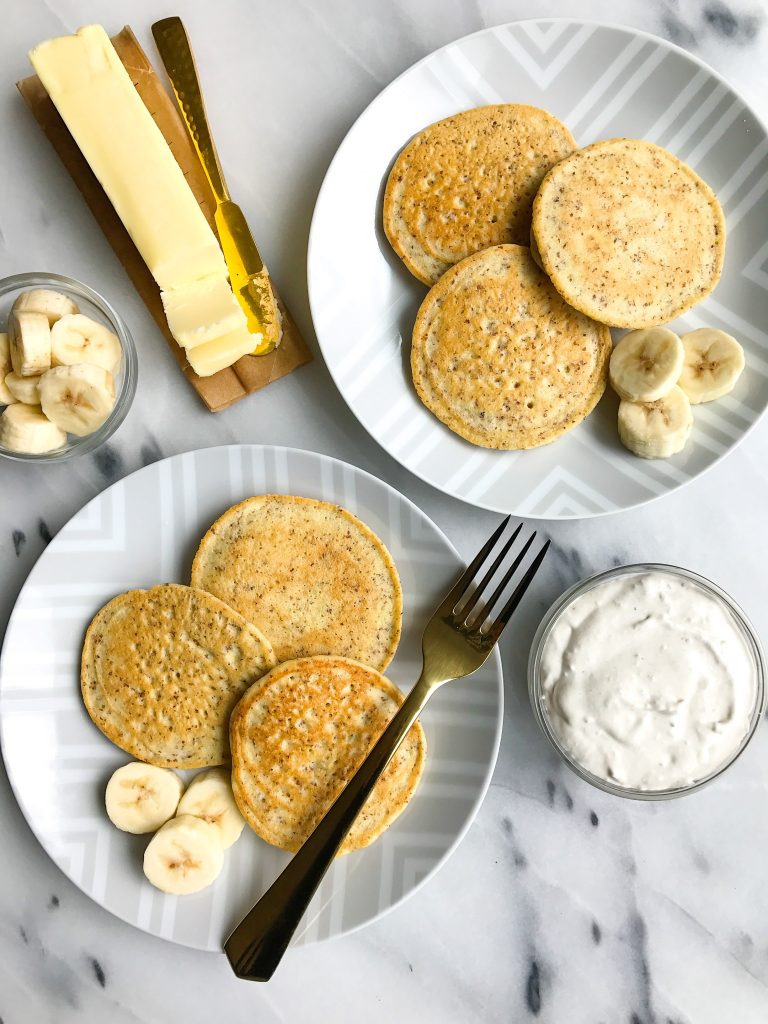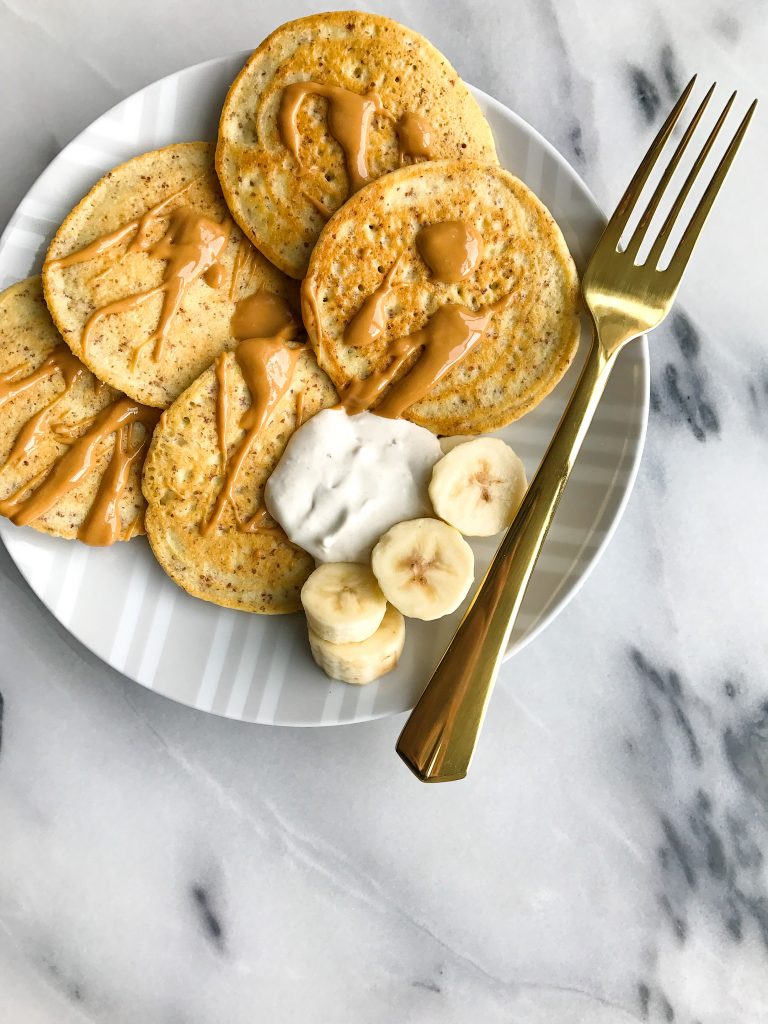 Print
Easy Almond Flour Pancakes with Banana Whipped Cream
Prep Time:

5 mins

Cook Time:

10 mins

Total Time:

15 mins
Almond flour pancakes:

1/4 cup

unsweetened almond milk

2

eggs

1 cup

almond flour

1

packet Vital Proteins collagen peptides (or

1

–

2

scoops)

1/2 teaspoon

cinnamon

1/2 teaspoon

vanilla extract

Banana whipped cream:

1

frozen banana

1

can coconut milk full fat (put in fridge over night)
Instructions
In a medium bowl, whisk together eggs and milk
Add in almond flour, collagen peptides, cinnamon, vanilla extract and mix well
Heat coconut oil or butter on a large skillet on medium/high heat
Once pan is heated up add batter to skillet (about 2 tablespoons per pancake)
Cook for 2-3 minutes or until the top starts to bubble a little
Gently flip then cook for another 2-3 minutes
Repeat until all pancakes are cooked
Once pancakes are done, begin making banana whipped cream
Add frozen banana to blender and the cream part of the coconut milk can (not the liquid, I save it for smoothies!)
Blender until just creamy and smooth
Plate with pancakes and enjoy!
*pancakes will stay good for 5 days or so in fridge or freezer for a few weeks. banana whipped cream is best day of
Author:
Category:

grain-free, dairy-free, low-sugar

Cuisine:

breakfast, pancakes
xx, Rach

Thank you Vital Proteins for sponsoring this post. It means so much to me to work with brands that I love and who support rachLmansfield!