This Berry Yogurt Bake is one of our go-to recipes for breakfast. Made with just 4 ingredients and it's great for toddlers, kids and adults.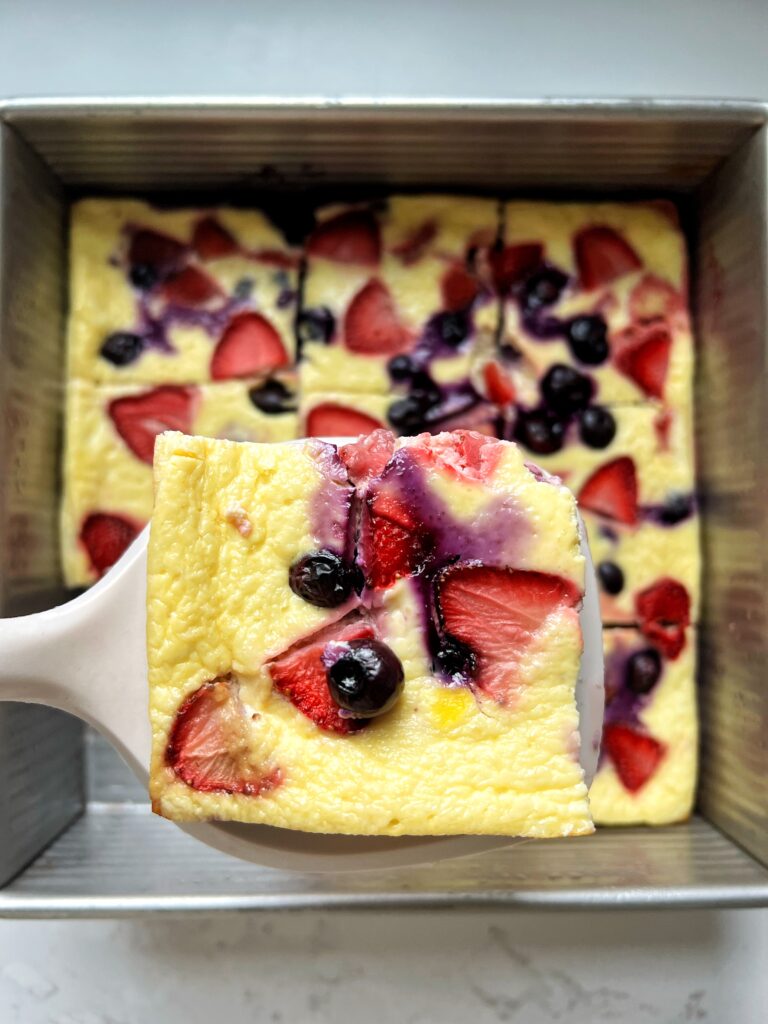 My kids love yogurt. They want it for breakfast all the time or snack or anytime of the day. I love making this berry yogurt bake as a way to switch things up a bit. It is so easy to put together and you only need 4 ingredients to make it. It is packed with protein and you can add any toppings or mix-in's you'd like. I love doing berries and topping it with maple syrup and some peanut butter.
This recipe is pretty straight forward and works with frozen or fresh berries to mix in. And works with any yogurt you want. Greek yogurt consistency (so thicker) definitely works better. But if you use another yogurt then just watch the bake time!
Also this can be a bitter recipe if you use unsweetened yogurt. If you want to sweeten it more, just add desired amount of maple syrup or honey! It can sweeten it up. If your yogurt has sugar already, then you should be set.
Tip: prep this for easy breakfast or snack for the week! My toddlers love this as does my husband so it's for all ages.
What ingredients you need to make this yogurt bake:
Yogurt of choice – I typically use greek yogurt but you can use any you'd like
Eggs – I don't recommend an egg replacement here
Almond flour – I haven't tried another flour but I do think oat flour would work well here
Berries of choice – you can use fresh or frozen. I did strawberries and blueberries
Optional: maple syrup or honey to sweeten if you want! I use non-sweetened yogurt so I like to add sweetness
How to make an easy berry yogurt bake:
Preheat oven to 350 degrees and grease an 8×8 baking dish
Whisk together yogurt, eggs, almond flour and vanilla until creamy
Fold in berries then add to baking dish
Bake in oven for 35-38 minutes or until fully cooked (the center shouldn't be giggly)
Allow the yogurt bake to cool for a few then slice and enjoy with desired toppings (we love maple syrup, my chia jam and peanut butter on top!)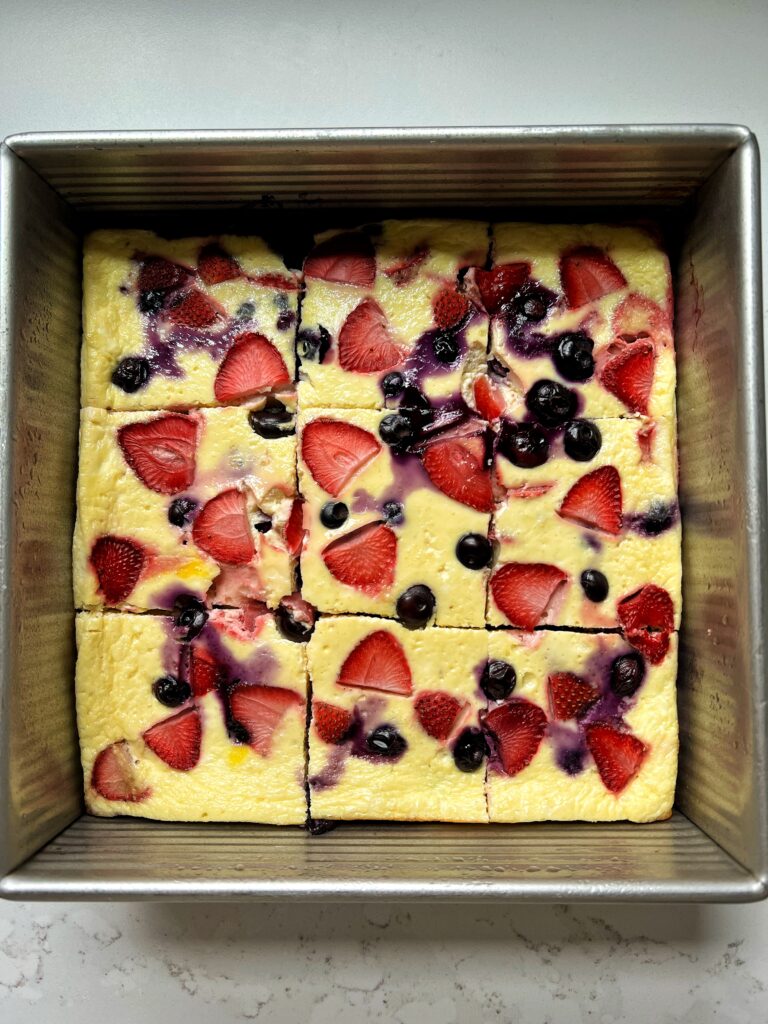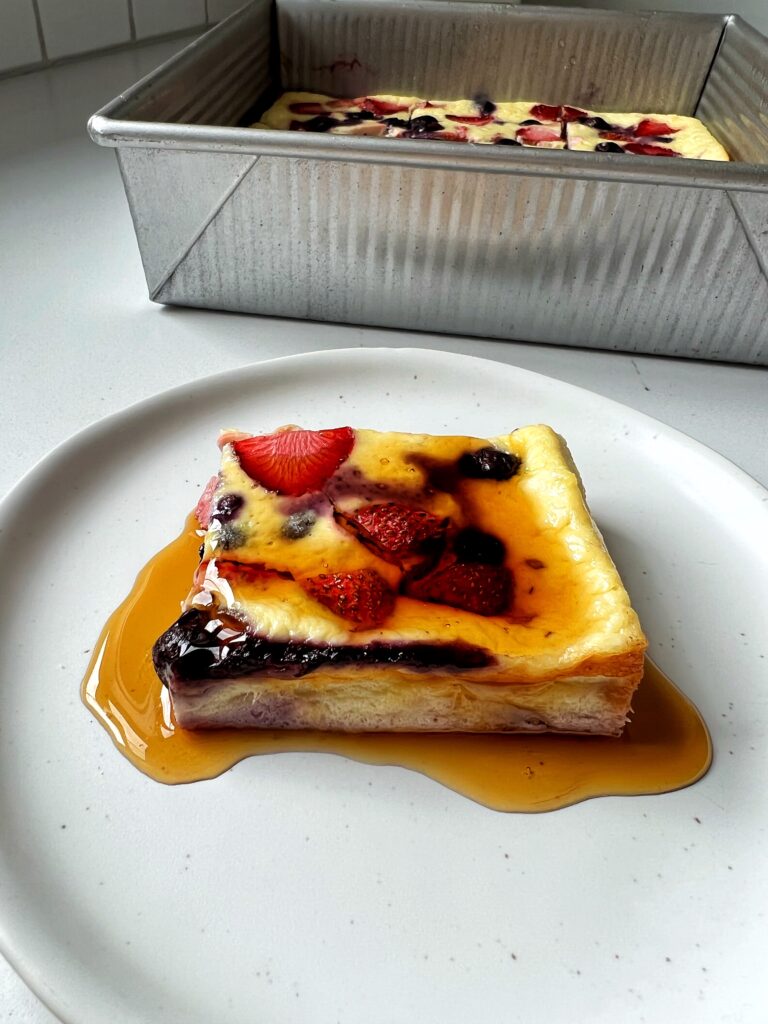 Tips for success making breakfast yogurt bake:
You can use any yogurt you want here! Greek, regular full-fat yogurt or even a vegan yogurt. Depending on the thickness and consistency of the yogurt, you may need to tweak the baking time.
Feel free to add in whatever mix-in's you want. I love this with berries the most as do my kids.
When you use unsweetened yogurt, it makes this recipe pretty bitter, so if you want something sweeter then add in maple syrup or honey to sweeten it a bit.
Store the leftovers for this in the fridge for up to 5 days. You can reheat in microwave or eat cold and add any toppings you want!
A few other delicious and healthy breakfast recipes to make:
Gluten-free Sheet Pan Pancakes
Healthy Chocolate Chip Banana Bread Baked Oatmeal Bars
The Best Vegan Banana Pancakes!
Easy Gluten-free Oatmeal Blender Waffles!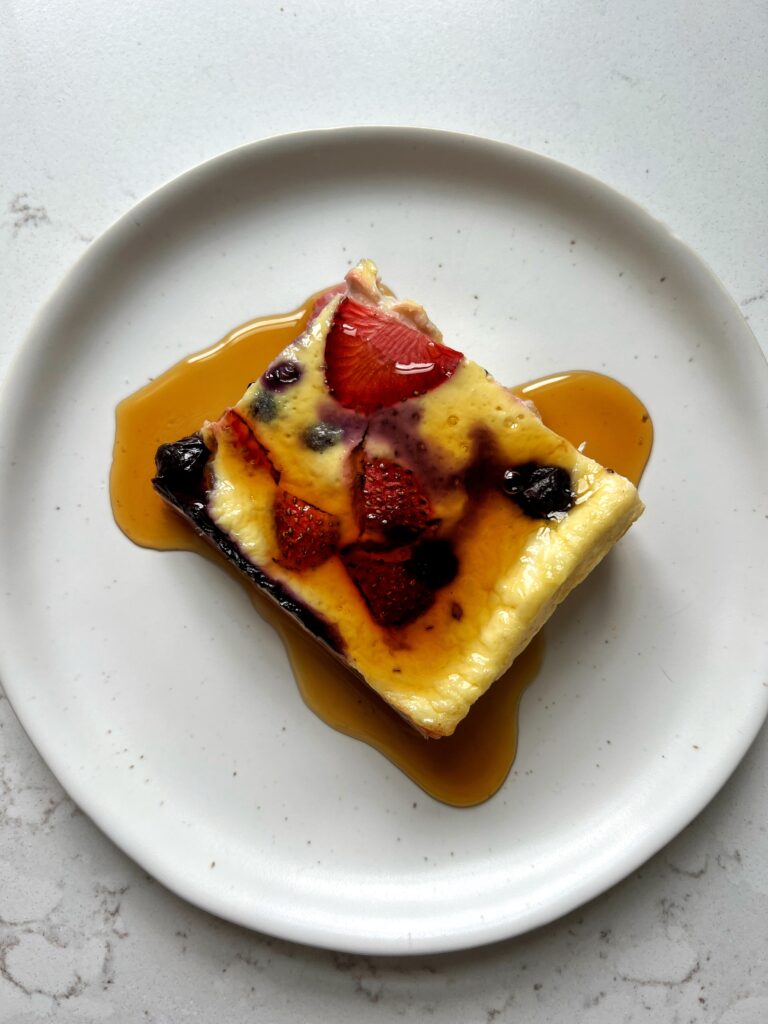 Print
Easy Breakfast Berry Yogurt Bake
This Berry Yogurt Bake is one of our go-to recipes for breakfast. Made with just 4 ingredients and it's great for toddlers, kids and adults.
Prep Time:

5 mins

Cook Time:

35 mins

Total Time:

40 mins
1.5 cups

yogurt of choice (I typically use greek yogurt!)

4

eggs

2 tablespoons

almond flour

1 teaspoon

vanilla

1 cup

berries of choice

Optional: maple syrup or honey to sweeten
Instructions
Preheat oven to 350 degrees and grease an 8×8 baking dish
Whisk together yogurt, eggs, almond flour and vanilla until creamy
Fold in berries then add to baking dish
Bake in oven for 35-38 minutes or until fully cooked (the center shouldn't be giggly)
Allow the yogurt bake to cool for a few then slice and enjoy with desired toppings (we love maple syrup, my chia jam and peanut butter on top!)