The Best Vegan Banana Pancakes! Made with just 6 ingredients, these are a healthier and delicious homemade fluffy pancake recipe that has no added sugars (perfect for kids too!)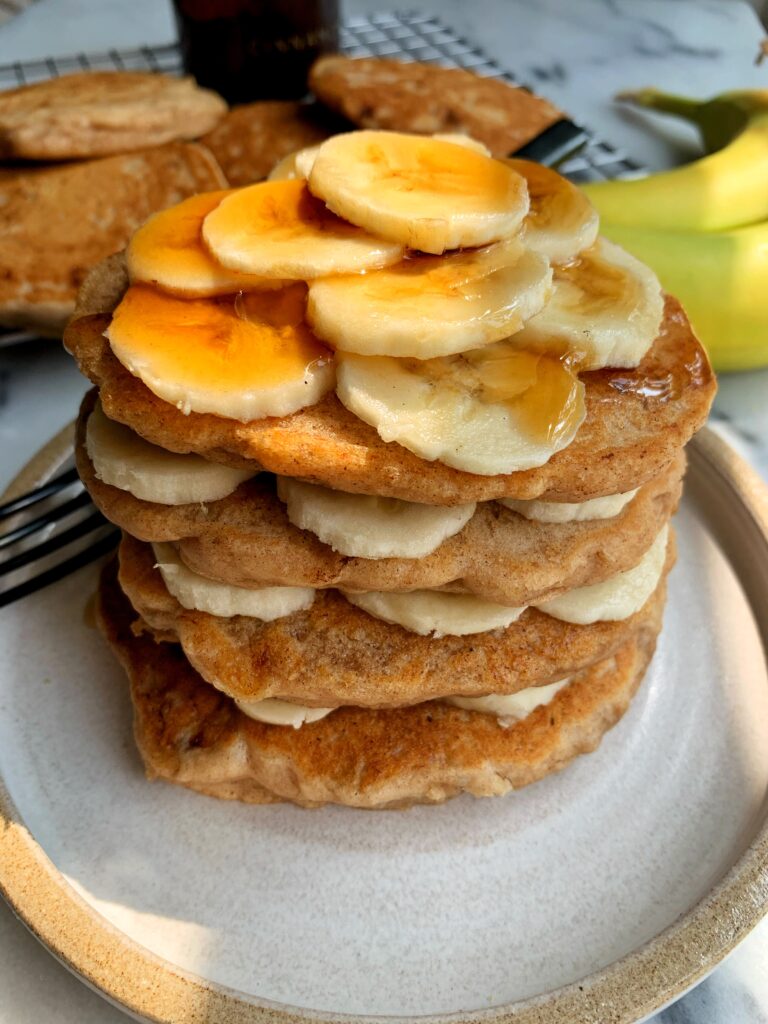 BANANA FLIPPING PANCAKES BABY!
I am beyond excited over these pancakes you guys. It feels almost sinful that I have never shared a banana pancake recipe before. A good classic banana cake that is easy to whip up at home. Crisped on the edges, fluffy in the center and tastes so simple and pure and perfect.
That is what you are getting with this recipe. They are a guaranteed crowd pleaser. And you will likely be doubling the batch whenever you make them. Especially if you want leftovers in the fridge or freezer. And let me just say – these taste just as yummy when you freeze them and heat them up in my opinion. But I am also the crazy person who loves frozen anything.
Now when it comes to these pancakes, I highly recommend also adding in chocolate chips or walnuts too. It takes them up a few more notches and you will not regret the addition – I promise!
Don't forget to tag me if you make them and ENJOY!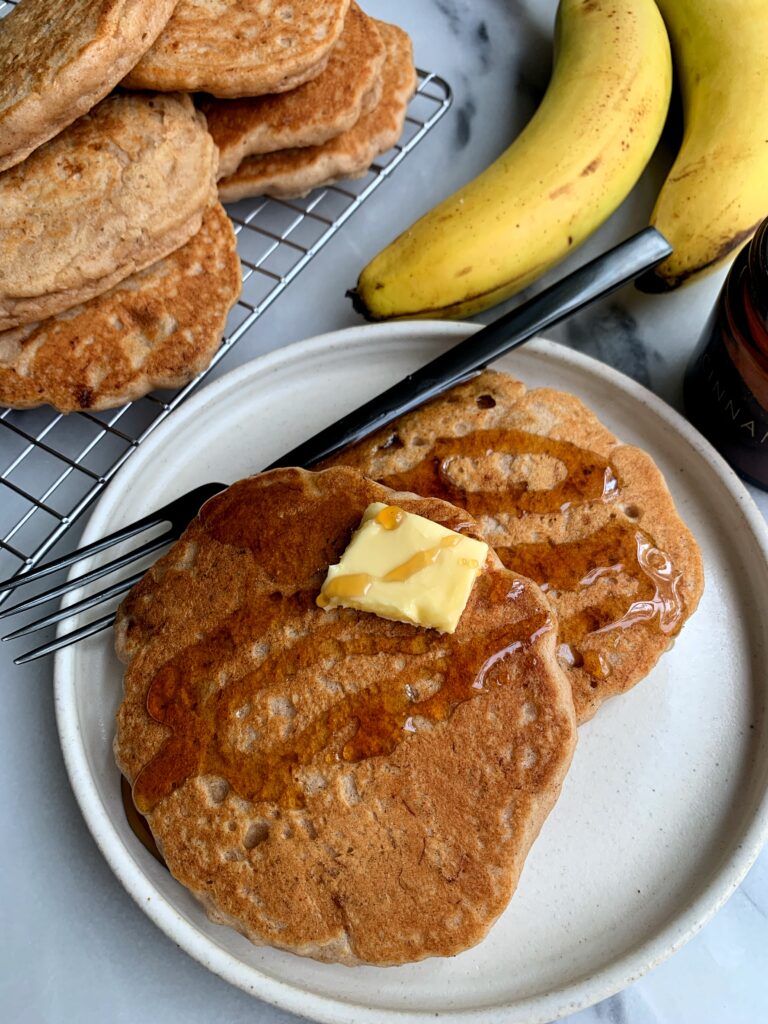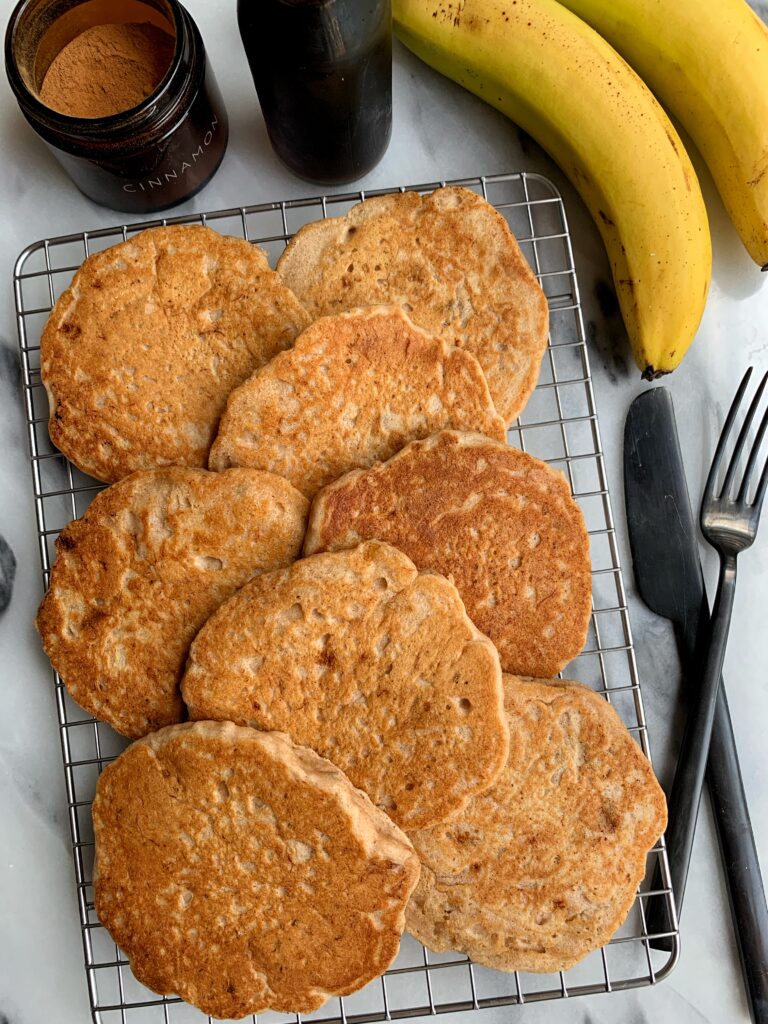 What ingredients you need for the best banana pancakes:
How to make these easy pancakes:
In a medium bowl, mix together banana, milk, butter or oil and vanilla until combined
In another large bowl, mix together flour, baking powder and cinnamon
Pour wet ingredients into the dry ingredients and mix well until fully combined (don't over mix or batter will be too thin!)
Grease a large skillet with a little vegan butter or oil and heat on high heat for a minute or so
Turn heat down to medium/low and scoop about 1/3 cup of batter onto the skillet to form a pancake (smooth out with spatula if needed) and repeat for as many pancakes you can comfortably fit on the skillet
Cook each pancake for about 3-5 minutes then gently flip and cook for another 3-5 minutes
Remove from skillet and enjoy with maple syrup and desired toppings
A few other breakfast favorites to make:
Easy Gluten-free Oatmeal Blender Waffles!
Vegan Carrot Cake Baked Oatmeal!
Addicting Gluten-free Cinnamon Peanut Butter Granola
Healthy Apple Bread (vegan + gluten-free)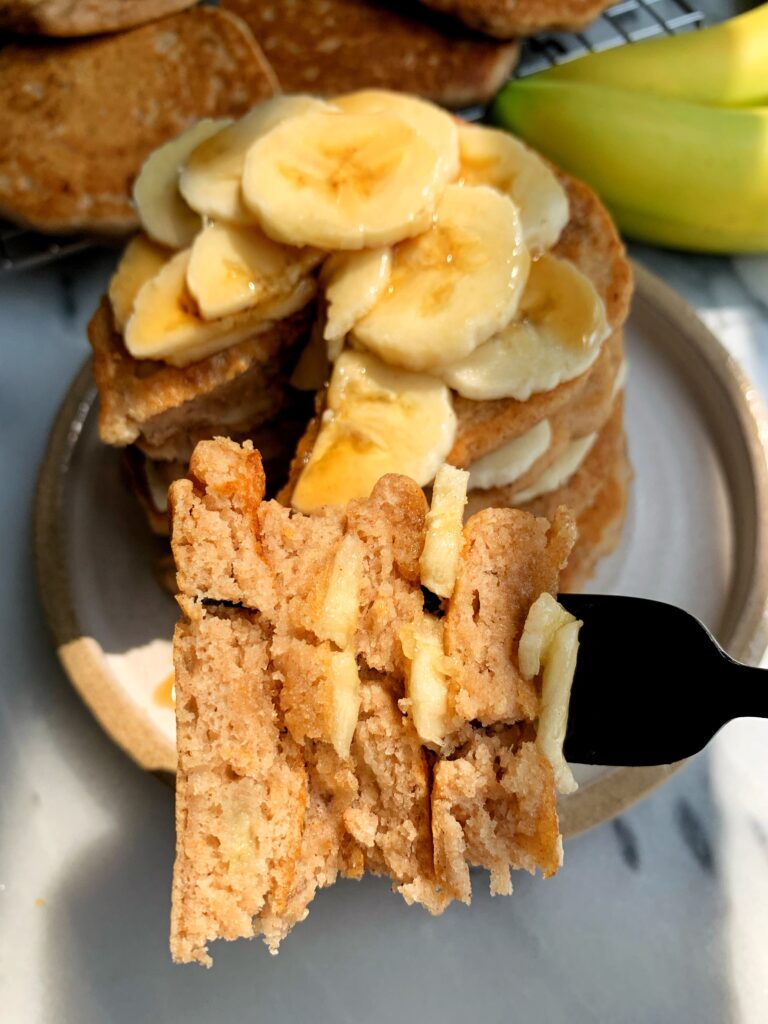 Print
The Best Vegan Banana Pancakes!
The Best Vegan Banana Pancakes! Made with just 6 ingredients, these are a healthier and delicious homemade fluffy pancake recipe that has no added sugars (perfect for kids too!)
Prep Time:

5 mins

Cook Time:

10 mins

Total Time:

15 mins
Yield: Makes 8-9 pancakes 1x
1/2 cup

mashed banana

1 cup

non-dairy milk (I used full-fat coconut milk)

2 tablespoons

oil or melted vegan butter

1 teaspoon

vanilla extract

1.5 cups

all-purpose flour (gluten-free if needed!)

1 tablespoon

baking powder (yes tablespoon!)

1 teaspoon

cinnamon (or less but I love using a lot!)
Instructions
In a medium bowl, mix together banana, milk, butter or oil and vanilla until combined
In another large bowl, mix together flour, baking powder and cinnamon
Pour wet ingredients into the dry ingredients and mix well until fully combined (don't over mix or batter will be too thin!)
Grease a large skillet with a little vegan butter or oil and heat on high heat for a minute or so
Turn heat down to medium/low and scoop about 1/3 cup of batter onto the skillet to form a pancake (smooth out with spatula if needed) and repeat for as many pancakes you can comfortably fit on the skillet
Cook each pancake for about 3-5 minutes then gently flip and cook for another 3-5 minutes
Remove from skillet and enjoy with maple syrup and desired toppings
Notes
*Store in fridge for 5 days or freezer for 2 months