Easy Homemade Uncrustables with 5 different flavor combinations! A kid-approved lunch that is always a hit.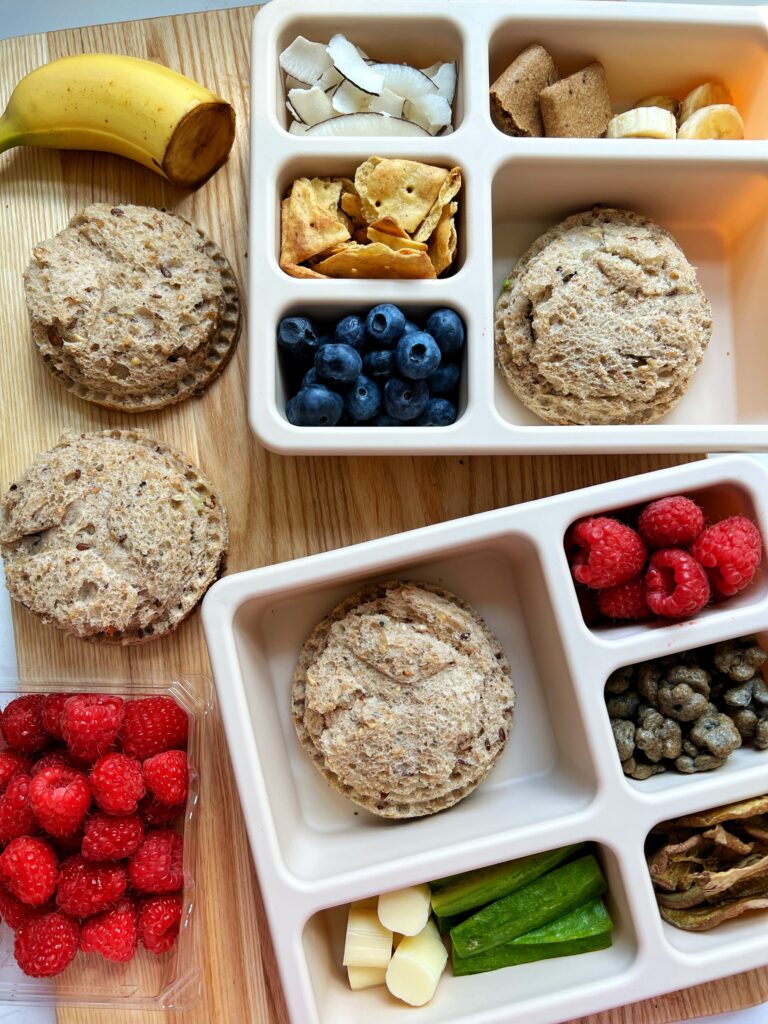 Let's make a a variety of healthy, homemade Uncrustable sandwiches for quick and easy lunch ideas! I love this method so much because you can switch things up on what add-in's you want and the bread you. Plus this is a guaranteed crowd pleaser in my house with both of my kids.
Oh.. and did I mention they are allergy-friendly too? My son's school is pretty strict on no nuts, sesame, etc. so we have gotten pretty creative on what to pack for easy lunches here.
Uncrustables are the go-to sandwich method in our home, but not the store-bought kind you are thinking of..
When I was growing up, I used to eat the Uncrustables all the time. My mom kept them in the freezer because she knew how much I love peanut butter and jelly everything. But fast forward a couple decades, we are all much more knowledgable on ingredients and I've learned how much added junk can be in the store-bought Uncrustables. So instead, we are making our own.
You can make a batch of these ahead of time and keep them in the fridge for the week. Or in the freezer if you stick with the traditional nut or seed butter with jam. They thaw out by lunch time and the bread still says soft to eat.
Ingredients in a store-bought Uncrustable: Bread: Enriched Unbleached Flour (Wheat Flour, Malted Barley Flour, Niacin, Ferrous Sulfate, Thiamin Mononitrate, Riboflavin, Folic Acid), Water, Unbleached Whole Wheat Flour, Sugar, Yeast, Soybean Oil, Contains 2% or Less of: Salt, Dough Conditioners (Distilled Mono and Diglycerides, DATEM, Enzymes [with Wheat Starch, Ascorbic Acid, Calcium Peroxide]), Peanut Butter: Peanuts, Sugar, Contains 2% or Less of: Molasses, Fully Hydrogenated Vegetable Oils (Rapeseed and Soybean), Mono and Diglycerides, Salt. Grape Jelly: Sugar, Grape Juice, Contains 2% or Less of: Pectin, Citric Acid, Potassium Sorbate (Preservative).
Example ingredients in the nut butter Uncrustable I make (note it is also organic): Seed Bread: Organic whole wheat (organic whole wheat flour, organic cracked whole wheat), water, organic Good Seed® grain and seed mix (organic whole flax seeds, organic sunflower seeds, organic brown sesame seeds, organic black sesame seeds, organic ground whole flax seeds, organic steel cut oats), organic cane sugar, organic wheat gluten, organic oat fiber, contains 2% or less of each of the following: organic molasses, sea salt, yeast, organic vinegar, organic cultured wheat flour, enzymes, organic acerola cherry powder. Peanut butter: Peanuts. Jam: Blueberries and chia seeds.
It doesn't even compare! These are too easy to make to not give it a try.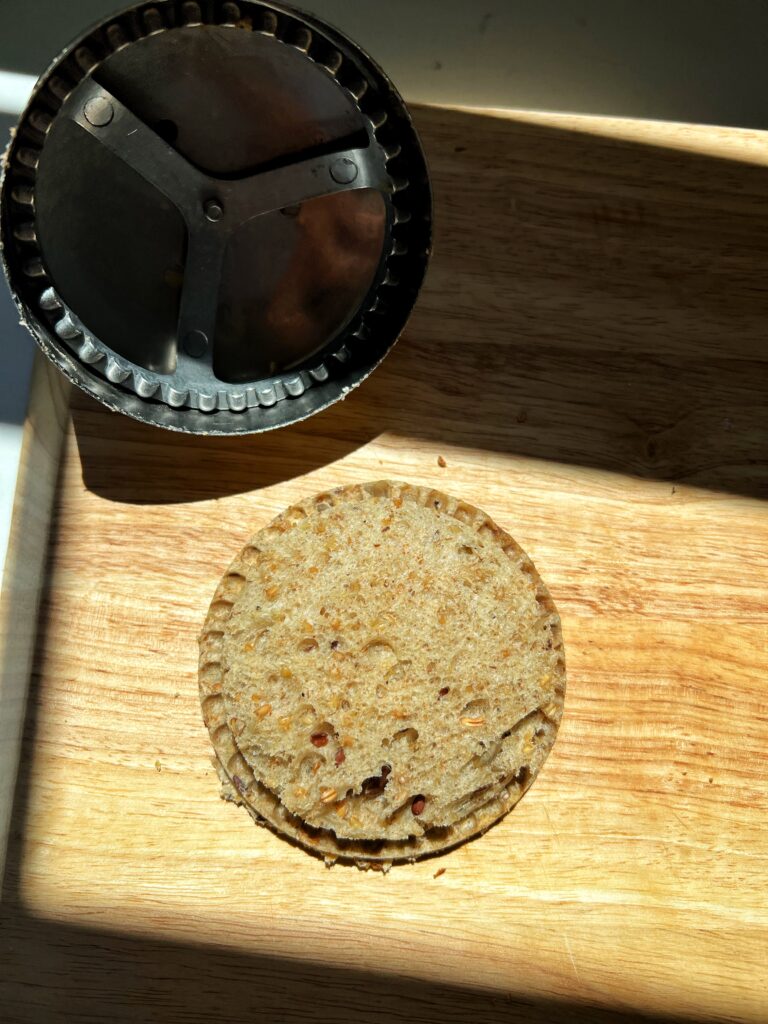 Tip on making your own uncrustables: buy this sandwich sealer. It is one of our most used gadgets in the kitchen!
And if you don't have a sandwich sealer, use cookie cutters if your kids don't like crust. Then seel the bread with a fork. Don't forget to eat the crust too! We never let it go to waste here.
Our go-to Uncrustable sandwich combinations:
Tuna salad sandwich: wild-caught canned tuna with organic mayo, dijon chopped celery, carrot and onion (omit the veggies if your kids don't like – my 3 year old loves!)
Pizza uncrustables – a MUST try!!
Hummus, sliced carrots, olives and cucumbers: feel free to add in any veggies your kids like. My kids love a Mediterranean-type sandwich
Nut or sunflower butter + banana: this is what we do to switch things up from jelly/jam! Also add a sprinkle of cinnamon too
Mashed avocado with chopped chicken and veggies and cheese
Nut or sunflower butter + jam: I love making my own chia jam. And you can use any nut or seed butter you guys enjoy!
Cream cheese + jam: kind of like a tea time sandwich!
Thinly sliced hard-boiled egg: I like to mash it with some mayo and avocado too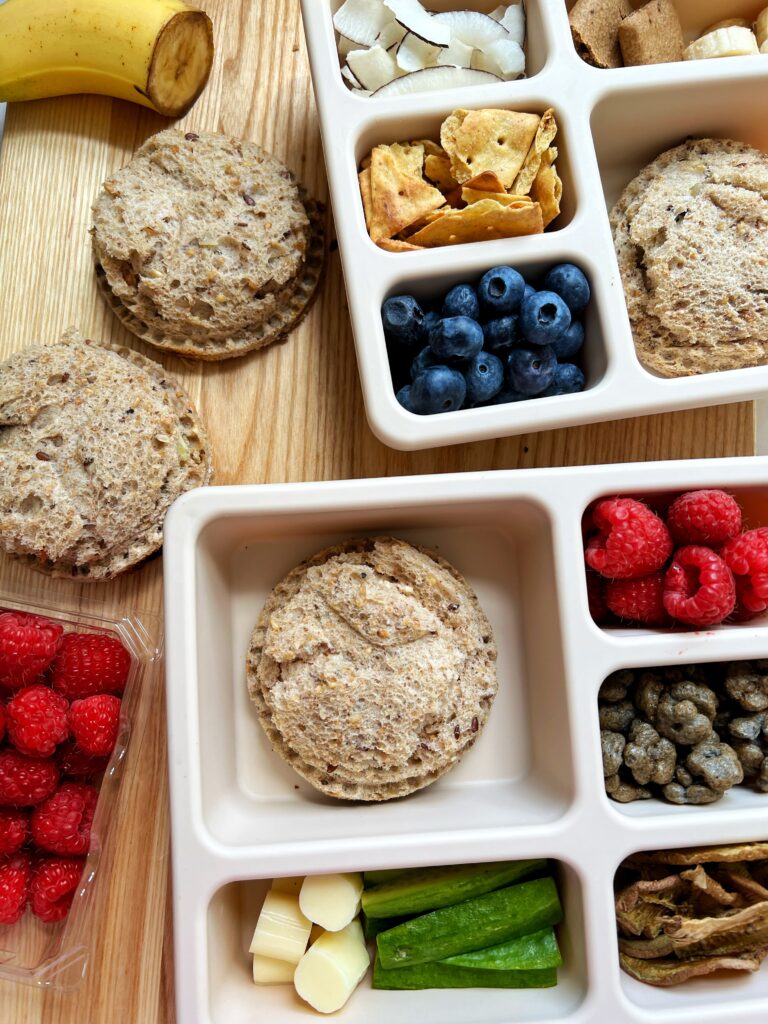 How to store in these in the fridge or freezer:
The only combination we freeze are the nut or seed butter with jam. For this, wrap in plastic wrap and keep in freezer for 2 months. Take it for lunch in morning before school and by lunch, it is soft and ready to eat!
We store the other sandwiches in the fridge for 3-5 days. I am mindful of packing the avocado one first so it doesn't brown then the hummus, tuna, followed by the seed/nut butter combos.
Best tips for Uncrustable success:
Switch up the sandwich combinations each week so your kids don't get sick of them!
Include your kids in the making of these. My 3 year old loves to help put them together and pick out his "toppings:
We look for organic bread with little added sugar whenever possible and it should be a soft bread and gluten-free works too!
Pack the sandwich with go-to snacks like fresh fruit, crackers, olives, cheese, veggies, anything your kids like and is school-approved
Have Leftovers crust? make breadcrumbs!
Enjoy fam!! x