Ezra's Favorite Things // 21 Month Check In
Can someone please explain to me how my bubba is 21 months old already?! I want to say how he has the biggest personality and wears his heart and emotions on his sleeve. But to be honest that has been him since day one.
Ez is the most energetic, passionate and mushy bubs. He runs over to us and gives us hugs and kisses. He puts his hands on my face like he wants to smooch my lips. He runs over to his nanny the moment she comes in in the morning and hugs her. And he is just full of life and love and while he giggles and laughs like crazy – he also screams and cries like there is no tomorrow. See? Wears his emotions on his sleeve. But I wouldn't have it any other way.
I have rounded up a few of his current favorite things. I loving doing these kinds of posts for you guys and all my mamas and aunts and whoever else are shopping for their families. These are some of Ez's fave toys and also just random things he loves!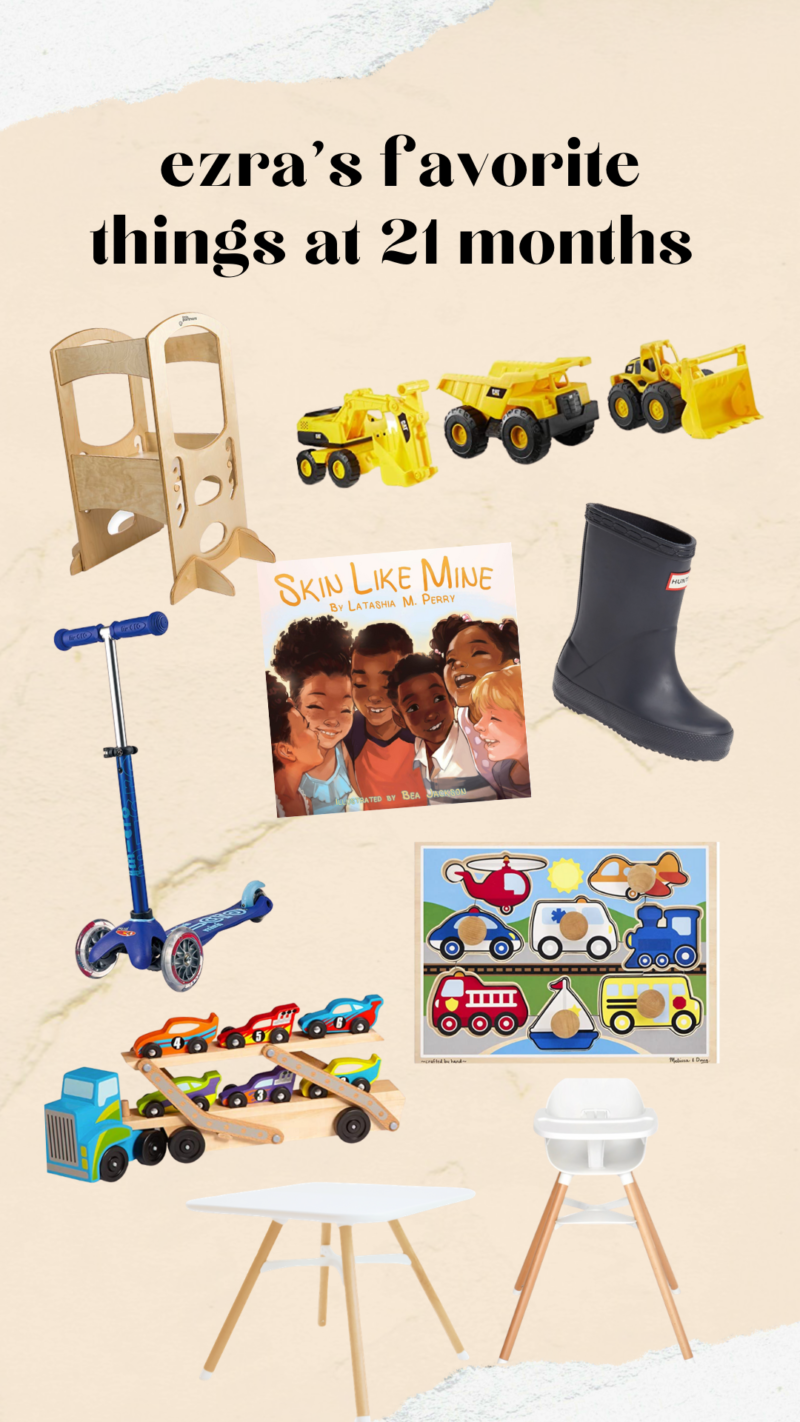 Play table and chairs // we just got this for Ezra and it has been so much fun to have a little play area for us to sit at. We color, play with play doh and do puzzles. You can tell he has such pride sitting in his chair. We love the one we ordered and it matches his highchairt hat actually can turn into another chair for the table too.
Rain boots // I kid you not when I say that Ez is obsessed with these. He loves splashing in puddles outside so naturally rain boots were the best thing to buy him.
Learning tower // Jord and I spend a lot of time in the kitchen. Ez goes absolutely bananas in there. He opens the oven, turns on the stove and opens every single cabinet. With this tower, he is higher up and at counter level. He can snack on something, play with a toy and just be with us in the kitchen without going nuts!
Play doh // I forgot we had this until a couple weeks ago and now we play with it every night. It is helping Ez learn colors too. Granted he calls each color by a fruit he loves like yellow is banana, blue is blueberries etc. but so fun to see him play with this.
Skin like mine // I ordered this book for Ez back in May and it is his new favorite. He picks it from the book shelf and hands it to us to read and it makes me the happiest.
Construction trucks // I have to hide these from Ezra because they are some of his "outdoor" toys aka so dirty and gross from the park but when he sees them in our apartment, he has to play with them. Anything that has wheels is for him.
Micro scooter // full disclosure – Ez doesn't know how to use this. He pushes it around but he loves it and calls it "vroom vroom".
Car and plane puzzle // seriously.. anything with wheels or an engine guys. He loves playing with all his puzzles but especially the ones with cars, boats, planes, etc.
Mega race car carrier // My dad bought this for Ez last week and it is his favorite. What's better than 6 cars and a big truck to haul them around? He "vroom vrooms" literally all day. These go everywhere with us.