Healthy Smash Cake perfect for your 1 year old's birthday and ready in just 15 minutes. It is vegan, nut-free and no added sugar.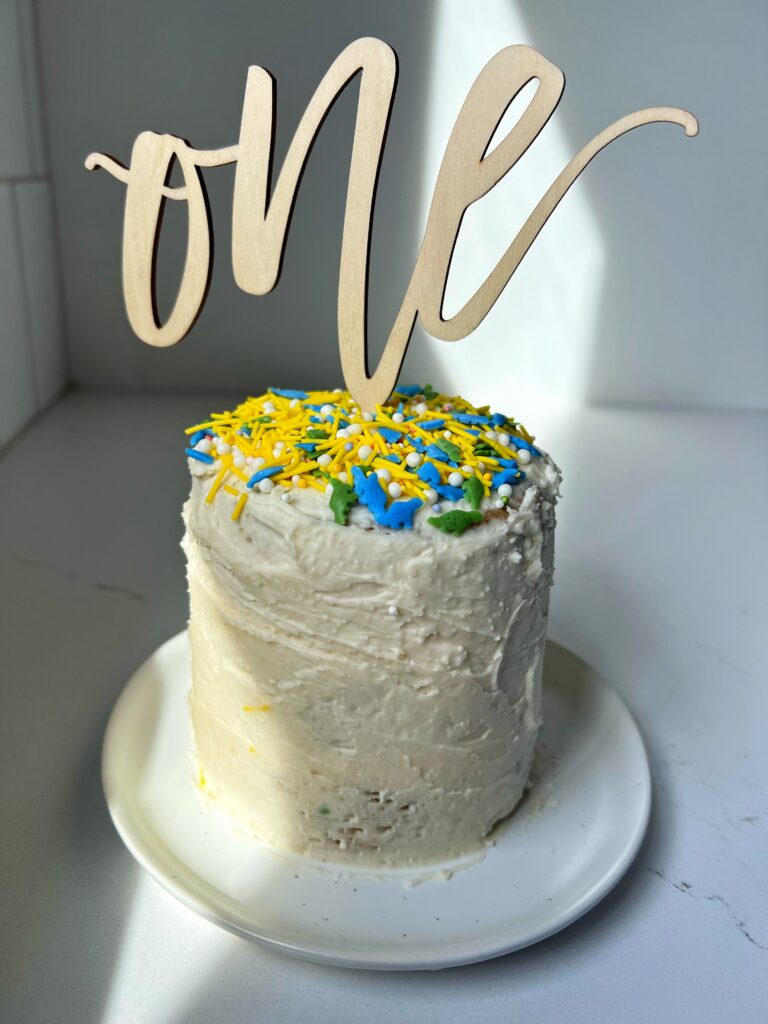 EZRA TURNS ONE BABY!
It wasn't even a question whether or not I would be making my bubba's smash cake for his 1st birthday. We are having a party here in Hoboken with friends and family and I will be making homemade rice crispy treats (classic kind with an organic twist) and we have a big cake for everyone. Then Ezra's perfect little cake that I cannot wait to see him smash.
This smash cake recipe is super easy to make and it is much healthier than store bought kinds. It is also vegan, gluten-free, nut-free and has no added sugar.
Believe me mamas and papas – I get it. We don't have time to make a cake and all that jazz. Or maybe baking is your worst nightmare. But this homemade smash cake is ready in just 15 minutes and you only need 5 ingredients. It is so simple to bake at home. And you can even cheat and buy a store bought organic frosting to make it easier. Plus I add some healthier sprinkles I found that have a pretty solid ingredient run down, I was impressed. And they taste so good!
What ingredients you need to make your own smash cake:
Ripe bananas – I like to use *just* freckled ones. Keeps things sweet but not overly sweetened.
Unsweetened organic applesauce – we don't use any other sugar here so this with the banana is just the right amount.
Non-dairy milk – I love using this flaxseed milk. Code RACHL for 15% off.
Liquid oil – you can use avocado, olive or liquid coconut oil.
Gluten-free oat flour – if you don't mind gluten then spelt flour also works.
Vanilla frosting + sprinkles – for topping! You can use any frosting and sprinkles you want.
FAQs on smash cake:
What is a smash cake? A tiny cake meant for a child to "smash" on their first birthdays. Usually they dig in with their fingers and have themselves a ball.
What is a smash cake made from? It depends on who you ask. Many of my friends have used a regular cake with sugar, etc. I personally like to use this banana-sweetened on to keep things lower in sugar. But the frosting does have some powdered sugar in it.
Can you prep a smash cake ahead of time? Absolutely! I made mine the day before the party.
A few of my other favorite birthday party desserts:
Epic Browned Butter Funfetti Rice Crispy Treats
The BEST Vegan Funfetti Sugar Cookies (paleo)
Damn Good Paleo Chocolate Cupcakes Recipe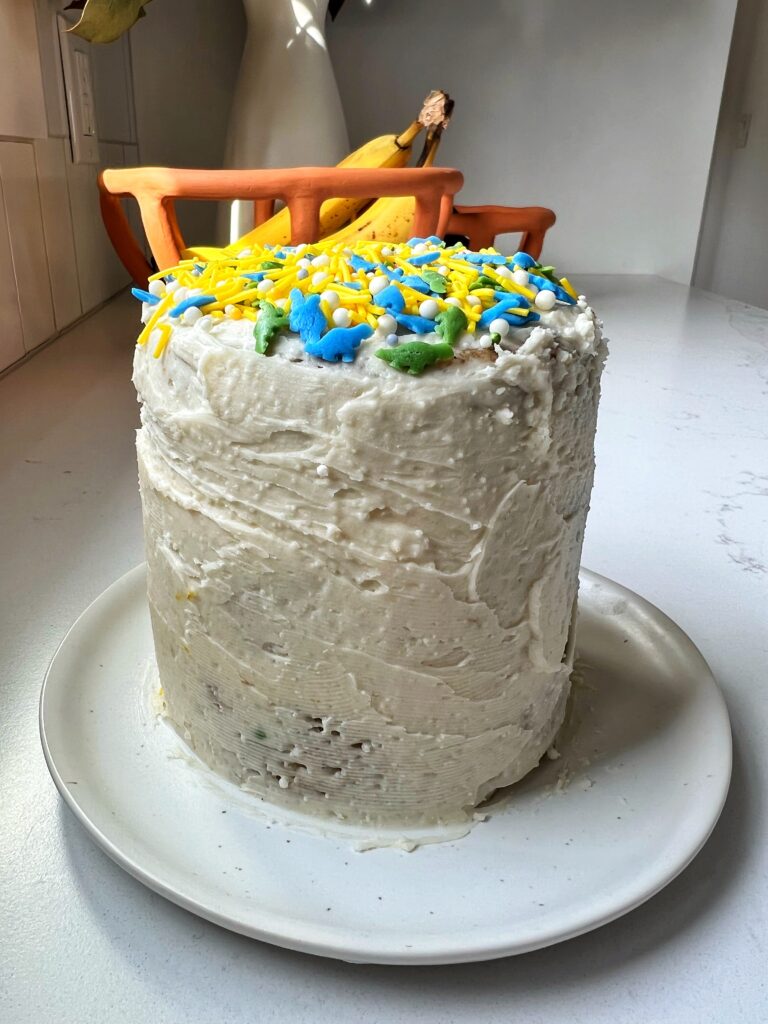 Print
Healthy Gluten-free Smash Cake (no added sugar)
Sharing the easiest Healthy Gluten-free Smash Cake that is vegan, dairy-free and egg-free and nut-free.
Prep Time:

5 mins

Cook Time:

15 mins

Total Time:

20 mins
Instructions
Preheat oven to 350 degrees and grease 3 4-inch round cake pans
In a large bowl, mash the bananas then add in the applesauce, milk and coconut oil and mix well
Mix in the oat flour, baking powder and cinnamon until smooth and well combined
Evenly distribute cake batter to pans and bake in oven for 15 minutes or until ready (I stick a toothpick in)
Allow the cakes to cool completely then gently remove one cake from pan and add to plate and spread frosting on top then add additional cake and repeat for the remaining cakes
Frost the cake in its entirety then add sprinkles if desired
Notes
*This cake will stay good for 3-4 days (I recommend keeping in fridge)
xx, Rach