Grain-free Peanut Butter Cookie Brownies made with all gluten-free, dairy-free and refined sugar-free ingredients!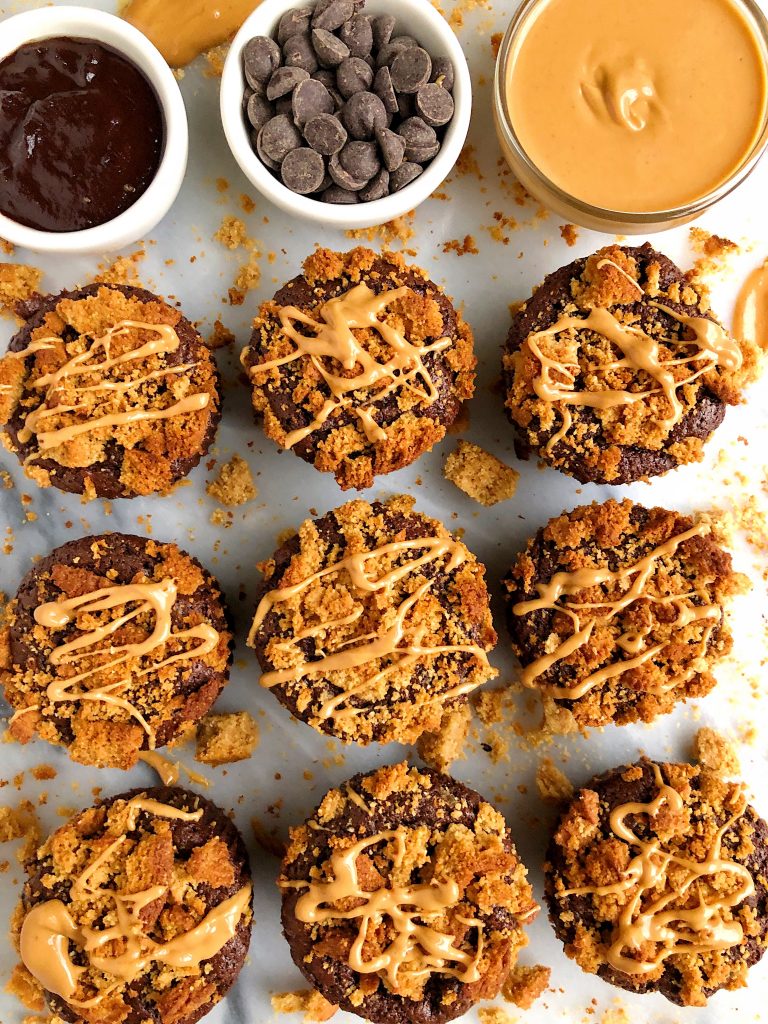 Remember when we made those Gluten-Free Chocolate Chip Cookie Brownies aka "brookies" and everyone started to go crazy?!
Ya, we are back today with a NEW brookie recipe for you. Except this time there are a few new twists on the original recipe I shared.
For starters, this recipe is about 85% brownie and 15% cookie. I wanted to make something a little more decadent and chocolate-y than the usually half cookie/half brownie portion in a brownie cookie recipe. Plus the brownie in this is a lot fudgier than usual. It's almost like a moist cake of sorts and when you bake it in cupcake/muffin form, it really makes it even more cakey than I imagined – I am obsessed!
This healthy brownie recipe is grain-free, gluten-free and dairy-free and SO fudgy.
I use a mix of almond flour, cacao powder and melted dark chocolate (along with a couple other goods) to get that extra dense and chocolate-flavor.
But now let's chat about the peanut butter cookie topping. Some may say this is "cheating" but I personally think this is one of the smartest baking hacks ever. There comes a time when you are in a rush or just don't feel like making cookies from scratch and I don't blame you. As a soon-to-be Mom, I have a feeling that will be the new normal over here.
What are these epic grain-free peanut butter cookies on top?!
On top of the brownies, I used my absolute favorite soft-baked cookies from Simple Mills. Their Soft-Bake Peanut Butter Cookies have been my #1 love for about a year now since trying them in an ice cream sundae in California for Expo West. I ate my friend's dessert at dinner because she was full and I was that obsessed with them.
These are hands down the softest store bought cookie I have ever had in my life and the ingredients are on point. Almond flour, sweetened with honey and they use all wholesome ingredients like coconut oil and everything you can pronounce! It is crazy to think I have been partnering with Simple Mills for over 3 years now but they are truly such a game changing brand. I swoon more and more over their goods everyday.
I gently crumbled a box of the peanut butter cookies on top of the brownie cups half way through baking time. They even had a little extra crunch on top and the peanut buttery flavor is too die for!
I cannot wait to hear what you guys think of this recipe. Don't forget to share with me over on Instagram if you make these Grain-free Peanut Butter Cookie Brownies.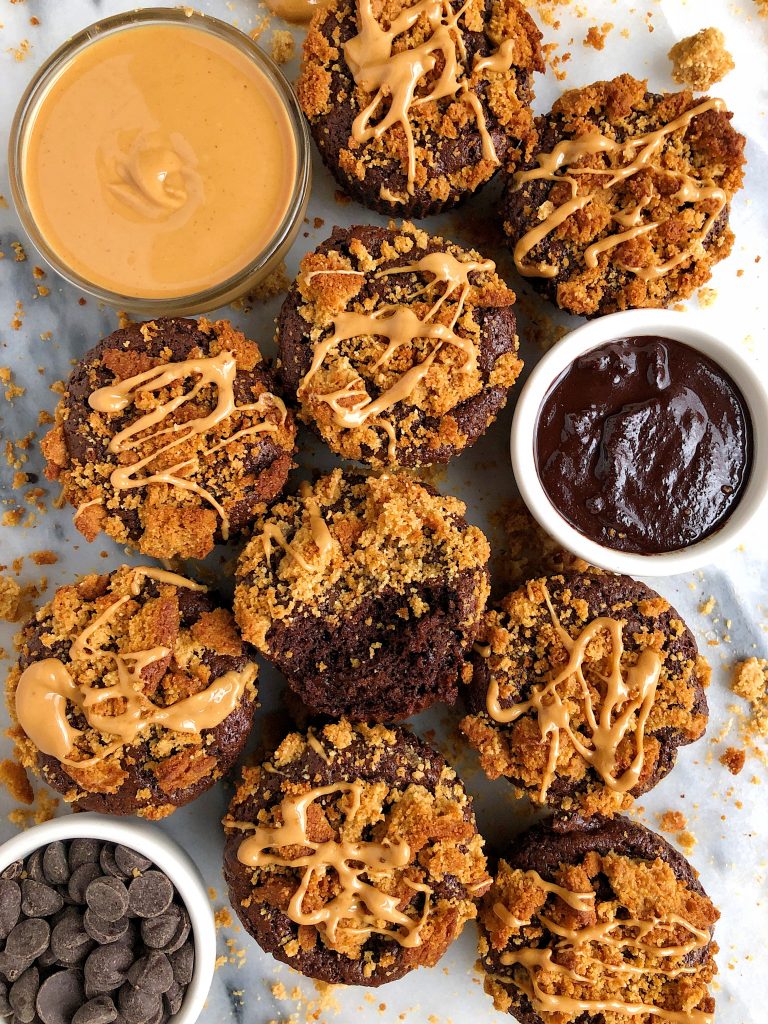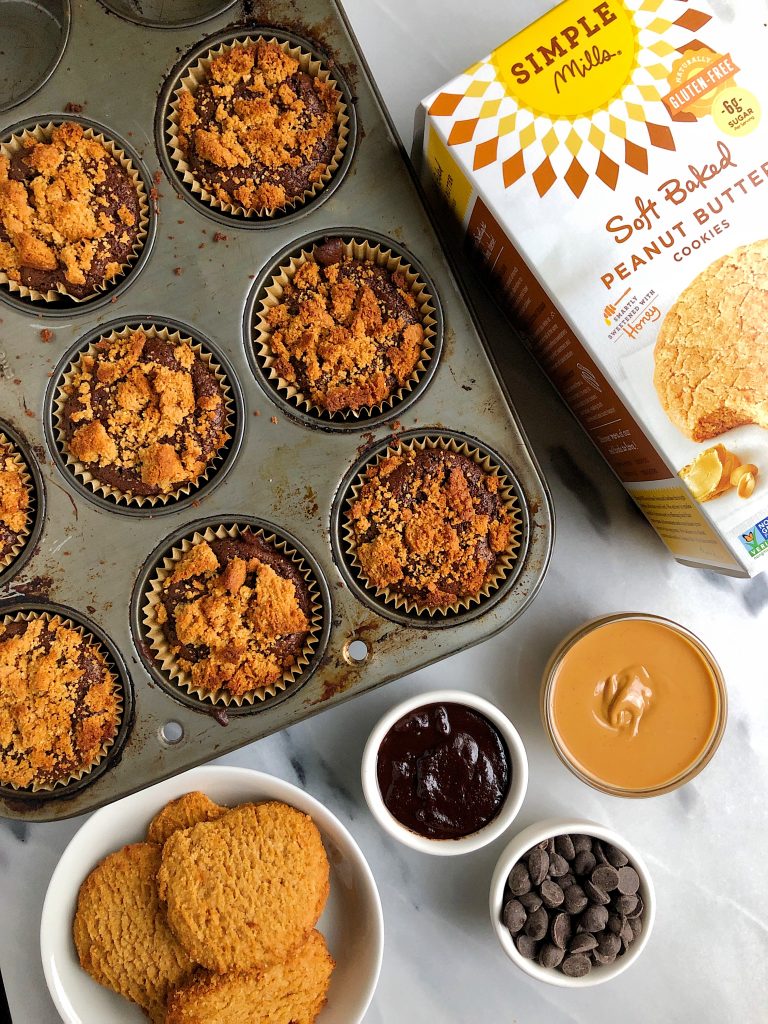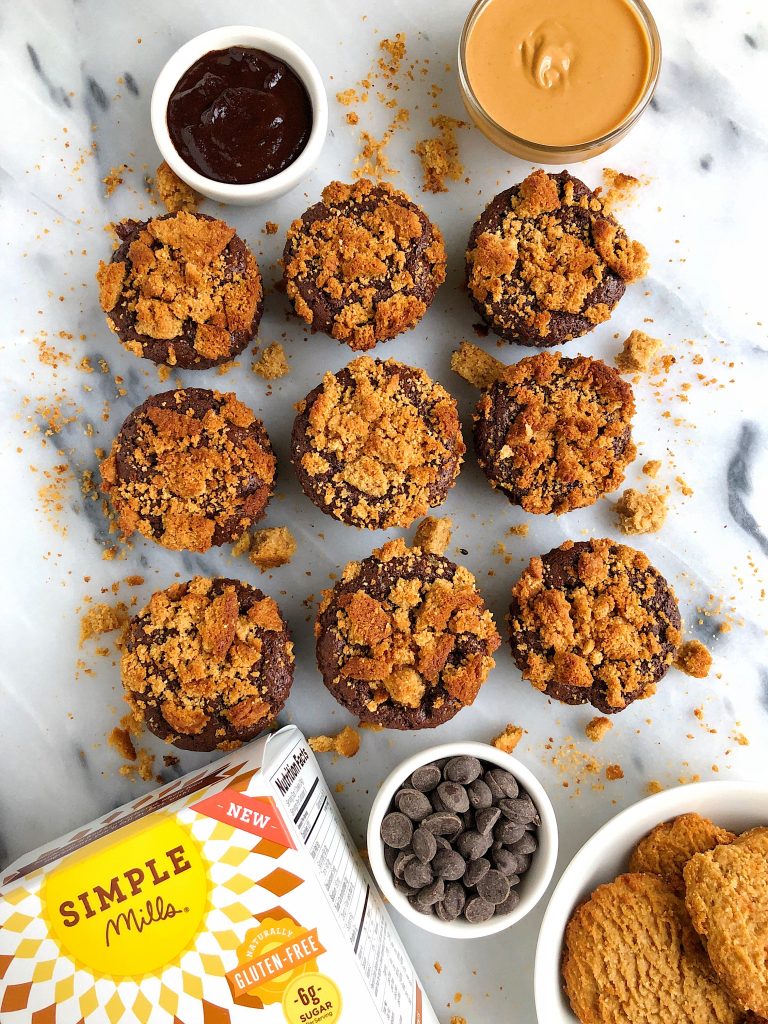 Print
Grain-free Peanut Butter Cookie Brownie
Grain-free Peanut Butter Cookie Brownies made with all gluten-free, dairy-free and refined sugar-free ingredients! These Fudgey brownie cups are topped with a crunchy peanut butter cookie topping for an extra peanut buttery flavor
Prep Time:

5 mins

Cook Time:

25 mins

Total Time:

30 mins
3/4 cup

dark chocolate chips or chunks

1/3 cup

liquid coconut oil

2

pasture-raised eggs (haven't tested flax)

3/4 cup

coconut sugar

3 tablespoons

creamy peanut butter

1 teaspoon

vanilla extract

2/3 cup

almond flour (haven't tested other flours!)

2 tablespoons

cacao powder

1 teaspoon

baking powder
Instructions
Preheat oven to 350 degrees and line a muffin tray or grease an 8×8 baking dish (both work!)
In a large microwaveable bowl, melt the dark chocolate and coconut oil in microwave in 30 second increments until fully melted (stirring each time)
Once the chocolate cools, mix in the egg, coconut sugar, peanut butter and vanilla extract unless smooth and creamy
Add in the almond flour, cacao powder and baking powder and mix until there are no clumps
Spoon the batter equally into each muffin tin or pour the batter into 8×8 baking dish
Bake in oven for 12 minutes then remove from oven and sprinkle the peanut butter cookies on top (I broke them into pieces in my hands as I did this)
Bake in oven for 13 more minutes (or until brownies are fully cooked!)
Allow them to cool for a few then enjoy!
Notes
*Store leftovers in an airtight container on counter for 3 days, fridge for 5 days or freezer for 2 months
xx, Rach
Thank you Simple Mills for sponsoring this post!