Healthier Copycat Reese's Eggs made with dates, creamy peanut butter, coconut flour and dark chocolate. A delicious homemade vegan and grain-free version of the classic.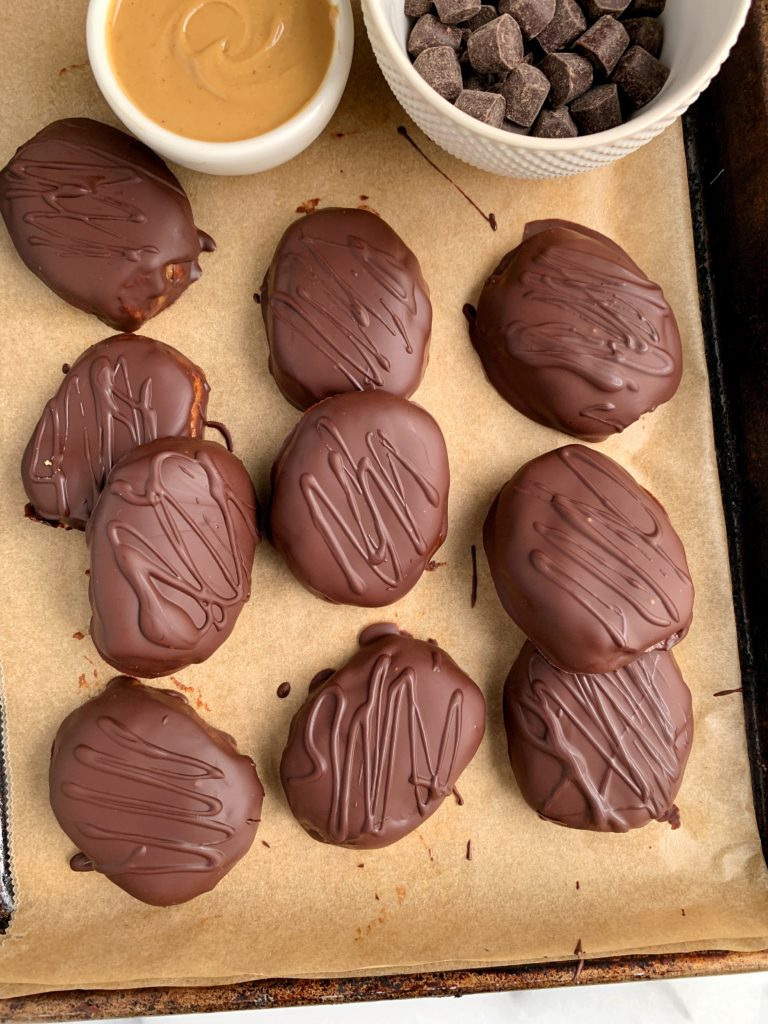 Copycat Reese's Eggs! I almost feel like we don't even need a blog post for this recipe. Reese's anything is the absolute best. Really anything that has chocolate and peanut butter involved.
Plus we also love a good healthier spin on the classics like those Paleo Homemade Tagalong Girl Scout Cookies and 5-ingredient Copycat Peanut Butter M&Ms. A couple years ago I made some Dark Chocolate Peanut Butter Caramel Eggs and they turned out to be one of personal favorite candies to make at home. And don't get me wrong – these aren't meant to replace those, but give us another version and way to make some delicious Reese's type recipes using different ingredients that we have on hand.
These healthier copycat Reese's Eggs are vegan-friendly, gluten-free, grain-free and made with 4 key ingredients.
Okay, so let's just cut to the chase, shall we? We don't need to chit chat over the obvious and talk about why these are so good. We know this is the best combination ever and let's run through what we need to make these healthy Reese's eggs.
What we need to make these grain-free Reese's Eggs:
Dates – I use pitted dates here. Make sure they are a little soft (don't need to go crazy over it). Soak in some hot water then strain if you need these to be softer
Creamy peanut butter – this is the BEST peanut butter to use!! If you have a peanut allergy – use any creamy nut butter
Coconut flour – I use oats in this recipe if you don't have coconut flour on hand. You can also use almond flour but add
Dark chocolate – I use this brand – code RACHL for 20% off! Or snag it on amazon.
FAQs about making copycat Reese's Eggs:
Why are Reese's eggs different than peanut butter cups? The peanut butter to chocolate ratio! There is so much more peanut butter in the egg version. Which is my personal preference. I love the chunk of peanut butter inside then the chocolate shell around the outside.
Can you make these Reese's eggs in advance? Absolutely. Make a batch and keep them in your freezer. They stay good for up to 2 months, so I also like to double the recipe to keep them on hand.
Is there an egg in a Reese's egg? NO! 🙂 It is just a fun shape for the Easter holiday.
A few of my other healthy candy recipes:
Homemade Paleo Dark Chocolate Twix Bars
Mini Gluten-free Take 5 Candy Bars (vegan)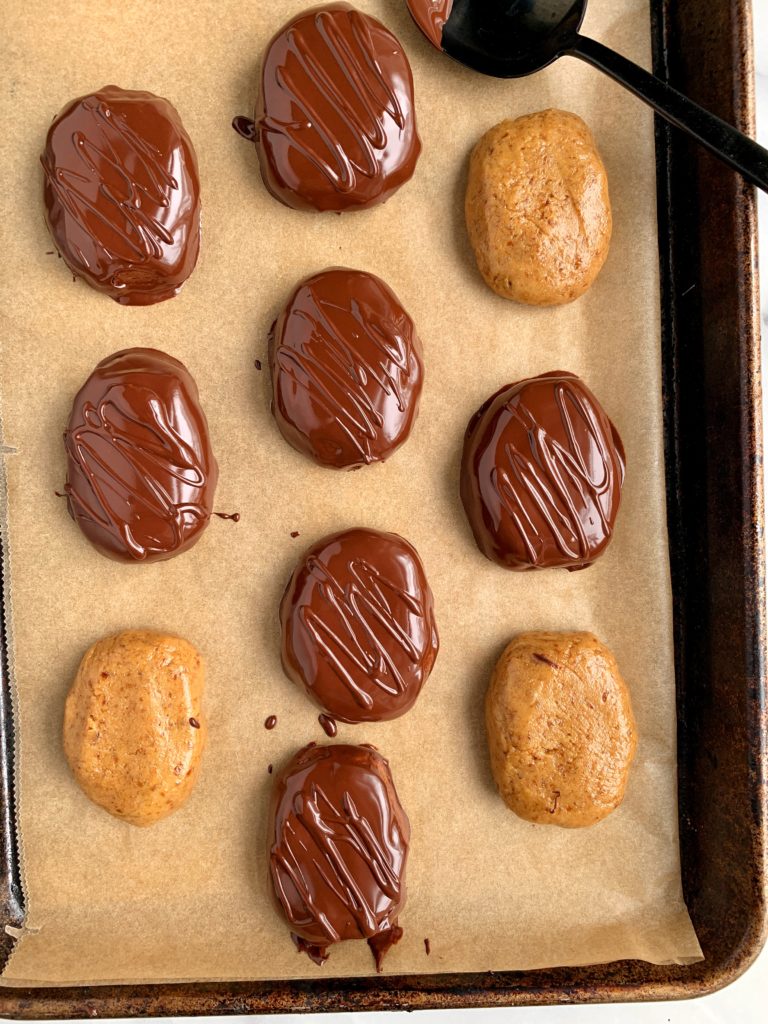 Print
Healthier Copycat Reese's Eggs (vegan + gluten-free)
Healthier Copycat Reese's Eggs made with dates, creamy peanut butter, coconut flour and dark chocolate. A delicious homemade vegan and grain-free version of the classic.
Prep Time:

15 mins

Total Time:

15 minutes
1 cup

pitted medjool dates (sof

ten

them in hot water + strain beforehand)*

3/4 cup

creamy peanut butter

1/4 cup

coconut flour (sub

1/3

almond flour)

1 cup

dark chocolate (code RACHL for 20% off)
Instructions
Add the dates, peanut butter + coconut flour to a food processor and pulse until creamy and well combined
Line a baking sheet or plate with parchment paper and take about 1-2 tablespoons of the peanut butter mixture into your hand and form into an egg
Add to tray and repeat with remaining peanut butter mixture
Add to the freezer for a few minutes and begin melting the chocolate in a small saucepan over medium heat (or in microwave)
Dip each "egg" in the chocolate one at a time and evenly coat the egg then place back onto the tray
Drizzle any extra on top and add the eggs to the freezer or fridge to set
Store leftovers in the fridge for 5 days or freezer for 2 months!
Notes
*If you don't have any dates on hand, please use these ratios: 1/3 cup + 2 tablespoons coconut flour (or 1/2 cup almond flour),3 tablespoons maple syrup, 3/4 cup creamy peanut butter)
**If you want to use oat flour, I also make these Dark Chocolate Peanut Butter Caramel Eggs