Healthier Tagalong Girl Scout Cookies made with just 6 ingredients. These copycat girl scout cookies are gluten-free, vegan and no refined sugars.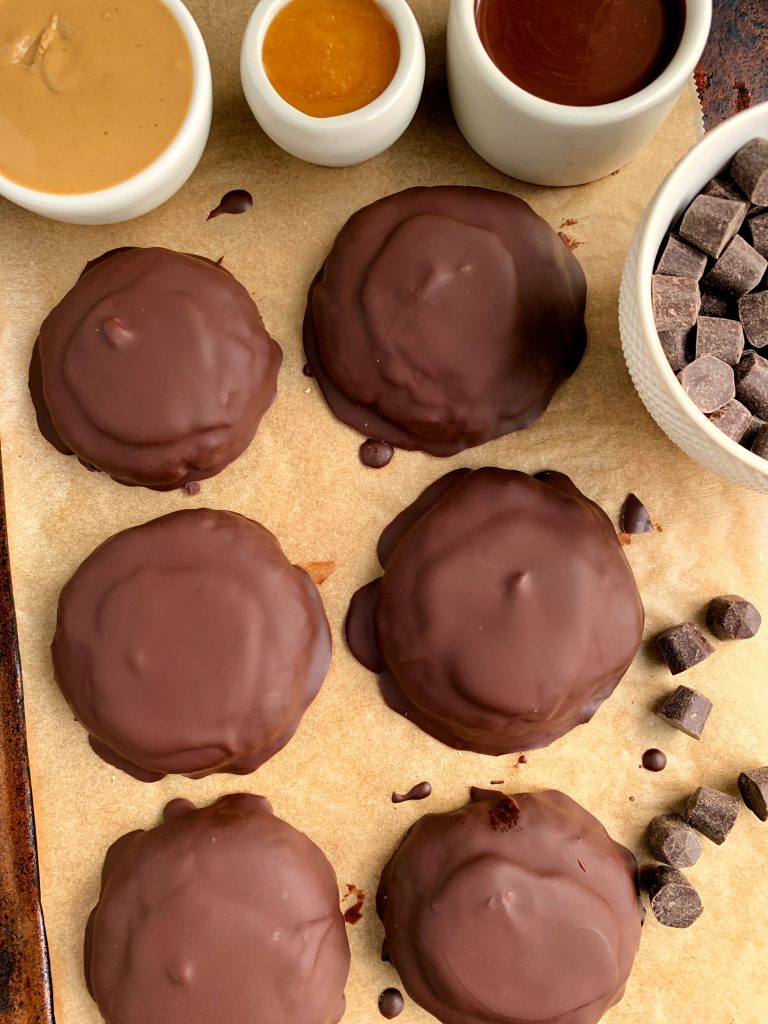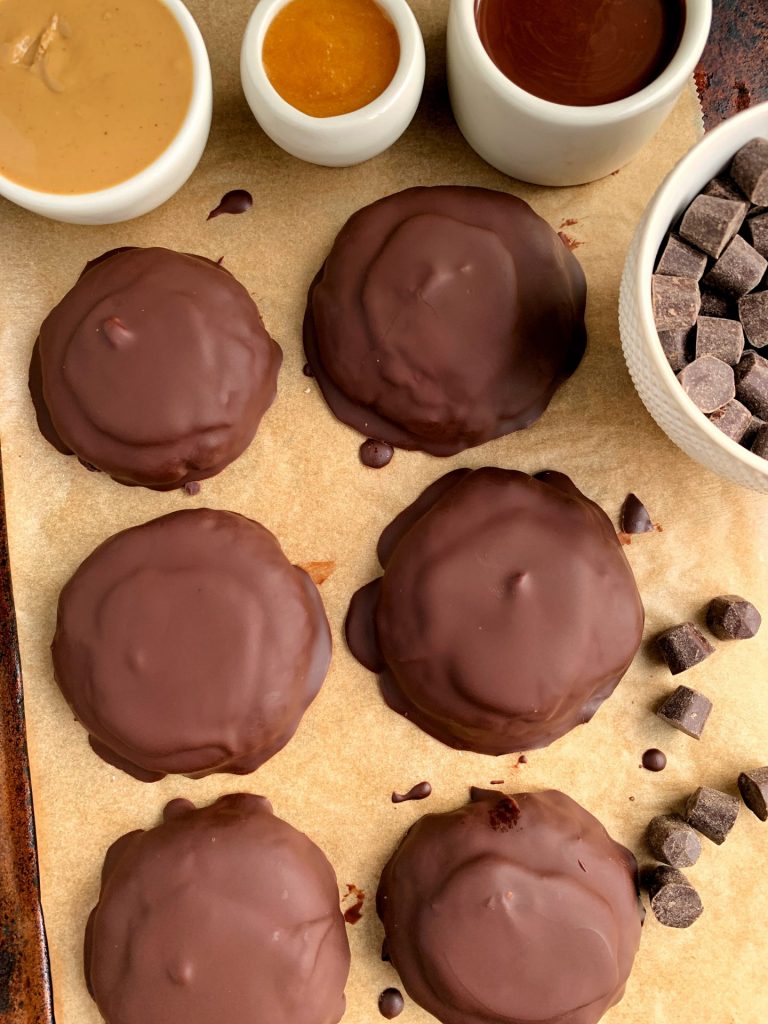 Ever since I shared those healthy copycat Thin Mint Girl Scout Cookies, I have been planning more and more cookies of theirs to replicate.
I used to love the Tagalong cookies and they are by far my personal favorite. But who is actually surprised? Chocolate + peanut butter + cookies – okay FAB.
These homemade Tagalong Girl Scout Cookies are a healthier version of the classic.
I am pretty sure all of my girl scout cookies lived in the fridge or freezer when we had them in the house. I don't know what it is about their cookies that they taste even better cold. Just like these copycat Tagalong cookies.
When I started to map out what the ingredients would be in these cookies, I wanted to keep things simple like usual. I also wanted to make a recipe that didn't end up with dozens of cookies. More often than not, I am the only one eating dessert around here. And while having dozens of Tagalongs sounds like a dream – I love that this recipe makes about 6-8 cookies max. It satisfies my craving for the cookies and I'm not left with so many on hand. I have zero will power around these!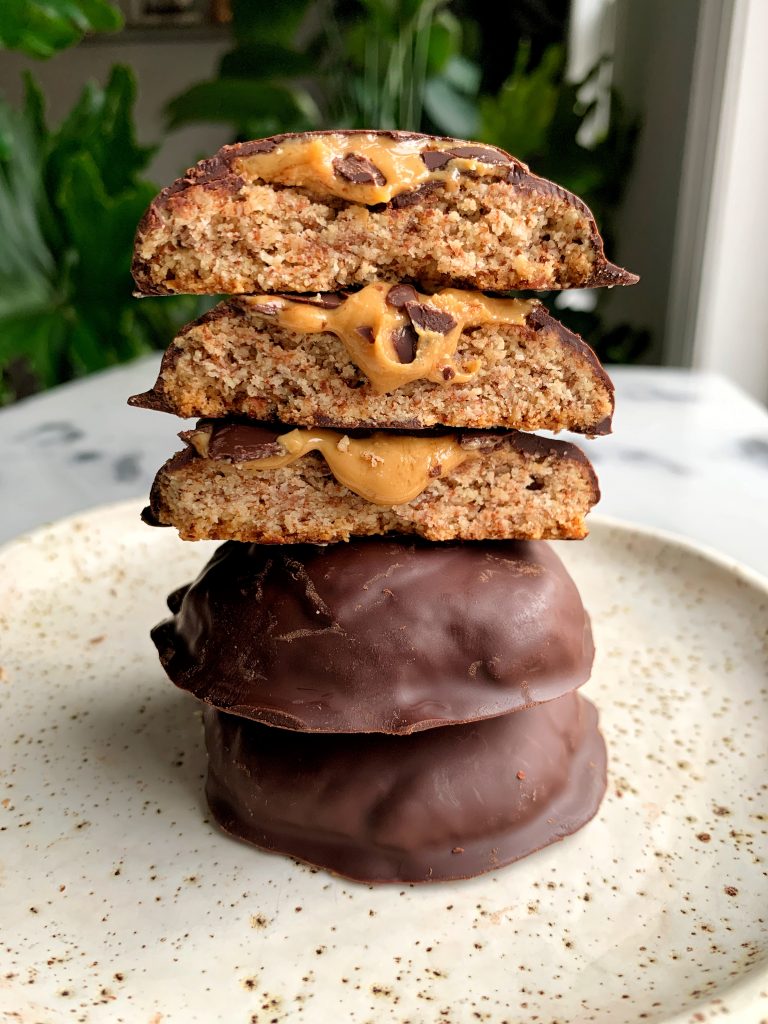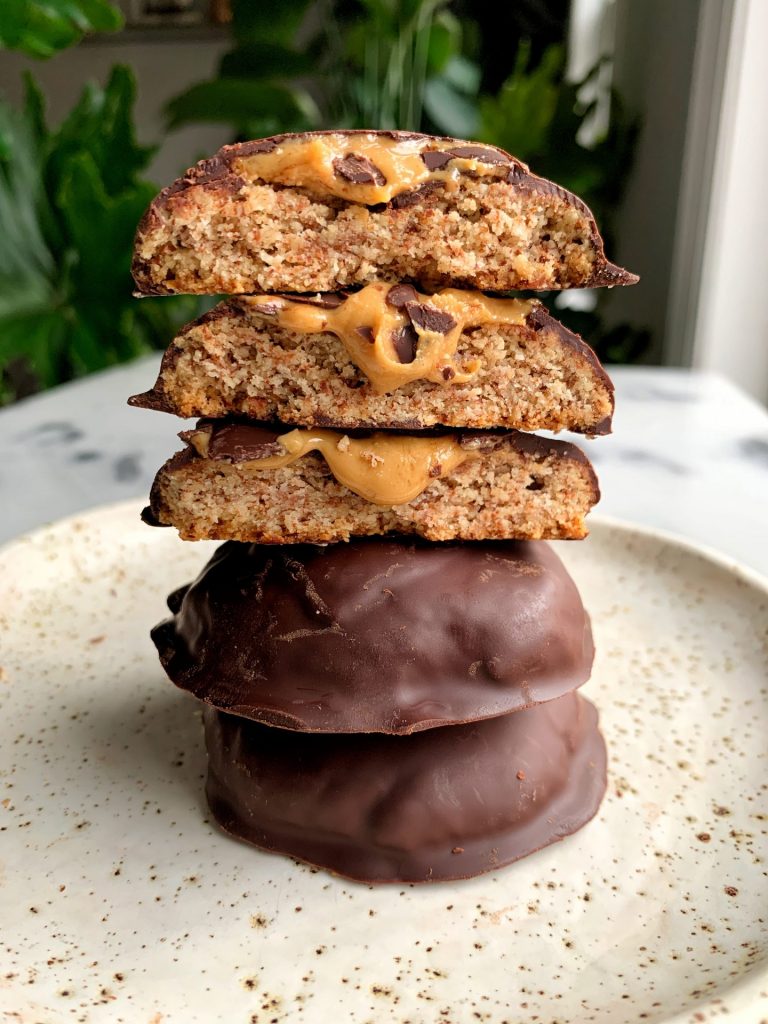 Now let's chat more about the ingredients in these paleo Girl Scout Tagalong Cookies:
Almond meal OR almond flour. I don't usually give two options to use, but either of these will work. I have made them with them both and the almond meal is a bit grainier (what is pictured here)
Maple syrup. I use this to sweeten up the cookies. You can use honey if you'd like too.
Coconut oil. Melted and cooled or just use a liquid coconut oil
Wedderspoon Manuka Honey. SO needed in combination with the peanut butter. It helps it stay sticky and also sweetens it up a little for a dreamy peanut buttery cookie center.
Creamy peanut butter. The creamier the better. And using one with some sea salt is even better too.
Dark Chocolate. I use these gems. They are amazing and melt so perfectly. Plus they have no cane sugar! Code RACHL for 20% off
FAQs about making tagalong cookies:
What cookie is a tagalong cookie similar to? Tagalongs are like a shortbread cookie with a peanut butter layer and covered in dark chocolate. It is like a peanut butter patty with chocolate.
Which Girl Scout cookies are gluten free? From my understanding – none are. Which is why I love making some at home. I am not eating gluten as much these days and Jordan is gluten-free now because he has celiac.
How long do these tagalong cookies stay good for? Store them in the fridge and keep them for 5 days or so. I like to store them in the freezer and have them on hand for whenever. They'll stay good there for 2 months.
More of my healthy homemade girl scout cookies:
Healthy Copycat Thin Mint Cookies (paleo)
Copycat Paleo Girl Scout Samoa Cookies
Gluten-free Copycat Girl Scout Do-Si-Dos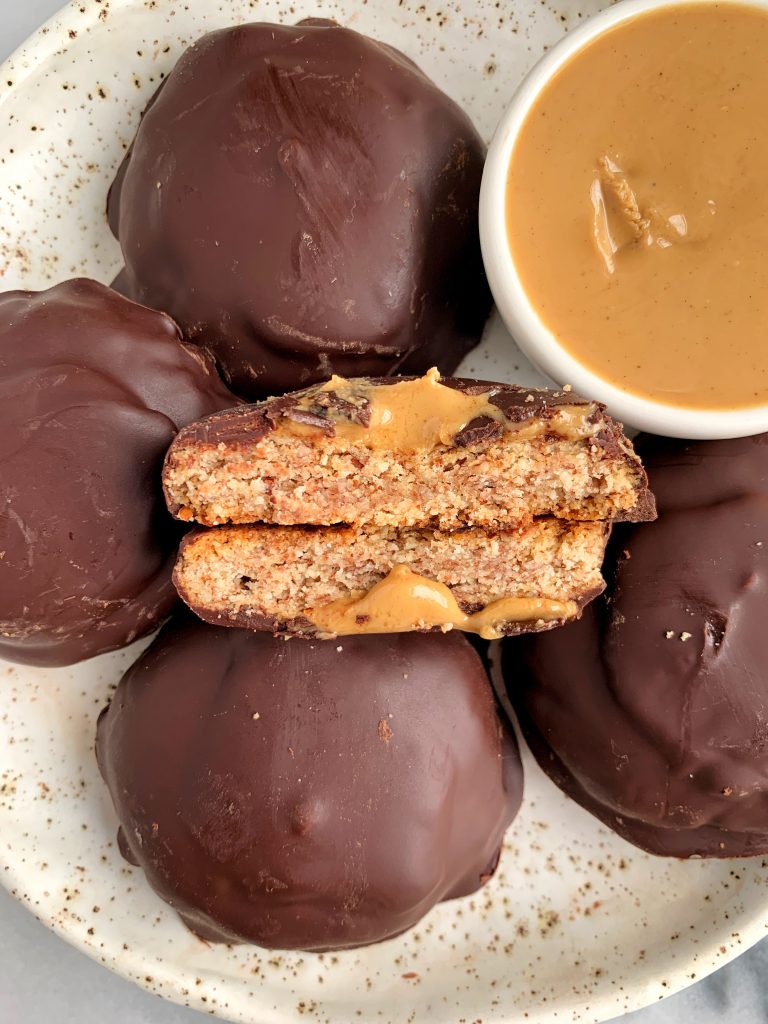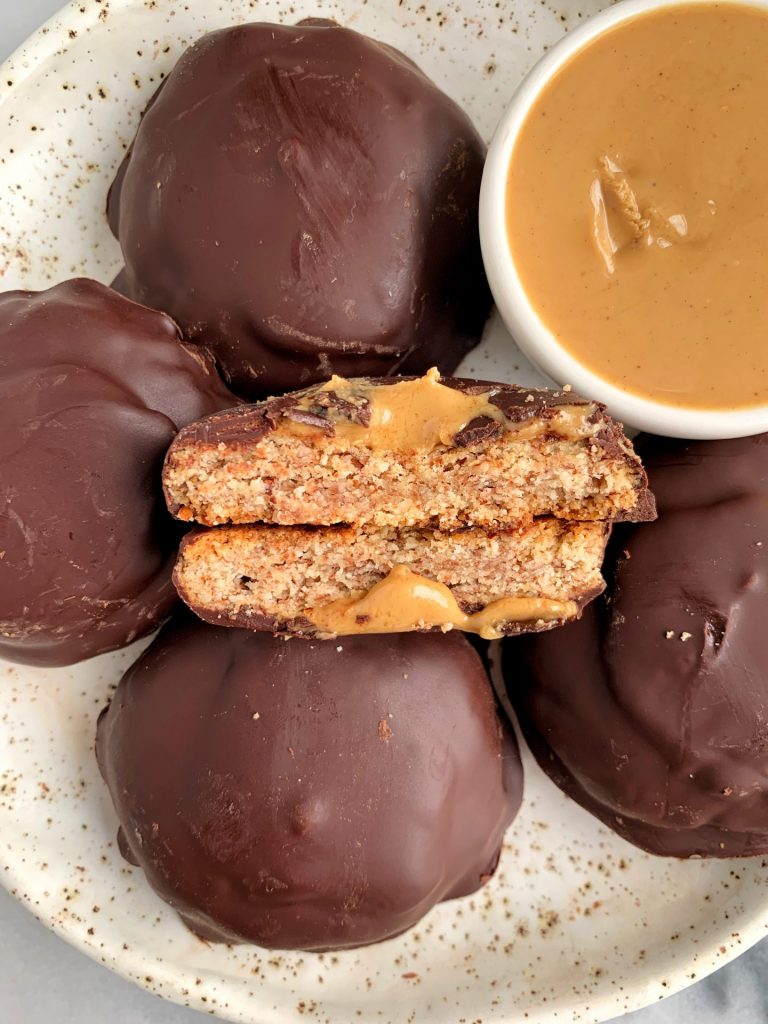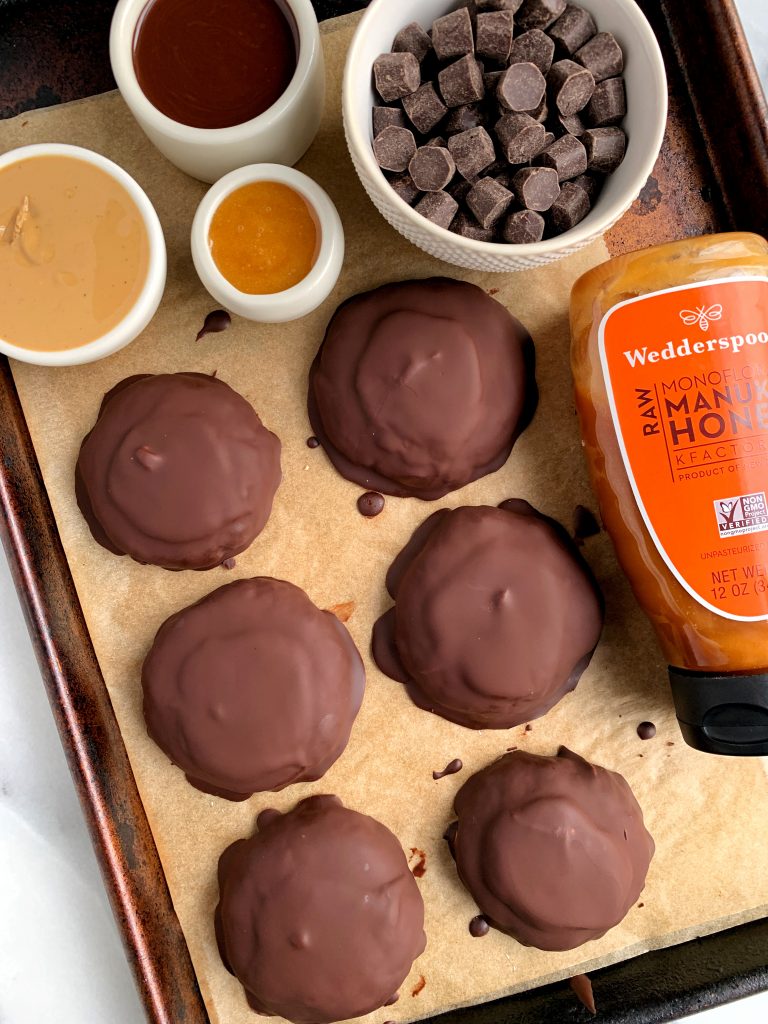 Print
Healthier Homemade Tagalong Girl Scout Cookies
The best copycat Tagalong Girl Scout Cookies! These are made with just 6 ingredients and they are egg-free, gluten-free, plant-based and have no refined sugar.
Prep Time:

5 mins

Cook Time:

15 mins

Total Time:

30-40 mins
Instructions
Preheat oven to 350 degrees and line a small baking sheet with parchment paper
In a medium bowl, mix together the almond flour, coconut oil and maple syrup
Form into cookies by rolling about 2 spoonfuls of dough into your hand and add to baking sheet
Press down slightly on top of each cookie (indent for the PB)
Bake in oven for 15-18 minutes then allow the cookies to cool for a few minutes
Mix together the peanut butter and honey in a small bowl then evenly fill each indent to the cookie and place them back on baking sheet
Add cookies to freezer for 10 minutes so the PB sets
Melt the dark chocolate in double boiler or microwave then gently dip each cookie into the melted chocolate, add back to baking sheet and set in fridge or freezer for about 20 minutes to set and enjoy!
Notes
*I haven't tested any flours besides almond flour and almond meal and they both work
**Store leftovers in fridge for 5 days or airtight container