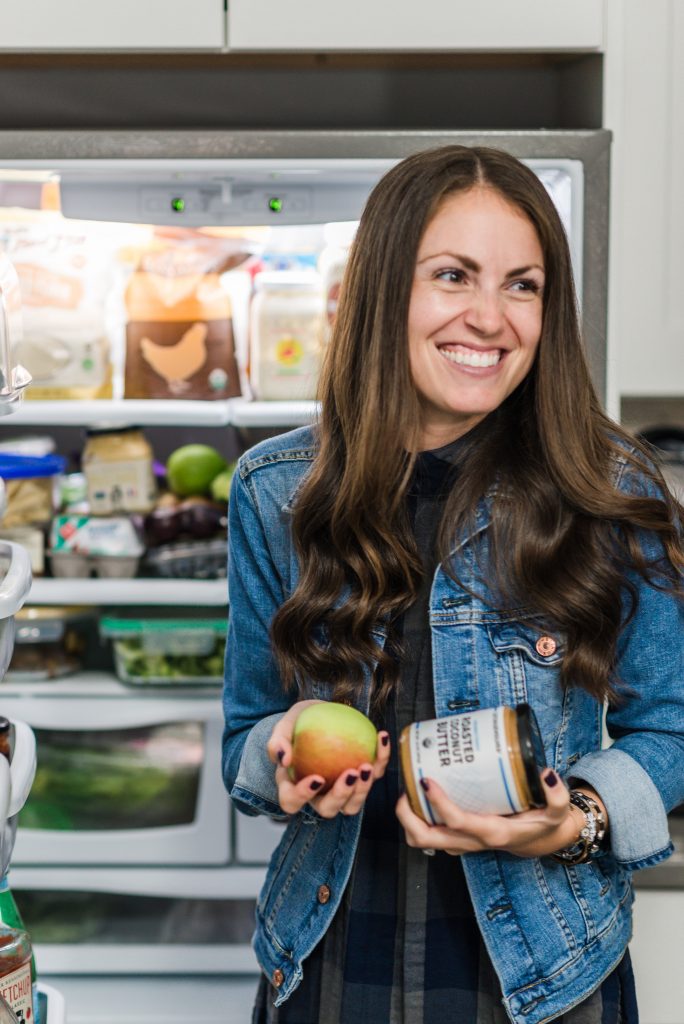 Fridge space is sacred around here.
Our refrigerator is packed to the brim at all times. I am one of those weirdos who actually get anxiety when there isn't enough food on hand (especially when it's one of my favorite products). I am also one of those odd ones who keeps everything in the fridge. Even things that aren't supposed to be in there, I add (like granolas for extra crunchiness).
I don't organize our fridge in any special way. And it is by no means even that organized. It is REAL and what works for us. I know there are some people who say to store meat on bottom, veggies on top, or whatever it is supposed to be. I personally get overwhelmed following that and focus on fitting everything where it makes sense to me, and of course where it fits best to maximize space.
Today I am walking you guys through my absolute staples in our fridge. What we have on hand 99% of the time and staples that I cannot live without. A question I get most often is "where do you grocery shop?". It is a mix of online ordering and grocery stores (nothing fancy!). I find Trader Joe's has great prices and good veggies but their apple selection stinks! I like Whole Foods for my apples and anything else I cannot find at Trader Joe's. I also go to a small grocery store in Hoboken called Basic Foods, which has amazing prices.
Let's do this. Let me know if you have any questions and HAPPY EATING!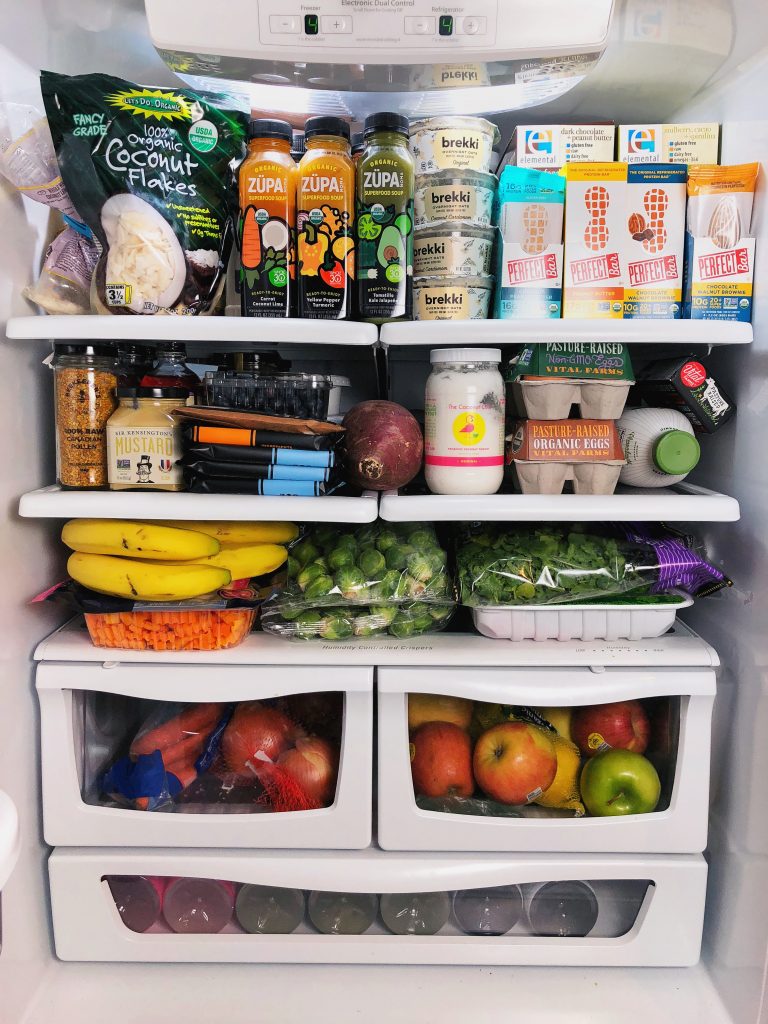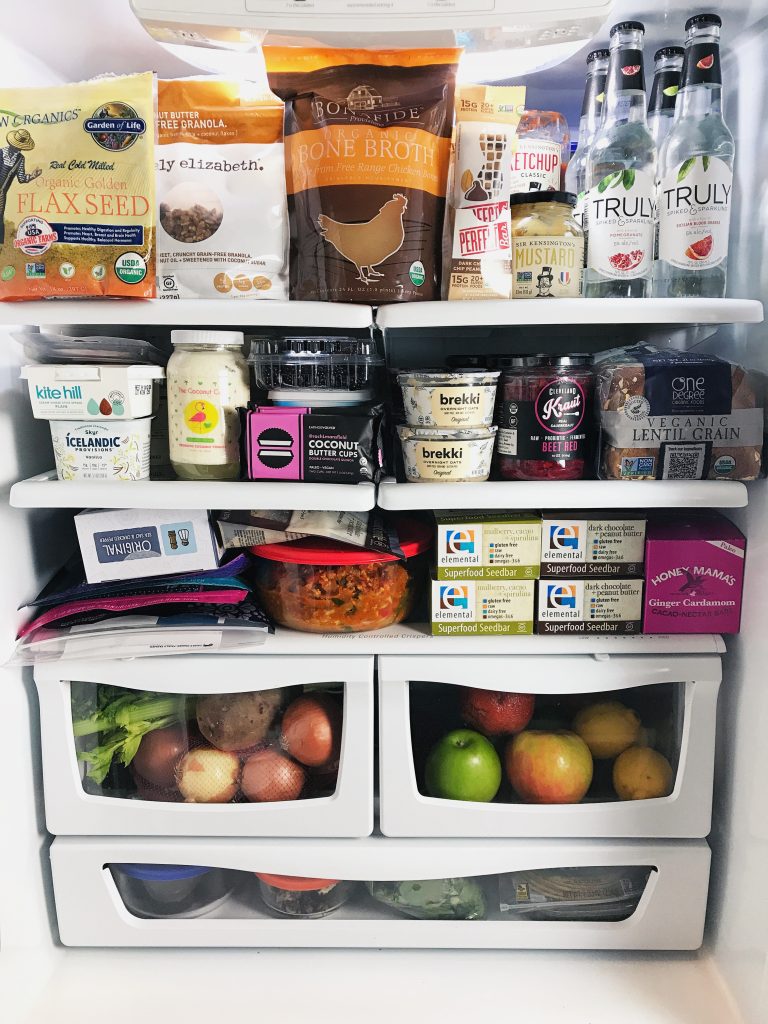 Veggies:
organic leafy greens (i love arugula, spinach and romaine the most)
organic brussels sprouts
organic zucchinis
organic carrots
organic onion
organic broccoli
organic sweet potatoes (those japanese ones are my favorite)
squash (butternut, acorn or spaghetti)
Fruit:
organic apples
bananas (they stay fresh longer in fridge)
avocados (these also stay fresh longer in fridge
organic berries (we get these
Snacks:
Breakfast:
non-dairy yogurt (anything with quality ingredients and low sugar)
brekki overnight oats (these are available in some whole foods and also online, code RACHL for 10% off!)
Beverages:
nut milk
Spindrift (find it at Whole Foods, Trader Joe's, many retailers!) my favorite sparkling water sweetened with REAL fruit!
REBBL (available at Whole Foods)
Bonafide Provisions Bone Broth (this is in all Whole Foods)
kombucha (Trader Joe's has it too!!)
spicy lemonades (I love this one – and it's sold in Whole Foods)
Proteins:
pasture-raised eggs
grass-fed meats, chicken, bacon (we order from butcher box – use this link for $15 off, free bacon and free shipping on first orders)
Random:
ZÜPA NOMA soups and shots (you can find this in Whole Foods or order online, code RACHL for 15% off). i use them as a snack or with my cooking and the shots are amazinn extra boost!
bee pollen (i sprinkle this on dessert snd breakfast bowls and on toast!)
dijon mustard (i use this on everything! eggs, salads, sandwiches)
unsweetened coconut flakes (my favorite to add to breakfast bowls and on toast)
flaxseed meal (great for baking and egg replacers!)
chia seeds (for chia pudding and egg replacers)
kimchi and kraut
grain-free tortillas (siete is the best and they're in Whole Foods or online)
grass-fed butter
sheep's and goat's milk cheese
coconut aminos (my fav soy-sauce sub)
xx, Rach
SaveSave
SaveSave