Healthy One Pot Fried Rice! This is a family favorite recipe that we make over and over again and a healthier version of takeout fried rice made with all gluten-free ingredients.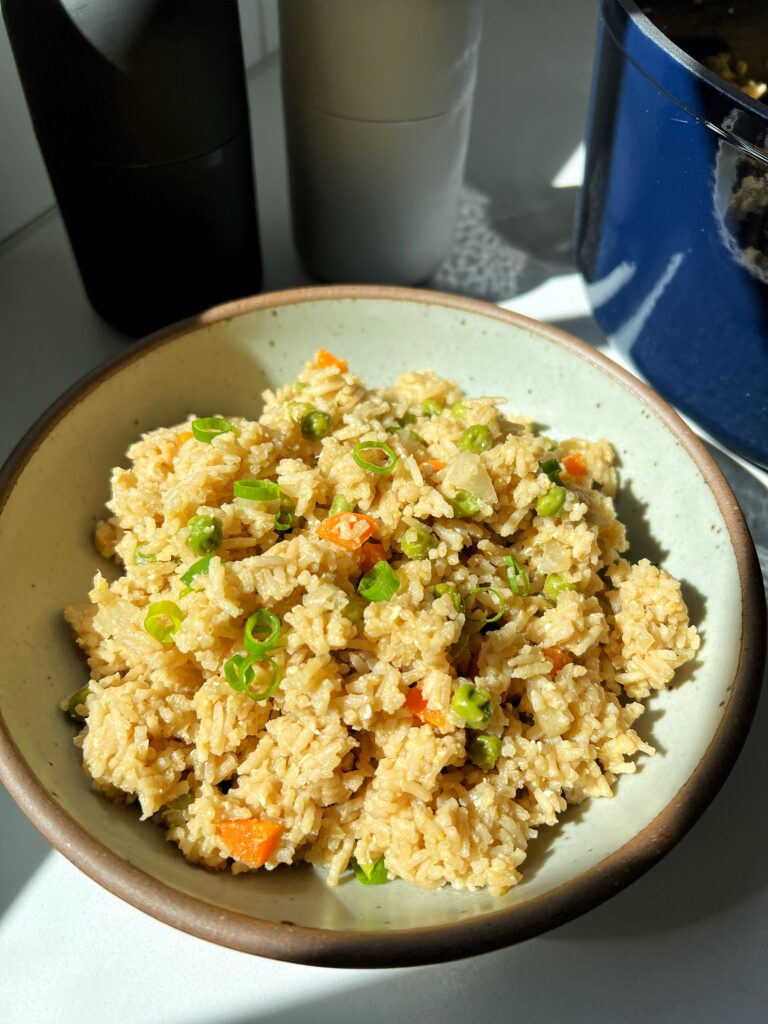 One pot dinners are LIFE. Toss a bunch of ingredients into a pot, turn around and come back in 20 minutes and BOOM baby – dinner is served.
We eat a lot of the same meals week one week here. We prep things that we know we love and the whole family will eat. And this one pot fried rice is one of them. Ezra and Brody eat it for lunch (it is school-friendly too!). Plus we also add in some cooked chicken as well for extra protein when we want to make this a fuller meal.
I also love that this recipe tastes killer cold. I don't know what it is about me and cold food. Even before motherhood – I have always loved food cold. Especially when to comes to fried rice. You can usually find me standing at the counter eating it straight from the container when I am figuring out what else to eat – ha!
What ingredients you need to make one pot fried rice:
Organic basmati rice – or your go-to rice. Brown rice would work well here too.
Cooking broth – either a veggie or chicken broth works well – code RACHL for 15% off my favorite.
Water – filtered water as well
Carrots – another veggie staple for fried rice
Frozen peas – I love sneaking these in because it's one of the only ways myself or my kids will eat peas ha!
Sweet onion -adds so much flavor here – don't omit!
Coconut aminos – we use this instead of soy sauce. I personally can't eat soy without getting crazy stomaches and this is a healthier version.
Sesame oil – you could also use avocado oil or avocado oil. But sesame adds SO much flavor to this recipe.
Eggs – you can omit if you don't do egg but great added fat and protein to the dish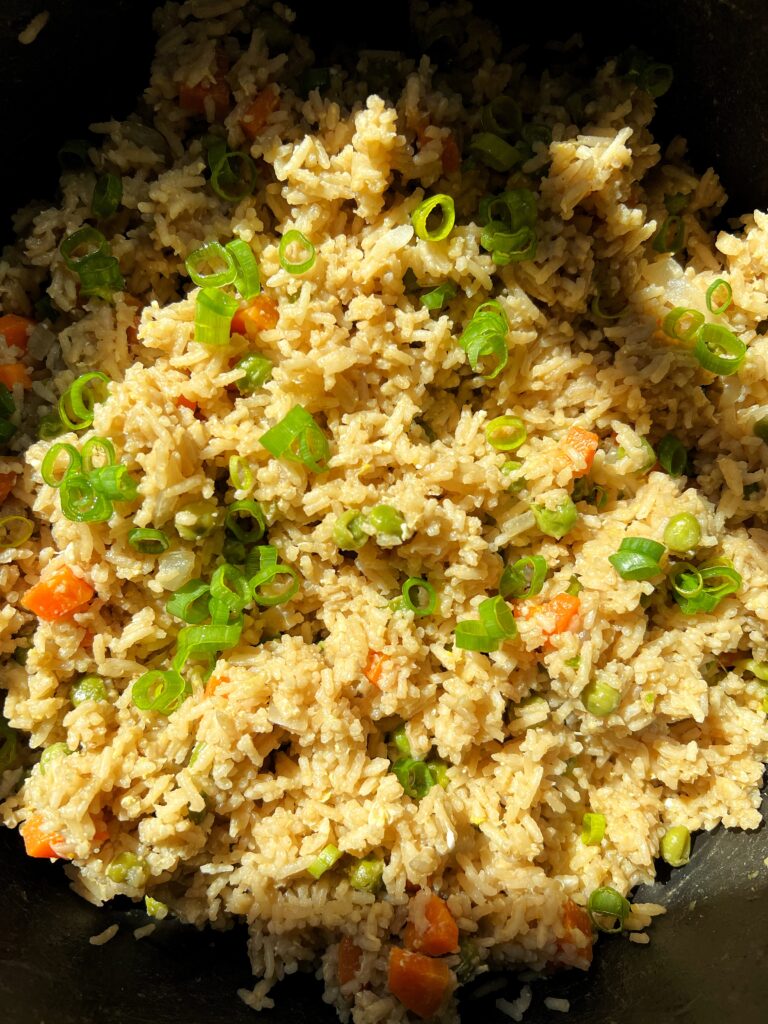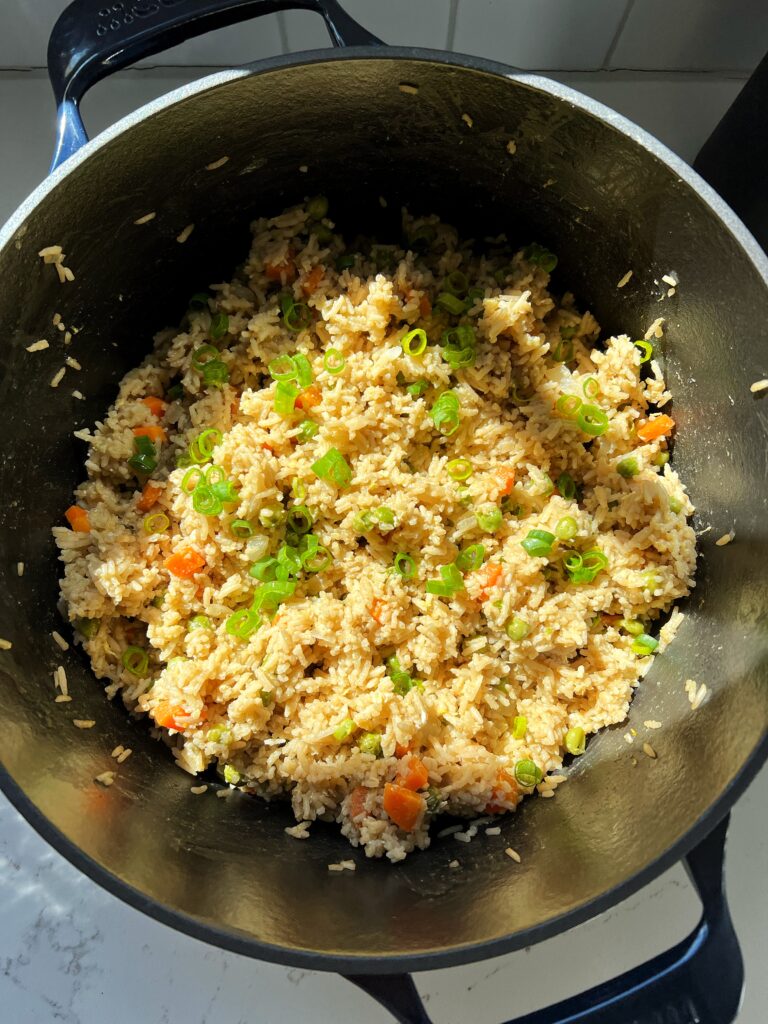 FAQs about making one pot fried rice:
How long will it take me to make this fried rice? 20 minutes start to finish! It is a really easy and quick recipe to make.
What makes this fried rice recipe taste so good? I am pretty sure it is the mix of flavors. The sesame oil with the broth and garnish of scallions is absolutely killer. Usually people make rice with water and when you cook it in broth, that helps so much make this more flavorful.
What are your favorite proteins to add into fried rice? I personally love using chicken breast or thighs here. You can also cheat and make this with a rotisserie chicken if you really want to make this a quick recipe!
How long does this recipe stay good for? 5 days in the fridge. It is a great idea to meal prep earlier in the week.
A few of other healthy takeout-inspired recipes to make:
Easy Whole30 Chinese Chicken and Broccoli
20-minute Healthy Chicken Teriyaki (paleo)
20-minute Healthy Cashew Chicken Lettuce Wraps
Insanely Good Basil Cashew Chicken Bowls (gluten-free)
Print
Healthy One Pot Fried Rice
Healthy One Pot Fried Rice! This is a family favorite recipe that we make over and over again and a healthier version of takeout fried rice made with all gluten-free ingredients.
Prep Time:

5 mins

Cook Time:

20 mins

Total Time:

25 mins
2 cups

organic basmati rice (or your go-to rice)

4 cups

cooking broth (veggie or chicken – code RACHL)

1/2 cup

water

3

large carrots, chopped

1/2 cup

frozen peas

1/2 cup

sweet onion, chopped

2 tablespoons

coconut aminos

1 tablespoon

sesame oil

2

eggs

Chopped scallion to garnish
Instructions
Add uncooked rice, broth, water, carrots, peas, onion, coconut amino and sesame oil into a large pot
Bring to a boil and then reduce to heat to low for 18 minutes
Push the rice to the sides to make a hole in the middle of the pot
Crack two eggs into the middle and begin to beat the eggs, once slightly cooked begin to mix into the rice
Add the scallions on top and enjoy!
Notes
*Store leftovers in fridge for 5 days. Feel free to reheat in microwave or on stovetop. And you can add in any cooked protein you'd like!
Author:
Keywords: rice, dinner, entree