Sharing these healthy Peanut Chicken Skewers for your new favorite dinner recipe! These are absolutely delicious and gluten-free, dairy-free and you can make them in the oven or on the grill.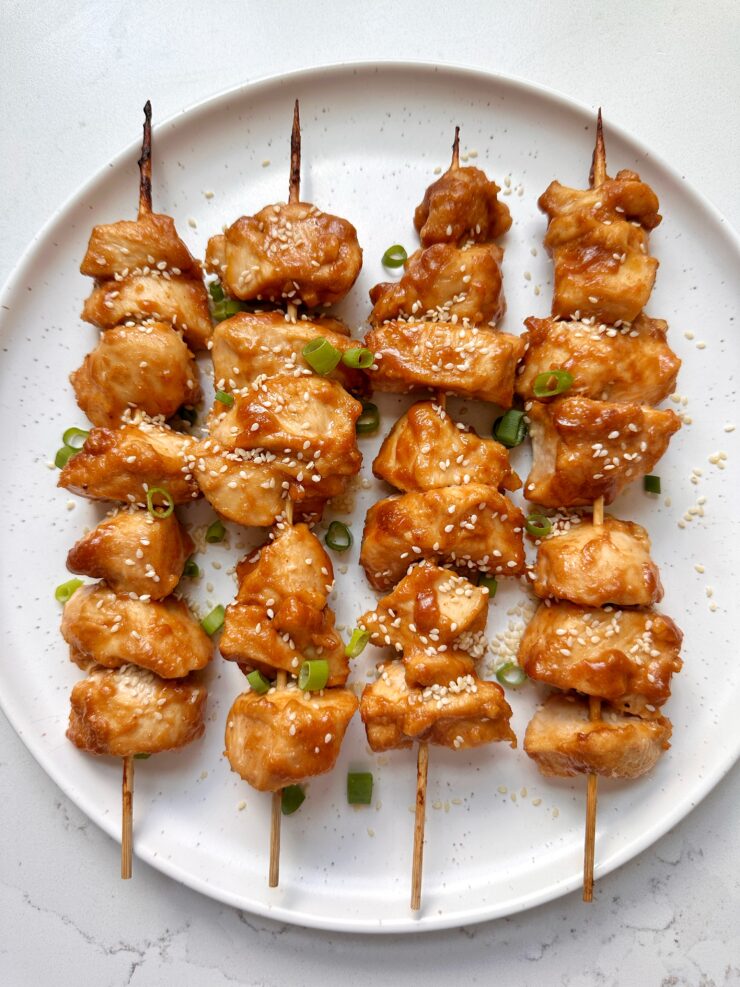 HOT DAMN EVERYBODYYYYYY! These peanut chicken skewers are everything you want and more Especially when you are looking for new ways to spice up the boring old chicken we are all tired of eating.
I am obsessed with this recipe. More so than most savory recipes and I am pretty sure that is because of how much I love peanut butter. And because of how flavorful this recipe is. It's a guaranteed crowd pleaser and even the king himself, my 2 year old, loved them.
You can serve these skewers over your favorite salad, on a bed of rice, noodles, anything you want. You can also grill them or if you don't have a grill (like Jord and I), your oven will cook these to perfection too.
I hope you guys love this recipe as much as we do and I cannot wait to hear what you think!!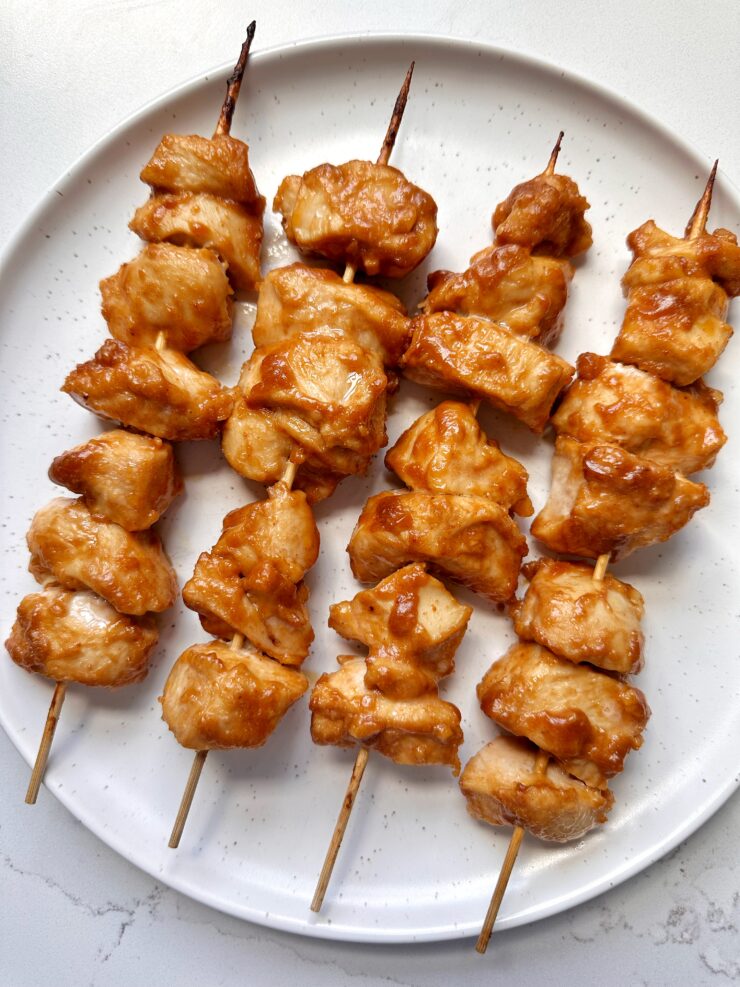 What ingredients you need to make these peanut chicken skewers:
Boneless skinless chicken thighs or breasts – cut into 1 inch cubes. I don't recommend skin-on or bone-in as it will not work!
Creamy peanut butter – a natural peanut butter like this one works best. No additives or the texture of the sauce will be off
Garlic cloves – or use garlic powder if you don't have cloves
Coconut aminos – or use soy sauce if you prefer
Sesame oil – I love using toasted sesame oil
Apple cider vinegar – I don't use another vinegar usually for this but if you don't have it, use rice vinegar
Scallions – the green part is needed here, not the white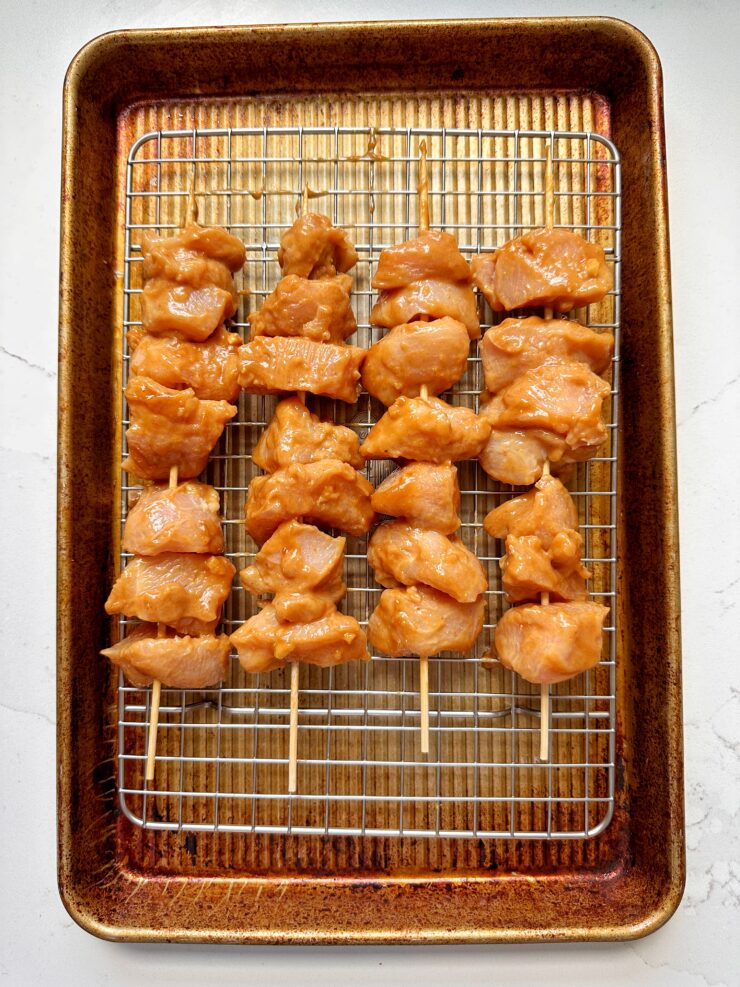 How to make peanut chicken skewers:
Mix together the peanut butter, garlic, coconut aminos, sesame oil, water and scallions in a small bowl (if too thick, warm over saucepan on low heat, stirring frequently until creamy)
In a large bowl or baking dish add the chicken and coat with the sauce and allow it to marinate for at least 2 hours or overnight (not 100% necessary but I love doing it so the flavor sets)
Once chicken is marinated, add each piece to skewers
If baking in oven preheat to 400 degrees and bake skewers on a baking sheet (I added an oven-safe cooling rack onto it so it wouldn't stick) and bake for 18-20 minutes
If grilling, cook over medium heat until the chicken is fully cooked (165 degrees F)
Garnish with extra peanuts and sesame seeds and serve with desired sides or over a salad or slaw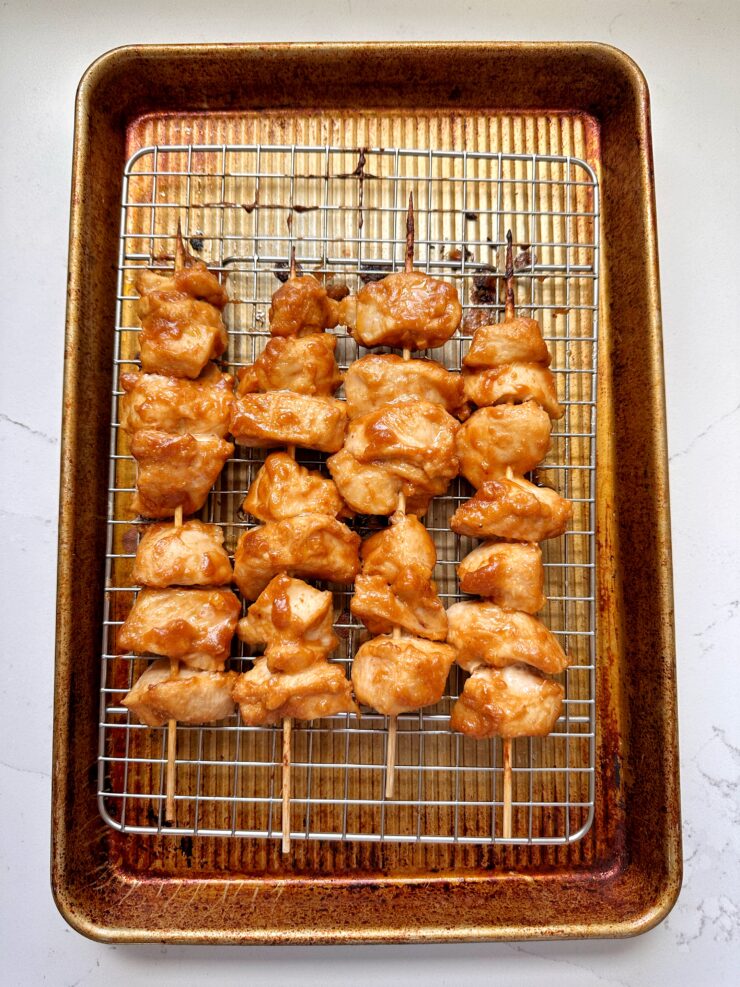 FAQs on the peanut chicken skewers:
Can I cook on the grill? Absolutely, I would save some sauce or make a little bit more to keep adding on as you grill.
What's a skewer? It's one of the many names for the meat that is cooked on the wooden or metal stick. There are many different names but all basically mean the same thing!
Are these good left over? Yes! I personally love eating these cold the next day, or you can reheat and add on top of some rice or quinoa.
Can I use chicken breast? Of course, this is a great option too.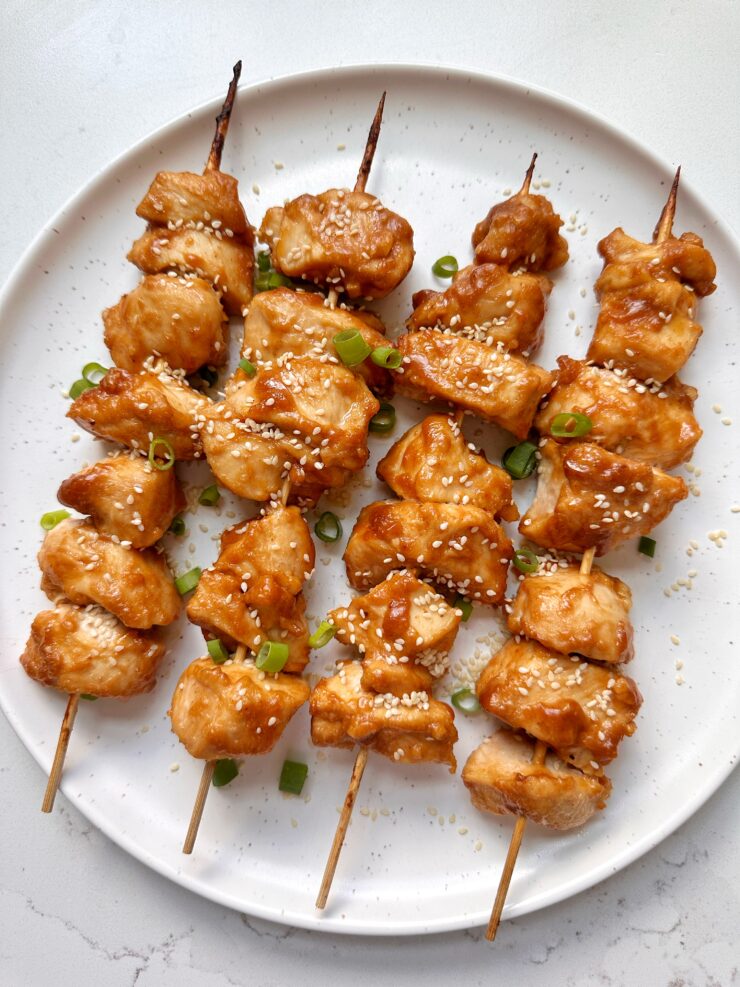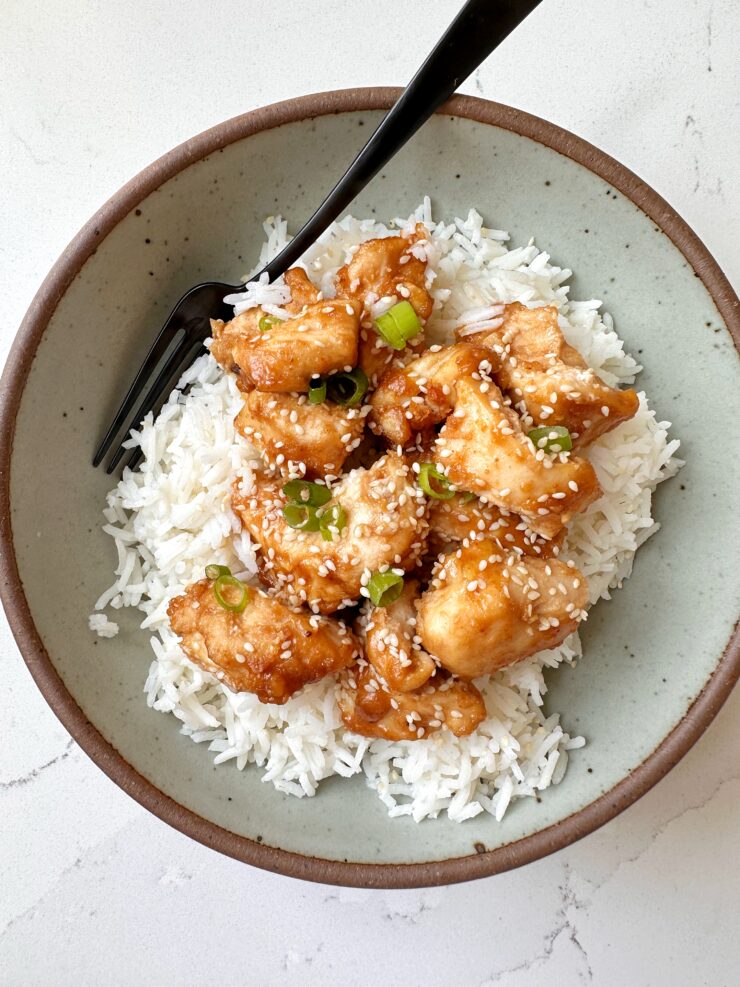 A few of my other favorite healthy and easy dinner recipes:
Easy and Healthy Taco Stuffed Peppers!
20-minute Healthy Teriyaki Meatballs
20-minute Healthy Cashew Chicken Lettuce Wraps
Healthy Spaghetti Squash Casserole (no noodles!)
Print
Healthy Chicken Skewers with Peanut Sauce
Sharing these healthy Chicken Skewers with Peanut Sauce for your new favorite dinner recipe! These are absolutely delicious and gluten-free, dairy-free and you can make them in the oven or on the grill.
Instructions
Mix together the peanut butter, garlic, coconut aminos, sesame oil, water and scallions in a small bowl (if too thick, warm over saucepan on low heat, stirring frequently until creamy)
In a large bowl or baking dish add the chicken and coat with the sauce and allow it to marinate for at least 2 hours or overnight (not 100% necessary but I love doing it so the flavor sets)
Once chicken is marinated, add each piece to skewers
If baking in oven preheat to 400 degrees and bake skewers on a baking sheet (I added an oven-safe cooling rack onto it so it wouldn't stick) and bake for 18-20 minutes
If grilling, cook over medium heat until the chicken is fully cooked (165 degrees F)
Garnish with extra peanuts and sesame seeds and serve with desired sides or over a salad or slaw