How to Make Banana Sushi Rolls – a fun, healthy and quick snack with endless combinations!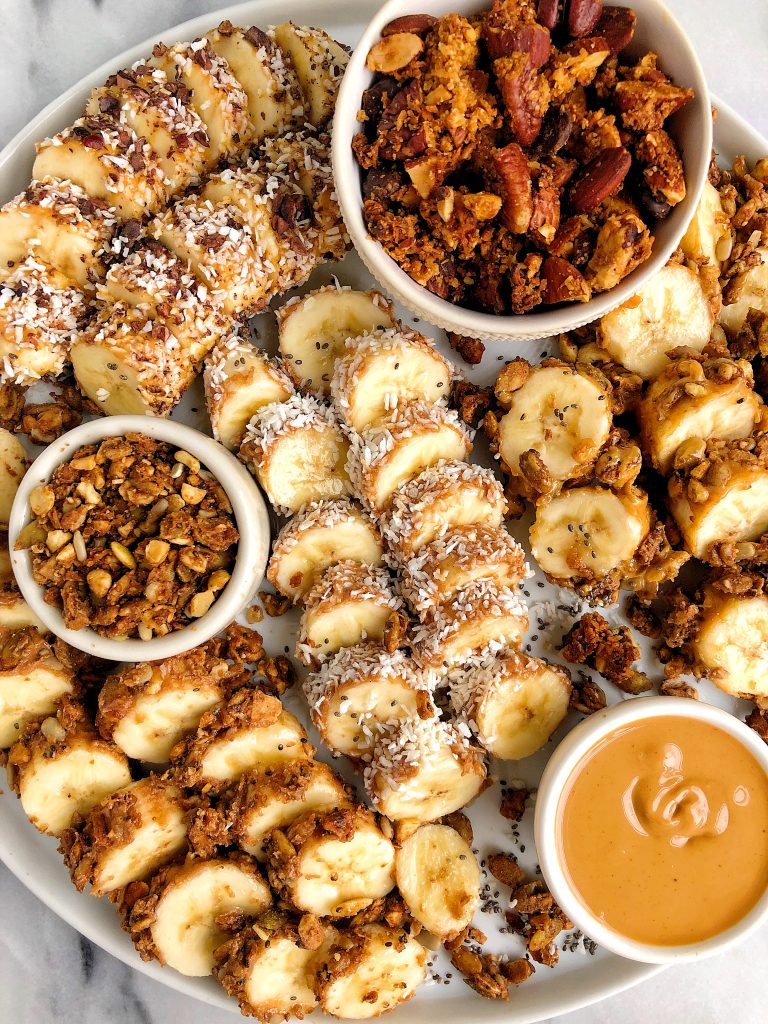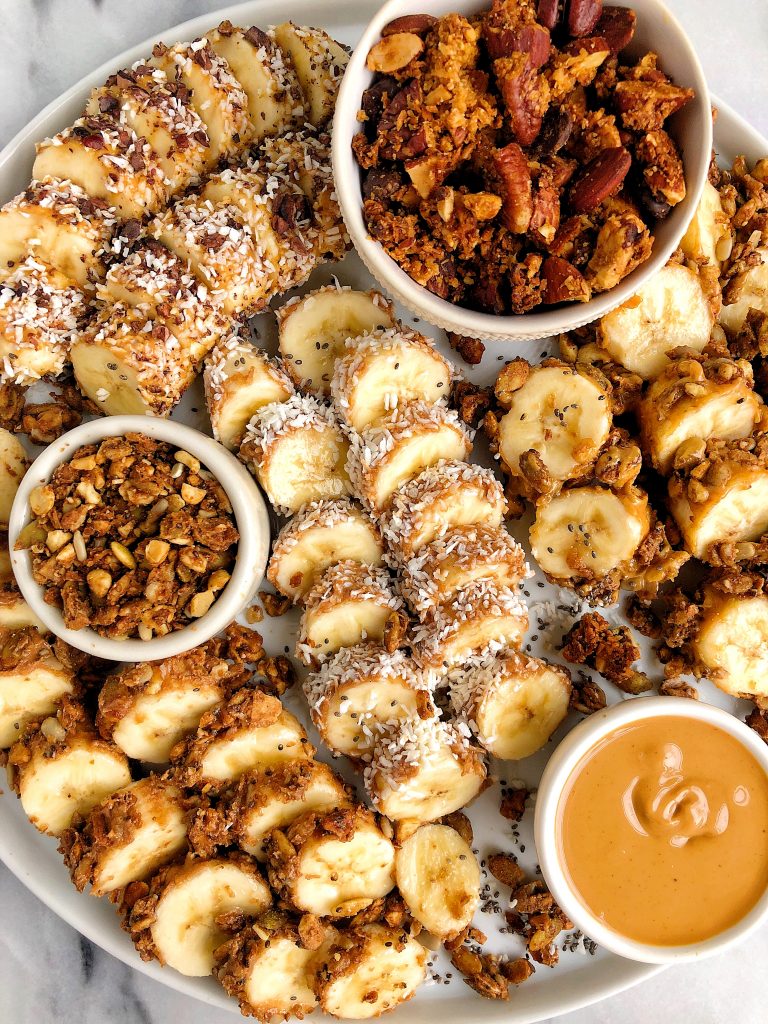 This is how we do ittttttt..
Finally sharing my super simple and easy tutorial on making banana sushi rolls, has me literally singing "this is how we do it". Am I lame? Yes, but I am so excited to share this blog post with you guys today.
One of the most requested recipe posts ever for the blog. You guys know my banana sushi love turned into quite an obsession over the past couple years. This obsession is also shared by my kids! I first shared this on Instagram back in the day then resurfaced the snack about a year ago and since then, it is something I share all the time. Whether it's on stories, a post on my feed, anything. It is one of my go-to snacks when I want something satisfying, easy and honestly just fun to eat. What's the point of eating if ya can't have any fun with it anyways?
Banana sushi is the best and easiest snack ever.
The full (and easy) tutorial is below but a few things to keep in mind when you are making this:
Banana sushi is messy. I have yet to really make this and not spill granola on my counter and get peanut butter or almond butter all over my hands but just go with it. If you don't like a mess, I recommend using a fork to eat it and try to keep things as neat as possible when rolling the banana in the toppings.
The possibilities are endless for toppings and combinations. I always use a nut butter for protein and honey mix as the base and first layer then roll it in whatever I have on hand. Sometimes its granola, shredded coconut flakes, chocolate chips (or melted chocolate), chia seeds, anything! Any ingredients you have in your pantry!
This is such a fun way to include your kids in making a healthy snack or something to add the slices to their lunch box.
This snack tastes best day of but you can also freeze it for a couple days and eat it as a frozen treat. I like doing this is if I cover the banana in some chocolate too!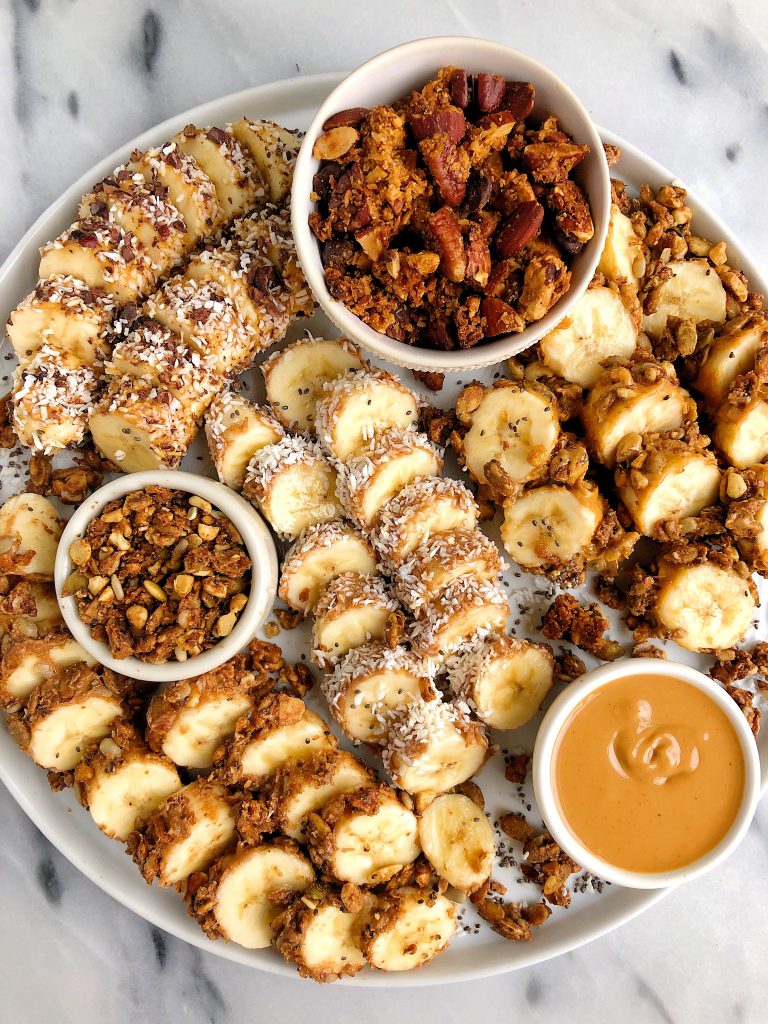 Print
How to Make Banana Sushi Rolls
How to Make Banana Sushi Rolls, the absolute best sweet and crunchy snack idea. A fun, healthy and quick snack with endless combinations!
Prep Time:

5 mins

Total Time:

5 mins
1

banana (not too ripe and not too green works best!)

1 teaspoon

Wedderspoon Manuka Honey

1/4 cup

crushed toppings of choice (I love using granola, unsweetened coconut flakes, cacao nibs, anything!)
Instructions
Place the crushed toppings onto a small plate and set aside
Mix together the nut butter and honey in a small bowl
Peel the banana and evenly cover the banana with your choice of nut butter on a cutting board
Place the coated banana in the toppings and roll many times to cover completely (I like to use a fork or my hands and press down!)
Cut the banana into 1/4″ inch slices and enjoy
I like to dip in extra peanut butter or any toppings I'm craving
Notes
*Will stay good in fridge for about a day or you can freeze this!
xx, Rach
Thank you Wedderspoon for sponsoring this post!