How to organize your kitchen with the founder of Of Space and Mind! Plus the run down on everything we did to organize our kitchen.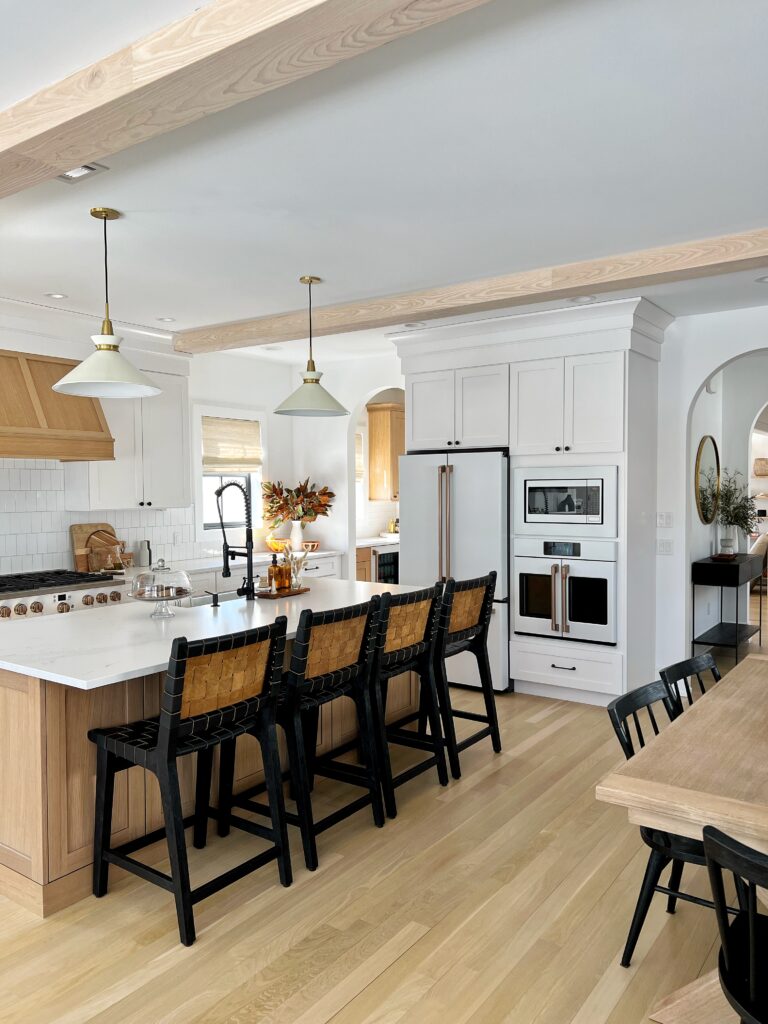 First things first fam – you must hire Of Space and Mind to organize your home ASAP. Ashley is a goddess and truly made moving into our home 100x more seamless than I could have ever imagined.
From the day Ash first came to our house, she was super hands on in all aspects of our move and getting us settled. She helped me lay out the kitchen and pick out where to put drawers versus cabinets. And she helped me envision myself living and using my kitchen daily. And you guys know – that is my main hub. We spend so much time in there so I didn't want to skip on anything in terms of making it the most efficient and useable space in our home.
I asked Ashley to do a takeover on the blog and answer some questions for you guys on how to best organize your kitchen at home. And not to worry, Ashley will be on the podcast soon too!
To be honest – I highly recommend investing in an actually organizer like Of Space and Mind. They will show you tips and tricks you likely never would have thought of on your own. And they travel all over the tri-state area. They also help with SO much. Their team can help with packing, unpacking and they do any room. Seriously though.. they even did our back stock pantry and it is stunning as you saw on Instagram.
Here is everything they helped us organize:
Butler's kitchen area
Backstock pantry
Primary bedroom + closet
Primary bathroom
Laundry room
Linen closet
Coat closet
..But they will organize anything!! And I can't wait to have them back to do the boy's room in the Spring.
If you call Of Space and Mind – tell her we are besties and you can also get a free consultation for your home!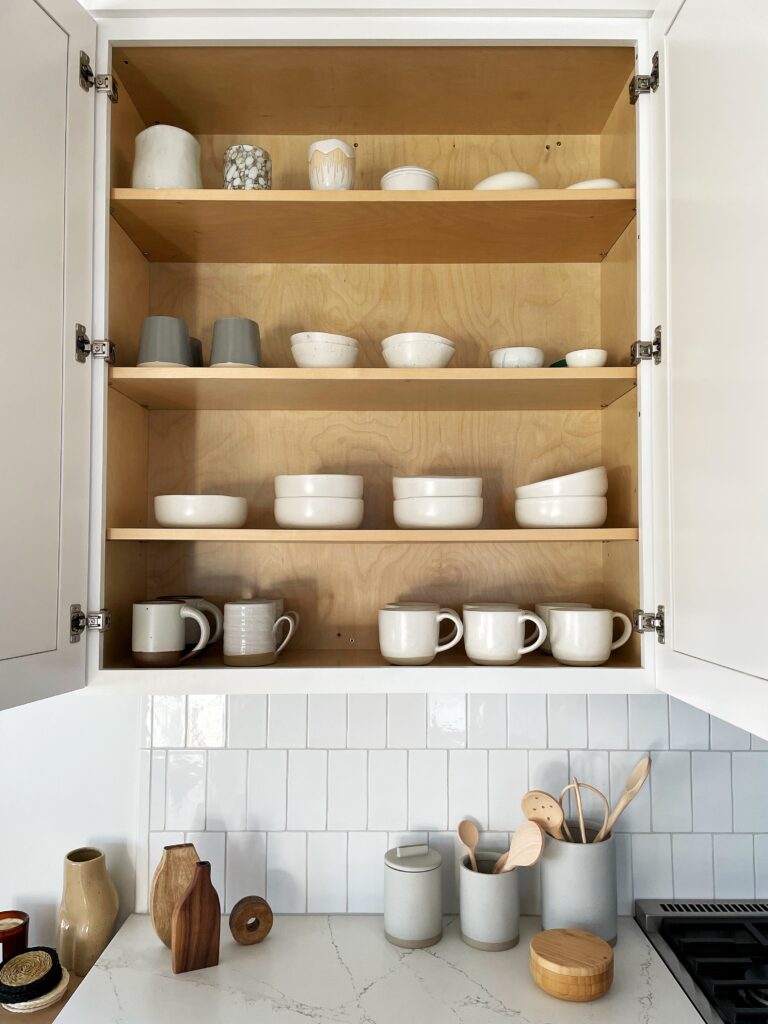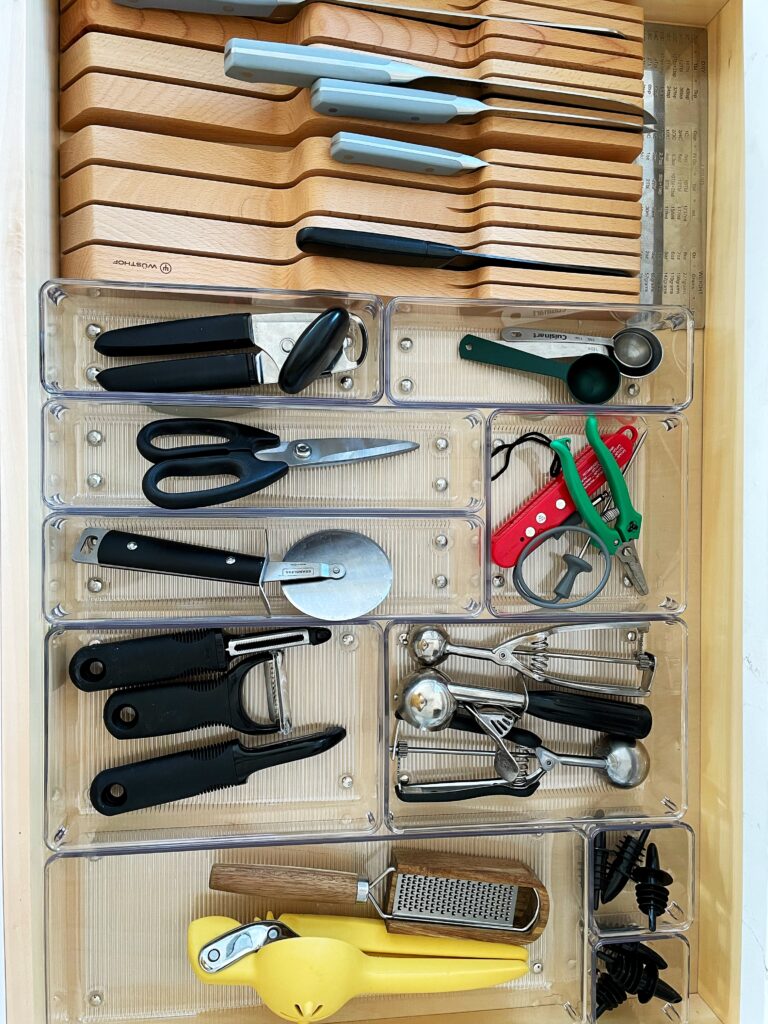 Here is Ashley's Q+A Kitchen Organizing Takeover:
Can you link everything used in the kitchen organization?

Almost all of the products we used in their kitchen were from iDesign! We use their products a ton, but since Rachel and Jordan's kitchen has a ton of wood and natural materials, we pulled a lot of pieces from their sustainable collections. Here are a few of our favorite pieces we used:

What are the best containers for dry goods and cereal?

It's hard for us to define "best" because we choose solutions most aligned to the clients preferences and the space we're working in, BUT we're loving

this

iDesign collection right now! They are durable, well priced and come in a variety of different sizes, including a tall

pasta

and

cereal

option. We love that they are stackable so they are super space efficient – a great solution for a smaller kitchen or pantry!

What are the best containers for cleaning supplies?

For cleaning closets, under-the-sink areas and laundry rooms, we always opt for plastic, durable bins to contain supplies. Since this area is prone to liquids and spills, go for bins that you can easily wipe down,

like these

!

What are your top organizing tips for a small kitchen + pantry?

Here are our top 4 tips for small kitchens and pantries:

Edit edit edit. Don't sacrifice space to keep more than you actually need.

Take advantage of all vertical space! Use

risers

to double your space in cabinets.

Get rid of bulky packaging and store food in

stackable canisters

Use all available wall space and door space for storage – add hooks or shelving to create additional storage.

How do you know what to put where for an efficient kitchen workspace?

Create an efficient kitchen by grouping items together based on USAGE to help you save time and make tasks way easier! Keep knives near cutting boards wherever you tend to food prep. Store food wrap and tupperware close to one another to make putting away leftovers seamless. Keep dishes and cutlery together, near your eating area to make setting the table fast. This will also help you create better flow, so you can make breakfast while your partner packs lunches and you won't be tripping over one another!

Are there any must have storage spaces in a kitchen?

Yes! When planning a kitchen, we always want to account for a few zones – cookware, dishware, glassware, food prep and appliance storage.

How do you store coffee pods?

We love a coffee station! Store pods in

canisters

by type (with labels!) or a

lidded organizer

, that allows you to keep flavors separate.

Where are the wood organizers from?

iDesign! Check out their full sustainable collection

here

.

Best way to store big appliances in an older house or in a small kitchen?

Storage above the fridge is often overlooked and can be a great place for big appliances because it's often nice and deep. Large appliances like a crockpot can be heavy, so make sure to use a ladder when taking them down!

How to organize bottles + kids food?

We love to create a kids zone – keeping it within reach for little people to access on their own (usually in a drawer closest to the ground). Since kids have a lot of small items, add bins or

drawer organizers

to keep them contained within your drawer.

Peg drawers, yes or no?

While we love drawer storage, peg systems aren't our favorite. We find them cumbersome to adjust, and often the pegs aren't exactly where you need division in a drawer. Leave them out and instead opt for drawer dividers so you can customize to your needs!

How to store pots + pan + their lids?

In drawers, we prefer to keep pots and pans with their lids, or if we need to save space, then we flip lids and stack them. In cabinets, use a

cookware rack

How to organize baking pans?

Use a

cookware rack

to store them upright! They are a great solution to save space and prevent stacking so all your pans are accessible.

Top 5 must haves when designing a custom kitchen?

A multi-functional island with lots of storage (and a sink when you can!)

Two dishwashers!
A built-in knife drawer and (below it) a divided cabinet for cutting boards
An appliance garage with power to keep counters clutter free
Built-in storage for oils + spices

What to do with a corner cabinet lazy susan?

We love a corner turntable! Most often we use it for bakeware like mixing bowls, measuring cups etc OR appliances since it's a deep space.

Dish rack solutions that aren't antiquated?

We are not huge fans of dish racks – they are bulky and encourage dishes to be left out! We'd rather have something that's easy to pull out, and even easier to store. Recently bought one of

these drying mats

for my own kitchen and I love it! Rachel has this one that she brings out when she has a lot of dishes to dry.

What is the most DUH "why didn't I think of that" pro tip?

Designate a spot for EVERYTHING in your home (from stamps to coats to scissors) and communicate it to other members of your household so you're not the only one who knows where things are.

How to organize kitchen appliances?

Keep counters clutter free by putting away any appliances that you're not using daily. Store appliances near where you'd actually use them (i.e. near a plug, with other baking supplies, where you prep breakfast etc) and less frequently used ones higher up.

How to choose the right silverware organizer – slotted vs. individual organizers?

It all depends on your drawer, if an expandable organizer fits with little to no unused space, then it's a great solution. If you have a smaller drawer or want to store more than just cutlery, then opt for individual drawer organizers so you can create a custom configuration.

Moving into a newly renovated kitchen, what do I put where?

Think of your kitchen in

zones

and group items together based on how you will use them. Cutlery and dishes should be stored together, close to wherever you eat / set the table, and ideally near the dishwasher. Glassware should be near the sink or fridge, depending on your water source. Storing things together based on how you will use them allows you to create flow in a kitchen which makes cooking and cleanup far easier!

How do you store tupperware + their lids?

Our number one tip for tupperware storage is to invest in a matching set. This makes storing it SO much easier because it's meant to fit together. There are two ways to store sets – either stacked on top of each other with their lids on OR stacked inside each other with the lids contained. If keeping lids on, make sure they are fully dry so no moisture gets trapped. If storing lids separate, use a

bin

to keep them organized or add

dividers

to your drawer to prevent tupperware from moving around.