My essentials to travel with + tips for traveling healthy anywhere you go!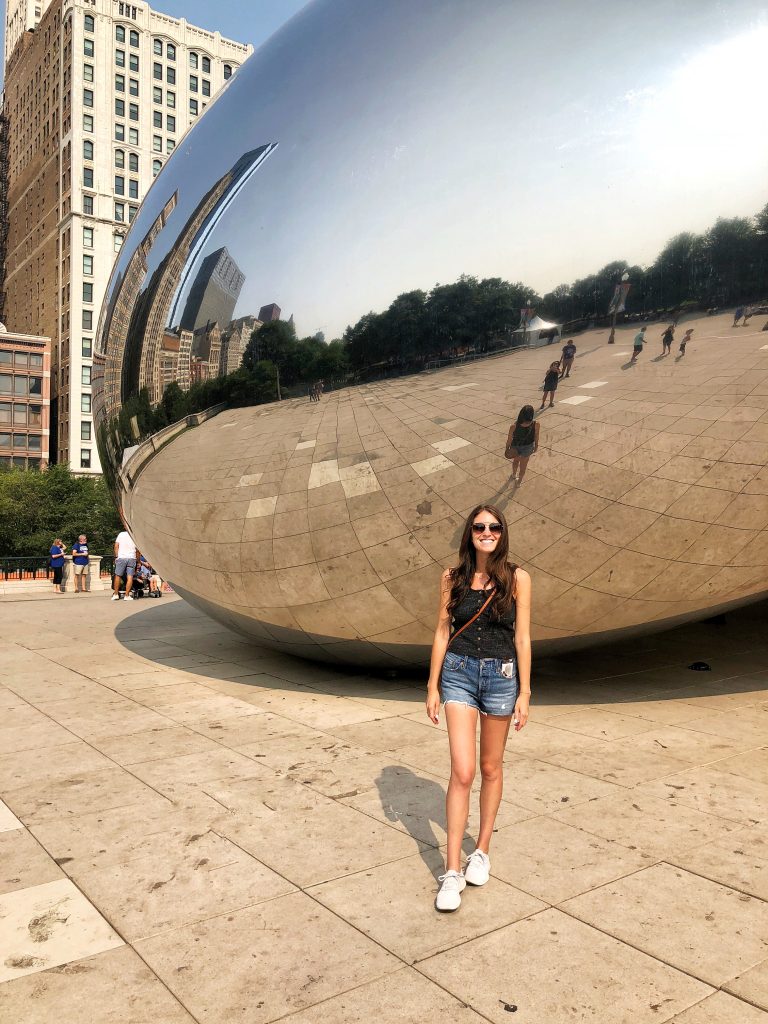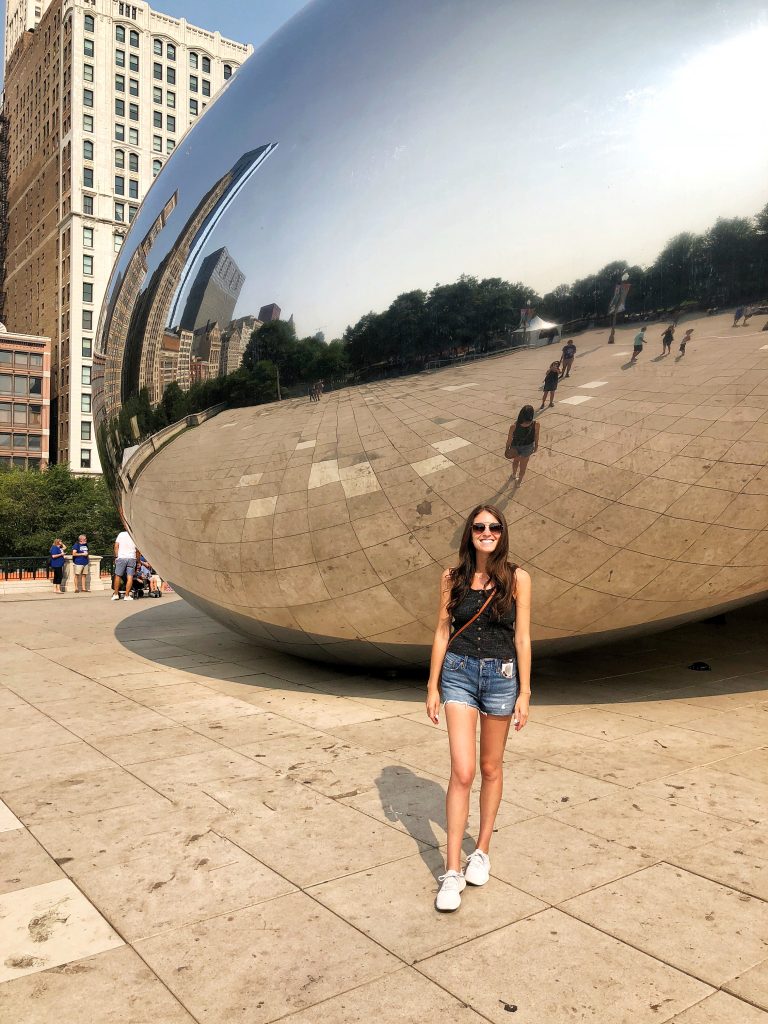 I have always been a big fan of traveling and exploring new places. My family always prioritized going away together at least once a year when I was growing up (sometimes more) and this really had a huge impact on my love of travel today.
I love being able to immerse myself in new cultures, see things that I have only see in pictures and almost "escape" for just long enough to have me craving my reality (and bed) back home.
Over the past few years, my travel schedule has really gotten a bit crazy and I've been going away 1-2x a month whether it is for work or pleasure (usually try to make it a combo of both!). I am so grateful to have a job that allows me to travel to new cities, meet some of YOU and get to see some of the brands I partner with in their element. But this also has really taught me what to bring with me on my travels and what I cannot go without for a few days.
I have been fortunate enough to travel to LA a few times, San Fran, Maui, Austin, Portland, Miami, out of the country and most recently, Chicago! I have to say though, I love traveling in the United States since there is so much to see and I think sometimes we take that for granted. Chicago blew me away when we went this week. I already cannot go wait to go back. The food, people and city itself are just amazing.
I am definitely not the type of person who comes underprepared when it comes to packing for a trip. I'm not exactly a minimalist but I also try to keep it somewhat on the lighter side. You guys see me always stocking up on a variety of things to bring along with me. Whether that's snacks, skincare essentials, etc. I like to keep everything at a minimum so I travel light in a carry on if it is under 5 days. I also get to branch out of my comfort zone a bit without packing my entire apartment with me. It is healthy for both our mind and bodies to break the routine a bit and try new things.
Here are a few of my travel tips + must-have's to travel healthy:
ALWAYS PACK SNACKS
Snacks are a complete must when I travel. It gives me a sense of ease and to be honest, I'm not the type of person who can go more than a couple hours without food and who wants to stop 10x looking for something to nosh on? I enjoy having some of my favorites with me on the road that help fuel me and are easy to travel with.
Typically bars are the most common snack I pack since they it so easily into your carry-on or suitcase and are my go-to fuel when I am on the road. You guys know my love affair with Perfect Bar (hello daily boomerang) and these have always been an essential when I'm traveling or on the road. Most don't realize this but you can leave a Perfect Bar out of the fridge for up to 7 days! This makes them a very travel-friendly snack. I brought a couple Dark Chocolate Chip Peanut Butter ones with me to Europe and to be honest, when they get a little soft after being in the fridge, they are my favorite! I travel with any of the flavors but you know my favorites are the Dark Chocolate Chip Peanut Butter, Chocolate Walnut Brownie, Dark Chocolate Almond butter and Coconut Peanut Butter. I love bringing these because I'm getting extra nutrients in when I'm on the run, solid whole-food protein and I'm so obsessed with eating them that it is hard to go a day without one! Plus there are SO many flavors!
I also usually like to pack a couple dark chocolate bars (ones that won't melt much!). Always need a little sweet nosh after dinner if restaurants don't have any desserts that don't entice me.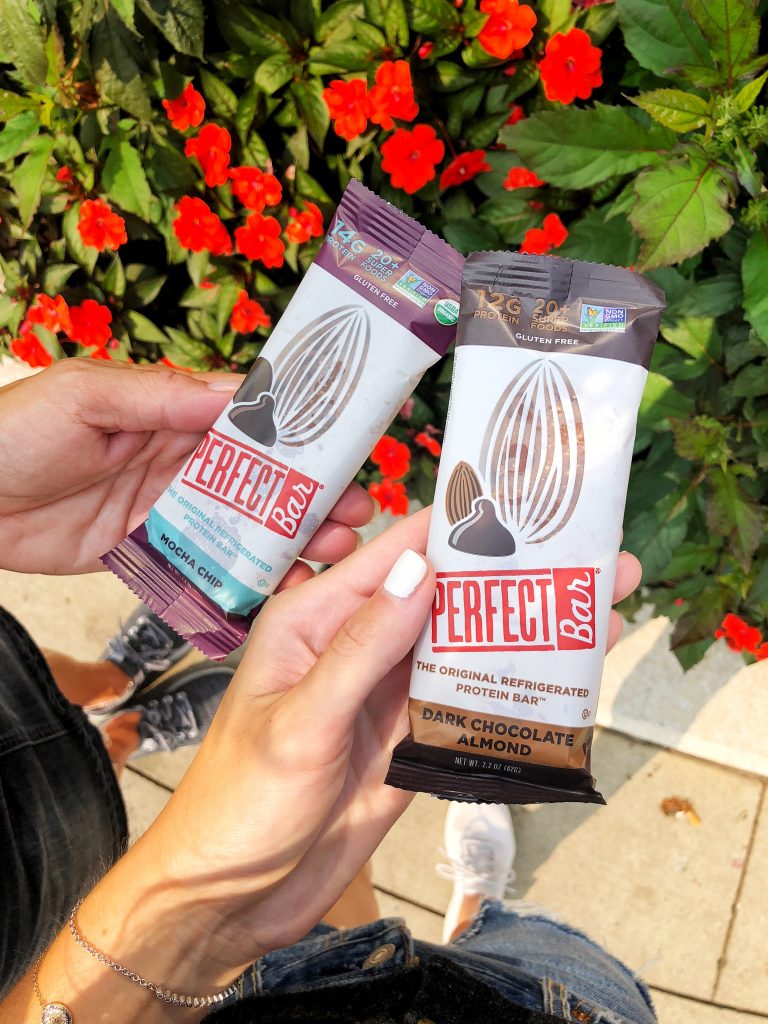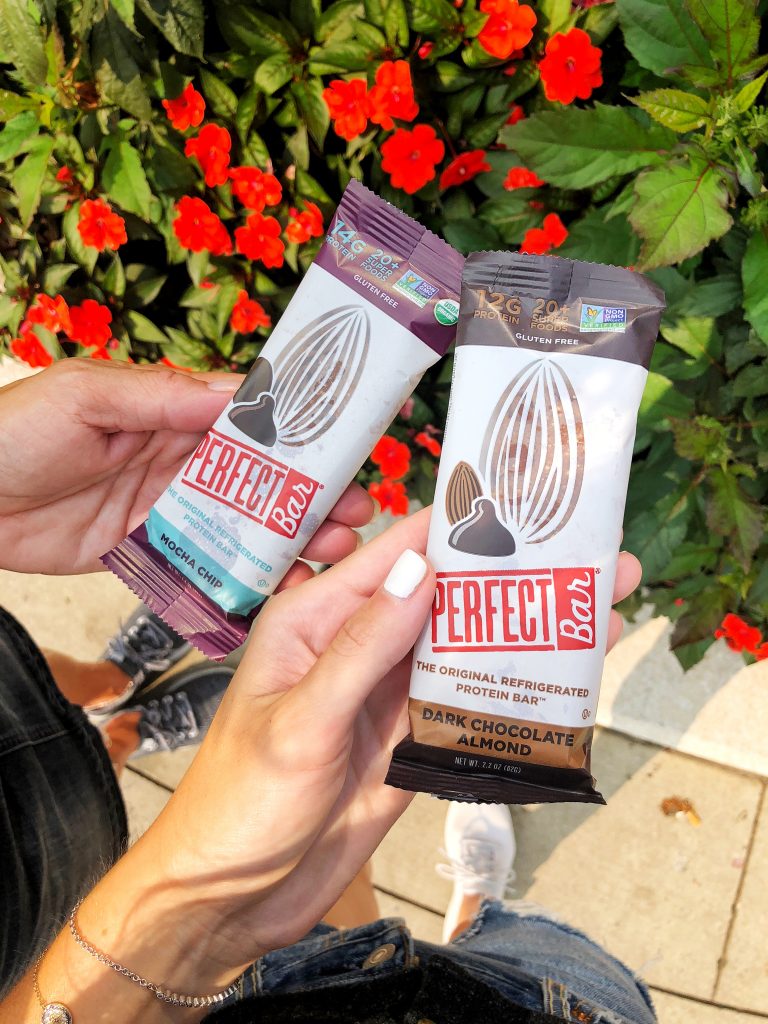 DON'T FORGET SUPPLEMENTS
True life I invested in one of those vitamin organizers that you likely see elderly people storing their vitamins in. But seriously it helps me track my vitamin and supplement take each day so I don't get confused. I just bring my daily ones I take and make sure to keep them next to where I sleep that way I won't forget. Probiotics are a must-have for me when traveling and the ones I use don't even need to be refrigerated like most. I also bring my prenatals along with me everywhere!
PACK A MEAL FOR LONG FLIGHTS
Airport food is pretty gross unless you're in San Fran airport, where they have a ton of options. I cannot go on a flight that is more than a couple hours without a meal. I need substance in my body and eating it helps kill the time of the flight (weird but true). It can be a pain to know what TSA allows and doesn't but the only things they have ever taken from me are jars of nut butter and overnight oats. Salads, grain bowls, sandwiches are all fair game. I like to visit a local spot so it is in a to-go container too. Traveling with tupperware or glassware can be a bit tedious at times.
BRING SOME COLLAGEN PEPTIDES + PROTEIN POWDER
Heck to the YES! All about adding some collagen peptides to my morning tea or lemon water when traveling. It dissolves so easily into a hot beverage and you can bring these packets along making it so easy to carry around with you! Plus it adds extra protein to whatever you add it to. Most smoothie places will even add it to your smoothie if you want.
BYOTEA
Tea is a must in my book. I am pretty picky with what tea I drink so I like to keep a handful of different herbal ones in my bag. Plus hydration when traveling is so key for my digestion so the more things I have to drink, the better! I like to stick with organic teas too and sometimes that can be hard to find at hotels.
SKINCARE PRODUCTS ARE A MUST
I will eventually write a more in-depth blog post about my whole skincare routine and what I use, but I know traveling can have a huge impact on our skin so I wanted to include some of my go-to's here. I obviously bring deodorant (code RACHL for 25% the blue tansy one this month) as well has facial cleansing wipes, my matcha stick, chia facial oil and an exfoliator to get the dirt off. I also tried those under eye masks, which are fun to use and I think they actually work.
If I am traveling somewhere that is warm and sunny, I always take some sunscreen with me. This one is my favorite for body and this one for face. I usually rash from most but not these!
ESSENTIAL OILS
If you are on an airplane or staying in a hotel room that has a weird smell OR if you aren't the best sleeper, I highly recommend packing some essential oils. I always bring organic lavender oil with me and rub it on my wrists before going to bed. It helps relax me a bit and set me up to go to bed a bit more calmly.
MULTI-PURPOSE BAG
I love using a bag that can be a carry on for the plane and also one I can explore a city with. It also needs to be durable, easy to use in all weather and of course trendy. I have an obsession with this backpack and this cross body tote and travel with them all the time. Not only while traveling but also just my daily city life. I am already looking into using this brand for diaper bags 😉 And their cosmetic bags are amazing!
DO RESEARCH BEFORE YOU GO
Traveling today is 100x better in terms of finding organic and healthier options than ever before. I am always googling or going on yelp to find suggestions on where to eat. I also ask around to friends who have traveled to or live in the area I am traveling to for their favorite places to eat and where I can find a good meal. I'm not much of an exercise fan when I travel and like to spend my time exploring than in a studio class but you can also look up some cool boutique fitness studios to check out where you travel. Or just walk around everywhere, find a walking path or a local hike to do.
What do you guys bring with you? Any tips for staying on track? Obviously take this info and make it work for YOU and your travel routine but these are a few of my go-to's.
Safe travels!
xx, Rach
Thank you Perfect Bar for sponsoring this post. It means so much to me to work with brands that I love and who support rachLmansfield!
SaveSave
SaveSave
SaveSave
SaveSave
SaveSave
SaveSave
SaveSaveSaveSave
SaveSave
SaveSave
SaveSave
SaveSave