My obsession with our air purifier and how we use it every single day! Particularly our Dyson purifier.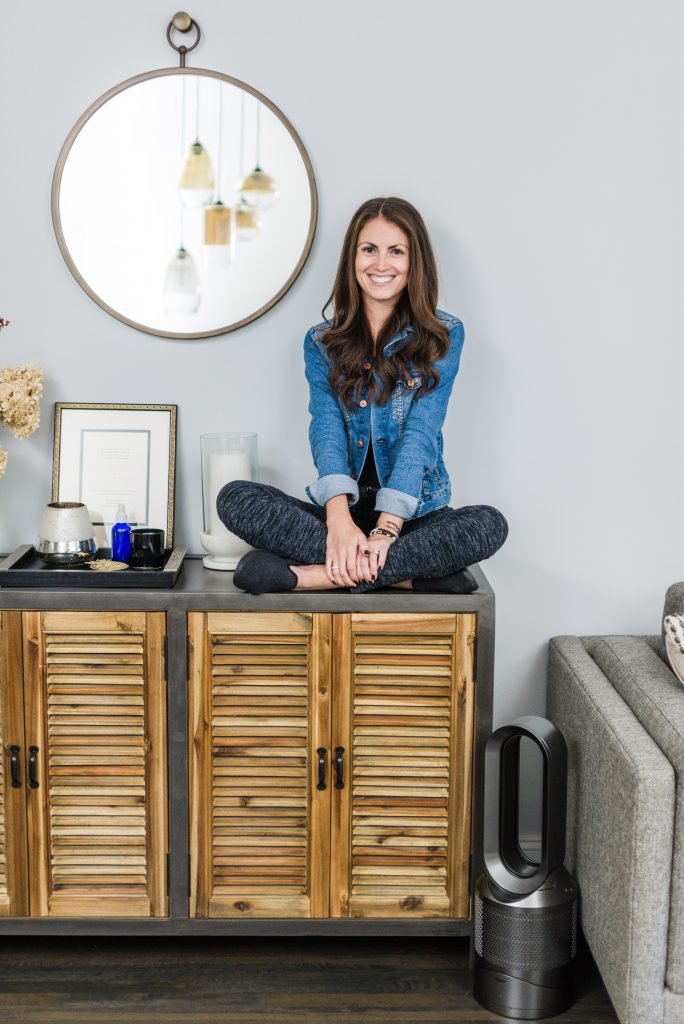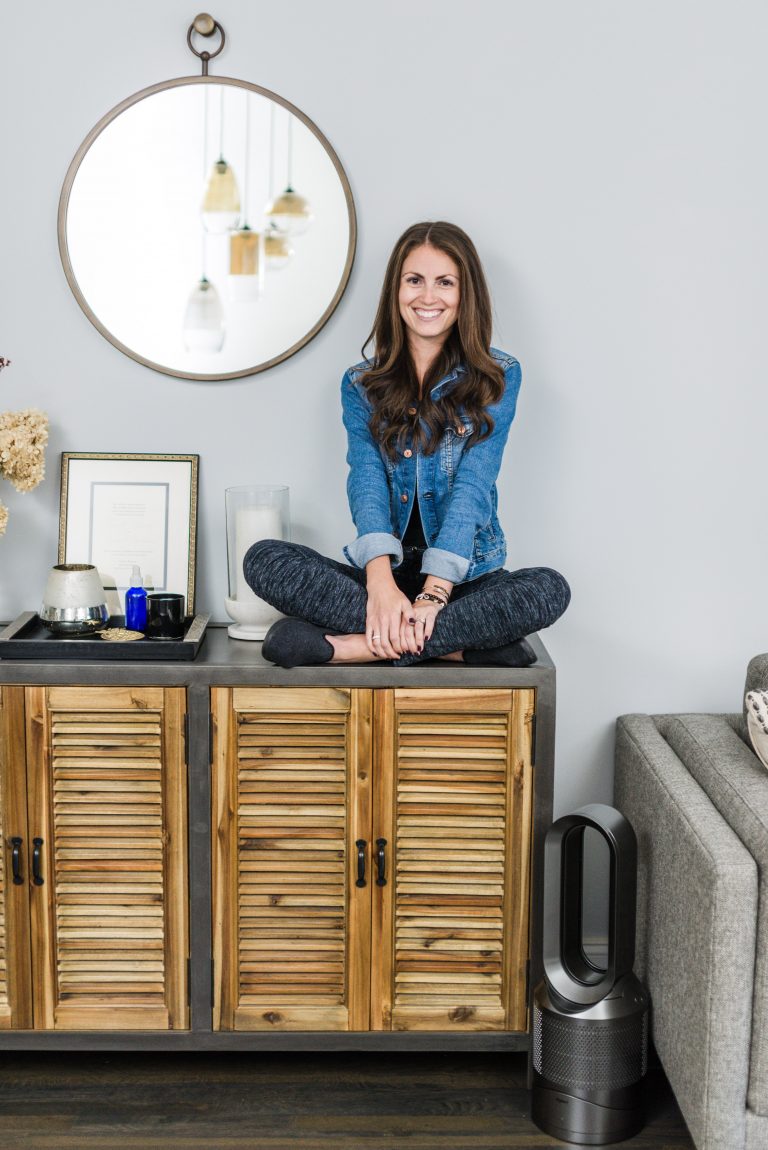 A little over a year go, Jord and I moved into our new apartment aka our first "real home" together. It is a weird grown up feeling when you're no longer renting and actually own the home you live in. You have an extra sense of pride and joy and really want everything to stay in great shape in the apartment. Probably since your lease isn't up in a year and you're not moving out so soon! We also knew that if we were going to stay here for a bit, we needed to step it up a bit from our NYC apartment living.
One of the first things Jordan said we needed to get was an air purifier. To be honest, I had zero idea what this even was. It sounded expensive and since I didn't know what an air purifier did, I didn't really entertain the idea. But Jord claimed it would be a game changer for his allergies and keeping our home clean and we needed to get one for our bedroom at least.
After looking around online, he became infatuated with Dyson and the air purifiers they offered. Safe to say we now have the Dyson Pure Hot + Cool Link Purifier in both our living room AND our bedroom now. When our friends at Dyson found out we were pregnant, they generously gifted us the the Dyson Pure Cool Tower Purifier for the baby's room. It's so chic and Jord already turned it on to get the room clean aka get rid of all the dirt that accumulates in there since I store the most random packages and things in that room.
But the real question is, do you actually need an air purifier? What does it even do?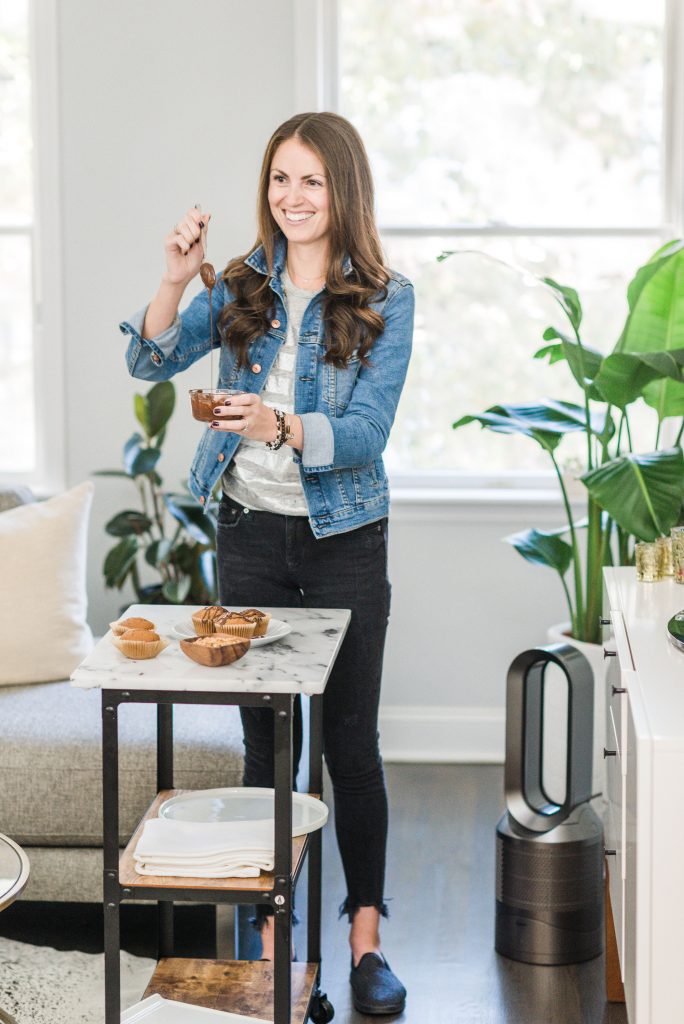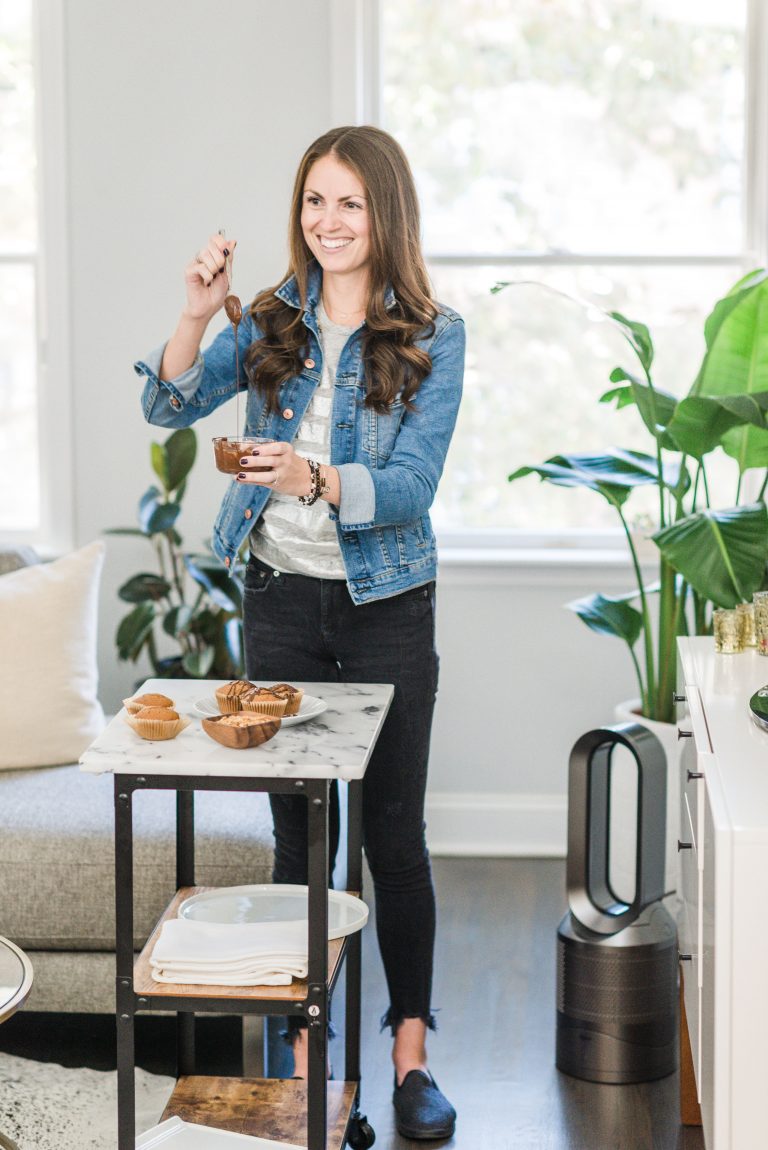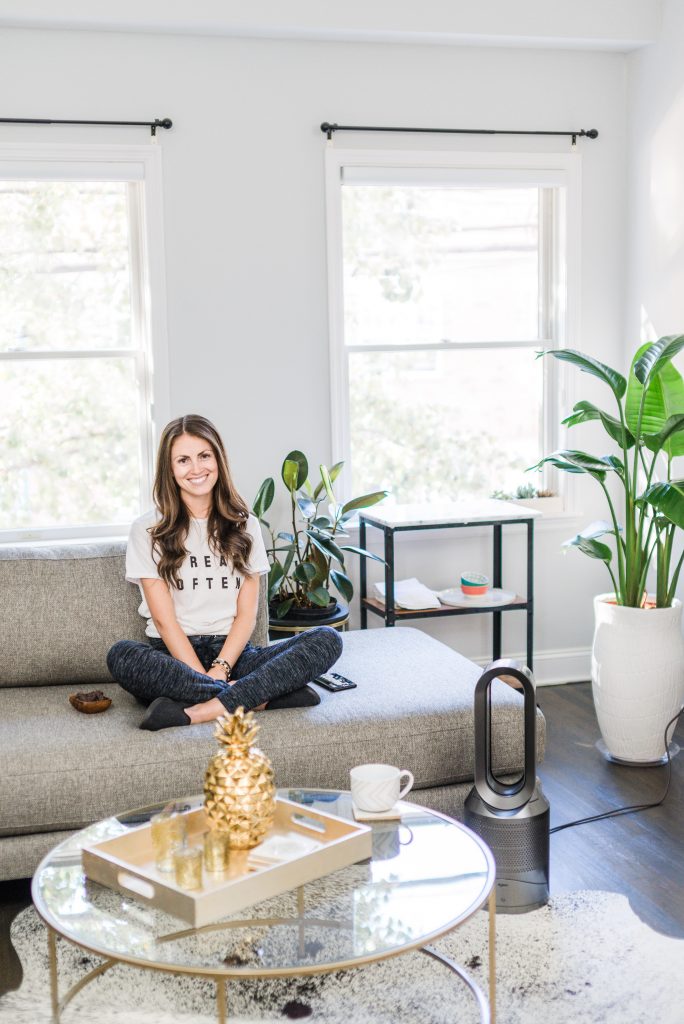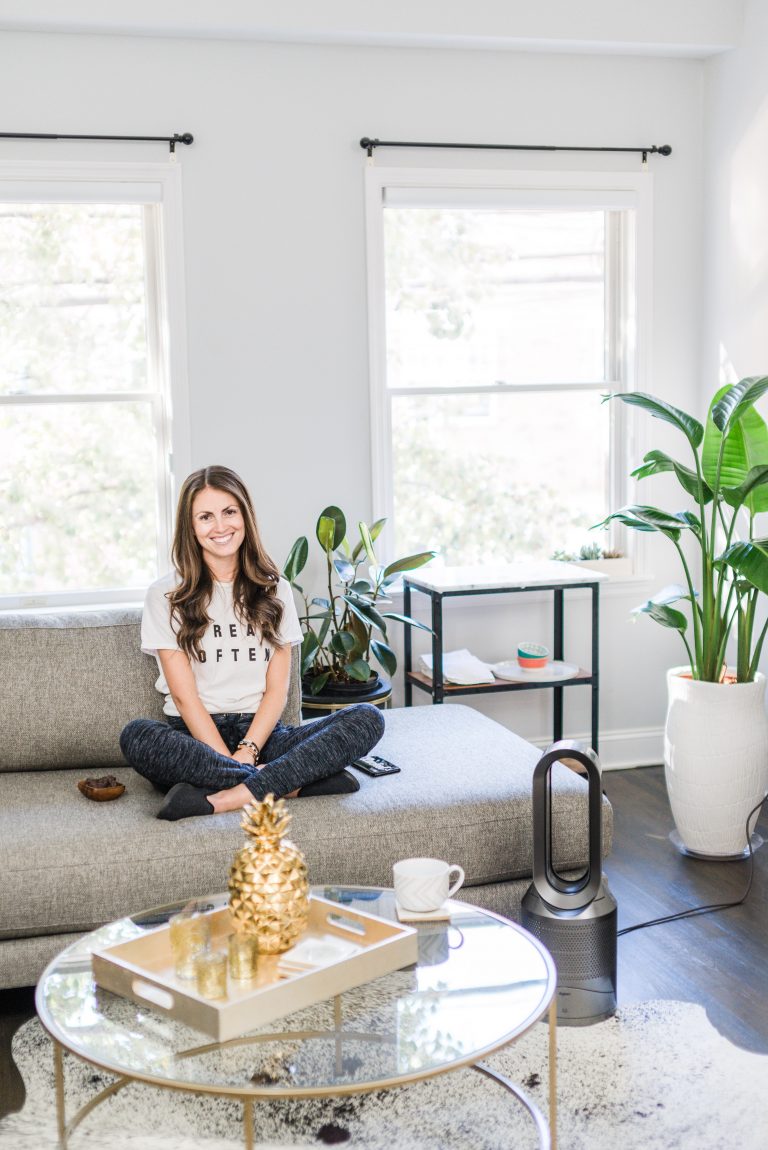 We spend 90% of our time indoors so having gross air in our home is just not any option for us. We wanted to make sure our air is as clean as possible and being that I work from home, I spend a lot of my time here.
I'm going to walk you guys through why we love our purifiers from Dyson so much and what we use them for. Believe it or not, there are many ways to use it besides just purifying the air. Once I have the baby's room ready, we can touch on the Pure Cool Tower Purifier from Dyson but for today we are chatting about the Dyson Pure Hot + Cool Link Purifier. Please note that these key points are why we use our Dyson. These cannot be applied to other purifiers on the market (plus we are biased when it comes to the brand!).
What we use our Dyson Pure Hot + Cool Link Purifier for:
The obvious – it purifies the air in our apartment

Whether you live in an old or new building, dirt adds up quickly in the air. We live in an apartment building that is about 20 years old so I know this air needs to be cleansed as much as possible. The Dyson Pure automatically removes 99.95% of allergens and any pollutants from the air. AKA your air is getting cleaned and you won't even have to think about it.
A few common things that it helps purify in the air (I was shocked at most of these!):

Outdoor air pollution that enters the home through windows, etc.
Wood burning fireplaces and stoves and anything circulating from using them
Pollen, which is huge allergies!
Pet hair from cats, dogs, anything!
Scented candles that give off fragrance and release benzene and formaldehyde into the air when they burn
Furniture foam that can release formaldehyde gas
Indoor paints that release any gaseous chemicals when they dry and during their life
Air fresheners that have volatile compounds and benzene and are released in the air when sprayed (aka use a palo santo)
Gas stove and cooking fumes that emit fumes, odors and particles into air
Cleaning products that have any odors, fumes or benzene
Carpets, rugs, flooring that have formaldehyde when new and during their lifetime
Helps eliminate gross cooking smells or any smell

Every time we food prep in the kitchen, we blast the purifier. There are a million smells going on between the meatballs frying on the stove, roasted veggies in the oven, banana bread baking, you name it. Living in such tight quarters (and limited windows) doesn't allow for much air circulation so the smells from cooking can really add up and not go away too easily. Every week when we turn it on it helps to get rid of any food smells that linger. Our fan above the stove also turns on and won't shut off for hours if the kitchen over heats. We have Dylan (what we named our purifier) in there to help prevent this from happening and it really helps!

Heats up any room when it is f-r-e-e-z-i-n-g all winter

Some people invest in a heated floor or towel heater for the bathroom, but you can also just get a Dyson Pure Hot + Cool Link Purifier that can heat up your space in a couple minutes. I blast this baby in the bathroom and shut the door in the winter. That way when I get out of the bath tub or shower, the bathroom isn't arctic and I'm all nice and cozy. Plus if you have the purifier facing the towels (with space so no fire starts!) it can heat up your towel and that my friends, is a game changer.

Works as a white noise machine when we sleep

Remember a few months ago when we mentioned how our neighbors are moving furniture around at night or doing jumping jacks at 2 a.m.? Well that got to be a bit annoying after awhile and our sleep is way too precious to be compromised (especially before the baby!). Now we turn on the fan to speed 8 and it provides just the prefect amount of white noise like a fan in the background. We don't leave the heat setting on (obviously) just the fan.

Cools down any room when it gets too toasty

Just like how we use our Dyson Pure Hot + Cool Link Purifier for heat, you can also use it as a cooling system. Turn it onto fan setting to cool down the room a bit. This also is really helpful when we are cooking and the fire alarm wants to go off 10x. When we have the fan blasting, it helps cool down the space a bit.

Works without you even controlling it

The Dyson Pure Hot + Cool Link Purifier automatically monitors, facts and purifies and you can even sync it up to your phone with the Dyson Link app. We can view our indoor air quality this way and it works when you are home or not home. You can even set it to turn on everyday at a certain time so it can always be on!

This one actually purifies and works compared to others

Yes, the Dyson Pure Hot + Cool Link Purifier is a bit of an investment compared to others on the market but after trying out another before Dyson, we saw a massive difference. Some purifiers have poor projection and cannot purify more than a few feet around them. The Dyson ones have long-range projection and circulates the entire room as opposed to a tiny part of it. Jord has a ton of allergies and he has seen a massive change with having this. Plus when you look at the app, it'll say when the air inside isn't the cleanest and when you need to turn it on (unless you keep it on 24/7 like we do). It is well worth the $.

It is the least maintenance appliance to keep around

You really only need to pay attention to the Dyson once a year to change its filter (every 12 months or so). They use borosilicate fibers the are compacted and woven together making it possible to trap even the tiniest particulars.

It actually looks like it belongs in the room

The Dyson Pure Hot + Cool Link Purifier is SLEEK you guys. They make their products look so good and you don't want to hide it in the corner. Plus it fits perfectly with our grey and neutrals color theme in the apartment. It isn't sore to look at, otherwise I wouldn't be able to have this in every room!
Have I won you over yet? SO many uses for our air purifiers. I cannot recommend these Dyson ones enough. Do any of you have them as well? What do you use them for?!
xx, Rach
Thank you Dyson for being the best and sponsoring this post. I love partnering with brands that I love and believe in here on the blog!
SaveSave
SaveSave