Nutty Dark Chocolate Chunk Almond Flour Biscotti that are grain & vegan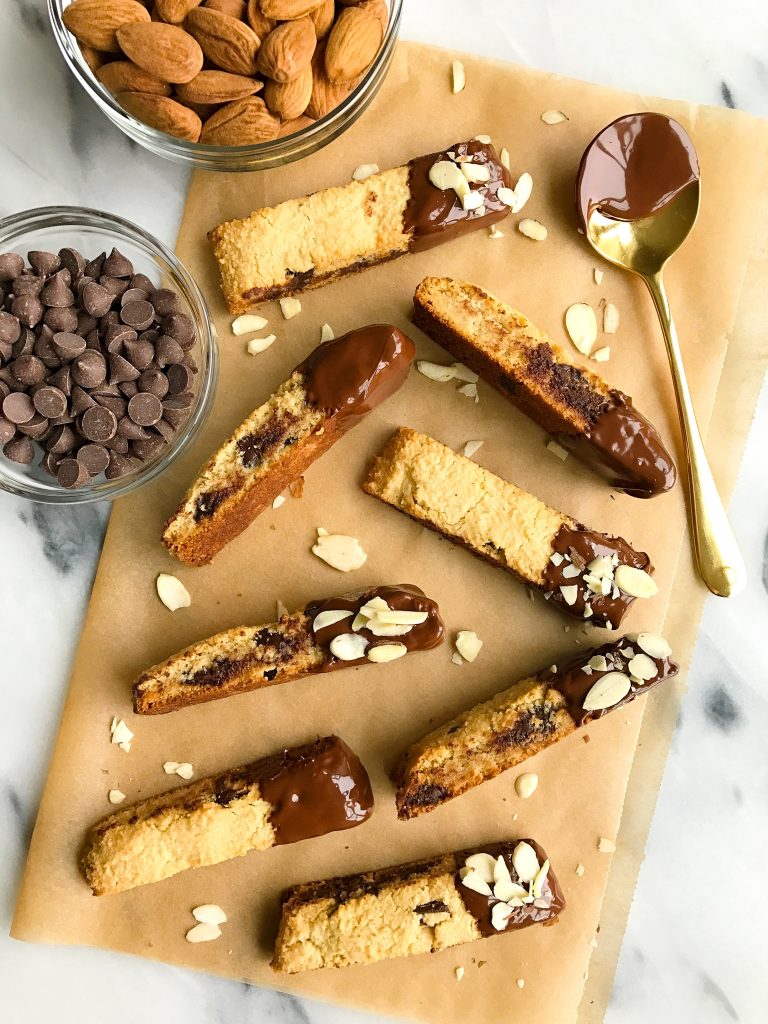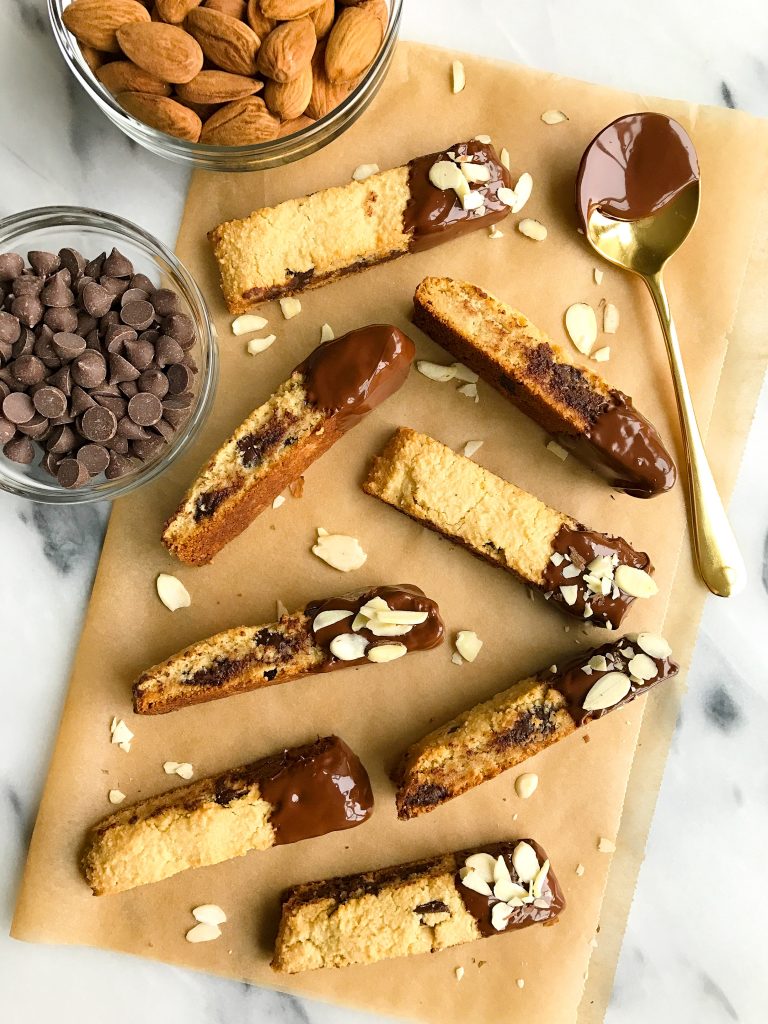 My very first biscotti recipe is finally here.
I have to say it sounds weird to call this biscotti, when I grew up with my Mom making me mandel bread. Which in my opinion, is pretty much the same thing. Except one is the "Italian cookie" and one is the "Jewish cookie". Both delicious. Both one of my favorites ever, and both inspiring this recipe. But for sake of simplicity and most readers knowing what this dessert is, I named them biscotti. But not just an biscotti.. biscotti that is GRAIN-FREE and made with almond flour!
First let's chat about my infatuation though with these cookies. Every single holiday season my Mom makes us mandel bread and my Dad and I HOUSE it. I won't even admit how many I had last year because thinking of it makes me sick. It is literally my kryptonite in the dessert world. Nothing beats my Mom's traditional chocolate chip mandel bread made with real flour (no gluten free, grain free flour), eggs, oil, sugar and chocolate chips. It is pretty much the one dessert I have to eat the "real" way.
But a couple weeks ago I was craving her mandel bread so bad and when I went to make it, I realized I don't even own half of those ingredients. I don't have cane sugar or canola oil or flour in our kitchen. I never use it (nor do I plan to), so I was left making a "cleaner" version. I truly didn't think my own version of mandel bread and biscotti would stand a chance, but it honestly turned out so good. The queen herself, my Mom, even loved it!
I had just received some of Nuts.com's raw organic almonds and made my own almond flour with it. This was the first time I have ever made my own almond flour before, and but it so easy! Plus almond flour itself is a bit pricey so it's nice to know that if you stock up on almonds, you can easily make an almond flour/meal to bake and cook with. All you have to do is put the almonds in the food processor and pulse a bit until it resembles a flour-like consistency. My Nuts.com package could not have come at a better time.
Nuts.com is pretty much my dream website. They sell a ton of pantry staples, nuts, snacks, chocolates, dried fruit and more. Nuts.com started back in 1929 so needless to say, they are seriously the real deal. They were way ahead of the nut trend my friends. It is a family run business that has been passed down for 3 generations. They buy directly from growers and source everything themselves. You can buy one pound or over 100 pounds of a product from them. Nuts.com even roasts their own nuts and pop their own popcorn the same day they ship, making their goods as fresh as possible.
I have been using a ton of their products that I cannot wait to share with you guys soon. But for now, enjoy these dreamy Nutty Dark Chocolate Chunk Almond Flour Biscotti's. They are vegan and paleo and absolutely delicious!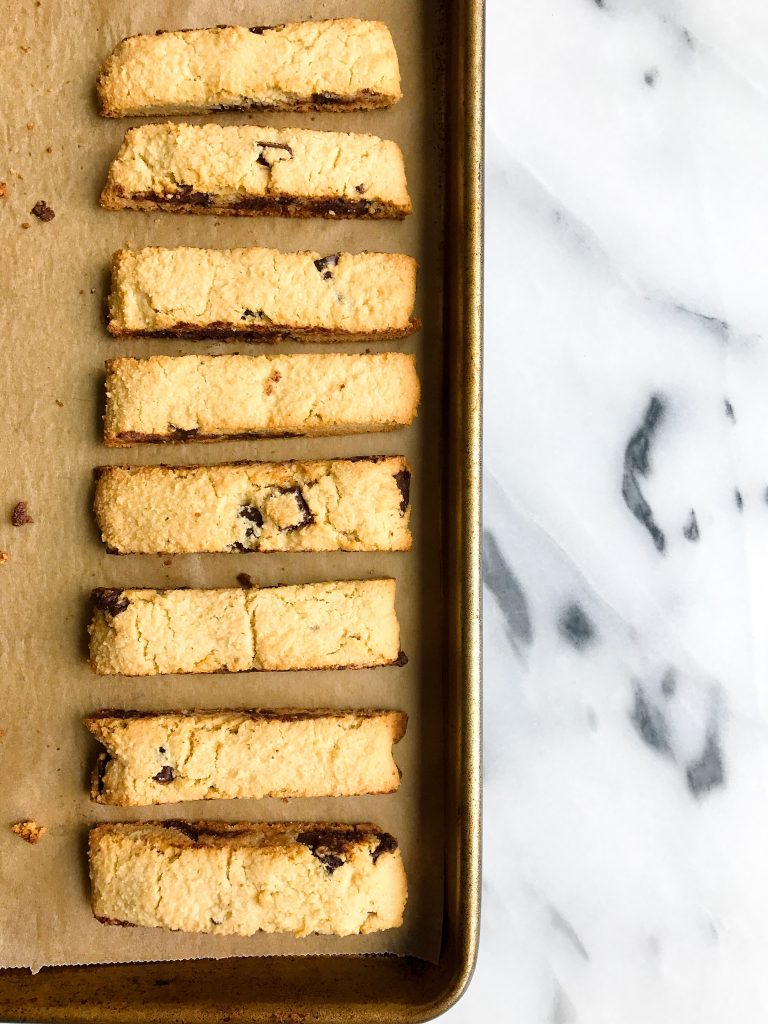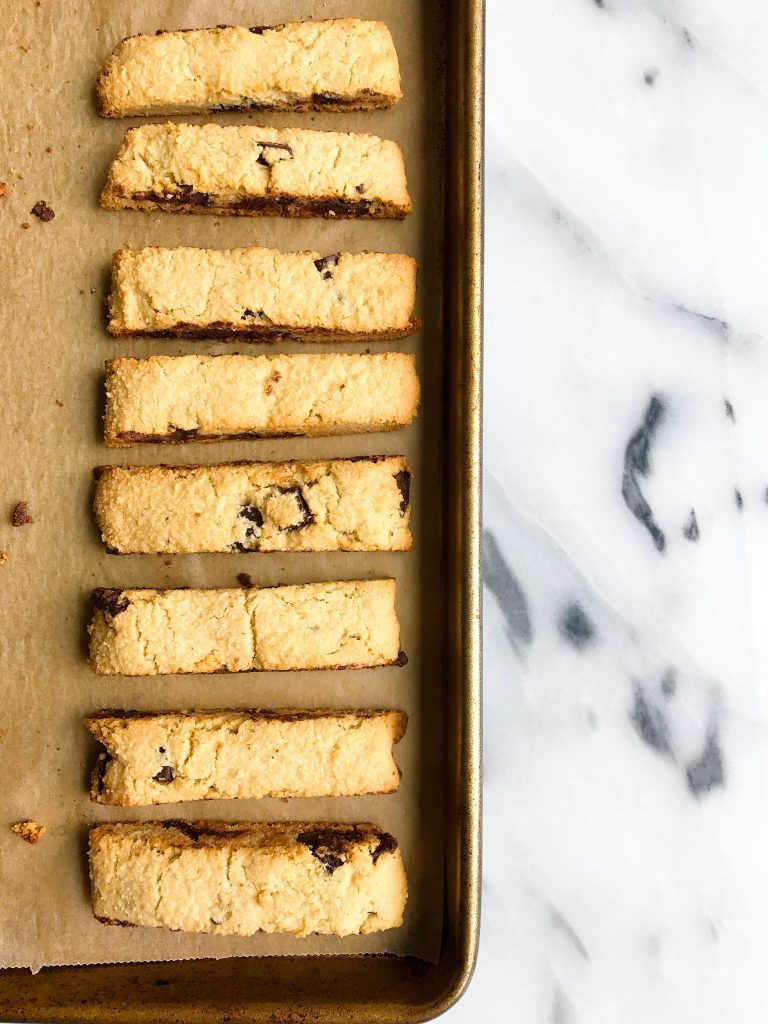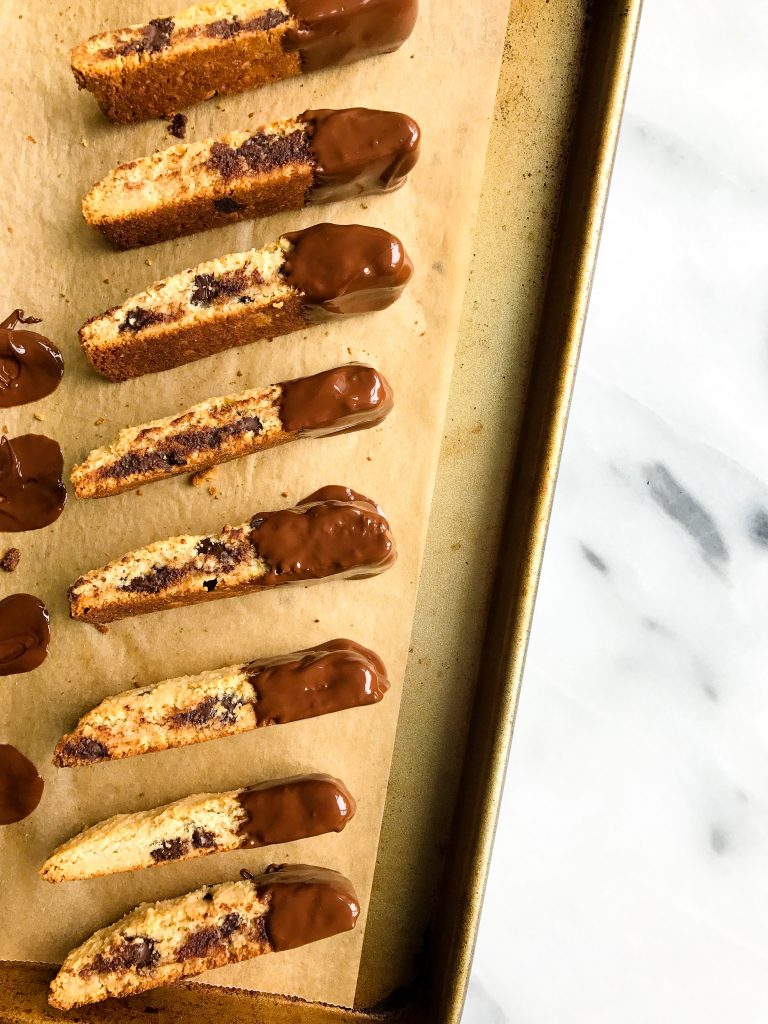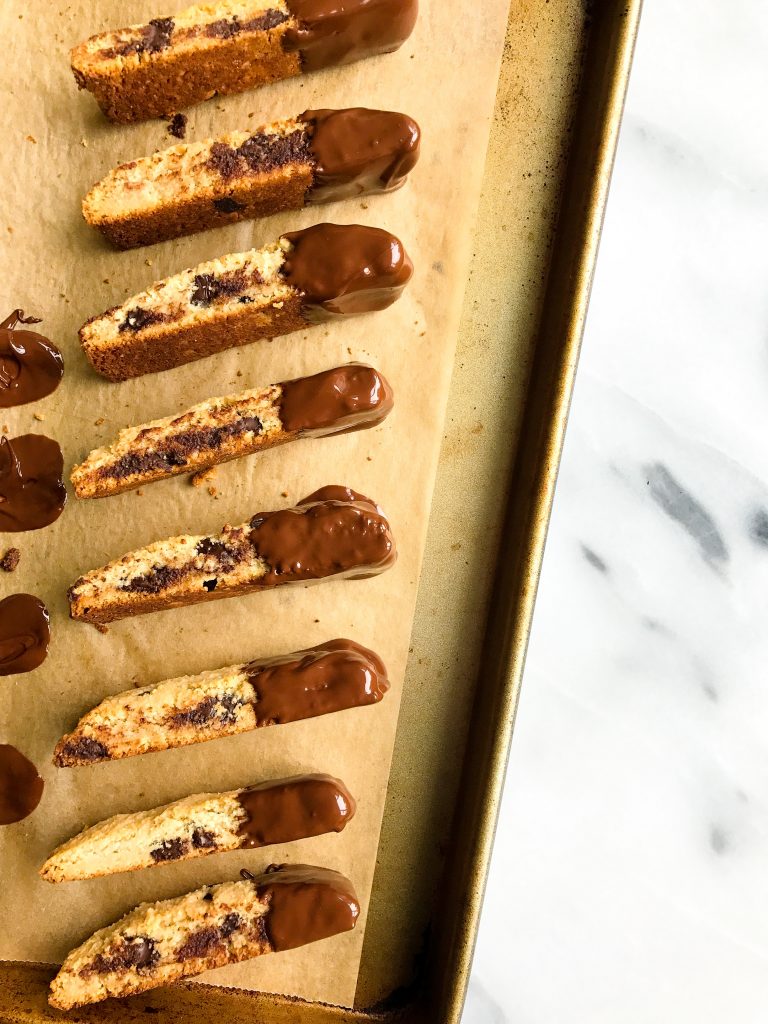 YOU WILL NEED
Raw almonds or almond flour (I used Nuts.com)
Arrowroot flour
Baking powder
Maple syrup
Almond milk
Vanilla extract
Dark chocolate chips
Coconut oil
Sliced Almonds (I used Nuts.com)
QUICK NOTES
I made my own almond flour using almonds from Nuts.com but you can also buy almond flour already made if preferred. It is an even ratio so if you need 2 cups of almond flour then you should use 2 cups of almonds to create the flour
Almond flour works best in this recipe. I do not recommend subbing coconut as another grain-free alternative. You can likely use oat flour or gluten-free flour but exact amount may vary
These biscotti's freeze very well for a couple of months. Heat them up in the oven for a few minutes to get warm again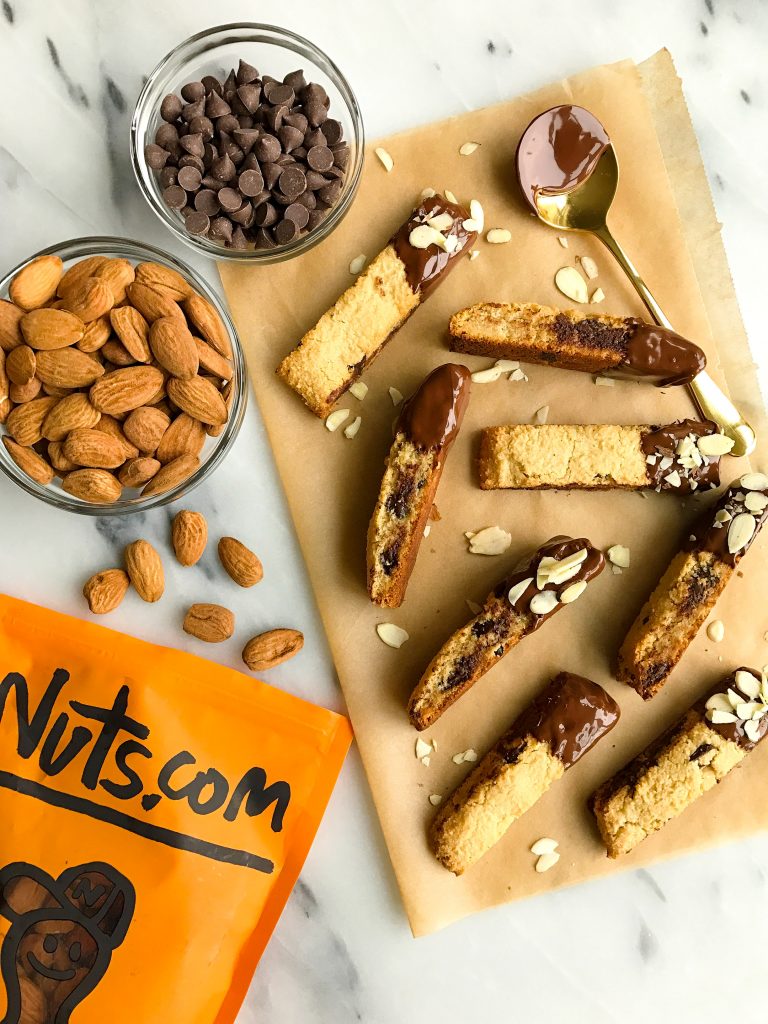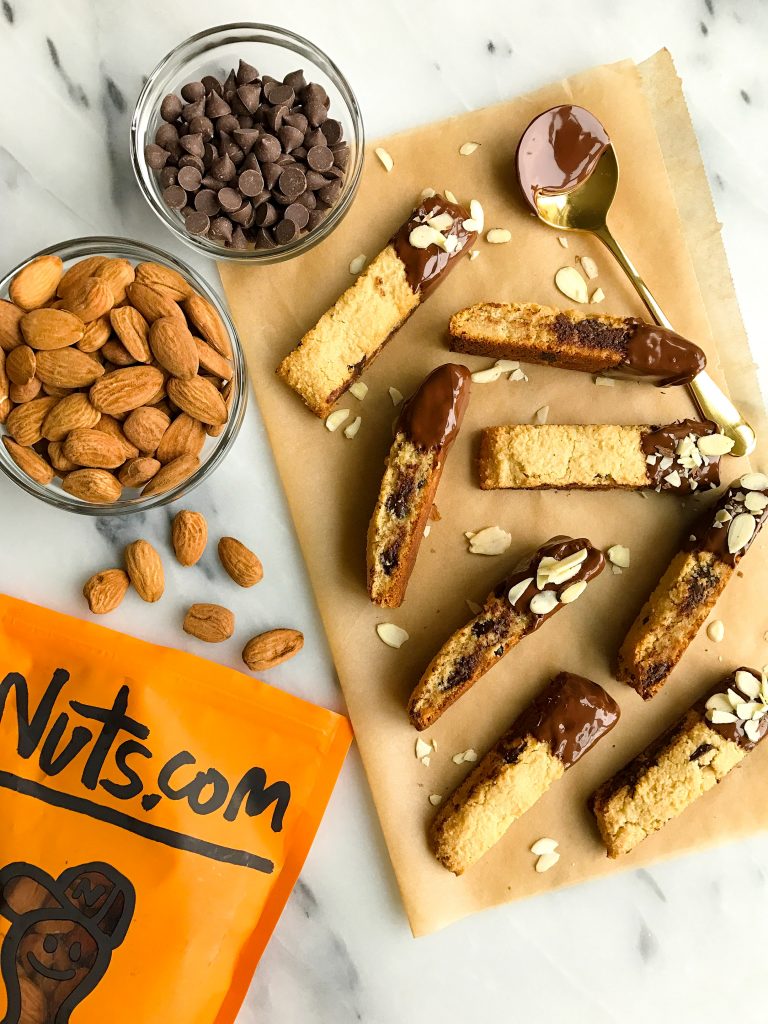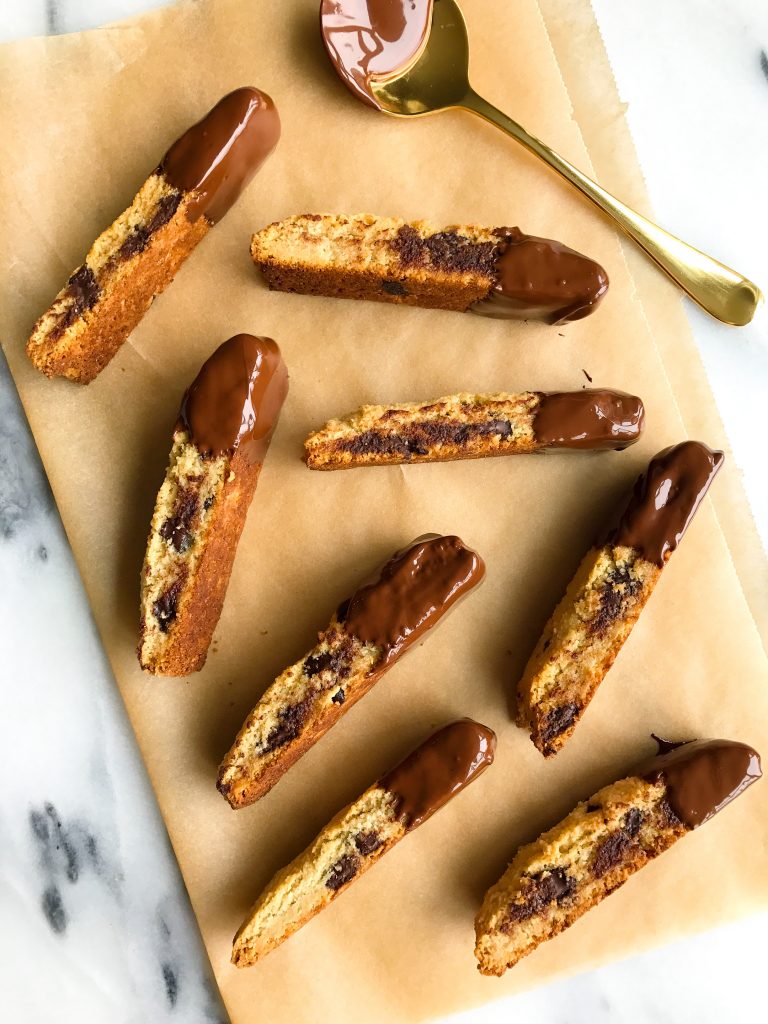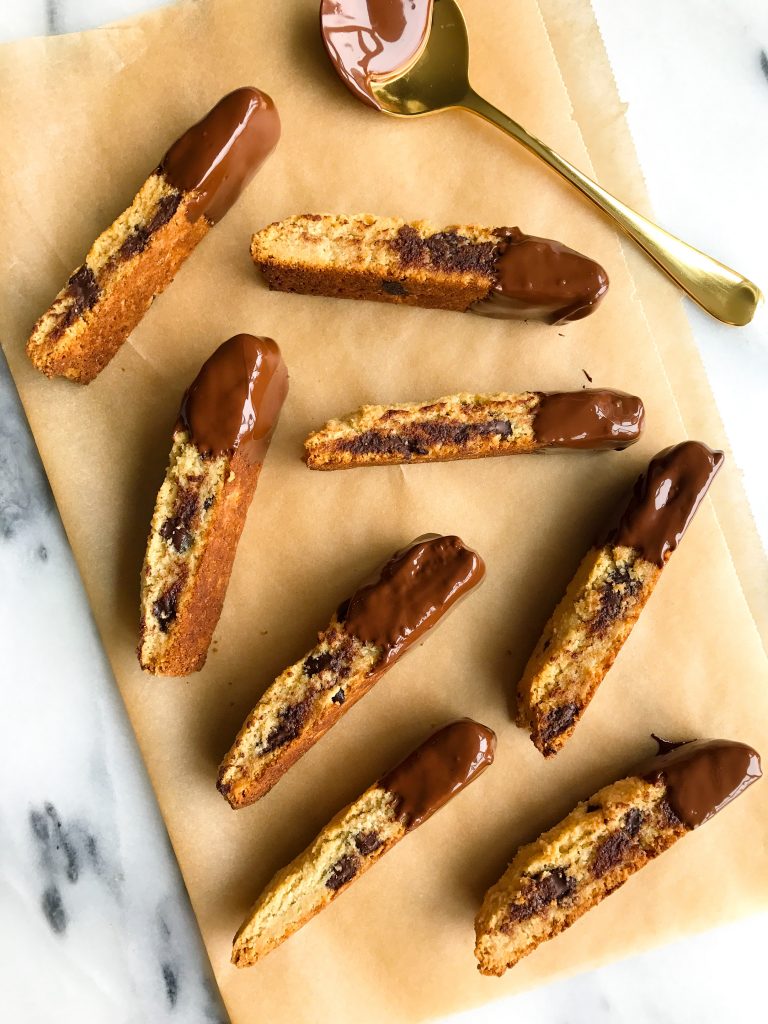 Print
Nutty Dark Chocolate Chunk Almond Flour Biscotti
Prep Time:

5 mins

Cook Time:

50 mins

Total Time:

55 mins
Yield: About 10 cookies 1x
1.5 cups

+ 2 tablespoons cups almond flour (made with

2 cups

of Nuts.com almonds, directions below)

2 tablespoons

arrowroot flour

1 teaspoon

baking powder

1/3 cup

maple syrup (or honey)

3 tablespoons

unsweetened almond milk (or your preferred milk)

1/2 teaspoon

vanilla extract

1/4 cup

dark chocolate chips

1 teaspoon

coconut oil

Toppings: sliced almonds
Instructions
To make your own almond flour, place about 2 cups of raw almonds (about 1 cup at a time) in the food processor
Pulse until you reach a flour-like consistency and sift into a container
Repeat until all almonds are flour consistency, if there are any chunks just keep pulsing until it is a flour (store extra almond flour in fridge in airtight container)
Preheat oven to 350 degrees
Mix almond flour, arrowroot flour and baking powder in a medium bowl
In another bowl, mix maple syrup, milk and vanilla extract
Mix the dry ingredients to wet and mix well (spatula will be fine or Kitchen Aid)
Line a baking tray with parchment paper and great well
Make a "log" of sorts on the try with the dough – think a rectangular shape
Bake in oven for 20 minutes
Let it cool for a few minutes then cut into slices across (not long ways)
Bake for another 10 minutes
Turn heat down to 250 degrees and put each slice on its side and bake for 10 minutes
Flip each cookie onto the other side and bake another 10 minutes
Once cooled, melted dark chocolate and coconut oil and dip each biscotti
Leave on parchment paper until chocolate is cooled and enjoy!
*Will stay good for about 5-7 days in airtight container or freezer for a couple months!
Author:
Category:

grain free, vegan, gluten free

Cuisine:

dessert, cookies
xx, Rach


Thank you Nuts.com for sponsoring this post. It means so much to me to work with brands that I love and who support rachLmansfield!