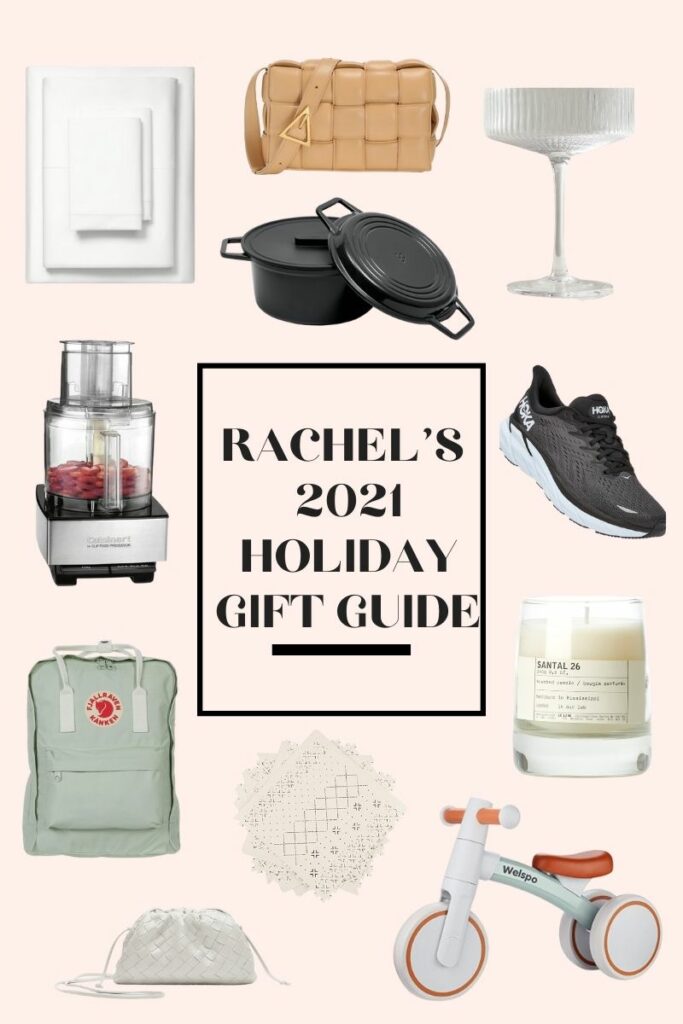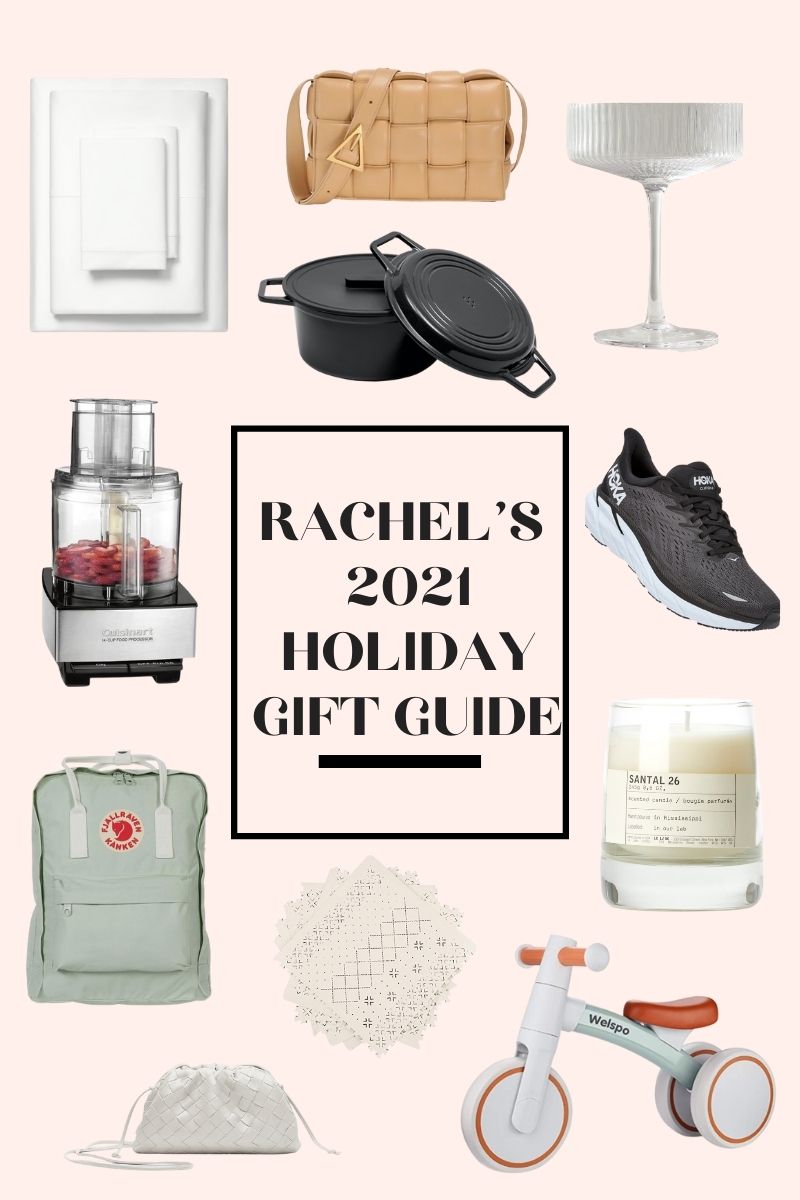 It is here!! This year's amazing line-up of holiday gift guides for so many on your list. These are curated from our family favorites and some things on our own wish list this holiday season. And there are 7 unique gift guides for all the people on your holiday shopping list.
You will find gift guides for: Rachel's picks, mcjordO's picks, wanna be chef's, newlyweds/parent's to be, king of the playground, new babes and parents! Literally anyone and everyone you can think of whether it is your mother-in-law, friend that lives 5 states away, newborn cousin or a little something for yourself – this gift guide has it all boo.
Rachel's picks: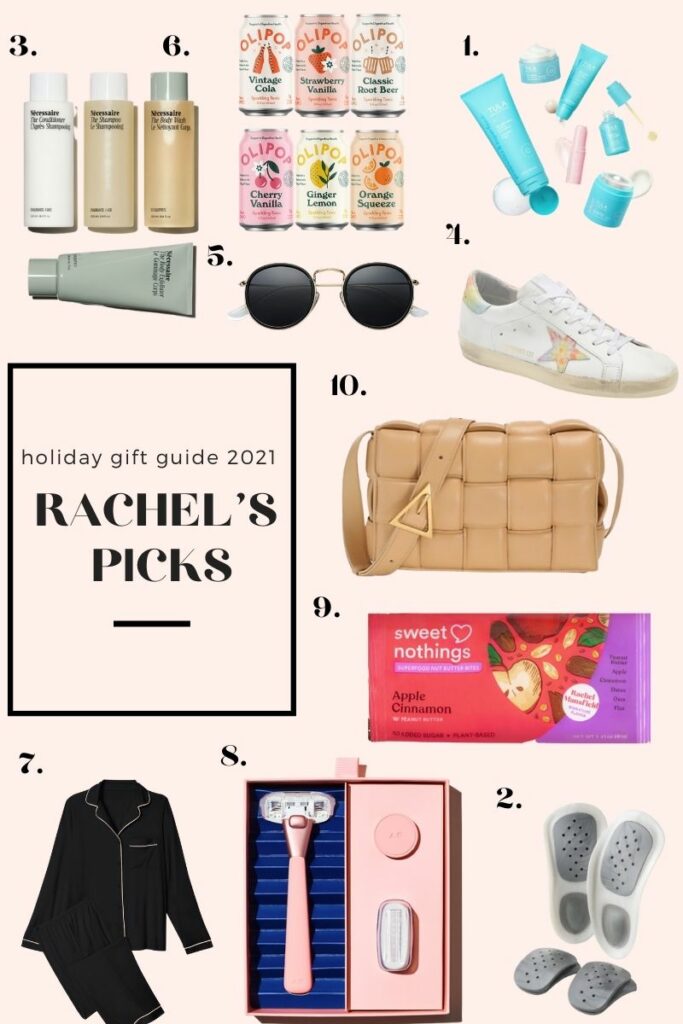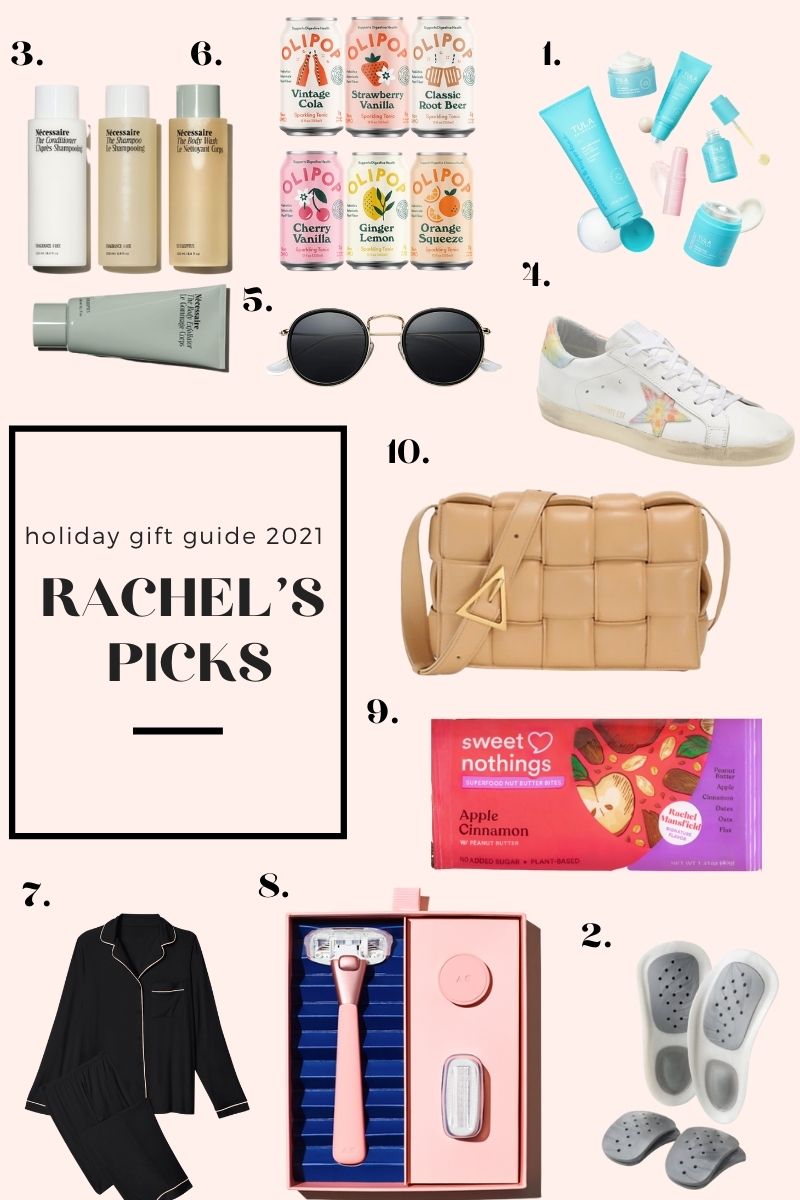 TULA skincare – you are 100% not surprised that TULA is in this guide I know lol. But it's my ride or die and such a game changer for skincare. I love everything they sell. But a few faves: revitalizing eye cream, face cleanser, retinol alternative and more. I share a ton on my TULA highlights and they have holiday bundles too you can use my code RACHL for 25% off.
Orthotics – LOL it's true. These are something that is pricier and if you have crazy annoying feet like mine (aka bunions, arthritis, etc.) having orthotics can be a game changer.
Necessaire – I *love* their products. We use their body exfoliator, lotion, body wash, anything! The eucalyptus is my favorite and the bergamot is Jord's fave scent – code RACHL10 for 10% off all products.
Overpriced sneakers – I mean.. I know these aren't cheap guys. But I live in mine. I wear them every single day and have a few pairs. I splurged on these and have zero regrets. And I have also tried numerous other pricey sneakers but none of them compare. Believe the hype and if you can swing it – do it!
Cheap sunnies – yes, I am the person who is telling you to ask for pricey sneakers but I also wear very inexpensive sunglasses courtesy of Amazon. I have a bunch of these and get *so* many compliments on them. They are amazing!
Olipop – YEAH DUH! Olipop is my dream gift guys. I drink it daily and it's a healthier soda alternative. All their flavors are killer but my personal go-to's: grape, orange squeeze, root beer and orange cream. So good. code RACHL for 15% off.
Tommy John Pajamas – we *love* Tommy John over here. Their loungewear and pajamas and underwear – all feel so soft and are amazing. We also are super lucky to have partnered with them a bunch of times now, which is a really a dream. Their stuff wears so well too.
Athena club razors – I mean… no I didn't think I'd ever put something like this on a gift guide but here we are. I am obsessed with these razors and they are super affordable and shop right to you! code RACHL for $5 razor kit.
Peanut butter bites – I mean DUH! I can't not put my favorite snack on there. code RACHL for 10% off.
Splurge bag – every year I *splurge* on a bag. It is my thing – it brings me happiness and makes up for my non-existent shoe obsession. A few of my faves are this bucket one, this cross body one, this cross body and this clutch/crossbody.
Facial steamer – I am OBSESSED with this! Love love using it.
Seed probiotics – omg this truly SUCH a game changer!!! use code RACHL for 15% off and you'll thank me and your gut too.
ALLBIRDS – particularly these new sherpa ones that I am wearing daily. But really anything from allbirds I love. My entire family is hooked and has been for 7 years now. They make the best stuff. I am wearing their sweats as I am typing this.
Corkcicle – the BEST reusable water bottles and mugs and more! use code RACH25 for extra 25% off.
mcjordO's picks: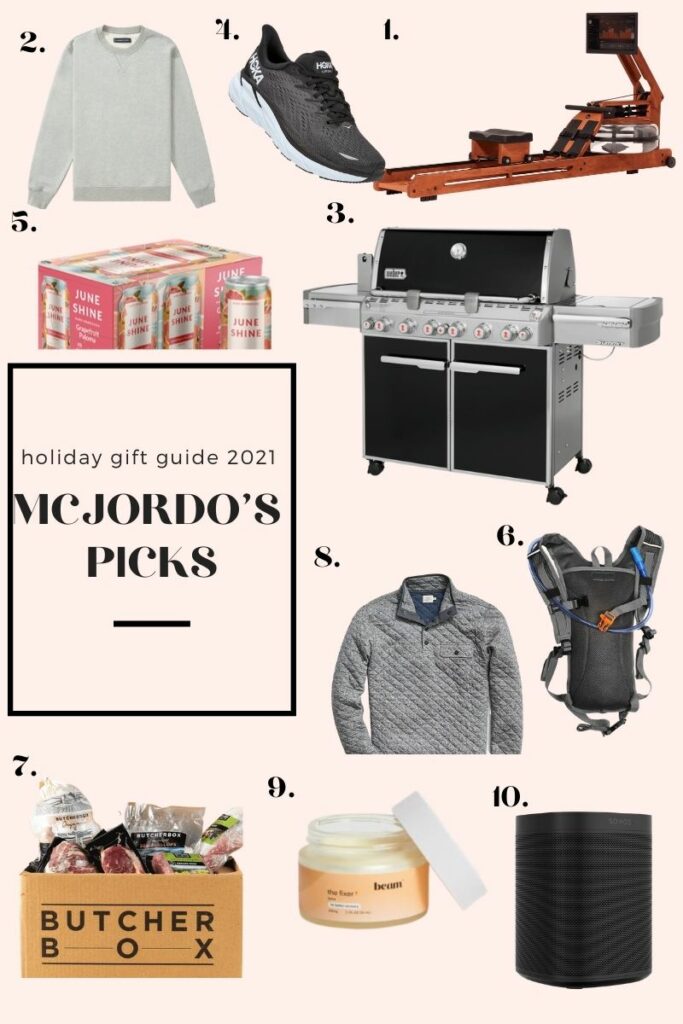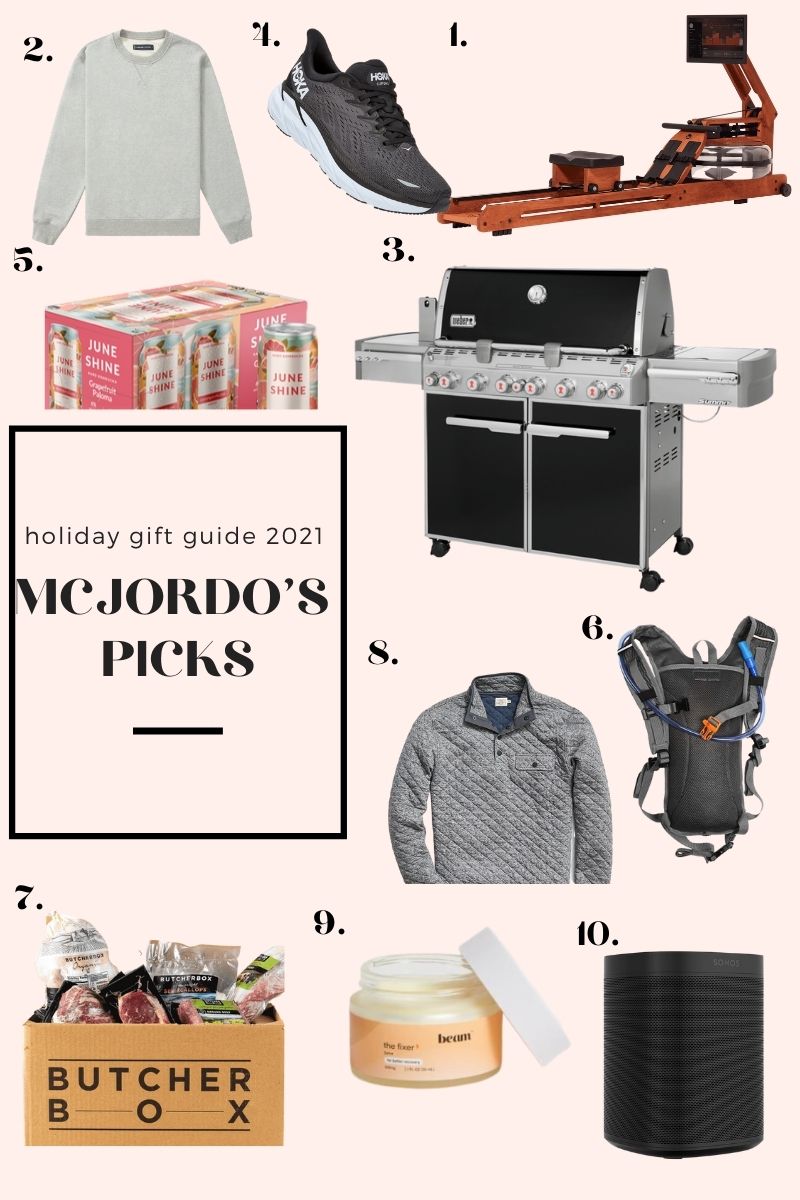 Rowing machine – okay mcjordO we see you and your fitness obsession. J is counting down until our house and when he can use this everyday. It is such an awesome gift idea and an easy way to work out at home. code RACHL500 to save up to $500 off ($200 off + two free GWP).
Everlane sweatshirt – he lives in this. J has it in a bunch of colors too and it wears well, is affordable and super comfy. I even have one in black from the men's collection. Here is a round up of everything we got from Everlane.
Grill– Jord is freaking out that we will have outdoor space so obviously we had to order a grill.
Hoka running sneakers – the half marathon runner himself says these are the best!! I have them as well and it's like you're walking on a cloud fam. We also both have these slides to wear inside.
Juneshine kombucha – okay so in September Jord went gluten-free and he has been *loving* having this as an alternative for a beverage. It is so much lighter, organic and they even have a flavor that tastes like beer fam. code RACHL for 20% off.
Running backpack – I may kill this thing because it is always in our sink being cleaned. He uses it is DAILY when he runs and apparently it is all the rage.
Butcher box subscription – for the meat lovers get this. Or just the family who likes to save $$ and cares about the quality of their meat. We love their bacon, beef, steaks, chicken, everything!
Faherty pullover – another must-have for the men in your life. J lives in this and it's super soft and cozy plus it is dressier looking than your usual pullover.
Beam CBD – we use all their goodies. J loves their fixer topical cream, I love their dream capsule and we also use their hydration packets all the time. code RACHL for 15% off
Sono's speakers – portable speakers are ALL J keeps talking about. And the sound system for our house lol!
Wanna be chefs: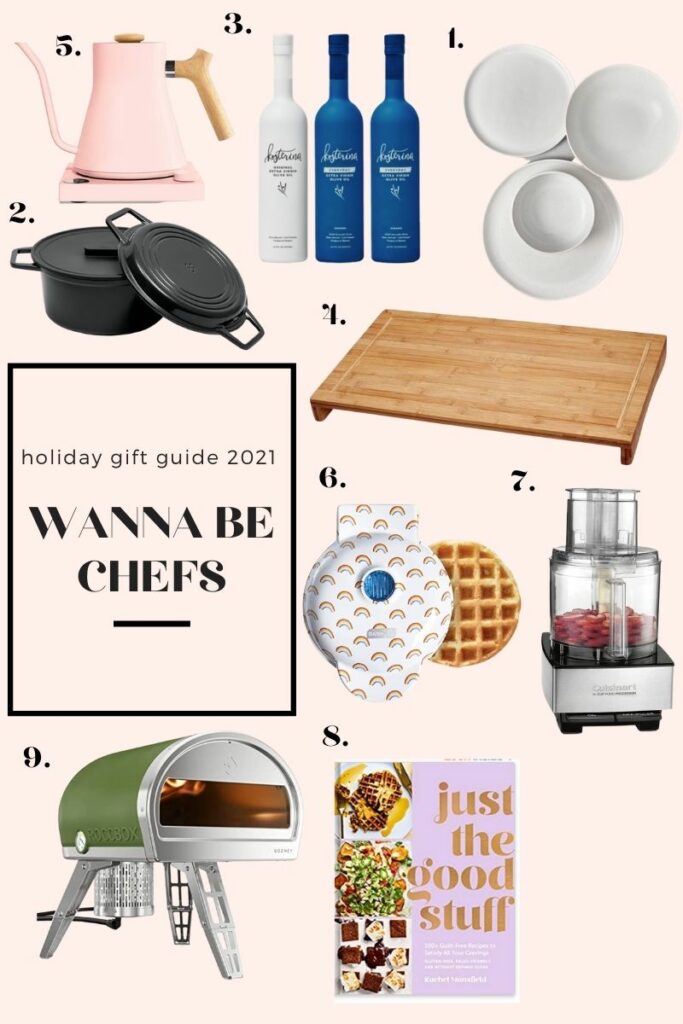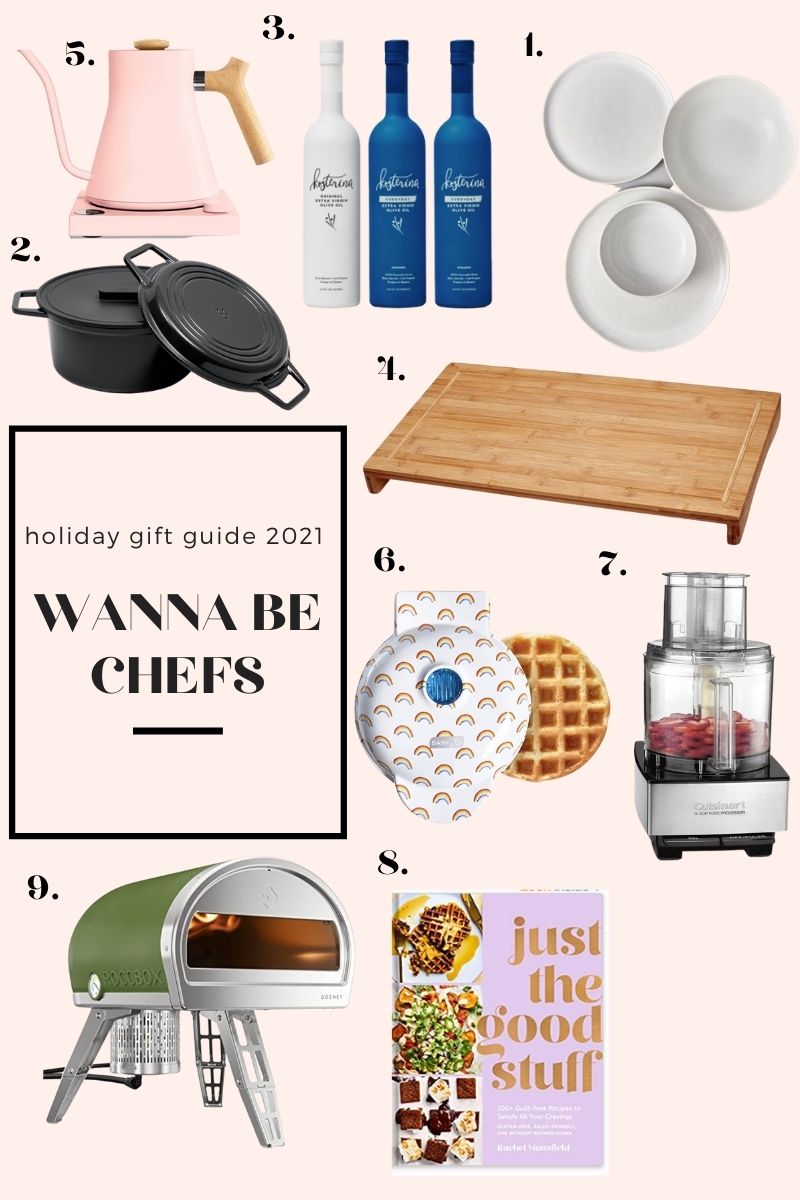 Ceramic dinnerware, flatware and glasses – we ordered so many things from Fable for our new kitchen! We are obsessed with their glasses, flatware, bowls, plates everything. Plus you can put it in the dishwasher, which is a must for me lol! code RACHL for 10% off.
Dutch oven + grill pan – we love this one from Misen! We have the grill pan lid and it's amazing. We have used it in so many recipes and it also is a gorgeous piece.
Really good olive oil – we go through olive oil like it's water.
Cutting boards – we are ordering a bunch of new ones for our new house. I refuse to buy pricey ones because we destroy them but I have been getting affordable ones and they're great!
Hot water kettle – okay so we have this now for the stovetop and it didn't wear well with a flame. I recommend getting the electric version instead. We got a new one for the house.
Mini waffle maker – such a fun gift idea!! We love using this for Ez and B too and it works super well.
Food processor – I'd be dead in a ditch without my food processor. I love it and use it all the time. Yes – it's a splurge but if you buy a good one – you'll have it for years!
Just the Good Stuff Cookbook – I couldn't not include my cookbook duh!!
Pizza oven – this has been on our list for forever!! You know we love our pizzas (hello grilled pizza) so hopefully we can add one to the new house.
Newlyweds/parent's-to-be: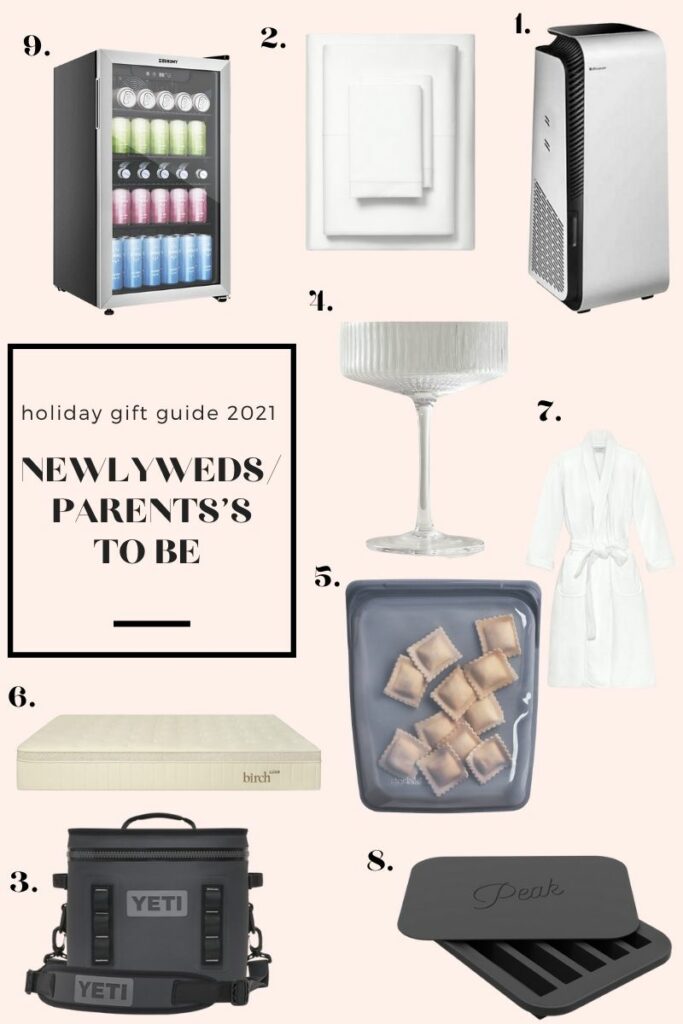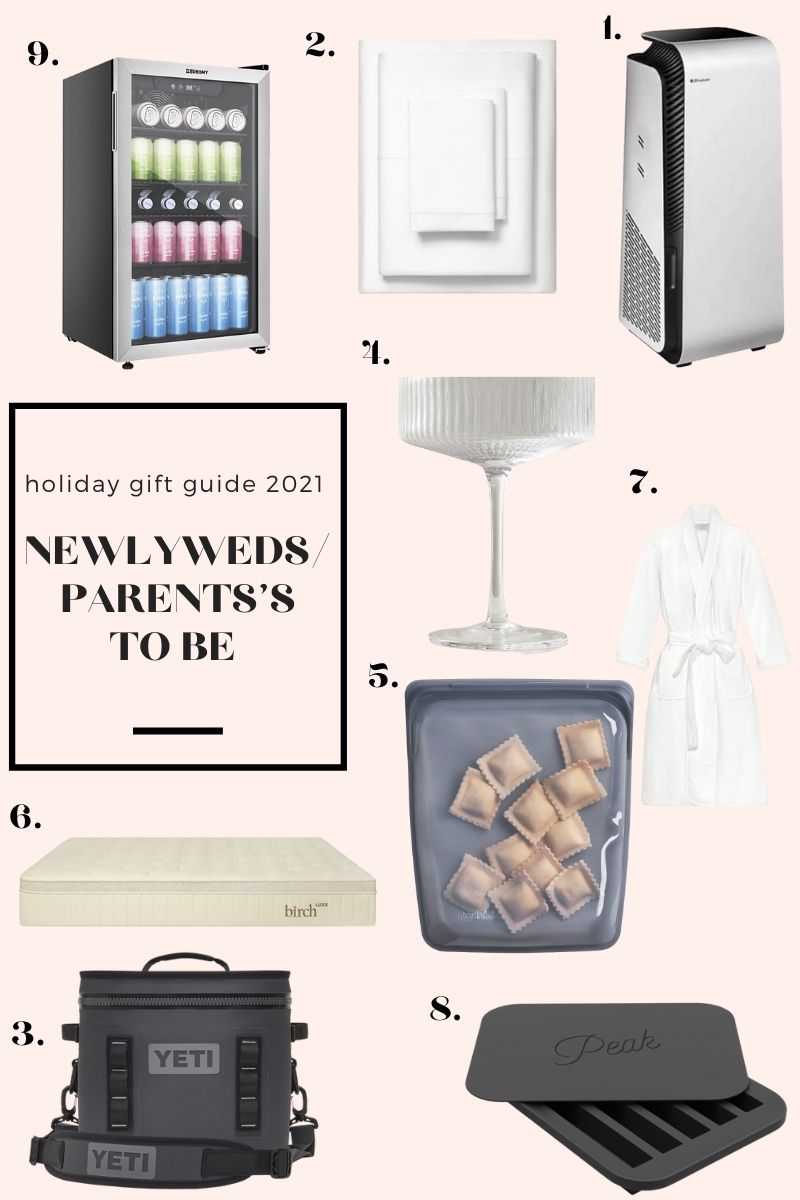 Air purifier – omg the best. We have these in every single room and it's a game changer. Every room needs one in my opinion. Especially the kitchen and baby rooms, bedrooms, etc.
Quality sheets – we have used these for years and they're AMAZING! Super soft and wear well. They get better with time I swear guys. And we have a bunch of their other products too. code RACHL25 for 25% off.
Cooler – great for new mom's for breastmilk (lol) or men for their brews and things. We use ours all the time.
Ribbed martini glasses – 100% necessary for all my mixologist or cocktail lovers in the house. We are obsessed and just bought some too.
Reusable bags – ummmm yes these are genius as a gift. Great for anyone because we put leftovers in them, snacks, cheese, anything!! Love love our reusable bags and have had them for years.
Mattress – we love our Birch Living mattress! Great quality, super comfy to sleep in and we got them for Ez and our guest room in the house.
Cozy robes – I mean.. these are a must friends. I use my robe(s) every single day post shower, in the morning, night, etc. I love this one and this one.
Water bottle ice tray – ummm this is so random but I saw this online and I am obsessed.
Wine or beverage cooler – I am SO excited to use our new beverage cooler in our house. It is going to be amazing to have extra space for all the bubbly.
The king of the playground: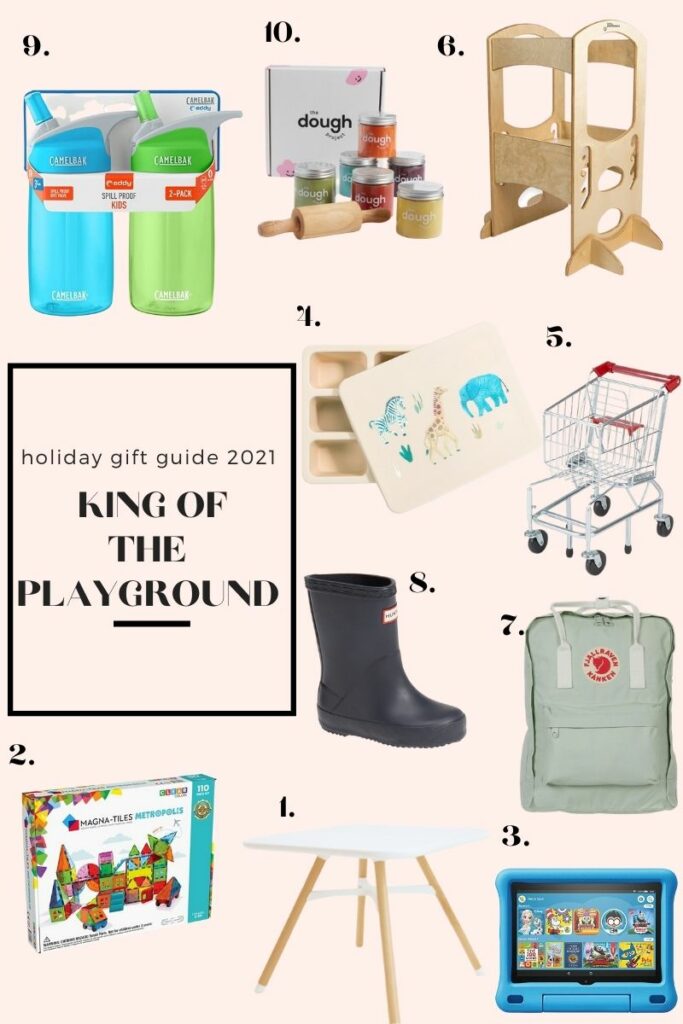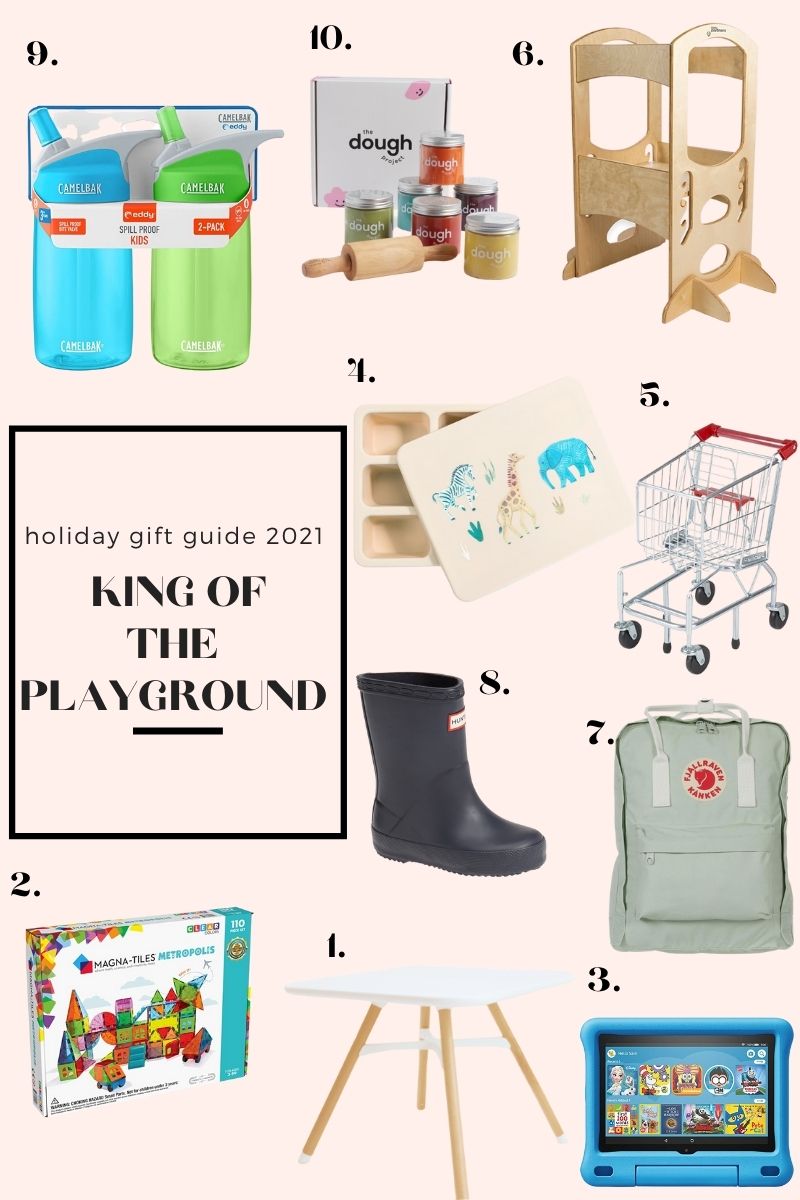 Welcome to the world baby cakes: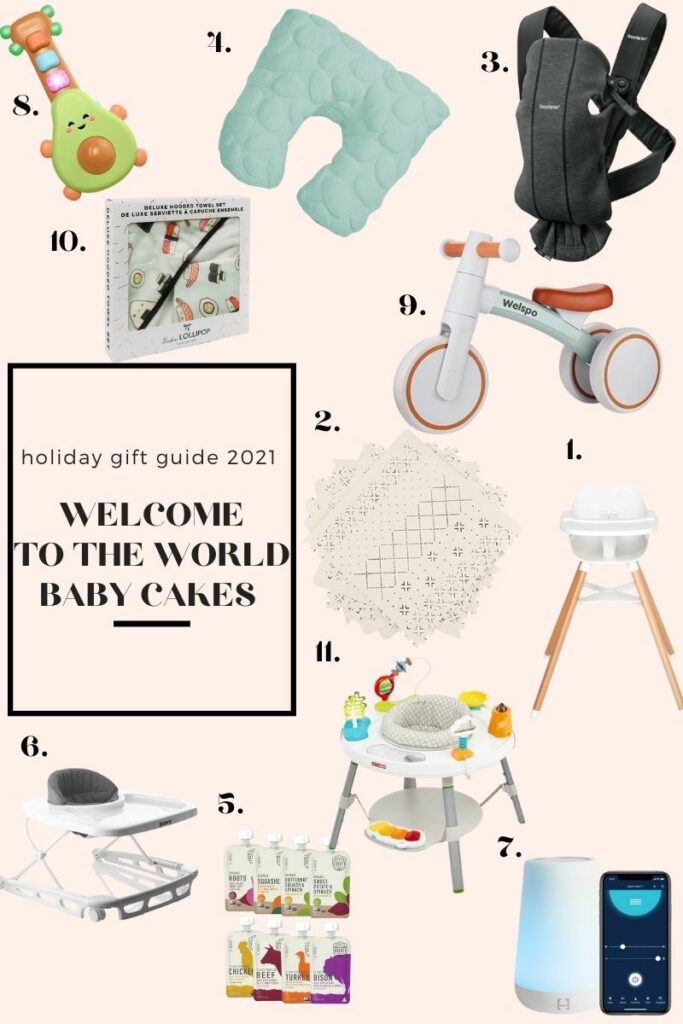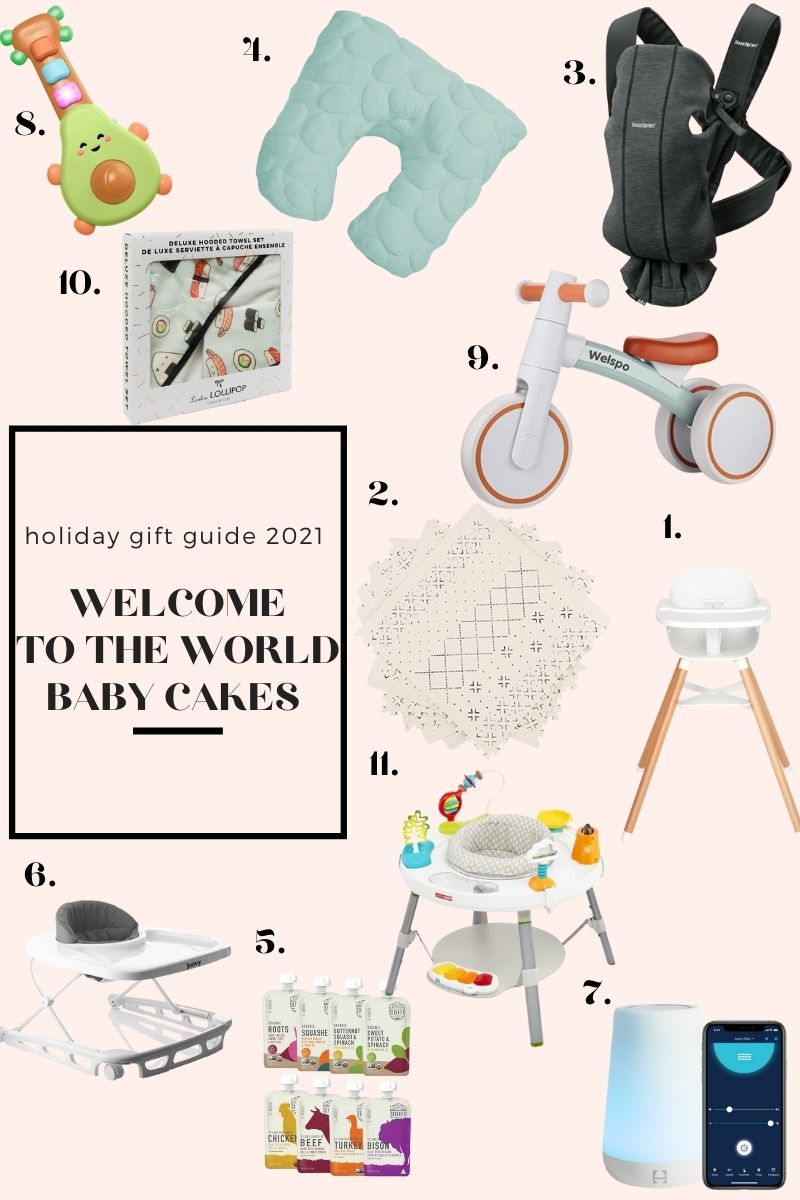 The in-law's/your parents: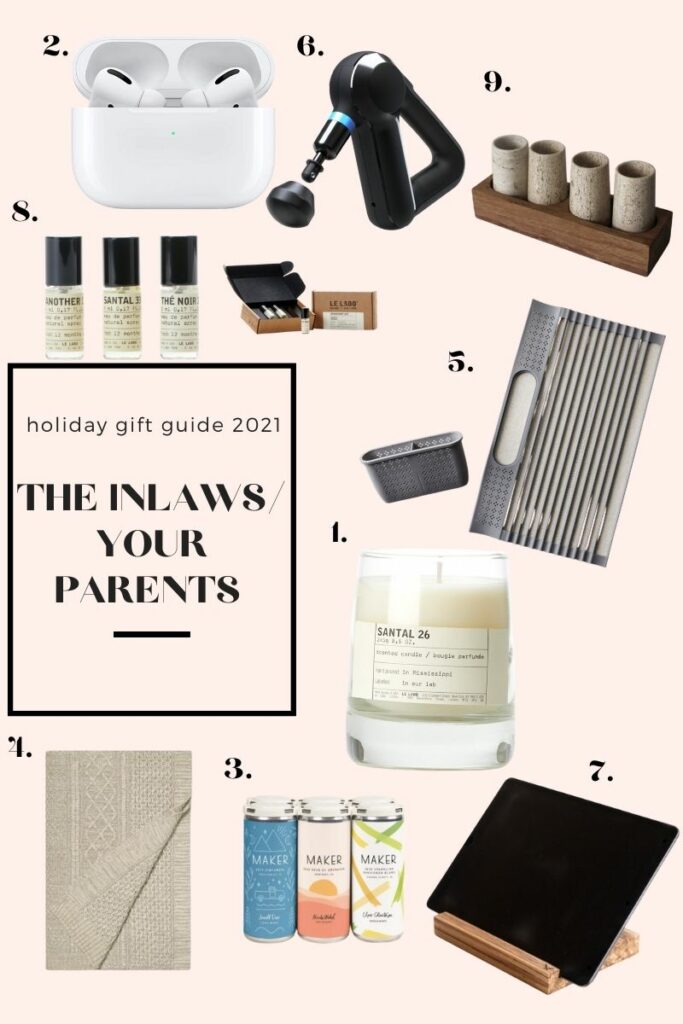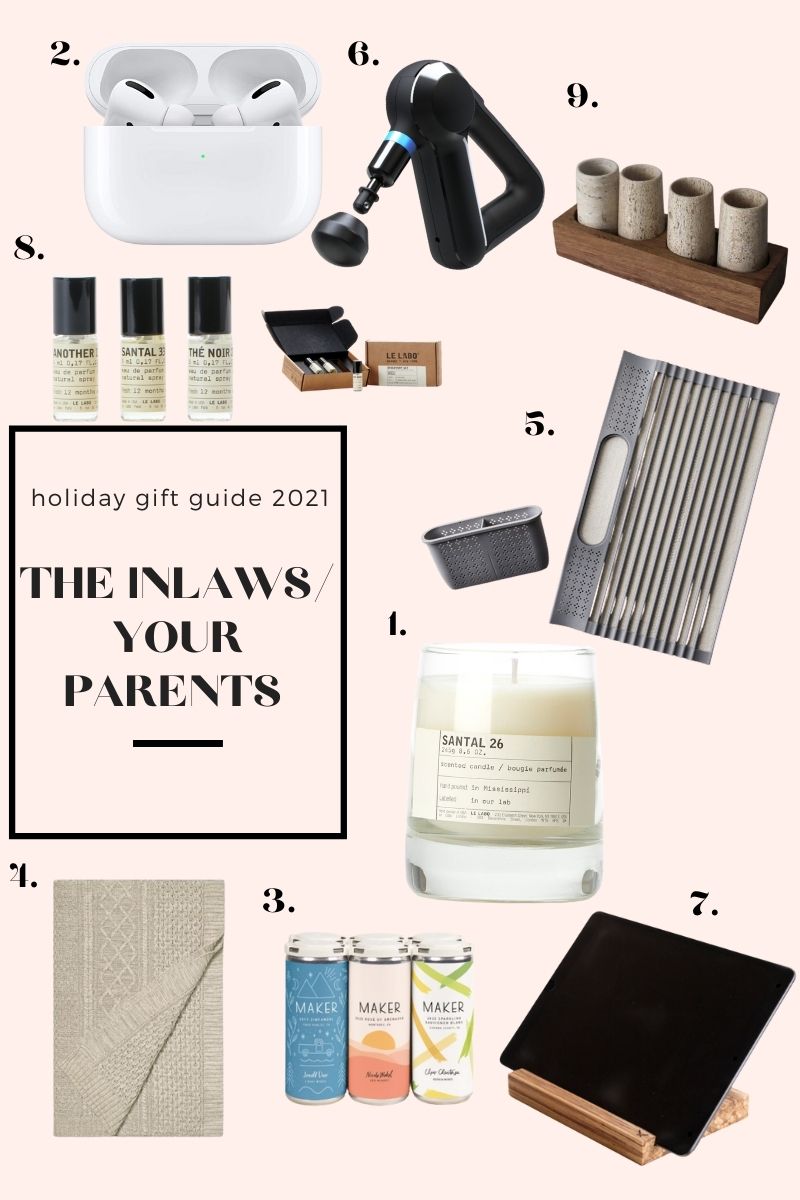 Fancy a$$ candle – we love these candles!! I have their perfume too and it's always a hit.
AirPods – help your parents or in-law's get with 2021 guys. Everyone needs AirPods.
WINE – but like really good wine that plot twist: comes in a can guys. This brand is amazing and J and I are investors in them too. They ship nationwide. code RACHL for 15% off orders.
Cozy throw blanket – you can never have too many of these! code RACHL25 for 25% off.
Over the sink drying rack – something I am personally LIVING for when we move into our house.
Massage gun – kind of pricey but Jord and my dad are obsessed with theirs.
Tablet stand – there is a 90% chance they have an iPad or tablet so you can't go wrong with this idea.
Perfume set – I am obsessed with this one!
Mexican tequila shot glasses – ummm can someone buy me these too lol
My favorite small businesses: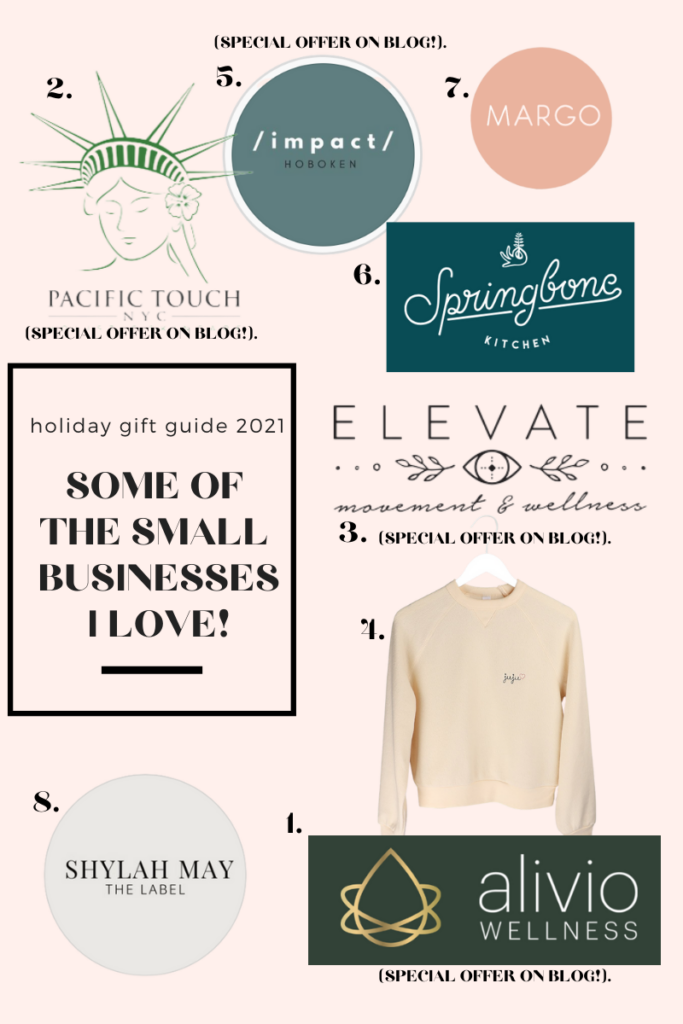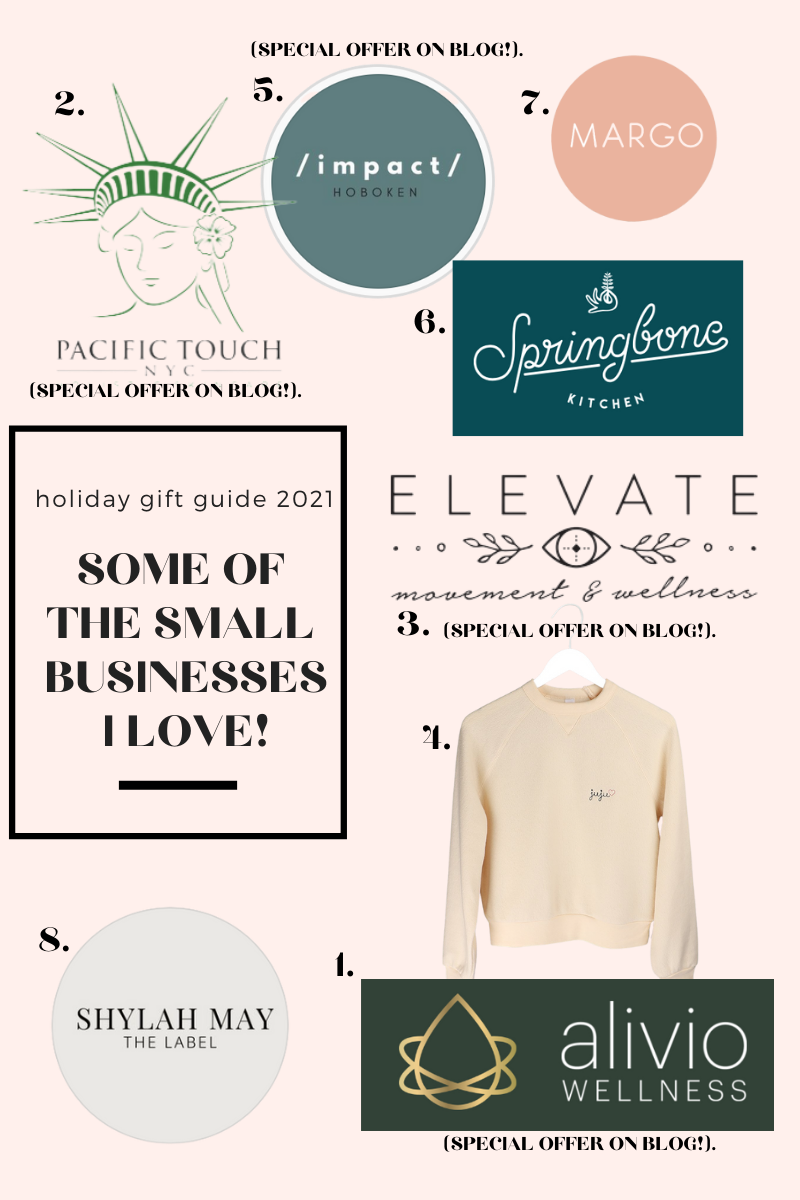 Alivio Wellness – my new found obsession in Hoboken. So bummed it wasn't opened entire time we lived here. I am addicted to their lymphatic drainage massages. They also have colonics and my friends who have gone loved them. code RACHL for $10 off your first visit until 12/4
Pacific Touch NYC – OMMMGGGG my girl Nichola. She is an angel. Truly one of the best facials you can get for yourself or anyone. She is in NYC and is truly just life changing. code RACHL for 15% off gift cards until 12/31
Elevate Pilates – Amanda is amazing. I go every Friday for private pilates and she is truly a unicorn of a pilates instructor. Turned into a good friend of me and a gift card here for your friend or anyone is also a great idea. email with code RACHL for 15% off any services or memberships until 12/31
Juju + Stitch – this is where I get those cute sweatshirts with names embroidered on them!!! Best gift for grandmas and moms and dads. Jord has one that says "cool dad". And I got one from my MIL and my mom too. code JUJU10
Impact hoboken – SUCH a great fitness studio in town. I wish I went daily because the classes are amazing and all the instructors are so so kind. code RACHL for 15% off New Client Unlimited week!
Springbone – um hiii their food and bone broth is the best. Also their broth ships nationwide!
The Margo Market – my favorite shop in Hoboken and they ship nationwide. Everything they sell is stunning, so aesthetically pleasing, and ethically sourced. We are in there all the time and the owners are so sweet!!
Shop Shylah May – love love their sweat suits!!
Flowers By Bernard – of COURSE the best florist in the tri-state area. If you are local to Staten Island, call them for flowers. Or if you are a bride, hosting an event, etc. My mother-in-law, Elissa, does all the flowers for our parties and obviously did our wedding, which was stunning.