Welcome to our 2022 Holiday Gift Guide Fam!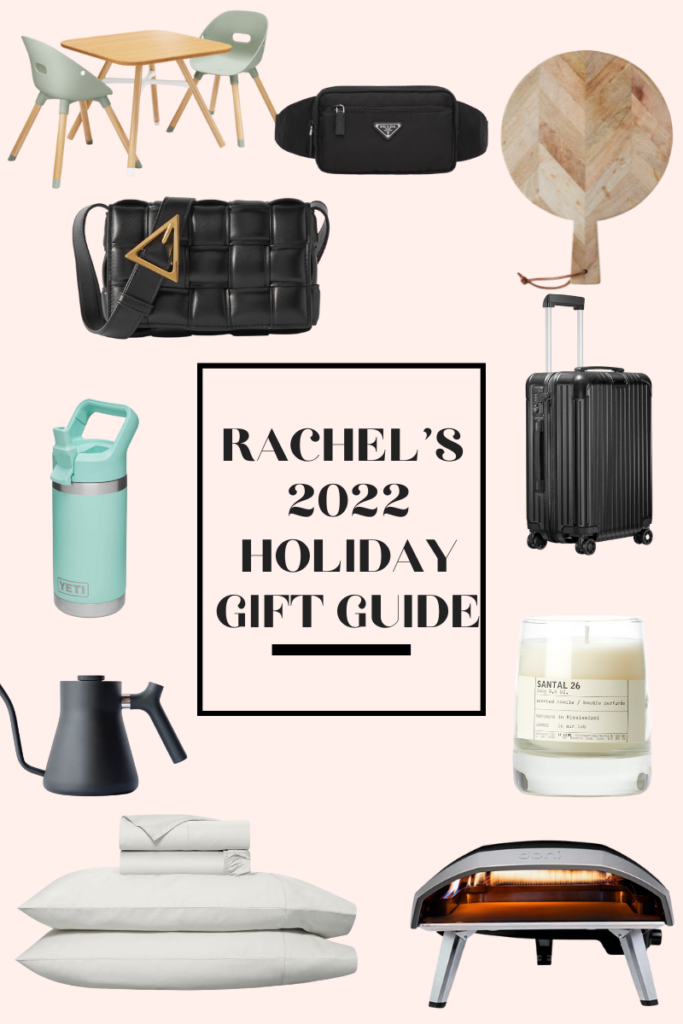 This year we added a few more categories and tweaked things around a bit to make your shopping even easier. Our guide is hot and ready just in time for holiday shopping to begin. Because if you are anything like me, I am starting as early as possible. Especially with baby #3 coming our way just after the holidays (or when they decide to come!)
Here in this gift guide you will find guide for: new-ish mama's, grown up children, your husband/partner, parents/in laws, grandparents from grandkids, toddler faves under 4 years old, parents-to-be, your sibling(s), neighbors/family friends/hosts + gifts under $25.
This is a mix of personal favorites and things on our own lists! I hope you guys find this guide helpful. Happy and healthy and delicious holidays fam!!
New-ish mama's: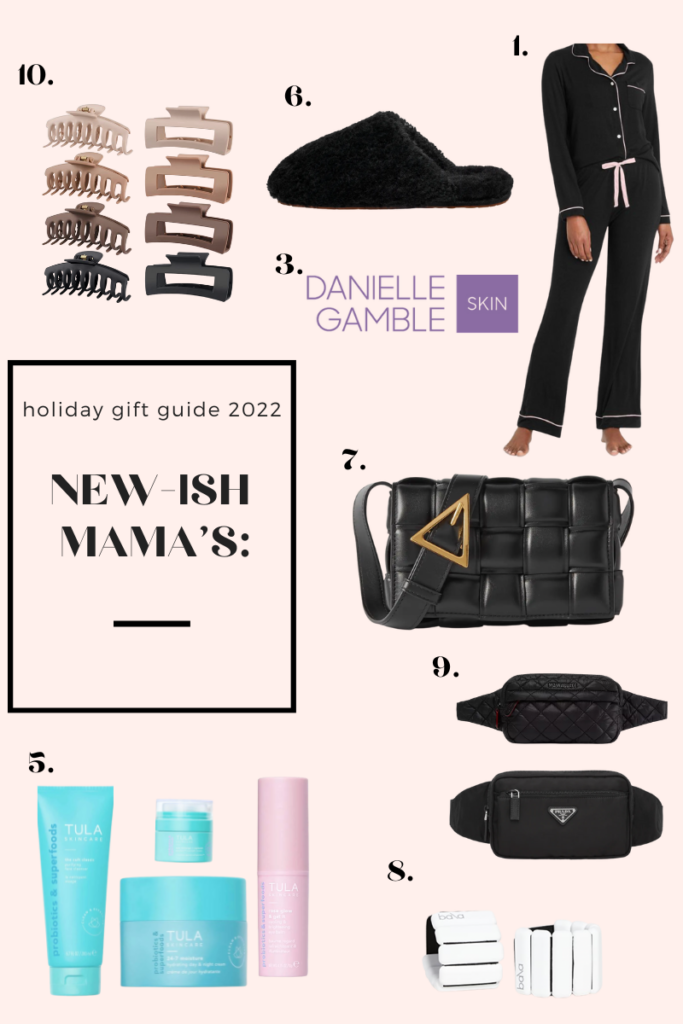 Cozy pajamas: these pajamas were recommended to me and I love them. I also ordered them in two sizes so I can wear them pregnant and after
Blow out gift cards: I am pretty sure this is is a hit for 95% of women. I love love getting my hair done – it is my favorite thing to get done and saves me so much time!
Facial gift card/treatment: If you are in NJ or NYC call Danielle Gamble! She is amazing!! Tell her we are besties and she will hook you up. Such a good gift to get someone
Initial necklace: I love mine from Stephanie Gottlieb! It's the bubble initial necklace
Skincare: pro-ferm overnight complex, 24/7 hydrating moisturizer, facial cleanser, and this brightening eye balm
Fuzzy slippers: I just got these for myself and I am OBSESSED
Crossbody bag: this is a splurge but it is also my most favorite bag – can't not add it here!
Hand weights: these are one of my faves to have
Fanny pack: that one is one I have my eye on it for a splurge and this is the one I currently have and love!
Claw clips: I live in these all day – such a good stocking stuffer kind of gift
Fitness trainer: a gift card with a personal trainer or fitness classes is always a hit. If you know a mom who is expecting, my friend Emily does virtual and IRL sessions for pre and postnatal and she is AMAZING (tell her we are friends)
Grown up children: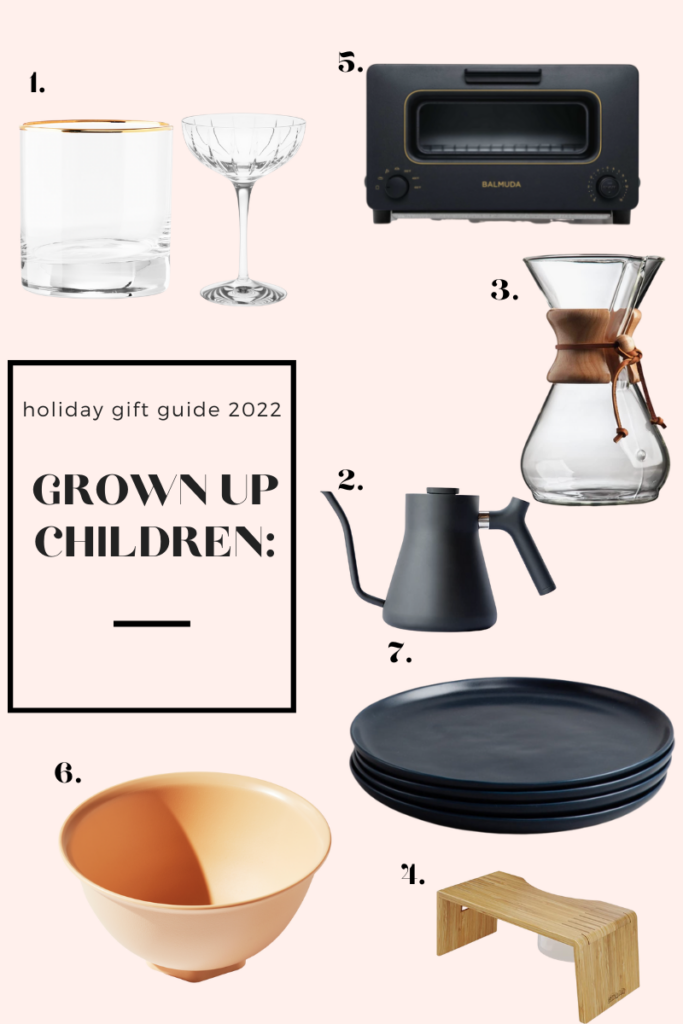 Rimmed glassware for cocktail/mocktails: I love these gold rim ones and these coupe glasses!
Hot water kettle: we love ours and Jord uses it every single day. We have had it for years.
Pour over coffee maker: another mcjordO fave but great for coffee lovers
Squatty potty: my best purchase of 2022
Toaster oven: this is such a good gift to get and one that anyone would love!
Mixing bowls: (code RACHL20) I use these all the time for baking, cooking, eating, anything!
Dinnerware and flatware: (code RACHL10OFF) this set is what we have and love!
Husband/partner/fiancé: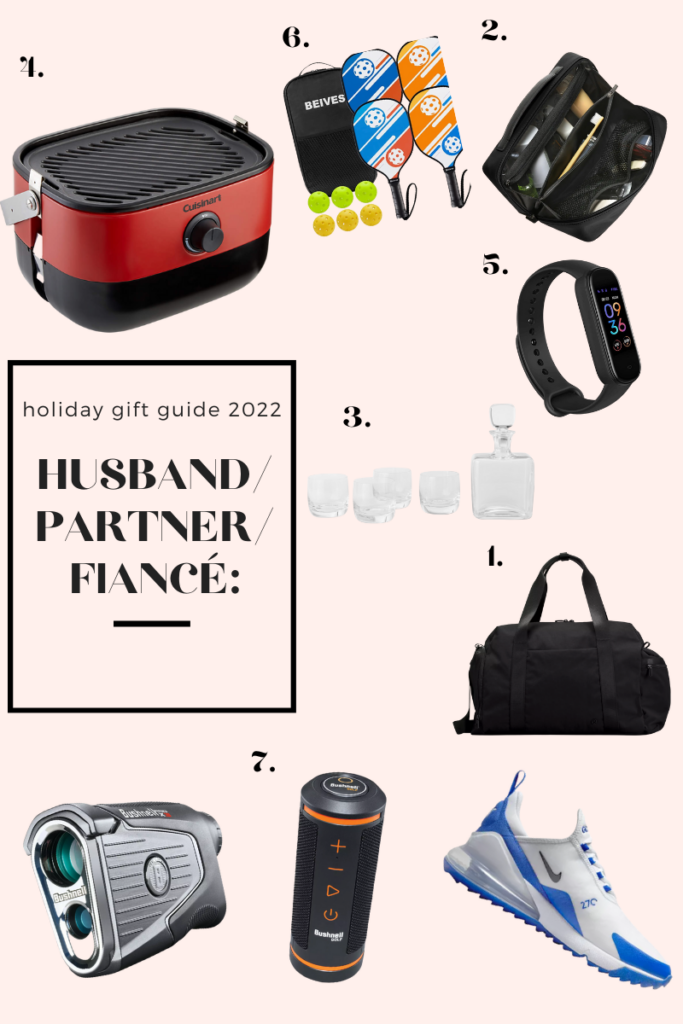 Gym bag/backpack: Jord apparently is asking for this for holidays!!
Travel toiletry case: we love our toiletry bags – I keep all my travel stuff in it and so does J so we never unpack it too
Whiskey decanter: this one of Jord's favorites that he has. He also got this for his groomsmen and they love it
Portable grill: this was Jord's suggestion and now I want one!
Fitness tracker: really any kind someone wants but the one here is definitely affordable and I have heard great things
Pickle ball set: J just got this!
Golf equipment: these golf shoes, golf speaker and a golf rangefinder
Parents/in-laws + Grandparents from Grandkids: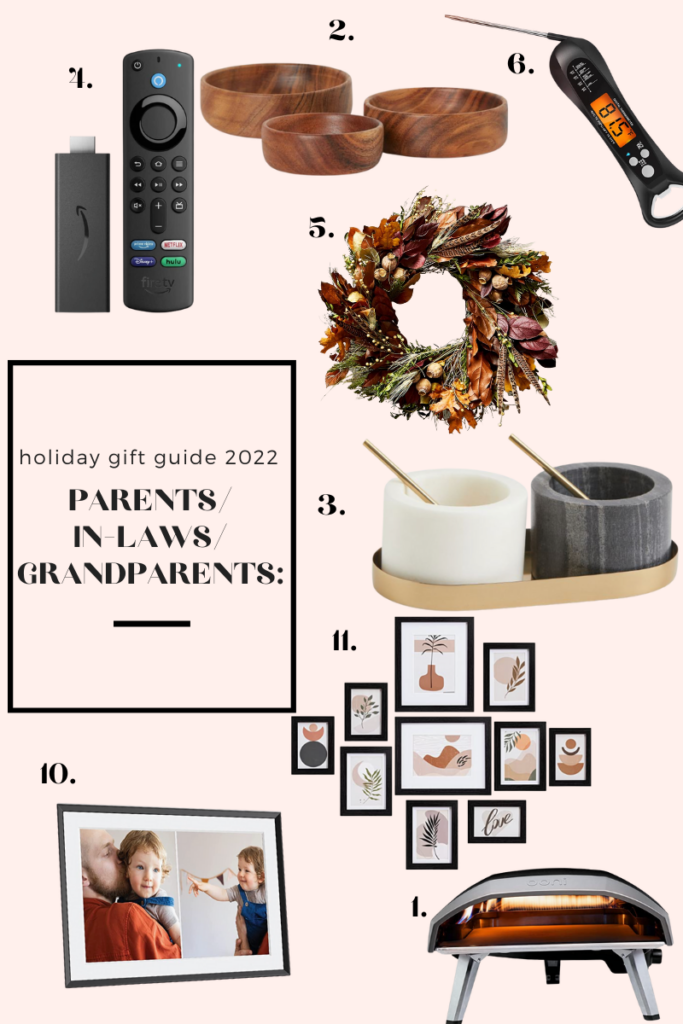 Pizza oven: we have one in our backyard and it is a crowd pleaser always
Wooden serving bowls: these are always a favorite in any house – can never have too many
Salt and pepper tray: I love this and want to order it
Amazon fire stick:my mother-in-law just ordered one of these to help with hockey season ha!
Neutral wreath: I'm obsessed with the wreath we got and this looks just like it
Meat thermometer: I am sure you can find one that's more fancy but this does the job in our house
Custom phone case: I got my mom one that says "meme" and it's her most prized possession
Initial necklace: I know I put this in new mom section too but our mom's love it!!
Experience of sorts: zoo gift card, tickets to take kids to show or lunch, anything!
Digital picture frame: both of our parents have these and love them!
Kids artwork in a frame: I recently did this for Ez and B's room and it's so cute
Toddlers under age 4: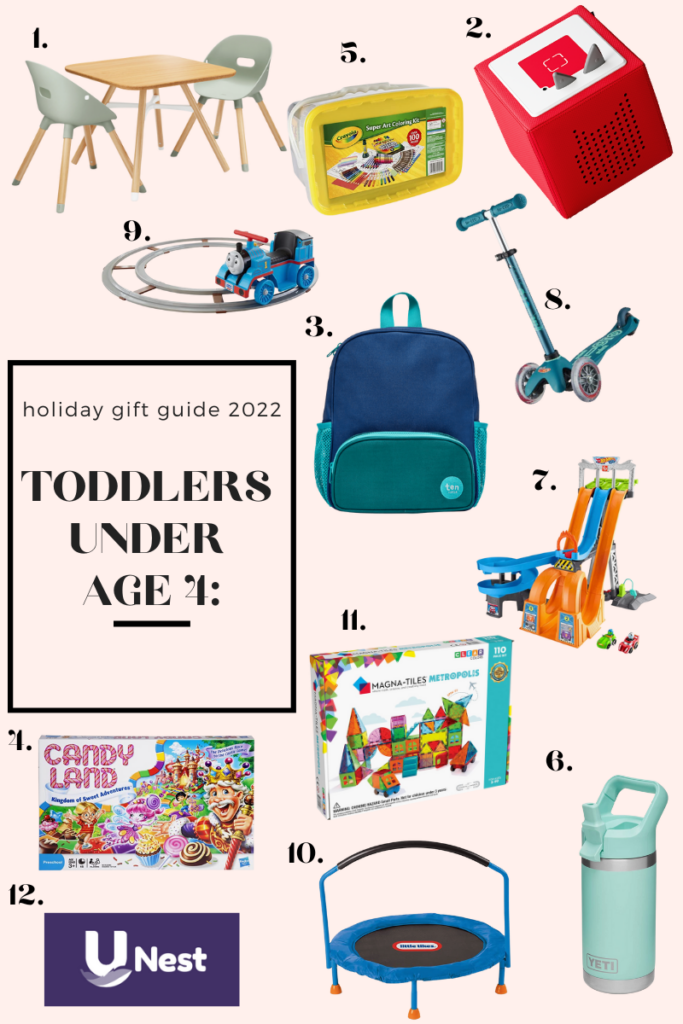 Play table with chairs: (code RACHLFF) really anything from Lalo! Especially their new play kitchen!
Toniesbox: (code 20RACHL) my kids LOVE this!!! The best gift
School backpacks: Ezra and B have these! We also gave them out at their birthday party and people are obsessed
Board games: we have been starting to love these here with Ez. Candyland is a definite favorite
Art/coloring supplies: I bought this for Ezra and Brody for Hanukkah too
Reusable water bottles: both of my kids have these and we use them every single day!
Hot wheels anything: my kids LOVE these toys – we have probably 500+ cars but they are a crowd favorite
Scooter: both boys will have these soon and they are a must over here
Ride on train: I had my parents get this for Brody because he loves it!!
Mini trampoline: this is a hot commodity here
Magnatiles:these are quite popular over here!
UNest account: add $$$ into your kid/grandkid/any UNest account. Great way to set up investments/savings for kids (code RACHL100)
Kruger's Tutors: Brody's absolute favorite class he goes to! Jamie, the founder, is amazing and does the best sensory classes for kids. If you're local to Livingston area – definitely check it out!
Parents to be: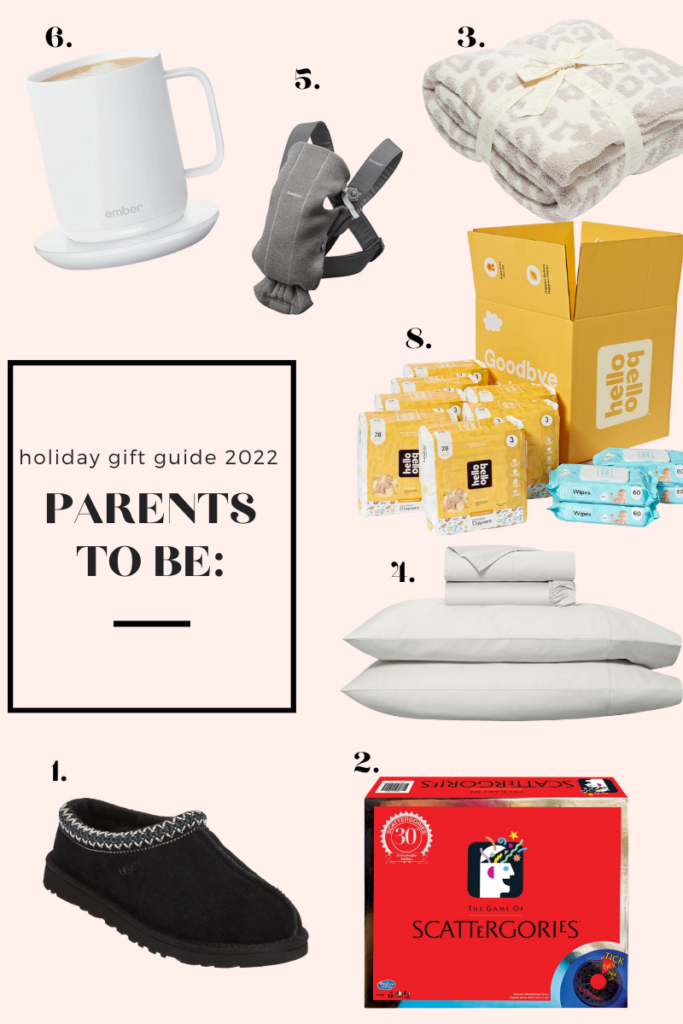 Cozy slippers: I wear these every single day and love them
Board games:we play this one at the couples getaway and also we love this game and this game!
Cozy blanket: can never have too many of these
Comfortable sheets: (code RACHL20) long time B+B fan here!
Baby carrier: I used this with all my babies and plan to again. Sure it's technically a baby gift but it's great!
Smart mug: this is a must because you never drink hot coffee or eat hot food again ha
Staycation in local hotel: we love doing this! Nothing better than a night away from your kids to sleep, relax and eat. Something local and easy is always a great pick.
Diapers: (code RACHELM for 30% off) call me crazy but I'd love if someone gifted me diapers – saves so much money lol!
Your brother/sister or friend: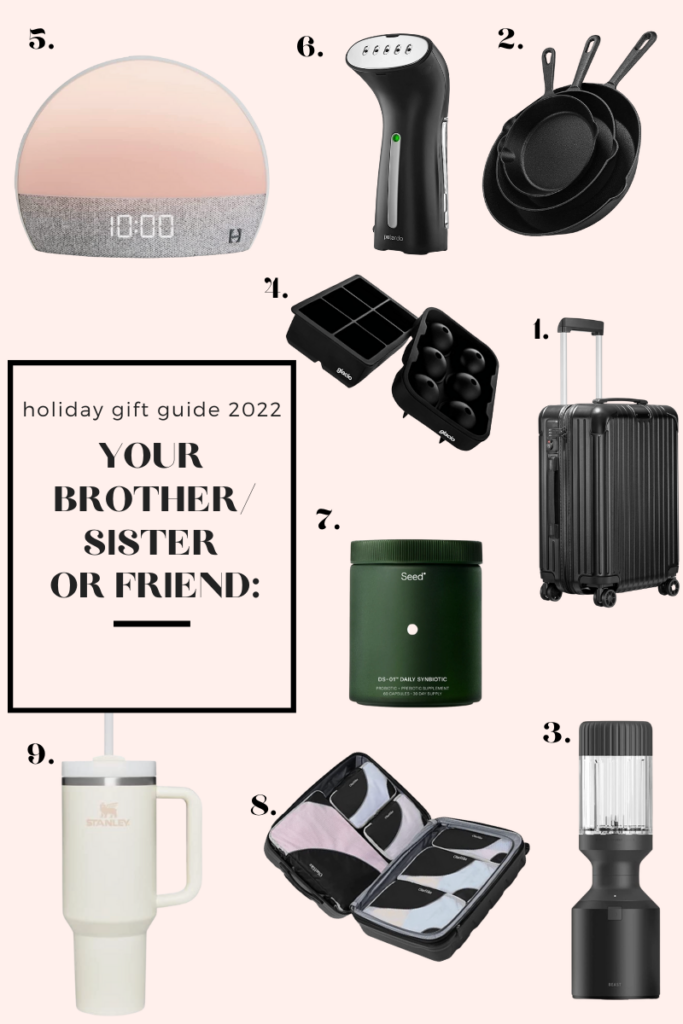 Carry on suitcase: okay so my favorite one is a bit pricier but this one is a great price point and also a great option
Cast iron skillet: I use this all the time and it's great for anyone to have. Skillets that do it all.
Blender: we use this all the time and it's my favorite blender we have
Fun ice cube tray: love this set and the big spheres and cubes are great
Sleep sound machine: I sleep with this on every single night. I love it and so does Jord
Probiotics: (code RACHL15 for 15% off) call me nuts but this is a GREAT gift. Basically everyone needs probiotics and seed is the best (code RACHL15)
Travel clothes steamer: one of Jord's prized possessions
Travel cubes: these are my new bff and MUST have for traveling. Makes it 100% easier to pack efficiently and keep organized
Stanley cup: I have this on my personal list. I keep hearing the best things
Neighbors/family friends/hosts: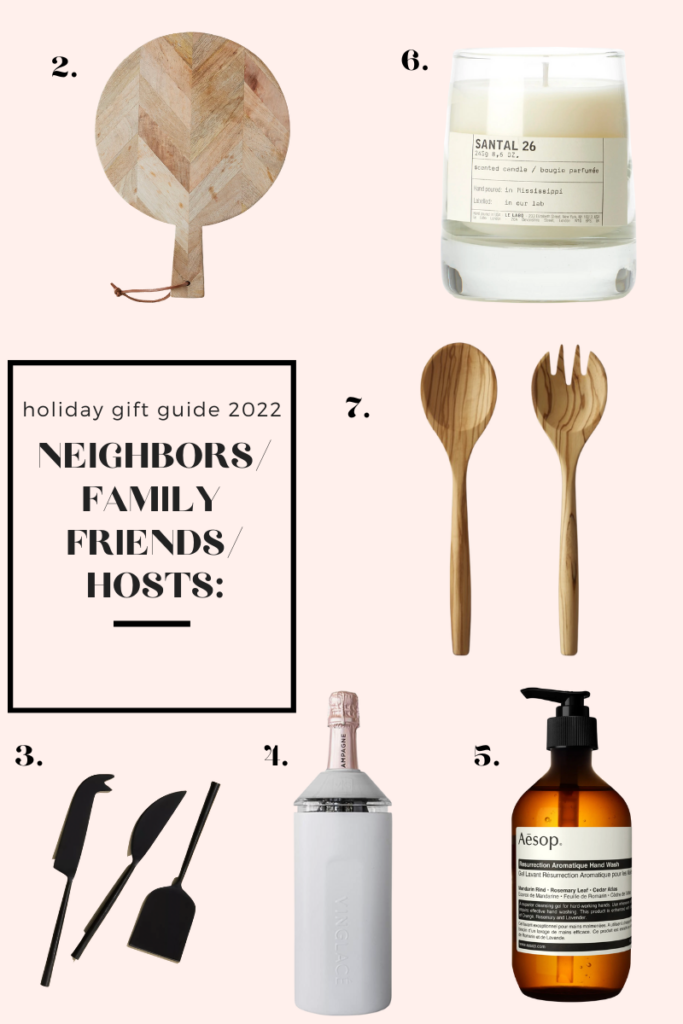 Faux floral arrangement: this is one of my favorites! We got to a local florist usually and have them
Cheese board: can never have too many of these for serving and decor when not in use
Cheese knives: I actually need more cheese knives and love these!
Wine chiller: these are so popular right now – keep hearing the best things
Soap: we got this soap as a gift and I love it!
Candle: the best of the best candle IMO
Salad servers: we get these for a lot of friends and family members and they love them!
Gifts under $30: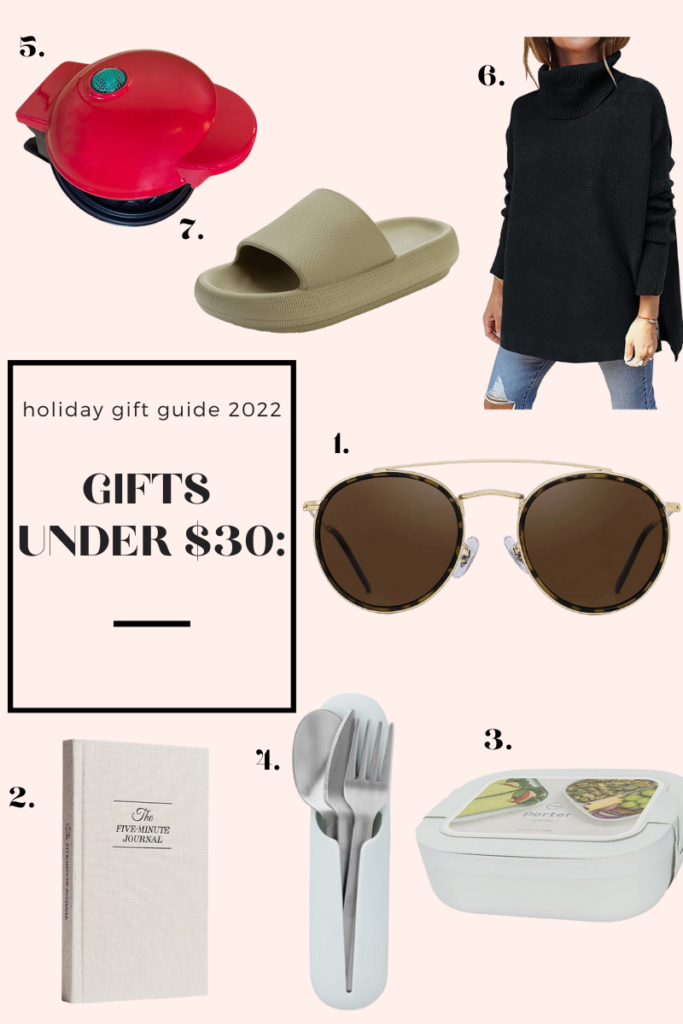 Sunglasses: these are my FAVE and I get so many compliments on them!! Have had a handful of them and they are awesome.
Five minute journal: this is one of the most popular journals – it is next to my nightstand
To-go tupperware: I love these for taking meals on-the-go and they're great for someone who commutes and packs their lunch/food
Reusable flatware: how many plastic forks have you broken trying to eat food? Or just me? These are my favorite
Mini waffle maker: this is a household favorite here!!
Random amazon sweater: sooo random but I have this and it's great. And it's on sale
Cloud slippers: I keep seeing these everywhere – they are on my list!