All things TILE in our new home reveal!!
Welcome to the first of the "Rachel pretends to know something about home building series"!!
Tile was the very first thing we sat down to pick out for our home build. I actually remember being *very* early on in pregnancy with Brody when we first walked into Short Hills Marble and Tile. Our builder strongly recommended them and I loved that they are a family run business. They were super hands on during the whole process from the moment we walked in. And they were one of our only suppliers that didn't give us massive delays (ha!).
If you are in the tri-state area, look no further than Short Hills Marble and Tile guys (or SHMT as I call them!). They are AMAZING!!! They were so incredibly helpful since day one and at the first appointment we had with them, I knew we were going to love working with their team. While I knew what we were going for look wise, I was so clueless in the correct terminology and understanding the process of picking everything out. But the team was amazing during the entire build process. We worked with their Showroom Manager, Adrienne Gallmann. We worked so well together that her and have even become friends outside of the project who now meet for morning walks and such. Everyone that works there is wonderful so if you are local – definitely head on over there for all of your tile needs.
Now let's get into the details because I know that's what you are craving right now. I broke this blog post down by room to make it easy to see the tiles we ordered and what they look like.
And of course – head on over to Instagram where we give a video tour!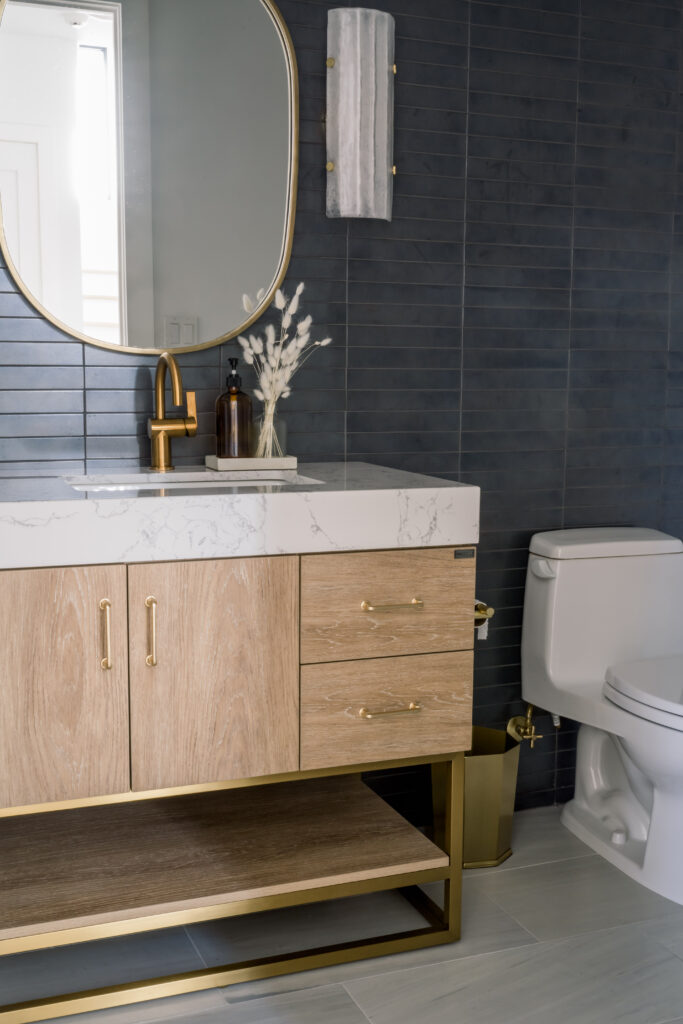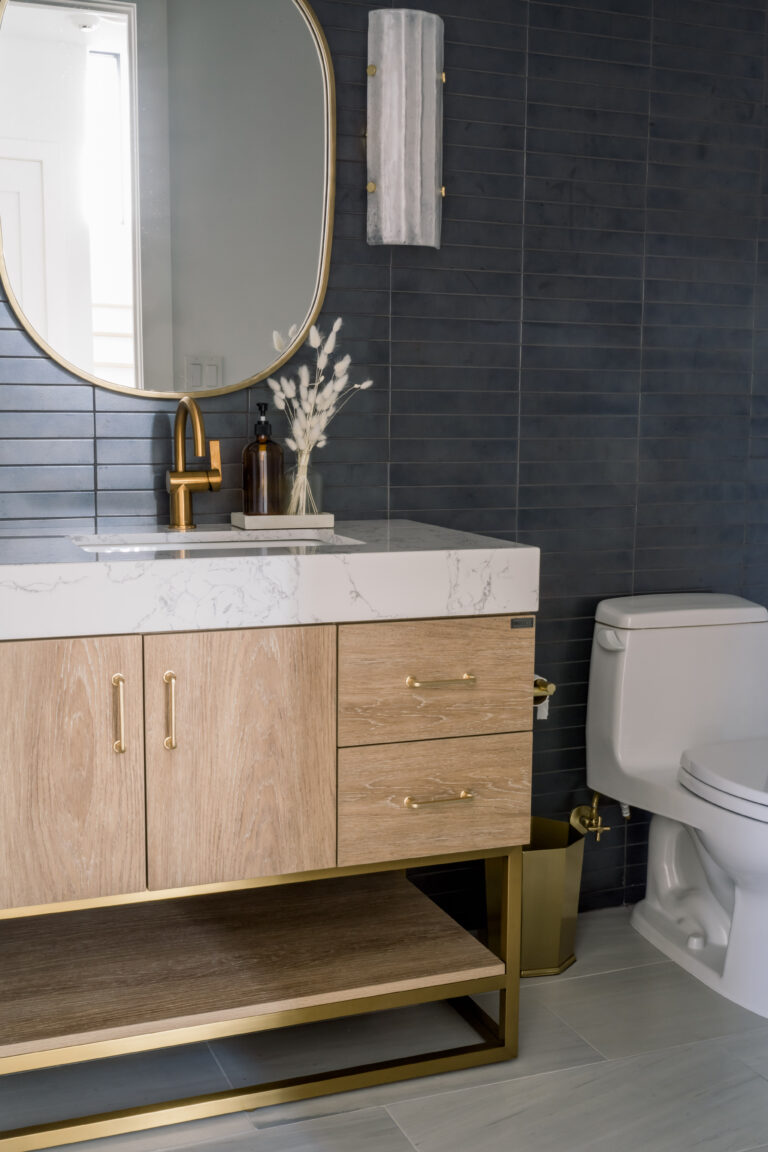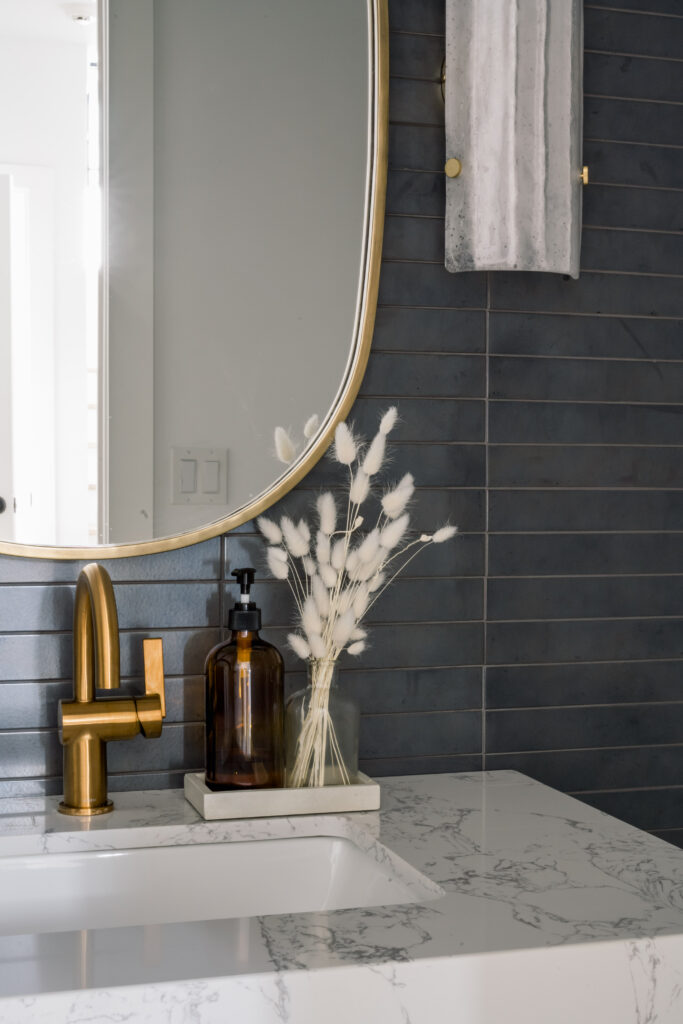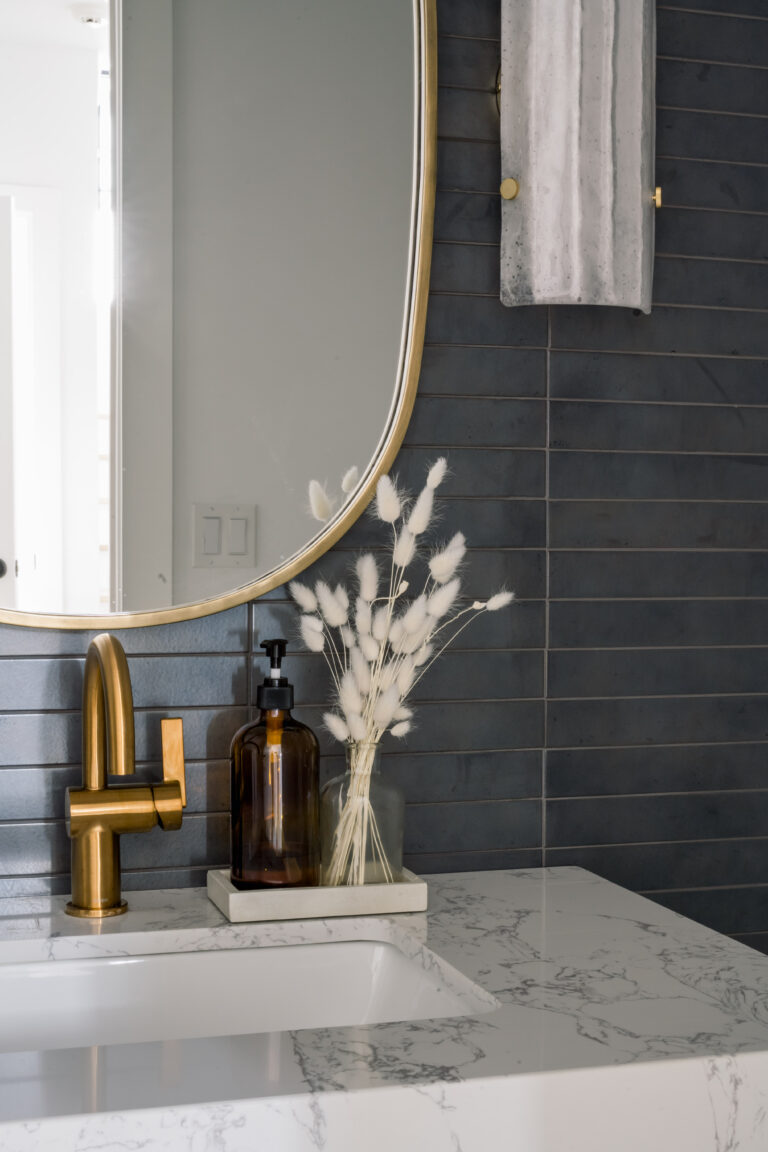 Powder room:
I was dead set on a black tiled wall from the moment I knew we were building our home. I loved the idea of doing a dark contrast wall since the majority of our home is so bright, white and airy.
For the flooring, we went with 12"x24" Paris Gray; Marbled Honed. The material is from Allstone "Marble". Paris Gray is stocked in Polished but Short Hills Tile honed it for me! (they knew I didn't want any shine in our tile).
For the wall tile, we went with 1.75"x11" Context in Metallic Black. The material is by Ann Sacks. It is truly stunning IRL. Every time I walk into the bathroom, it feels like I am at a boutique hotel. Just the vibe we were going for.
My friend Arielle, who is an amazing designer, helped me source the most perfect scones and vanity to match the tile we picked out.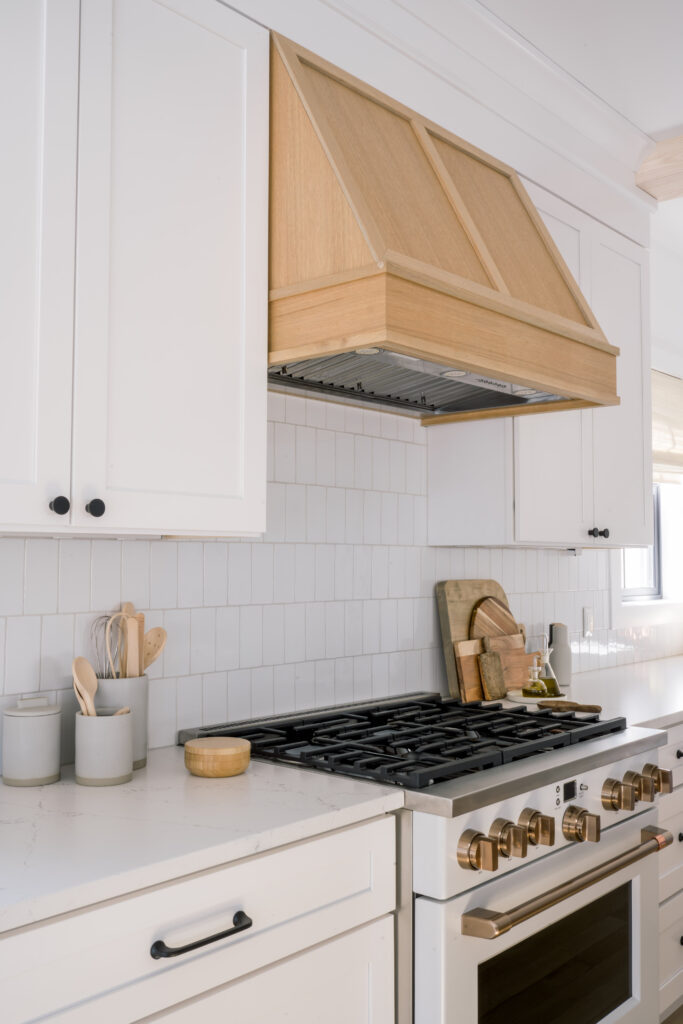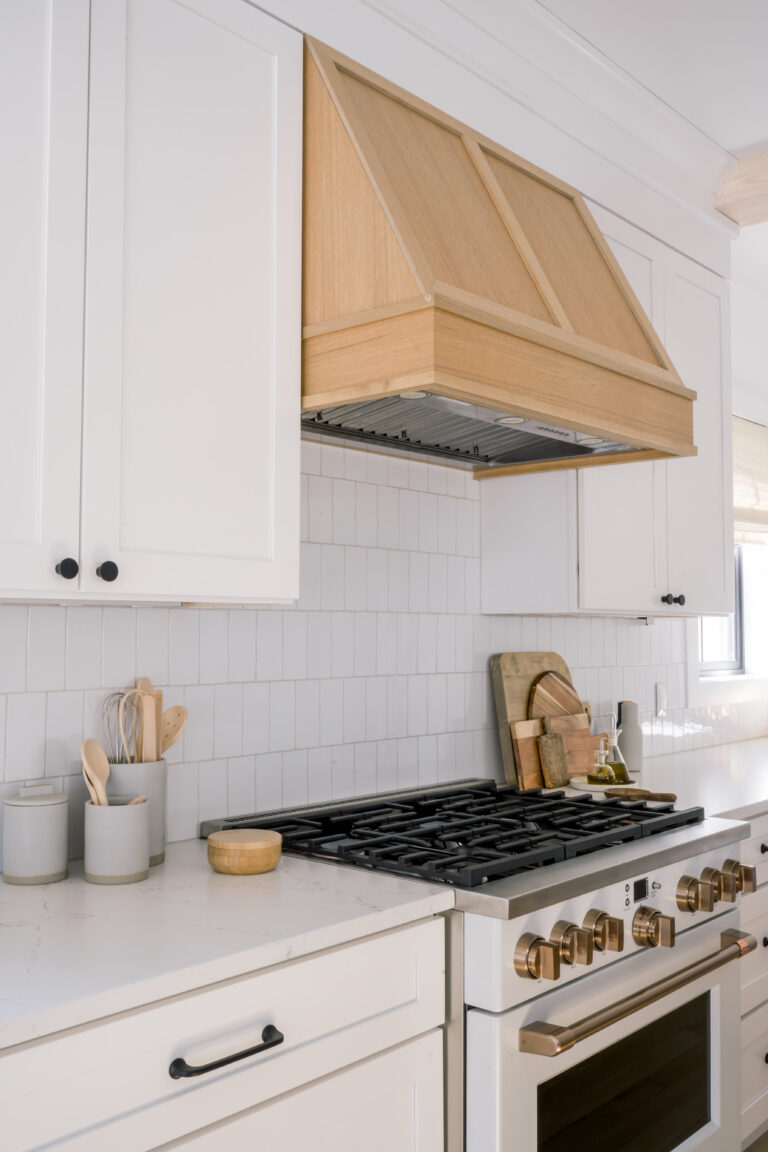 Kitchen backsplash:
WOW was this a toughie. This backsplash was the last thing we picked out for our house and hands down the hardest in my opinion.
Our backsplash is 3″x6″ ceramic field – Acquarella in white gloss (the only gloss in our home!). THIS WAS SO HARD!!! Oh my goodness. I thought we were doing the countertop extended up, but it wasn't going to work for us with the material. Adrienne was so incredibly helpful and patient with me here. She even came out to the house to select options on-site and then Arielle helped us pick out a tile that we vibe with. I didn't expect to fall in love with it as much as I did. It looks absolutely perfect so shout out to my A team for helping us here.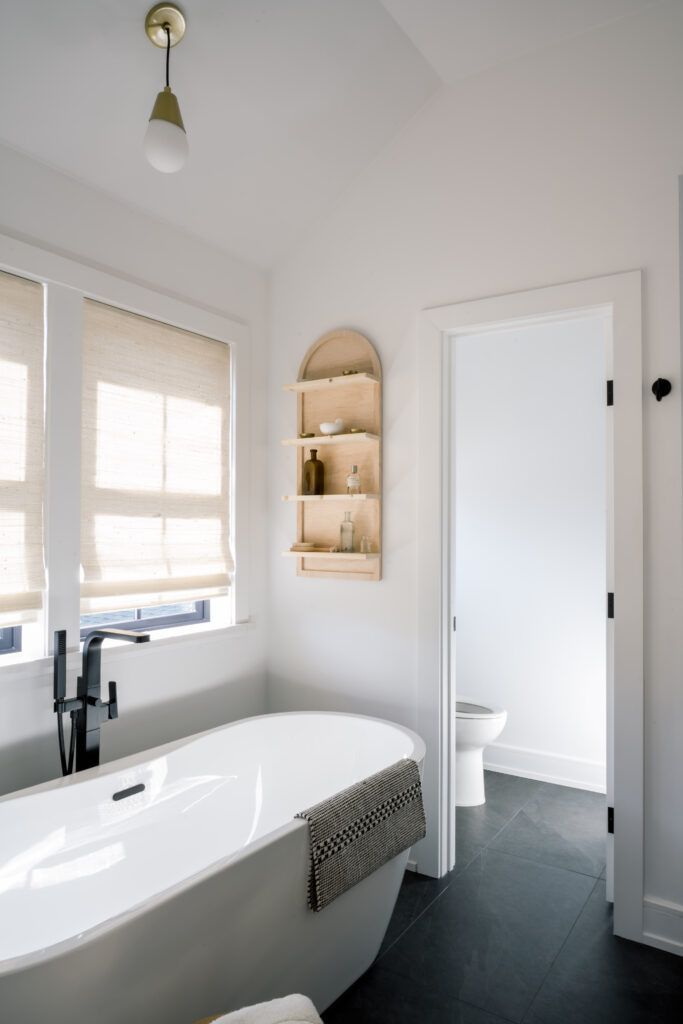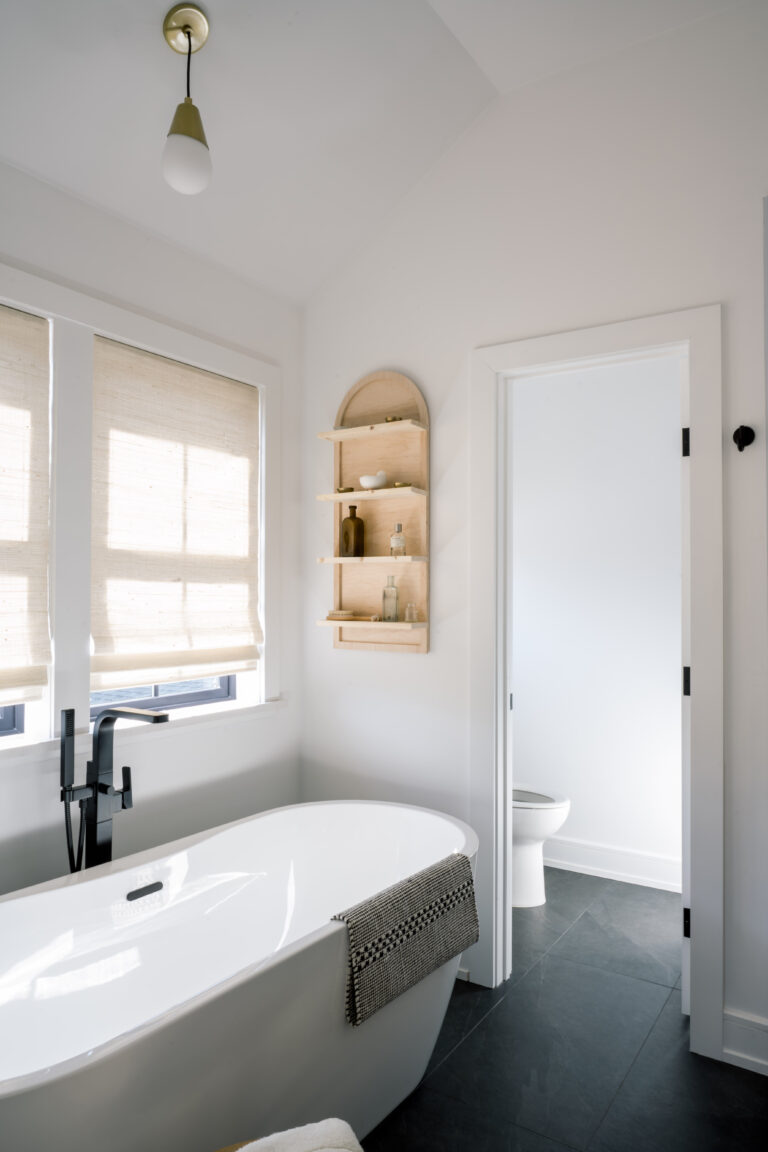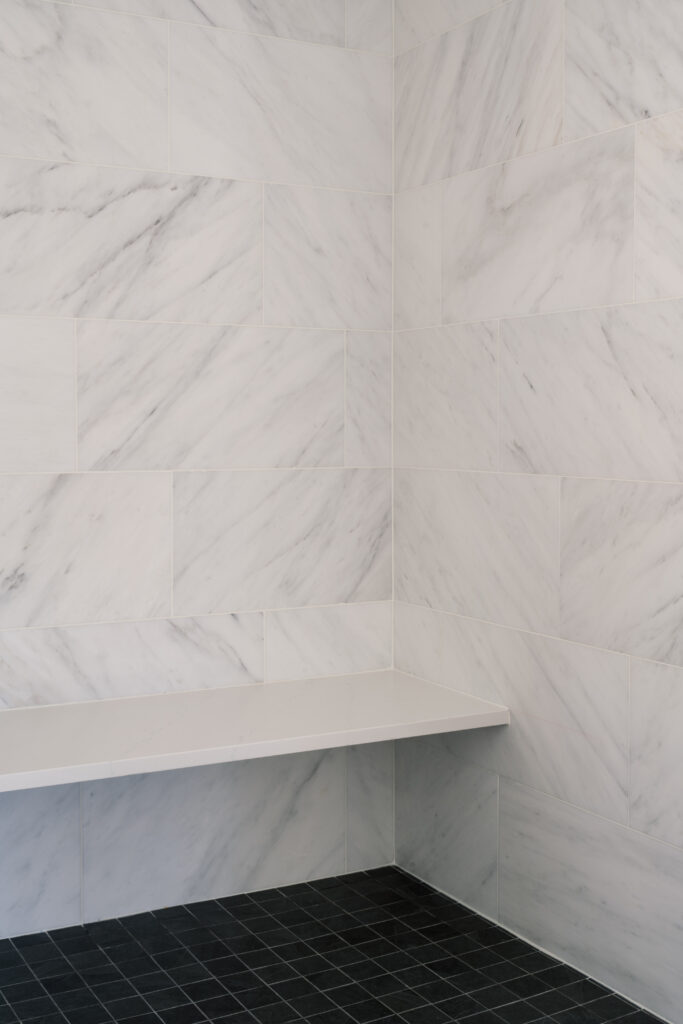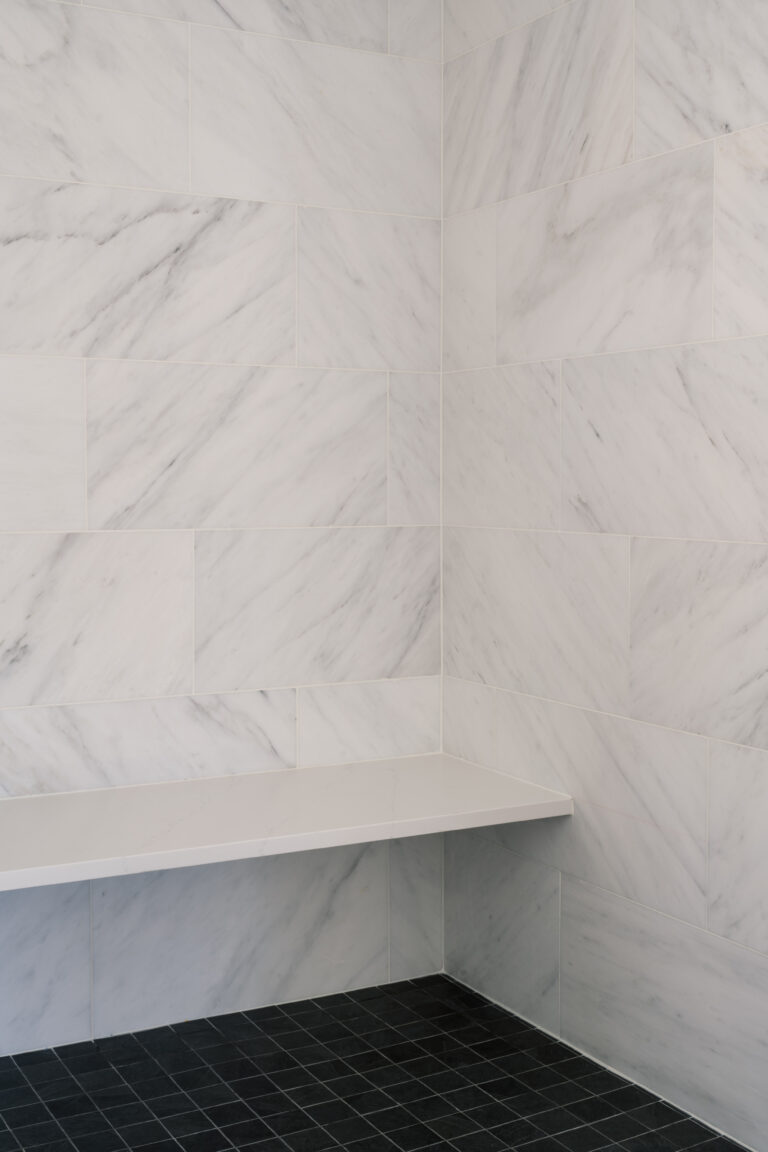 Primary bathroom:
It is wild seeing our dream bathroom come to life. I loved the idea of contrasting a dark floor with white walls and a natural wood vanity (it is custom as our sizing was very unconventional). I am obsessed with how it turned out.
For the flooring, we went with 18"x36" in Cornerstone Slate Black. The material is from Emil Ceramica "Porcelain". And it is worth noting that we heated the floors too. SUCH a game changer and I highly recommend it if you are on the fence. Not as expensive as I thought it would be and when I go to pee at 3am it is epic. Adrienne also reassured me a dozen times the color wasn't too dark as I must have second guessed it 10x.
For the shower tile, we have 12"x24" Dynasty White Marble Honed. The material is stocked by SHMT & is their best selling tile . We used white grout and added a bench and niche within the shower itself. Originally we had black grout and I loved the look of it, but once Adrienne & the owner, Robert Israeli came to see it – they noticed it wasn't working as well as they hoped with the material of the tile. Black grout can bleed through white marble in wet areas. So they generously redid the entire thing with the white grout and it looks so much cleaner and no worries about it bleeding through like the black. I told them not to worry about it but they insisted and I was so grateful for their honesty here.
We didn't do any tile behind the vanity because we have a large mirror. Adrienne even helped us to decide on this and I am happy we kept it simple. Plus it allows the floor and shower really shine.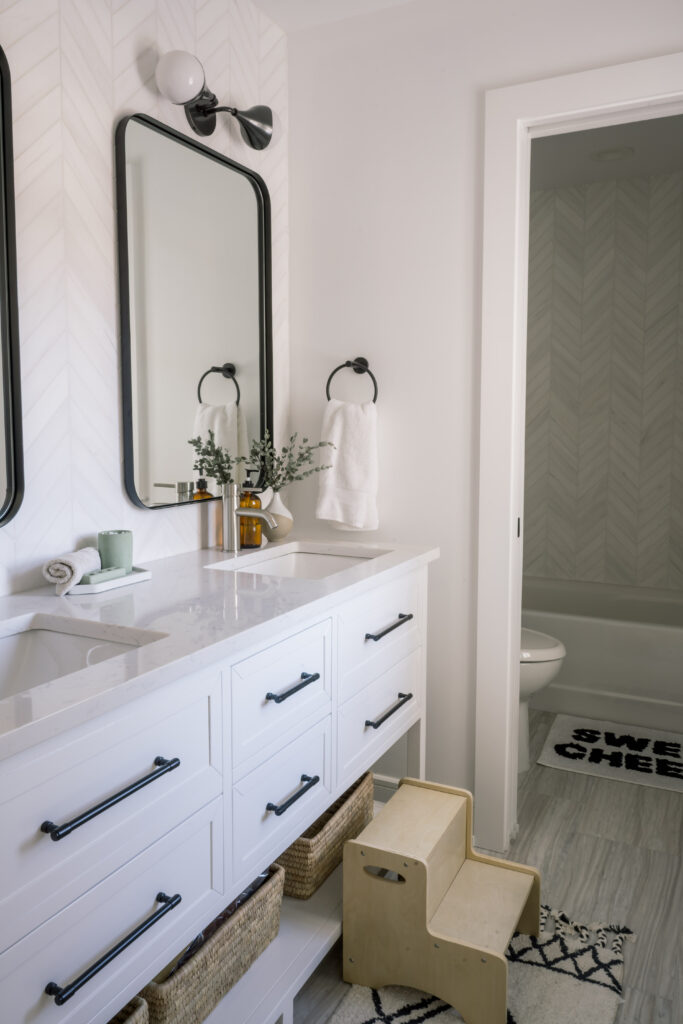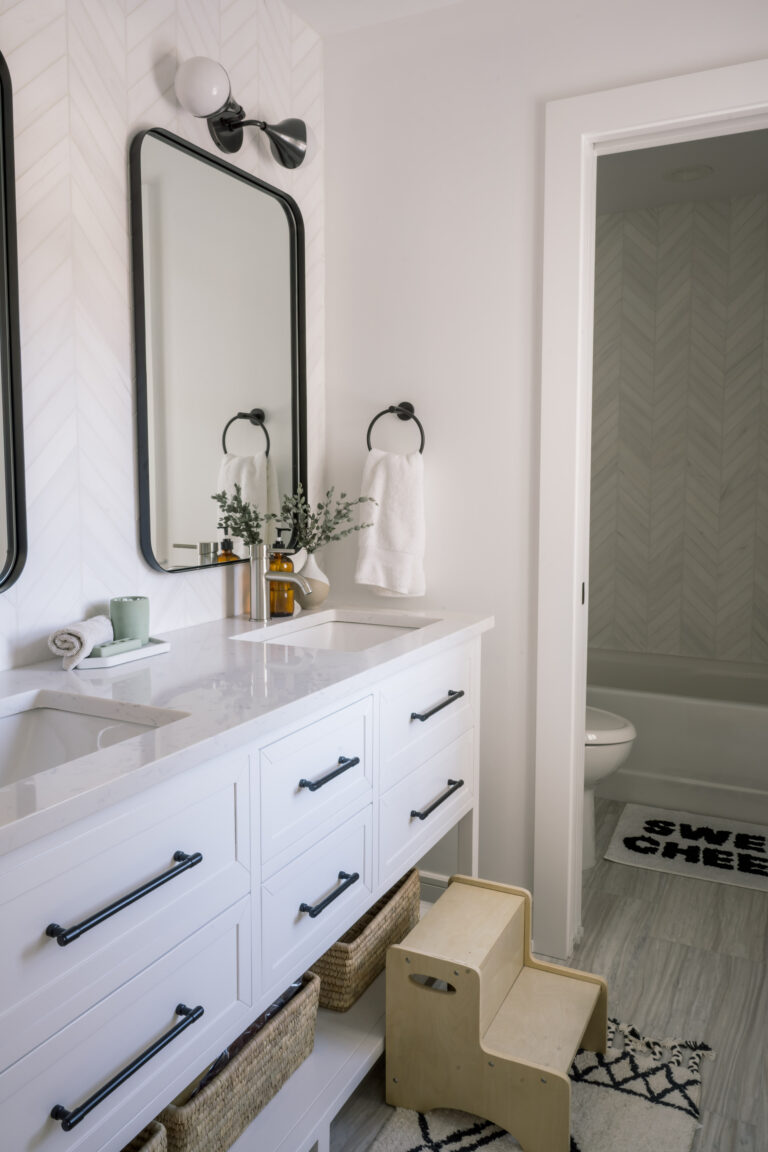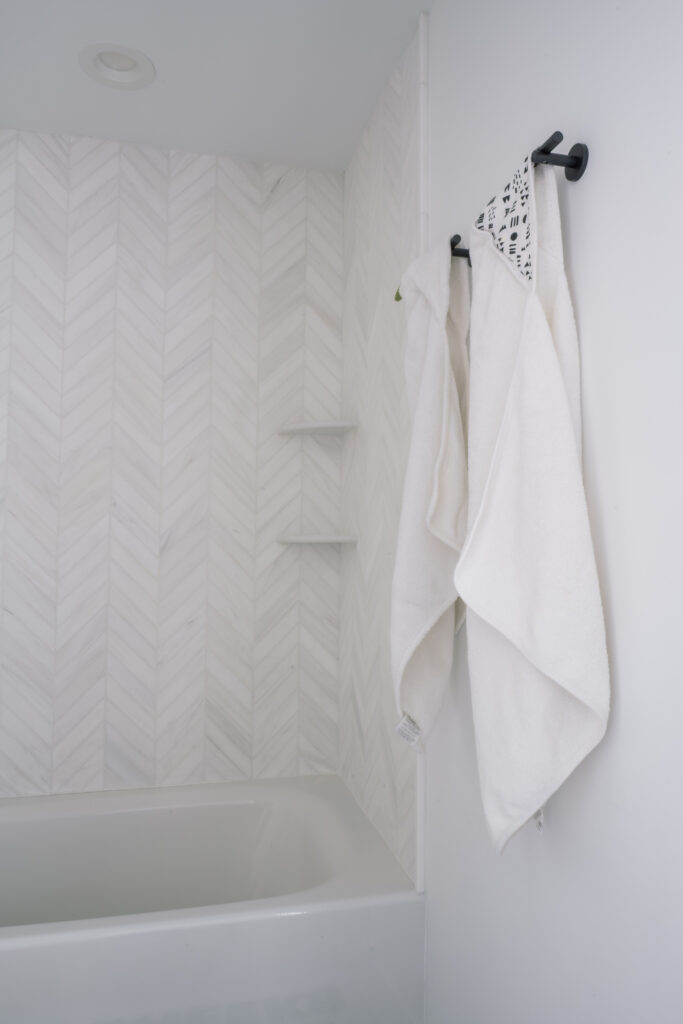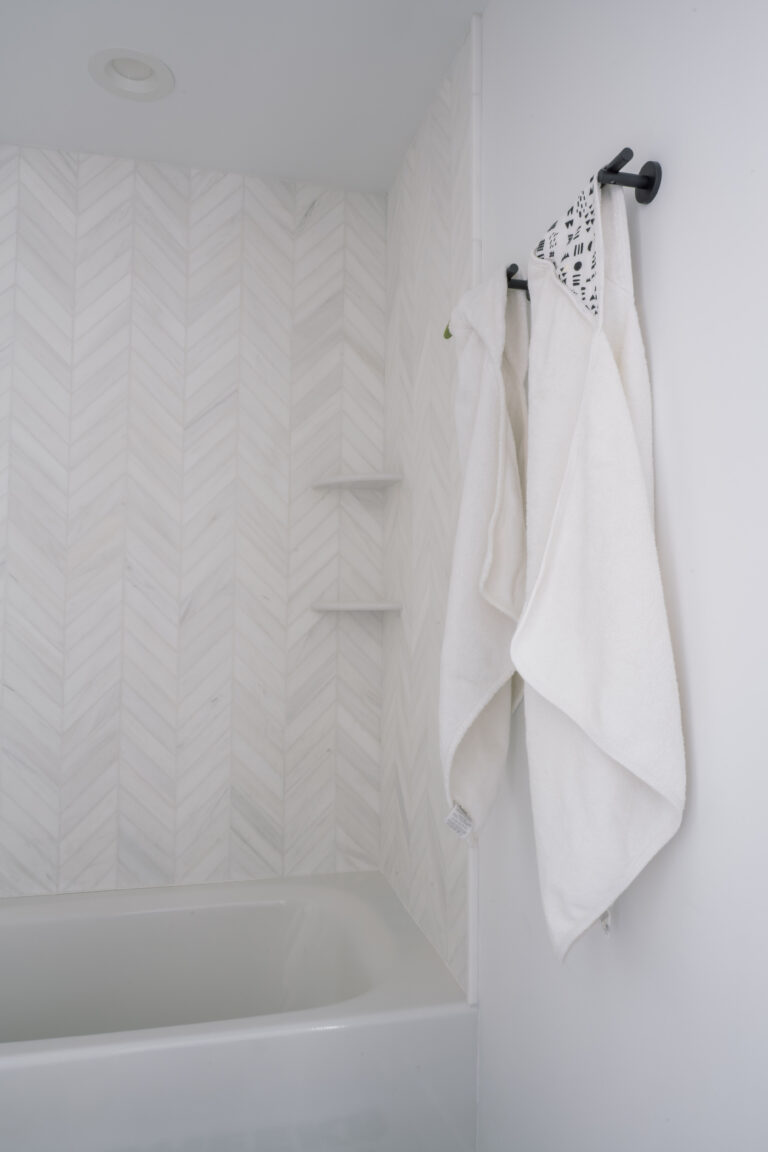 Hall bathroom:
This is the kid's bathroom. They share one and it is accessible through our upstairs hallway. We broke it up into 2 sections. One with the toilet/shower and one with the sinks. It is a very clean and simple look.
For the flooring,we did 12"X24" Nestos Marble Honed stocked by SHMT. I wanted something sophisticated and that wasn't super "kid-ish". We kept it neutral so it would grow with our family as the kids grow up.
For the wall tile, we went with 2"x8" Dolomite Marble in a Chevron pattern from SHMT. It was a special order for us and it turned out gorgeous. Truly takes my breath away when we are in there! The shower has built-in shelving made from Dolomite too, for storing their shampoos, body washes, and anything else.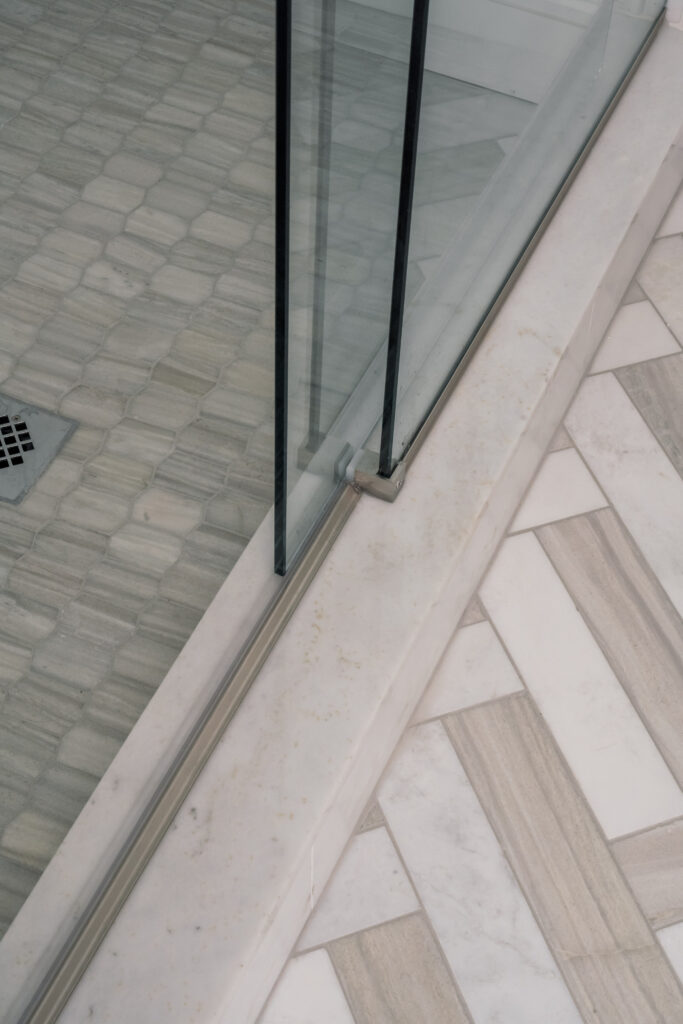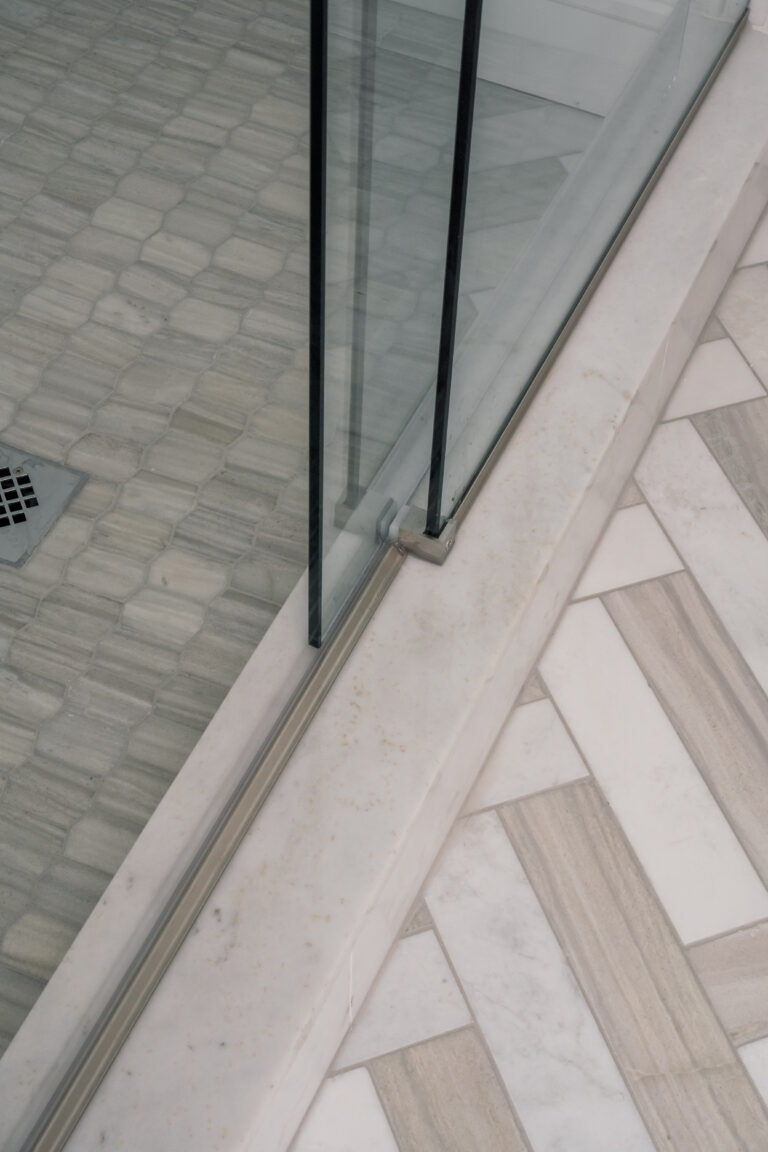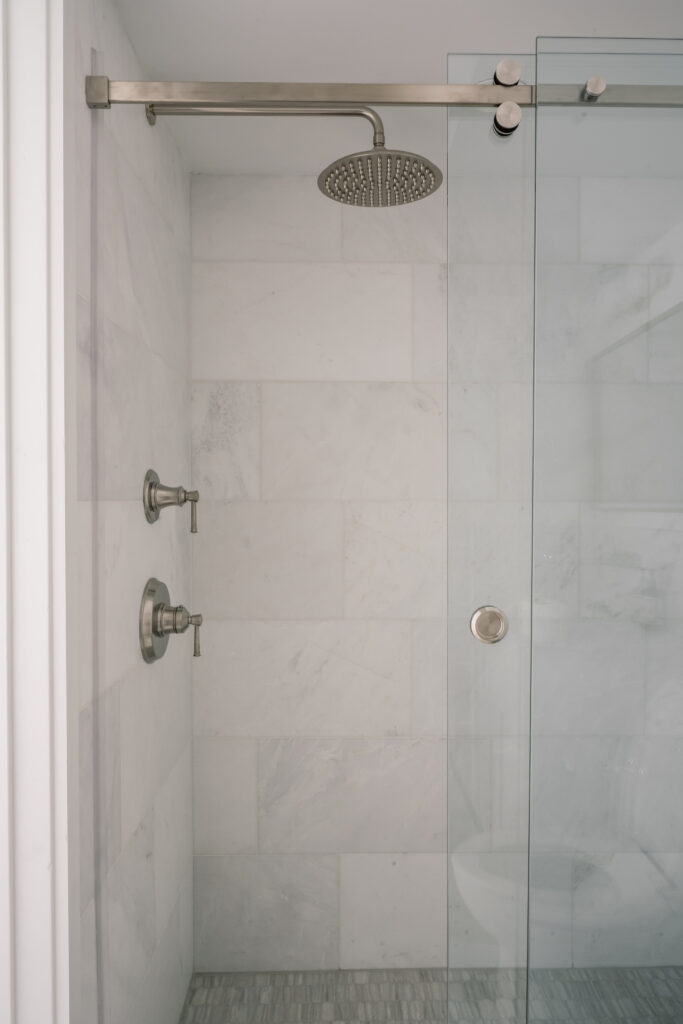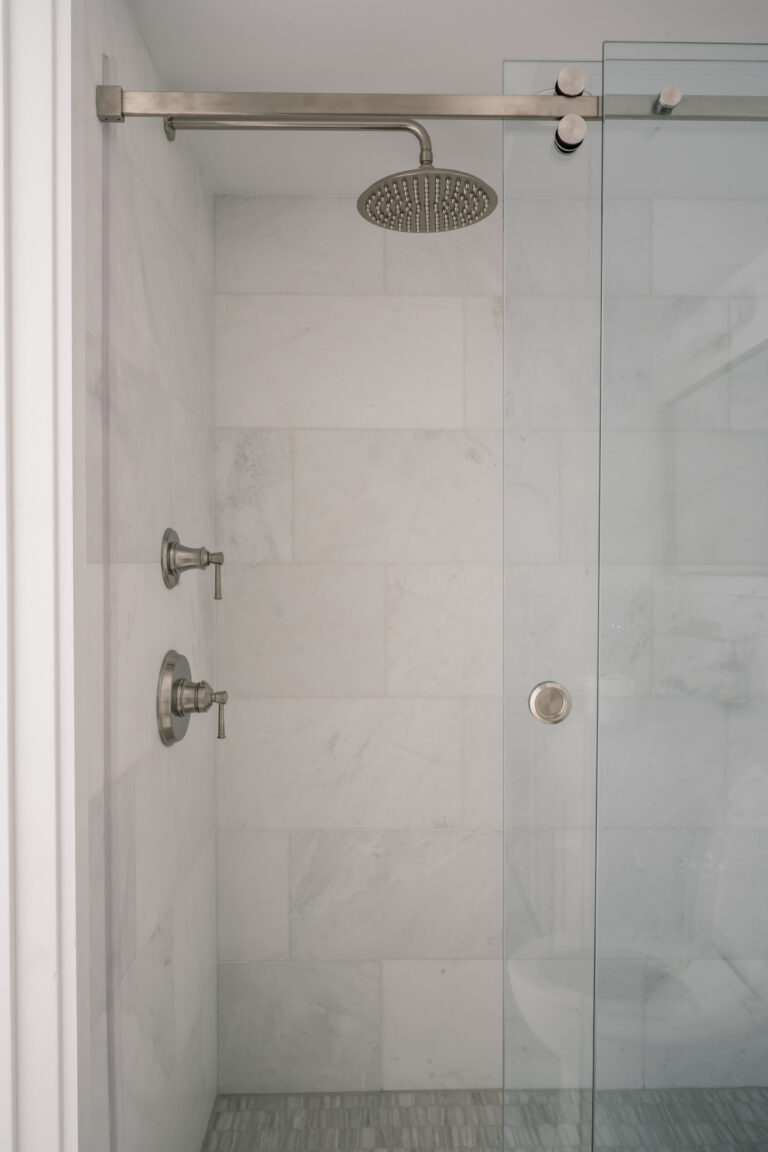 Basement bathroom + hall:
This bathroom is located on the bottom floor. It is adjacent to the garage and is used the least of any bathroom. But we didn't skip on any love or look for it. My Dad actually loves it and my Mom says she feels so special having a gorgeous bathroom for when she visits (lol). I modeled this room after our bathroom in our apartment. I loved the look of the bathroom there and wanted to do something similar while keeping it simple as this is a guest bathroom for the most part. It's a simple yet sophisticated look to have and it will grow with us as we live here.
For the bathroom floor, we went with 3"x12" Nestos Marble Honed paired with 3"x12" Ice White Marble Honed in a 2-toned herringbone pattern all stocked by SHMT.
For the shower floor, we did Nestos Adeline Hexagon Marble Honed by SHMT
For the shower walls, we have 12"x24" Ice White Marble Honed by SHMT
For the soon-to-be mudroom: we did 12"x24" Waterfall Silver, by Lea Ceramiche (Porcelain) which I love!! This is one of my favorite tiles. I wanted to do something darker and it looks so good next to our lighter carpet in the basement.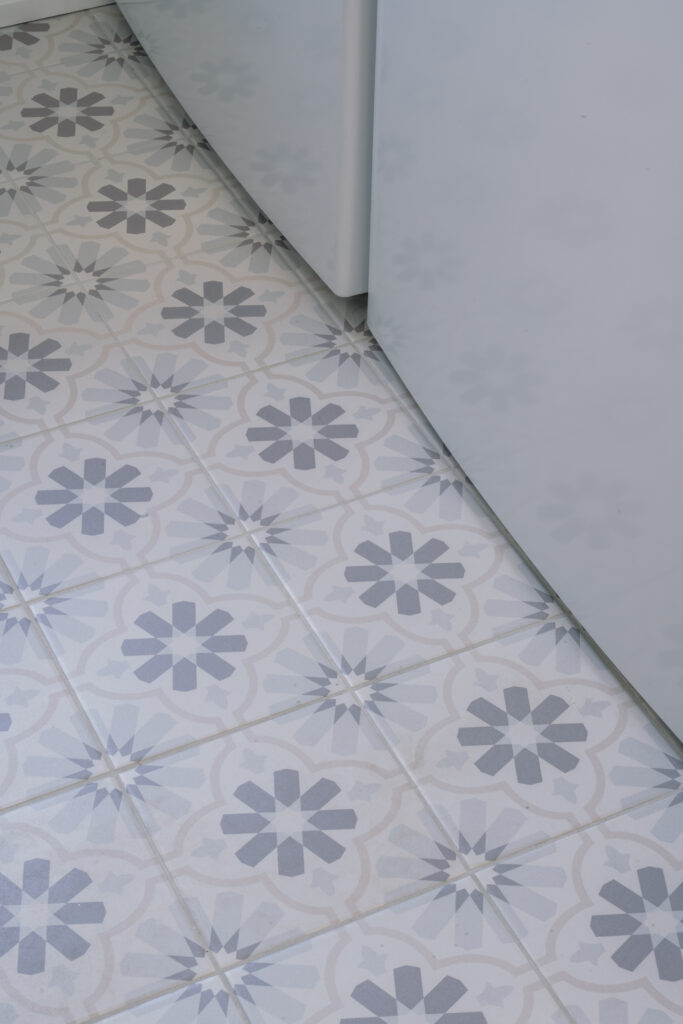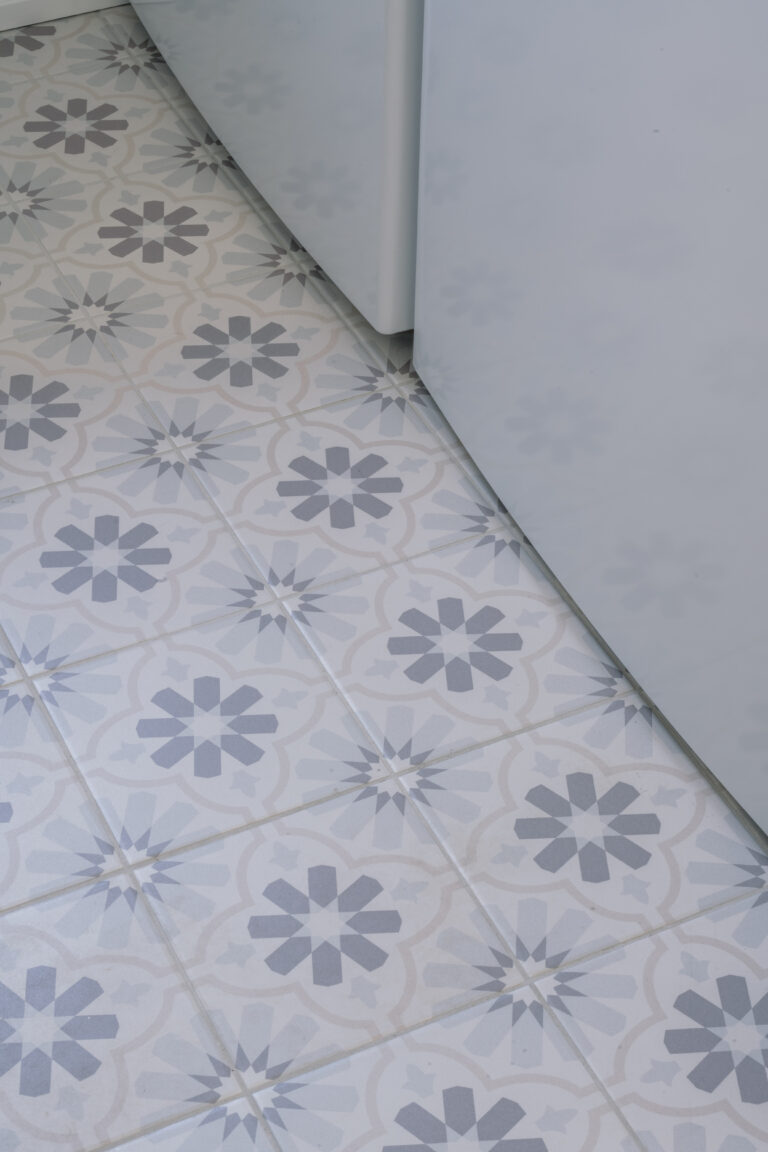 Laundry room:
My favorite floor! We did 8"x8" Porcelain Deco in Libson. It is stunning and it actually makes me enjoy doing laundry (ha!). Plus it adds a bit of color and life to the room.
Are you swooning yet? This was so much fun to put together for you guys. And it feels crazy to finally be sharing it with you. If you're local and in tri-state area – call my friends at Short Hills Marble and Tile. They offer IRL appointments, virtual consultations and they will order you samples to look at in your home too. Tell Adrienne we are besties and she will hook you up! 15% off for all my besties just use the code RACHL or say my name.
* SHMT is not limited to the Tri-State area or just home design. They deliver throughout the United States, spec commercial jobs and offer a variety of design services…CAD drawings, jobsite visits. Their wholesale division, Allstone, is right down the road that stocks their luxury stone.