Paleo Almond Butter Cup Donuts made with less than 10 ingredients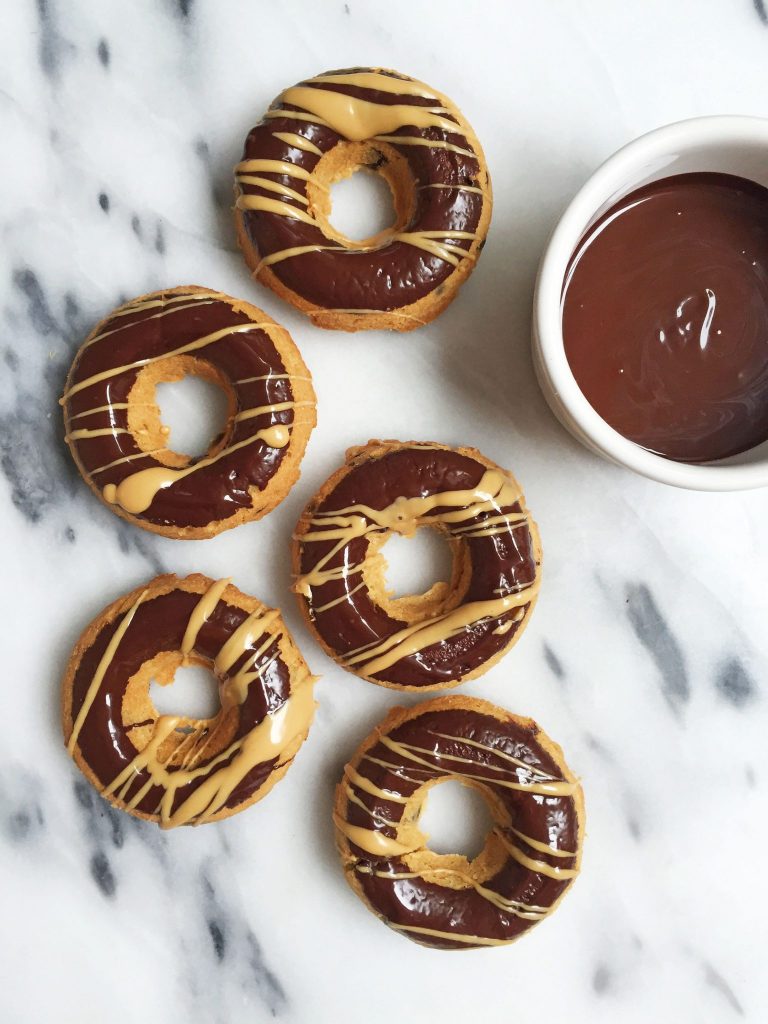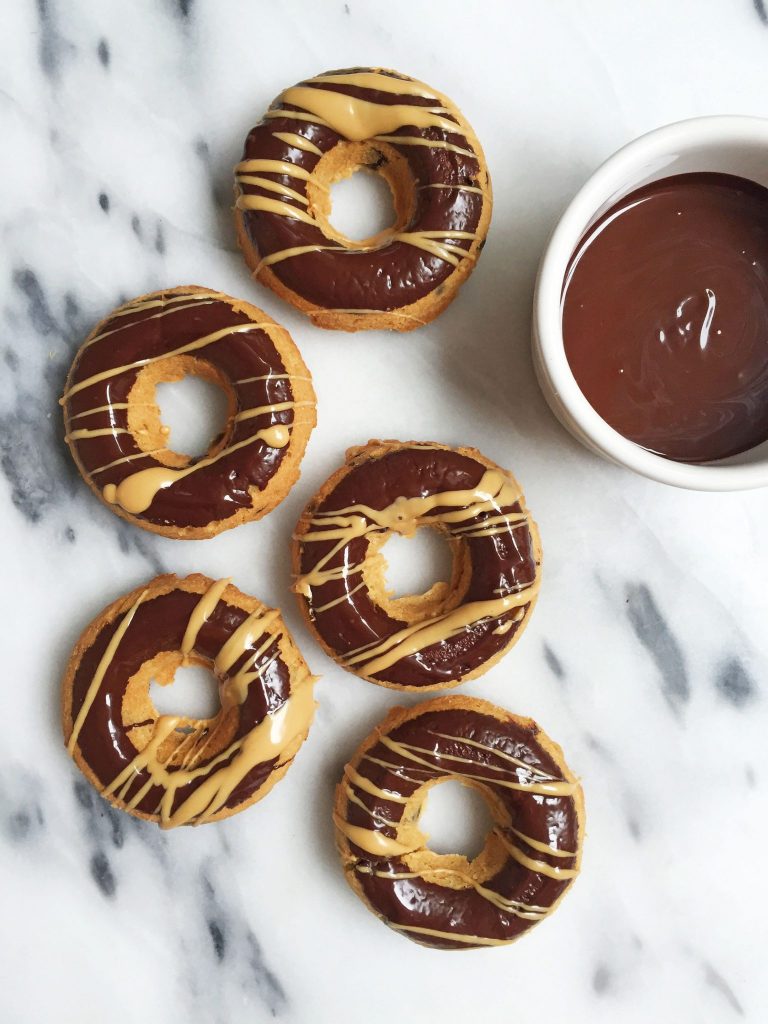 The donut addiction is real people. Actually, more like the donut-making addiction is real. There is something so satisfying by making homemade baked donuts at home. I can't describe it but it's almost this weird satisfaction knowing we can make something that is usually fried and super indulgent, so clean, healthy and still taste delicious.
These Paleo Almond Butter Cup Donuts do just that. They are made up of deliciously clean and good-for-you ingredients. They also take less than 20 minutes from start to finish to make. How easy is that? Also they are good for breakfast, snack, dessert, literally whatever you want them to be.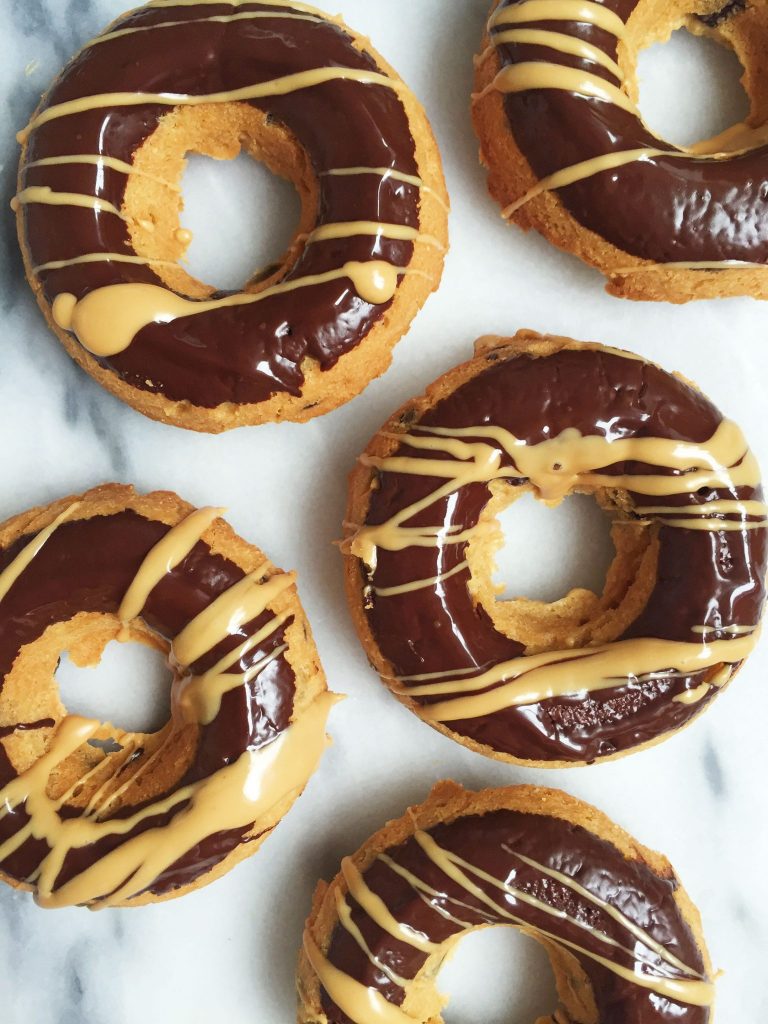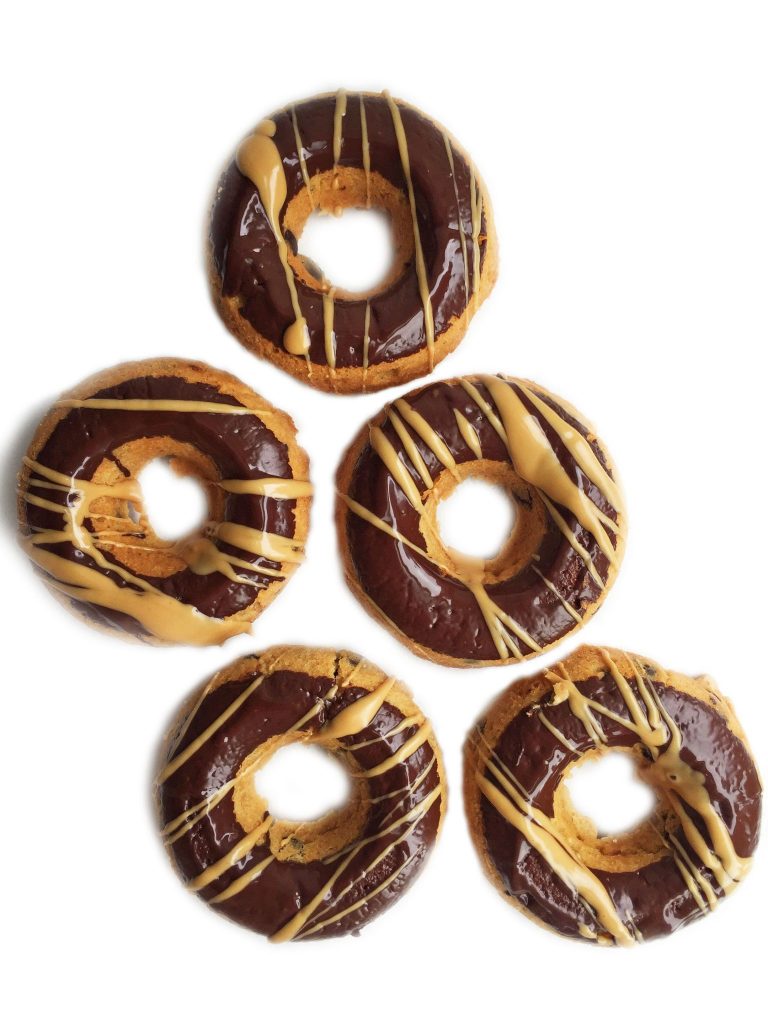 A lot of you write to me asking where I do my grocery shopping. And there really is no specific answer I can give you because sometimes it is Whole Foods. While other times it is Costco or Target. When it comes to a lot of my organic and health-food ingredients, Lucky Vitamin is the best.
Lucky Vitamin is an online health food store. Basically it is my heaven in an e-commerce store. They have over 35,000 health and wellness products ranging from vitamins, nutrition & herbs to healthy natural and organic foods,natural skin care & beauty, vegan, vegetarian & gluten free products, healthy home products at more. They also offer up to 75% off retail prices. Yup, you read that right. You can find your favorite items up to 75% off LESS than a typical grocery store.
And it gets better. Lucky Vitamin offers fast & free shipping (on orders over $49) and they have a 90 day happiness guarantee. So if you don't like something after you have it, you can return it, no issues at all.
Plus if you follow their Instagram page, you can enter weekly giveaways that they do! You babes are going to love Lucky Vitamin, I know it.
I ordered all of my ingredients for these donuts from there (besides eggs obviously). You will need to order coconut oil, coconut flour, honey, dark chocolate chips and almond butter for these. That is IT. You will see the specific brands I used in the image below.
If you make these donuts, share them with me! Tag me on social media or leave a comment below. I cannot wait to hear what you think!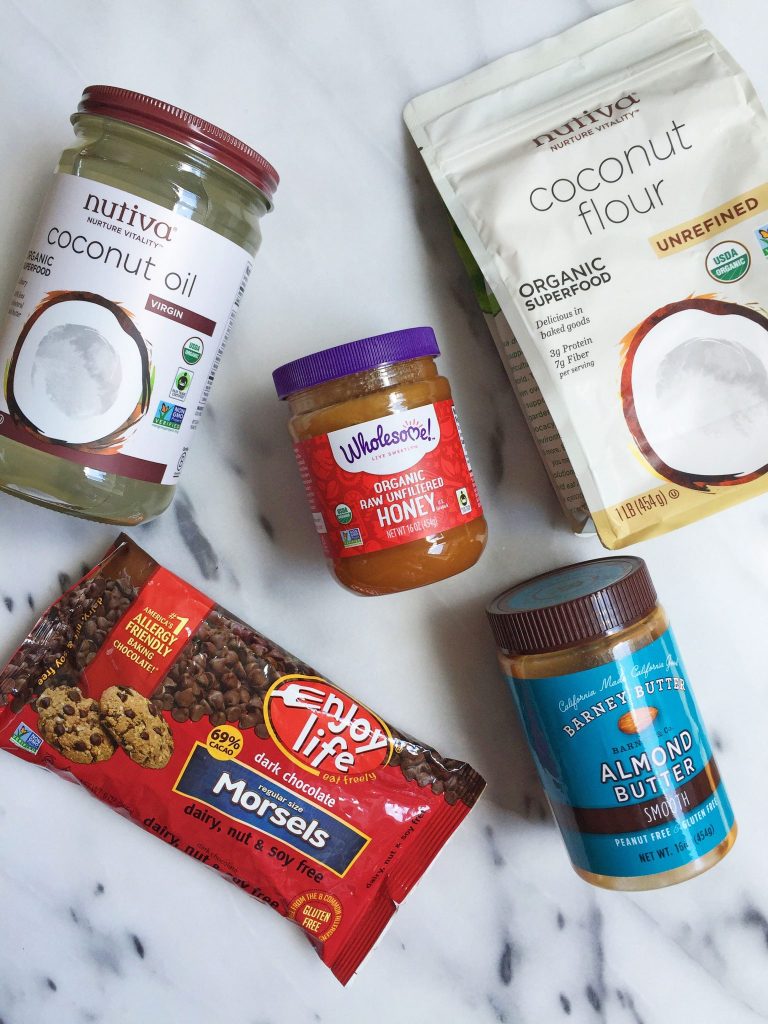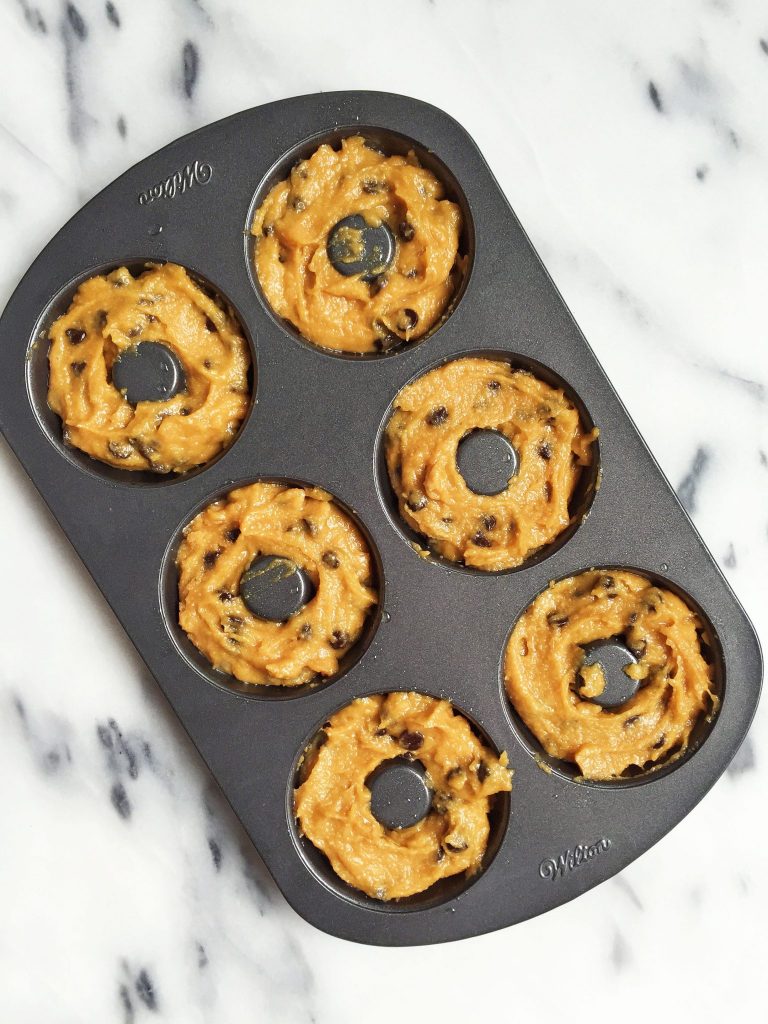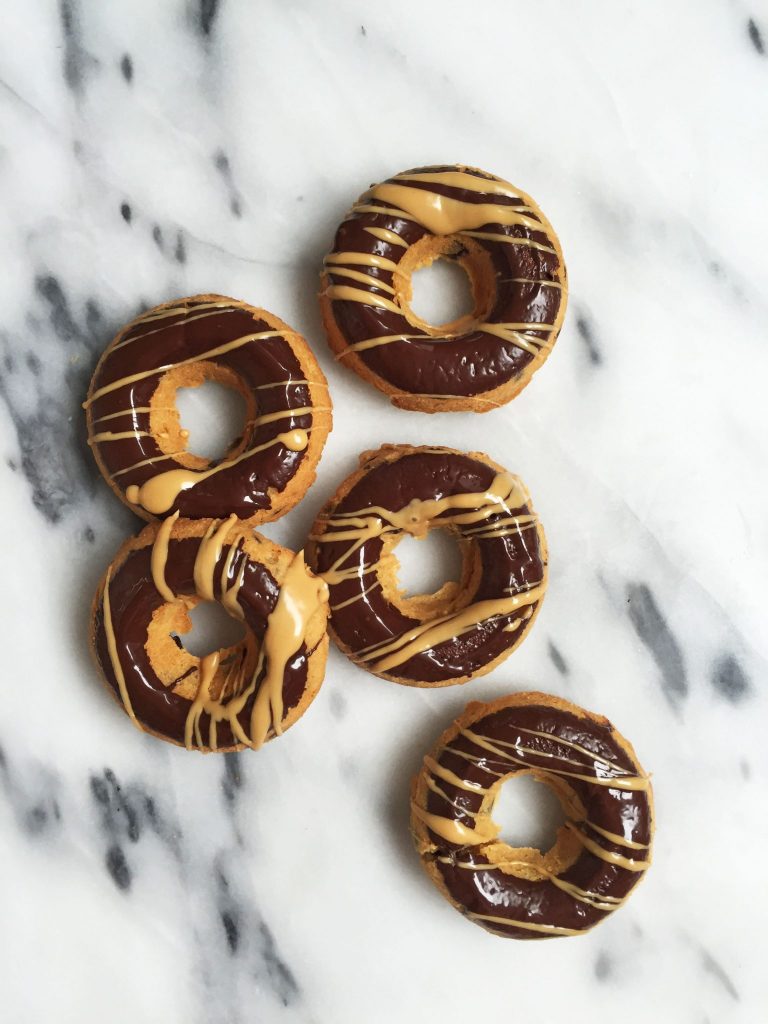 Print
Paleo Almond Butter Cup Donuts
Prep Time:

5 mins

Cook Time:

15 mins

Total Time:

20 mins
Wet ingredients:

⅓ cup

coconut oil, melted and cooled

2 tablespoons

raw honey (maple syrup or agave will work)

2

eggs at room temperature

1 teaspoon

vanilla extract

3/4 cup

creamy almond butter (you can sub your preferred nut butter)

Dry ingredients:

3 tablespoon

coconut flour

1 teaspoon

baking powder

Mix-in's:

1/2 cup

dark chocolate chips

Glaze:

1/2 cup

dark chocolate chips +

1/2 tablespoon

coconut oil

2 tablespoons

creamy almond butter +

1 teaspoon

coconut oil
Instructions
Preheat oven to 350 degrees and grease donut pan with coconut oil
Mix together wet ingredients in medium bowl with kitchen aid
Add in dry ingredients and mix with large spoon or spatula
Fold in dark chocolate chips and mix well
Pour batter into each donut mold and place in oven
Bake for 10-12 minutes (you can also stick toothpick in and make sure it comes out clean to test)
Let cool for 10-15 minutes then carefully take out each donut
Melt remaining dark chocolate and coconut oil in a shallow bowl or dish (I microwaved for 30 seconds)
Then dip each donut in to "glaze" it and place onto a cutting board to settle
Melt creamy almond butter and coconut oil as you did for dark chocolate then drizzle on each donut
Let donuts sit on cutting board to settle and cool completely for about 15 minutes, then enjoy!
Will stay good in fridge for 5-7 days!
*Please note you can skip the chocolate glaze & almond butter drizzle step if you'd like
Author:
Category:

paleo, dairy-free, gluten-free
xx, Rach
Thank you Lucky Vitamin for sponsoring this post. It means so much to me to work with brands that I love and who support rachLmansfield!